According to my records, I am on my 500th Amtrak train. Not every train ride has been fantastic; I have to deal with rude passengers; once a bomb threat on a train, we hit a person and had someone passed away while on the train.
But on the whole, I have loved my trips, and I do not regret taking them.
My Travels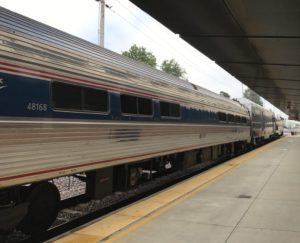 The train that I have been on the most is the Hiawatha, the long-distance train I have been on the most would be the Southwest Chief, and the only long-distance train I have ridden from start to finish every year since I started is the Capitol Limited.
I have ridden most of the Midwest Regional trains; there are a few more I still need to take; they are in Michigan and Indiana. By now, I have been on all but a few of Amtrak's long-distance trains, but still want to ride the Auto Train, Silver Star, Lake Shore Limited, and the Palmetto (but I will be riding it in October). Looking at my records, I rode more than I thought!
I know train travel is not for everyone, nor is flying, but I still think that milestones are fun. I know others have ridden more trains than I. For example, I see a guy I see almost every time I take the 337 Hiawatha from Chicago to Sturtevant. He has ridden the Hiawatha practically every weekday for over 40 years. For someone that travels mainly for fun, I think I have done a lot.
Why I Travel
What I enjoy the most about traveling is getting away, we all have our getaway, some it is reading, collecting things, other hobbies, or other things either legal or not. Traveling has helped my depression, for I have something that I can look forward to on a bad day, even if it is a short trip. It is so lovely to sit and watch the country pass by the window.
I encourage you to try traveling if you haven't, you could even give rail a try.  I have learned so much from my journeys. Addtionaianlly I learned more about who I am. from talking to people from around the world. I learned about other countries. I have seen both the good and bad sides of the United States. How we act and treat others as citizens and what we have done with our country. I saw how we preserved the beauty of this country and destroyed other areas. Traveling has its bumps, sways, and delays, but so do our lives; these are not the issues of life but how we react to them that makes us what we are.
Safe Travels!
Kev