Why Abby the Newfie
Abby the Newfie is not my usual travel blog post, but I wanted to write a post about her because she's a great dog and the reason for many of my travel.
If you have followed me for any length of time or if you follow TWK on Instagram (she is #abbythenewfie on Instagram), now you know a little about Abby.
Who is she?
Abby is my sister Paula's dog, and she has touched not only my heart but my folk's hearts as well.
She is a spoiled pup who belongs to my sister and family.  She is so spoiled that the first time I took my folks to visit Paula and her family, my mom dropped her bag, and it squeaked from the toys she bought for her. I call her my "puppy niece" and to my folks, she is the "grand puppy."
She seems to like me. When Paula and I are on the phone and Abby hears my voice, she sometimes looks for me. Often when she comes back to Wisconsin for a visit, she often tries to find me first after entering the house.
History
Abby breed is Newfoundland; they are aka Newfs and Newfies.
Abby was born in April of 2015. The first time I met her was July of that year when she and her family visited us in Wisconsin. At that time she was a cute little energetic twenty-pound furball.
Since then she grew up and now tops the scales between 125-135 pounds. She has calmed down, but still has bursts of energy occasionally. She has shed her puppy fuzz for her adult coat, well she sheds that still.
As a breed, Newfs have a double coat that "blows out." twice a year, so there is always Newfie hair all around.
We did have a scare with her when she was younger, she reacted poorly to her puppy shots, and the result was an eye infection that turned her eyes blue and cloudy. We thought she would have vision problems or blindness. Abby recovered very well, and we think she can see fine now. She might have depth perception issues though, for she struggles with stairs. To make things worse, she does not like elevators either.
Her favorite activities include: going to the dog park, walking (when she wants to), tug of war, chasing dogs when they are playing fetch (not playing fetch herself), eating, wrestling, napping, and when in the mood snuggling.
The Breed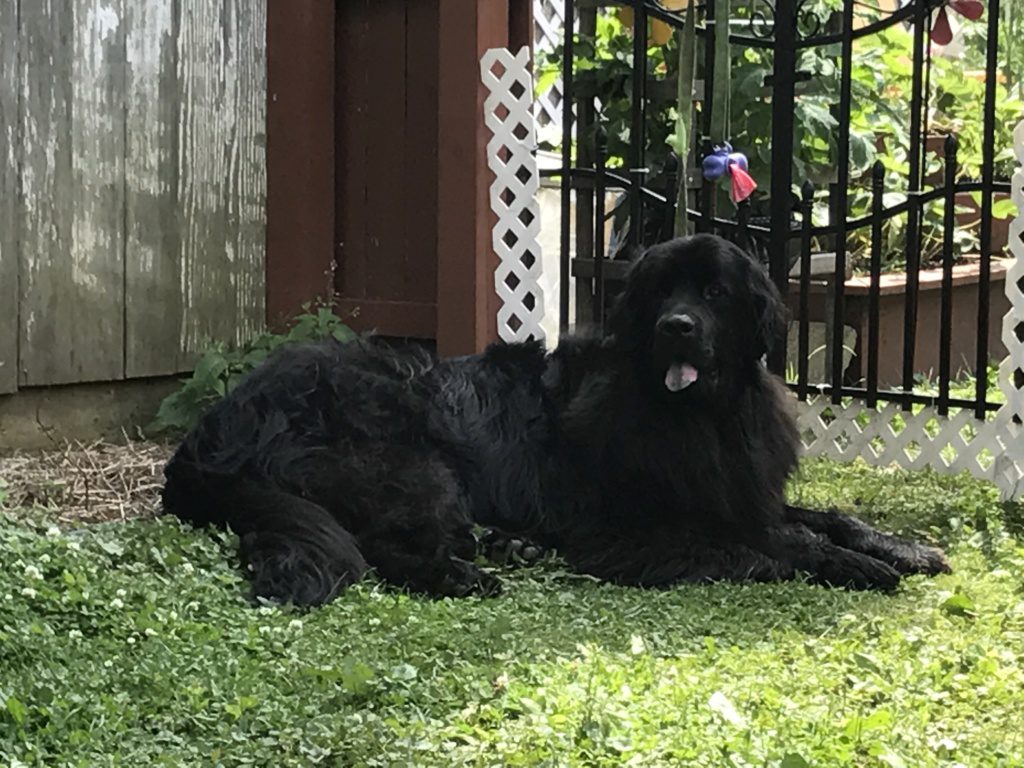 Newfoundland's are known as the nanny dog; they are great with children, natural protectors, and bred as water rescue dogs. As adults Newfoundland's weight from 100-150 pounds; ranging in height from 25-30 inches. They are also clumsy, stubborn, they drool, but they are loyal.
Abby is not a massive drooler unless you have food that she wants or if she is excited.
Newfoundland's were in a few movies, such as Peter Pan, from that movie Paula fell in love with the breed. Newfies also appeared in the Secret Life of Pets, Must Love Dogs, Police Academy 2, and others as well.
Abby being a Newf
Often when staying with  Abby when Paula and her hubby are gone, Abby checked in on me to make sure I was around
and safe. If she doesn't see me when she woke up from a nap, she often checks to make sure I am around and doing alright.
When it came to bedtime, she either slept in the room with me on her cot near my bed, or she slept close to the door of my room.
If you take Abby on a with other people, she will keep an eye to make sure everyone stays together. If anyone falls behind, she will stop until everyone is together. My sister and I were going to the dog park, and Abby and I were the first ones out the door. Abby would leave until they were with us.
Abby protects her family from the "evil" geckos that sun themselves on her window; at least she believes they are evil. She barks at them, while her efforts do not phase them. She then deploys her nose of danger and bumps the glass with her nose to try to rid her family of their "evil." There has been more than one incident where Paula went outside to knock the geckos off of the window so Abby could find peace in her life. Here is a video of Abby saving her family.
Fun with Abby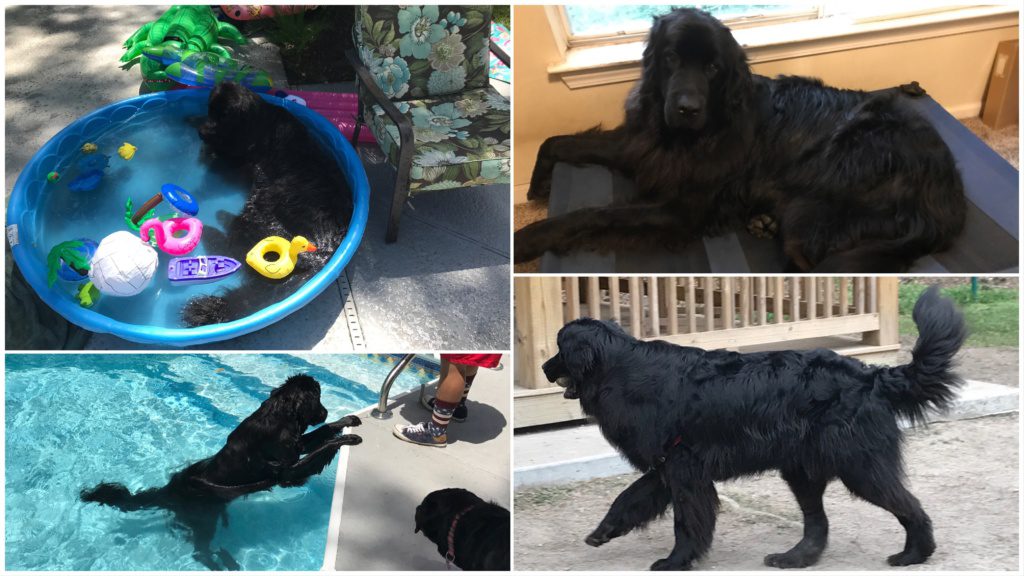 On another visit to Paula's, we received an invitation to a pool party along with Abby; the home had an in-ground pool and a plastic kiddie pool for the younger ones. Well, Abby thought that the kiddie pool was the puppy pool and claimed if very quickly for herself.
Abby would walk around the big pool and keep an eye on everyone. We had to reassure her a few times that everyone was okay and just playing, and they didn't need her help. On one walk around the pool, Abby got a little too close to the edge of the swimming pool, she did not calculate the side of the spool, and she fell in. The look on her face was OH CRAP!
Abby cares

Over the summer of 2017, my hometown flooded. Abby and family were visiting Wisconsin during this ordeal. Our yard, my folks' car, garage, and basement were all flooded, I know Abby probably did not know what was going on, but she knew something was going on that hurt her humans.
If Abby knew someone was feeling down around the house, she would sit by them and try to comfort them as best she could. She was a great therapy dog for us and others when took Abby for walks through downtown, for many of the residents of the city as they dealt with the physical and emotional stresses of the flood.
Abby was a trooper because we lost power for a few days and she did not have A/C, but we did our best to keep her cool such as getting her blocks of ice and spraying her with water. We did get her a pool to stay cool in, though she did not use the pool as much as we thought.
Wrap up
If you are interested in getting a Newfie, they are great dogs but remember they are big dogs and shed.
Abby has been the inspiration for me to travel to South Carolina to visit her. She is not the best traveler herself, for she does get car sick at times, though she does like car rides.
Now you know a little more about Abby, and how she is a beautiful pup.
Safe Travels,
Kev
**I do want to thank my sister Paula for the movie and some of the photos!**