There is someone I talk about often: Abby the Newfie, my puppy niece. I figured I should share information about this girl because I often talk about her. I even started a hashtag for her on Instagram #abbythenewfie. She is big, gentle, loveable, and sometimes stubborn, but so am I.
Who Is She?
Abby is my sister's dog, and she is the first niece/granddaughter of the family. On April 19, 2015, she was born in North Carolina and raised in South Carolina. Then she lived in Nebraska for a while and now lives in Wisconsin with me.
She is a spoiled Newfoundland "puppy." She enjoys ear and butt scratches, along with tummy rubs. Her favorite pastimes include sleeping, eating, getting petted, chasing kicked balls, and medium to short walks, oh, and sleeping.
Abby's favorite season is Winter; snow and chilly weather energize her beyond belief. She enjoys either lying in or eating snow. If it is snowing outside, she will lay out there and let the snow pile up on her till she is ready to come inside. Sometimes it is hard to convince her that she should go inside.
My folks and I do enjoy spoiling her. When I took my parents on their first Amtrak trip to see Abby and her humans, my mom dropped her bag, and it squeaked from the toys packed away for her.
Abby seems to like me, and I love her. When I take the train to Paula's, it comes in around 11 pm; Abby is the only one excited to see me.
The Newfoundland Breed
Newfoundland dogs, known as nanny dogs, have many great qualities. Newfies are gentle giants, great with children, natural protectors, and bred as water rescue dogs. As adults, Newfoundland's weight is from 100-150 pounds, ranging in height from 25-30 inches. Although they are also clumsy, stubborn, and drool.
Fortunately, Abby is not a massive drooler like some Newfies unless you have food that she wants or is excited about "trying."
Newfoundland's dogs have appeared in movies like The Secret Life of Pets, Must Love Dogs, Police Academy 2, and Peter Pan, where Paula fell in love with the breed.
Abby Being A Newfie
In some ways, Abby is a typical Newfie, but she never read the manual on being your best Newfoundland self in other ways.
Being the protector, Abby will check in on her humans if they are out of eyesight to ensure all are around and safe. She often checks to ensure all is well in the homestead if she doesn't see her humans when she wakes up from a nap.
When she lived in South Carolina, her, well, Paula's apartment was a single-level. When it came to bedtime, she would sleep on her cot in the room or close to the bedroom door. She wanted to keep an eye on things.
Abby had difficulty adjusting from the bedroom protector to being on the lower level, all to herself.
Abby enjoys going on walks, but she prefers group walks. She keeps a watchful eye on everyone to make sure no one falls behind, and if they do, she stops until everyone is together. My sister and I went to the dog park, and Abby and I were the first ones out the door. Abby would leave until they were with us.
Abby protects her family from the "evil" geckos that sun themselves in her window; she believes they are evil. She barks at them, while her efforts do not phase them. She then deploys her nose of danger and bumps the glass with her nose to try to rid her family of their "evil." There has been more than one incident where Paula went outside to knock the geckos off of the window so Abby could find peace in her life. Here is a video of Abby saving her family.
Fun With Abby The Newfie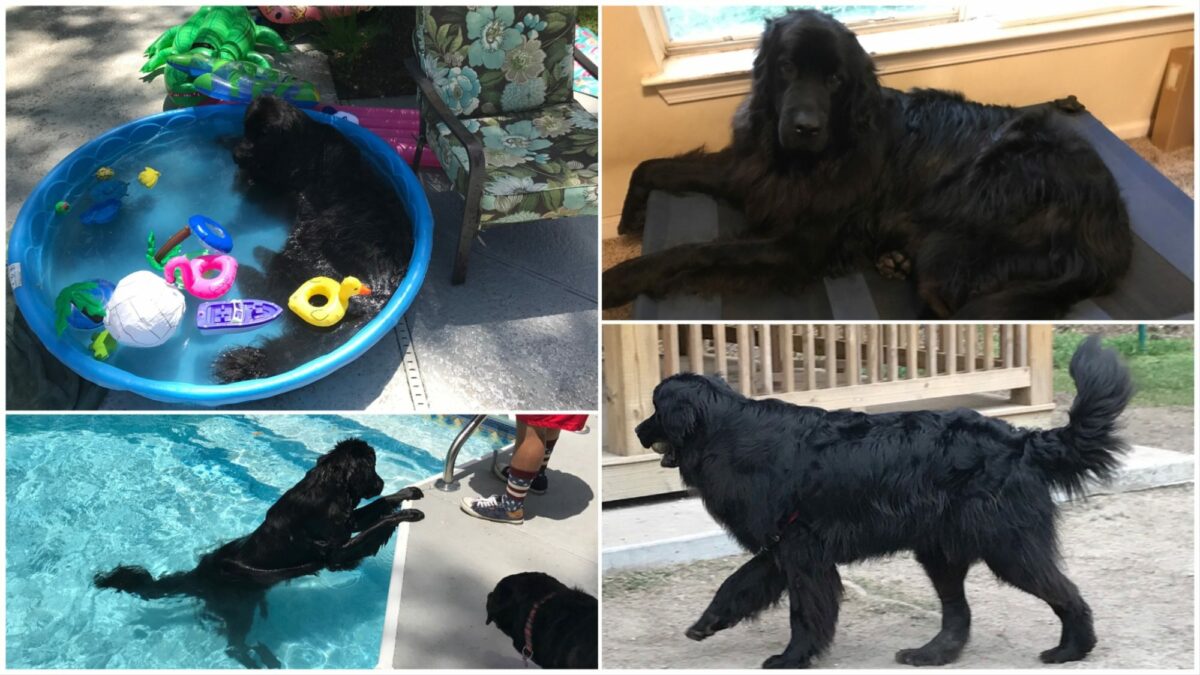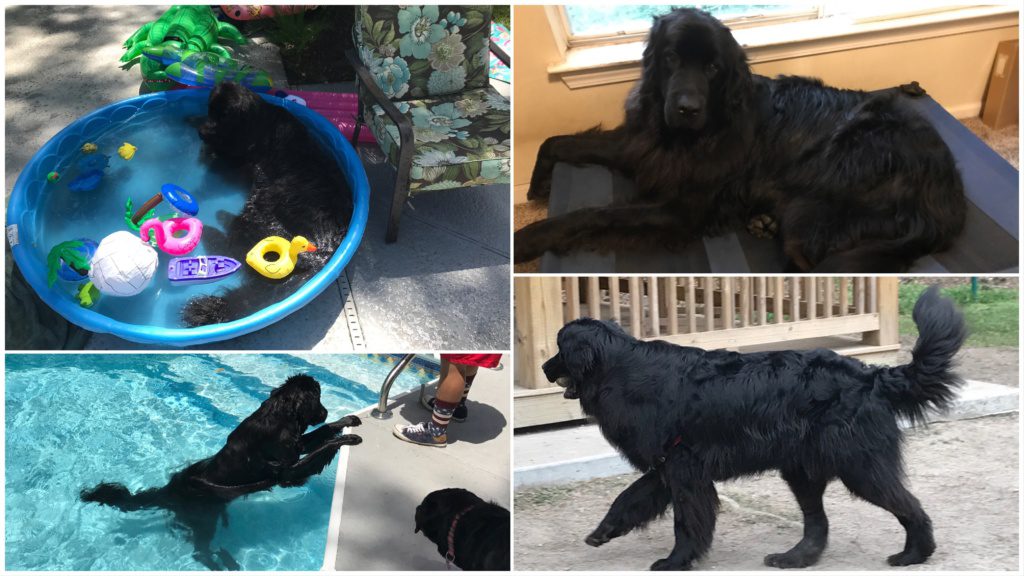 On another visit to Paula's, we received an invitation to a pool party along with Abby; the home had an in-ground pool and a plastic kiddie pool for the younger ones. Abby thought the kiddie pool was the puppy pool and quickly claimed it.
Abby would walk around the big pool and keep an eye on everyone. We had to reassure her that everyone was okay and just playing and they didn't need her help. On one walk around the pool, Abby got a little too close to the edge of the swimming pool, she did not calculate the side of the spool, and she fell in. The look on her face was OH CRAP!
Abby The Newfies Cares
Over the summer of 2017, my hometown flooded. Abby and her family were visiting Wisconsin during this ordeal.
Our yard, my folks' car, garage, and basement were all flooded; I know Abby probably did not know what was happening, but she knew something was hurting her humans.
If Abby knew someone was feeling down around the house, she would sit by them and try to comfort them as best she could. She was a great therapy dog for us and others when we took Abby for walks downtown for many of the city residents as they dealt with the physical and emotional stresses of the flood.
Abby was a trooper because we lost power for a few days, and she did not have A/C, but we did our best to keep her fantastic such as getting her blocks of ice and spraying her with water. We did get her a pool to stay cool in, though she did not use the pool as much as we thought.
Wrap up
If you want one of these great dogs, remember they are big dogs and shed.
Abby has inspired me to travel to South Carolina to visit her. She is not the best traveler herself, for she gets car sick sometimes, though she likes car rides.
Now you know a little more about Abby and how she is a beautiful pup.
If you are interested in following me, joining the email list, or want to get a hold of me, click here.
Safe Travels,
Kev
**I do like to thank my sister Paula for the movie and some of the photos!**