The Amtrak Crescent is a relaxing way to travel between New Orleans, LA, and New York, NY. In this article, you will learn what the Crescent offers and determine if it can be a part of your next adventure.
The Amtrak Crescent has thirty-three stops, connecting cities like Washington, Philadelphia, and Atlanta to small communities like Laural, MS. Additionally, it connects people to places like Dallas, TX, and Nashville, TN, through Amtrak's Connecting Services.
This article covers the information you need before your next trip aboard Amtrak's Crescent, including food, tickets, route guides, schedules, etc.
Why take the Amtrak Crescent?
Taking Amtrak is a convenient and relaxing way for passengers to travel.
Unlike airports, many of the Crescent's stops are in the downtown areas of communities, and little, if any, "jetlag." Plus, you can sit back and enjoy the scenery at ground level. Providing serves many communities without access to airports or other forms of mass transportation.
Frequency, accommodations, and equipment used on the Amtrak Crescent
Frequency
The Amtrak Crescent transports passengers daily between New Orleans, LA, and New York, NY, with thirty-three intermediate stops listed further down.
Accommodations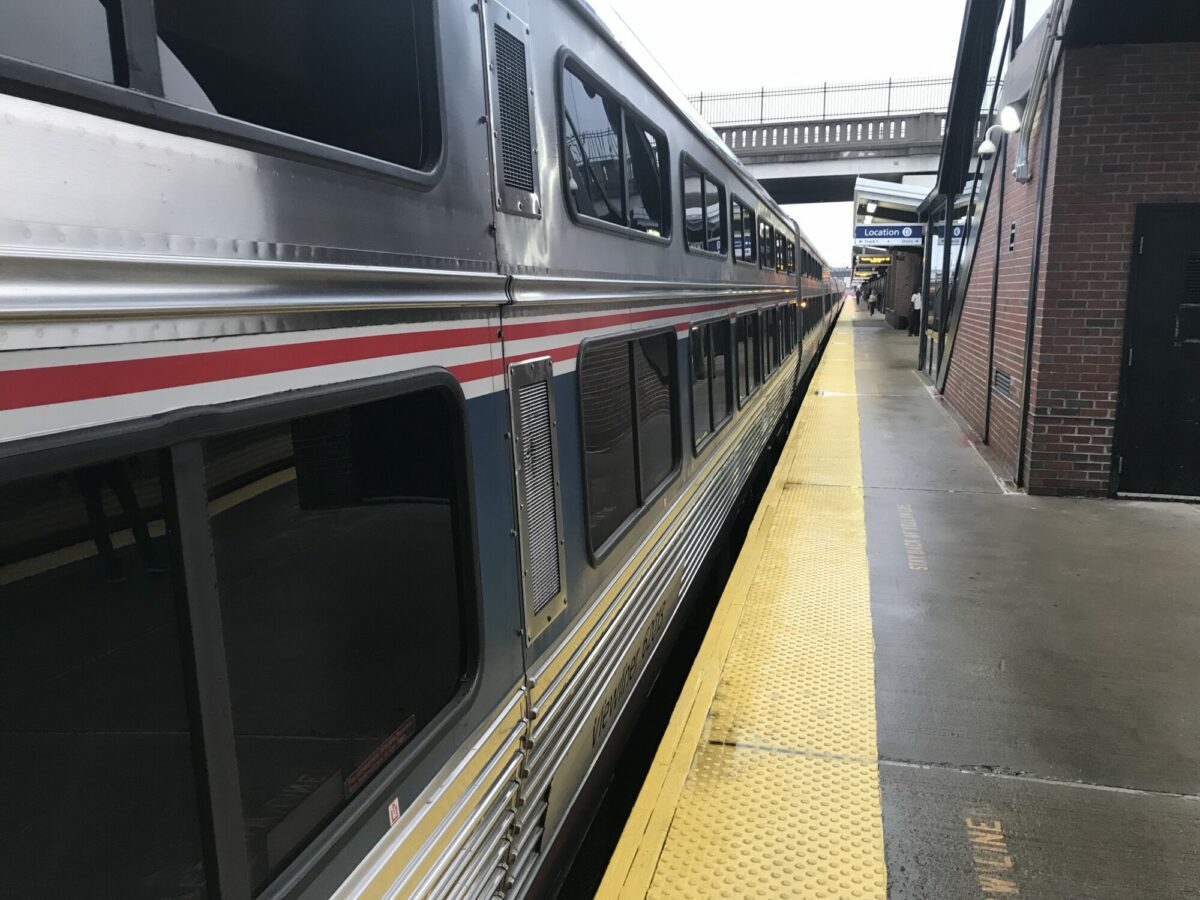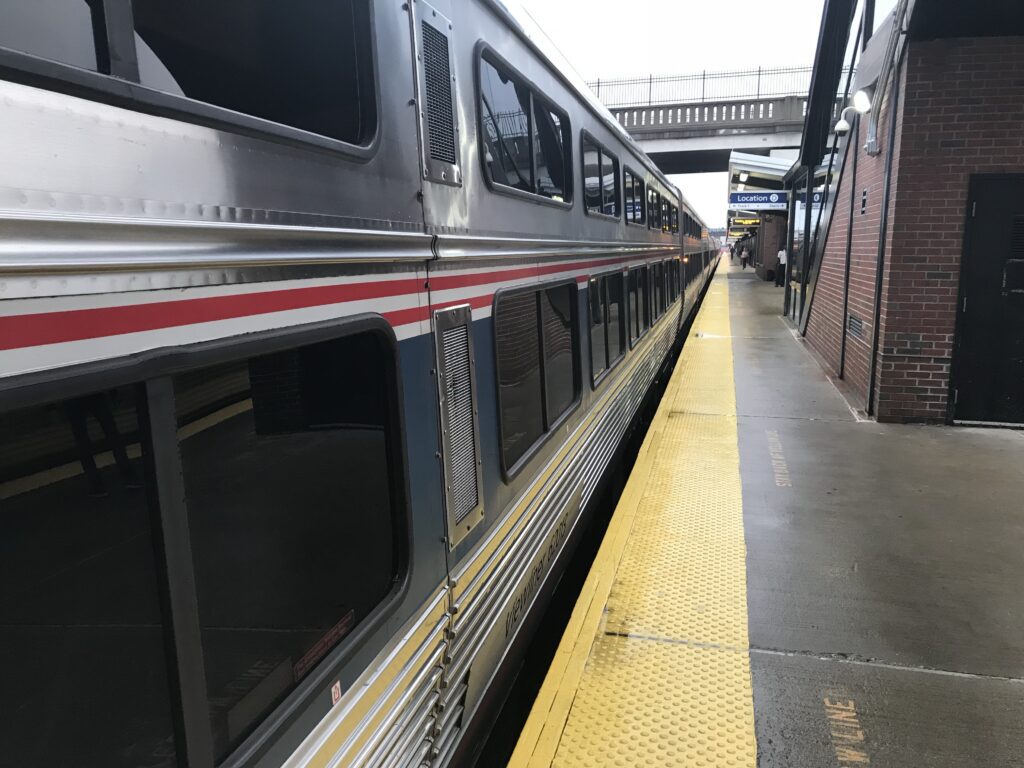 Your booking options for the Crescent include coach seating, roomettes, bedrooms, or accessible rooms.
These trains do not have family rooms.
Equipment
For the railroad geeks (I am one), the train uses GE Genisis series locomotives from New Orleans, LA, to Washington, DC. Slowly the new Siemens locomotive will be pulling these trains. New Siemens diesel-electric engines are starting to come into service on this train.
The Crescent uses single-level passenger cars and is often called a Viewliner train. The train uses Amtrak's Amfleet II coaches, Amfleet cafe car, Viewliner I & II sleepers, and a Viewliner baggage car.
The Amtrak Crescent Route Numbers
Amtrak often maintains historical names for their trains, such as The Crescent. These names make it easier to identify a route, and numbers indicate the direction.
The Southbound Crescent is number 19, and number 20 identifies the Northbound. If you leave New Orleans, you will know the Crescent by sight because it is the only Viewliner or single-level train that operates out of this station.
Where You Make Reservations For The Amtrak Crescent
Where can you make reservations?
You have several options for booking a trip aboard Amtrak's Crescent.
Ticket purchasing options include Amtrak's app or website. Other options include staffed stations by phone (1-800-USA-Rail), TTY 1-800-523-6590, Quik-Trak kiosks (found in some stations), or select travel agents.
If your trip includes Amtrak's connecting service, you must book the whole trip as one reservation.
Do not plan on buying your tickets on the train.
Rooms are assigned after you purchase your ticket, while coach seating is given on the day of travel.
You may need to call Amtrak or visit a staffed station to book an accessible room or bedroom suite or need something special like two roomettes across from each other.
How do you get your ticket?
After booking electronically or by phone, you will receive an email containing your receipt and ticket.
There are some instances where you can purchase your tickets over the phone and pick them up on the train.
Printing out tickets (optional)
You can print out the PDF from the email at home. You can use the Quik-Trak kiosks found at some stations by scanning the ticket from your device or using the credit or debit card used for purchase. If you go to a staffed station, you can ask them to print one out.
What paperwork do you need to ride Amtrak?
Amtrak has no check-in process like the airlines or TSA to go through on your day of travel.
Tickets
You can use paper or electronic tickets to board the train, including showing the emailed ticket from your device. You can print off the PDF from the email, print them out at a staff station, or one with a ticket machine.
Sleeper passengers will find their room and car number on their ticket. Coach passengers get assigned their car and seat on the platform.
Government ID
Besides your ticket, bring a valid government-issued ID. Amtrak ticket readers can randomly ask the conductors to check ID, this hasn't happened to me, but it has happened to travel companions.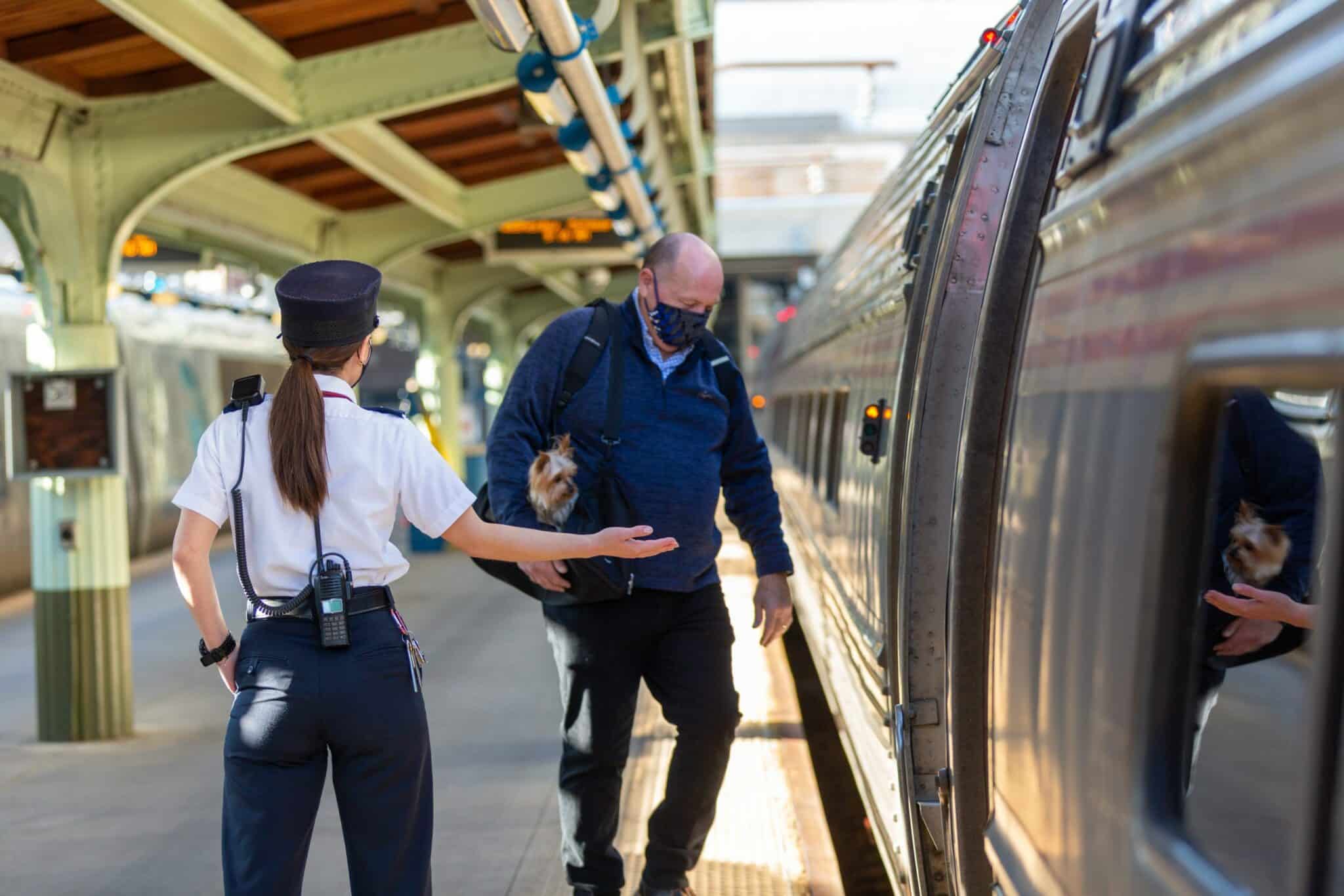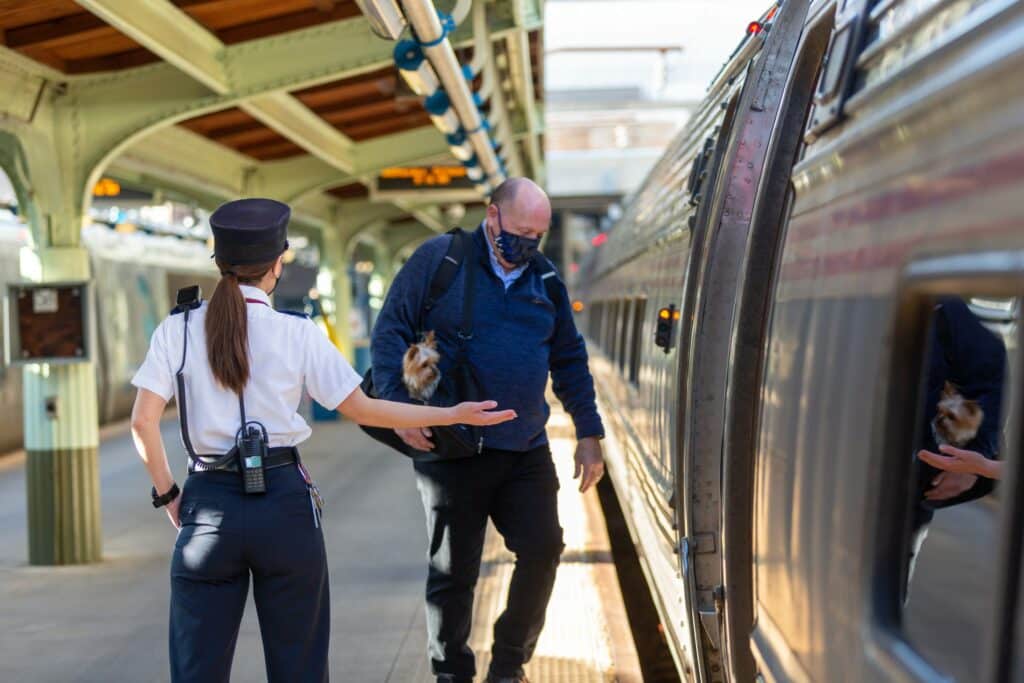 Boarding The Amtrak Crescent
When it is time to board the train, prepare your tickets for conductors or attendants. Listen carefully to the instructions given by the station or onboard staff to avoid confusion.
Coach passengers
Coach seats get assigned before you enter the train, but sometimes you can grab any open seat, often towards the end of the route. Often you will be grouped with others going to similar locations.
After you are seated, conductors place a card over your head indicating your destination to ensure you get off at the right place. This reserves your seat for your whole journey.
Amtrak asks you not to change cars for a "better seat" without first talking to a conductor.
Conductors will group passengers with the same destination in the same coach car, so boarding and deboarding are less disruptive at night. Amtrak also tries to put groups and families together; this can be more difficult if everyone keeps spreading out.
For Sleeping Car Passengers
As you learned, room assignments come at the end of the booking process.
When the train pulls up, look for cars like in the photo; often, they are at the end or front of the train.
You should see an attendant or conductor outside one or both cars to help you find the right car and room.
Do not switch to another room without talking to someone first because someone later down the line may have a reservation for it.
Usually, the car attendant will visit after the train takes off to show you around your room, and at that point, they let you know all the details of meals and other amenities. It could take a while if many people boarded with you or during meal times.
A Downloadable Route Guide For The Amtrak Crescent
Ages ago, Amtrak produced several route guides which offer a fun way to learn about the communities you roll through to your destination. You can print the one for the Crescent or save them on a tablet if you wish.
The Amtrak Crescent Schedule, run time, and on-time performance
It takes the Crescent 31.75 hours to travel 1,377 miles from end to end. Below is a brief look at scheduled departure times for a few stops.
Northbound 50
(Read from top-down)
Cities
Southbound 51
(Read from bottom-up)
9:15 am
New Orleans, LA
9:02 pm
5:24 pm
Birmingham, AL
1:03 pm
11:29 pm
Atlanta, GA
9:08 am
5:31 pm the next day
Charlotte. NC
2:55 am
7:29 am
Greensboro, NC
12:32 am (Next Day)
10:49 pm
Charlottesville, VA
8:52 pm
2:37 pm
Washington DC
6:30 pm
6: 14 pm
New York, NY
2:15 pm
The times are departure times and can change at any time.
The full schedule also includes connecting services.
What is Amtrak Crescent's on-time reliability?
From November 2020 to 2021, The Crescent's average on-time performance was 54% for all stations.
Most of the delays come from Northfolk Southern's Freight Train Interference, often on the New Orleans side of the route.
To learn more about the delays, watch the video or click here.
Delays happen and often are not Amtrak's fault. Trains can make up some of the lost time, and do not let this deter you from booking a trip. When planning your adventure, add extra travel time to your itinerary.
Who owns the tracks that the Crescent uses?
Amtrak does not own most of the tracks they run on but uses rails owned by others; the owners of those rails are called the host railroads. The Crescent runs on tracks owned by Amtrak and Norfolk Southern Railway,
Checking the train status
You can use the Amtrak app or website to check on the status of the train or a third-party site. Below is the one I use the most.
Additionally, you can sign up for Amtrak status text or emails when booking. Like I often do, you can sign up later if you forget. The people picking you up can get these alerts too.
Baggage on Amtrak
Checked baggage is unavailable for all stops, but you can carry your gear.
Carry-on
Amtrak's generous carry-on policy allows for two twenty-eight-inch suitcases and two personal items; all bags must weigh fifty pounds or less—links below for more info.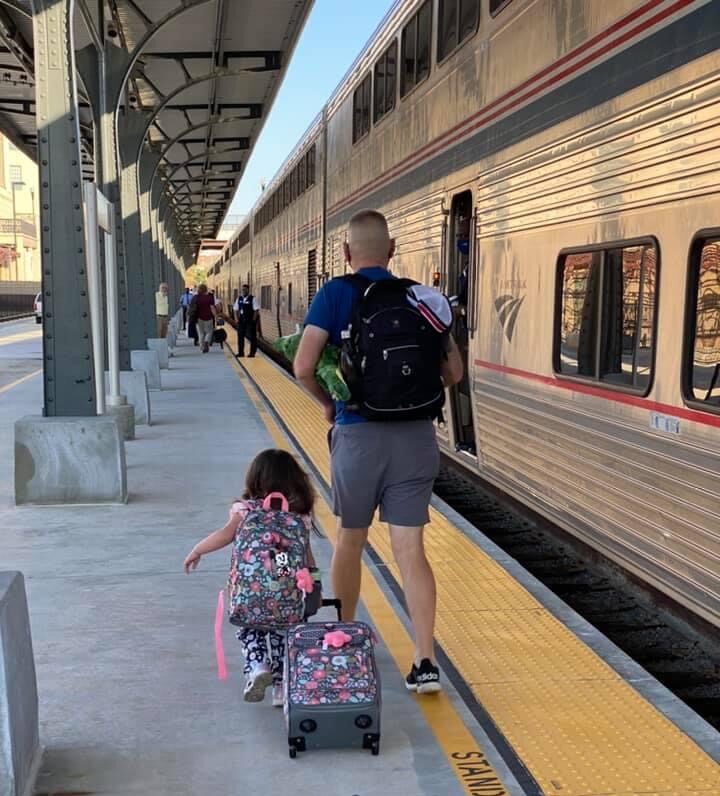 Coach passengers can use the storage shelf above their seat or the luggage rack at the end of the car.
Sleeper cars offer space above a door for your belongings or in other locations depending on the room. FYI, rooms only lock when you are inside them.
You are responsible for your belongings.
Checked bag service
Again, check bag service is not available for all stops.
Seeing if checked baggage is available beforehand prevents a day of travel surprise and allows you to pack accordingly. The website and app often inform you if the checked service is available during booking.
If any stations you use on your trip are unstaffed, you will not have checked baggage service even if you leave a staffed station.
If you connect with another train, your checked bags, except for bus transfers, will transfer. When in doubt, ask the onboard or station staff.
If you check your bags, you will not have access to them, so don't pack anything you need during the trip, such as medication or medical devices.
According to Amtrak rules, you must check your bags at least forty-five minutes before the departure of the train. Some stations may bend these rules, but it is better to plan that they won't.
Food and alcohol on the Amtrak Crescent
Bringing food aboard The Amtrak Crescent
You can bring food and beverages on board the train but remember others are around you,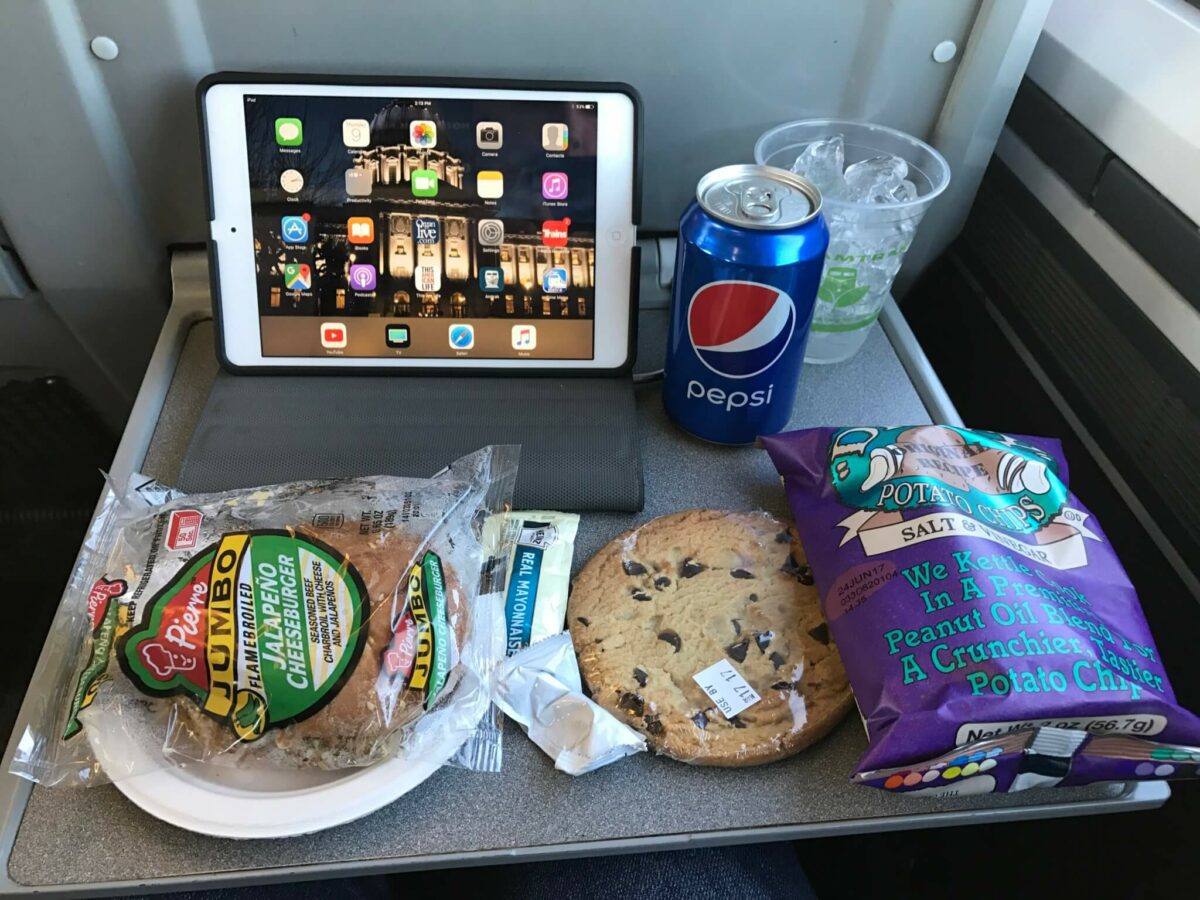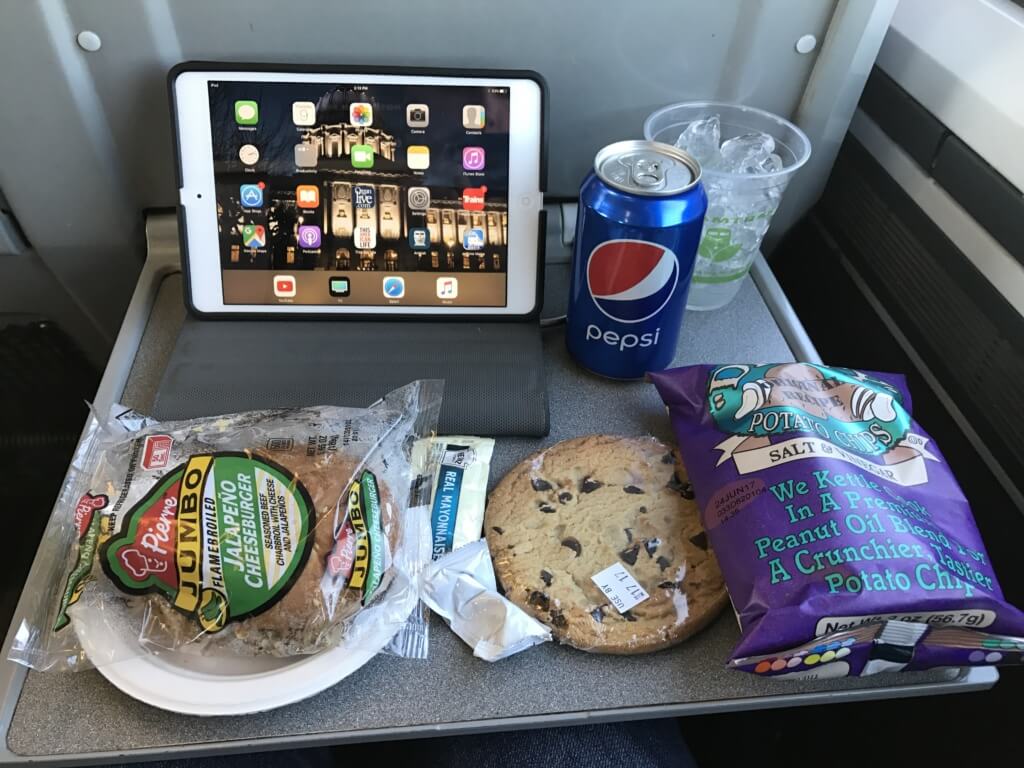 Be considerate by avoiding food with pungent odors. Also, avoid overly crunchy food for late-night snacks.
Due to FDA regulations, you cannot bring food or drinks into Amtrak food service cars you didn't purchase onboard. Food for babies and toddlers is the exception.
Amtrak cannot store or warm any food or beverage for you. If you need to keep medications cool, bring a cooler to store them in; if required, Amtrak may get you ice.
Bringing alcohol on board The Crescent
You may transport adult beverages in coach class but cannot partake from your stash as you travel.
If you break this rule, you may get kicked off the train and fined. Adult beverages are available in the cafe car or the sleeper lounge for passengers with accommodations.
Sleeping car passengers can bring adult beverages aboard and consume them only in their room or travel buddy's rooms.
You can get kicked off the train if you get out of hand from drinking too much.
Amtrak café car (for coach and sleeping passengers)
The cafe car is open for all passengers along the journey. You can find meal options, snacks, and beverages in the cafe, including the adult variety.
Seating is available on each end of the car, with the retail in the middle.
The cafe's hours can vary, so listen to the onboard announcements, but typically it is open during the day except for the attendant's break times.
The cafe is closed during the Washington DC station stop. If you need something, get it before that stop or wait till after the train leaves.
The cafe car is between the coach cars and the sleeper lounge or sleeper cars.
Sleeper lounge (for sleeping passengers only)
Update: Amtrak has temporarily removed the Sleeper Lounge from the Cresent as of early 2023. The cafe is doing double duty.
Sleeper car passengers can use the Sleeper Lounge to relax, grab complimentary meals and beverages, and purchase additional adult beverages.
You can eat meals in this car or return them to your room. Getting out of your space is sometimes nice to break up your trip.
Currently, Amtrak's Crescent uses flex dining.
If you cannot go to the sleeper lounge, your car attendant can grab and bring your meals to the room.
Amtrak offers one complimentary adult beverage per eligible sleeper car passenger and unlimited soft drinks.
Ask the Sleeper Lounge attendant about the spirits, beers, wines, and other beverage selections.
Scheduled Meals
The times you get on and off the train determine what meals you receive, so ask your onboard staff about service hours.
For those sleeper car passengers traveling from end to end, you can expect the following:
Eastbound: dinner, breakfast, lunch, and dinner.
Westbound: breakfast, lunch, dinner, and breakfast.
The 33 stops of the Amtrak Crescent
Station types
The Crescent serves various stops, including staffed stations, unstaffed stations, flag stops, and platform stations or stops.
Communities served by the Crescent.
The Amtrak Crescent lineup
Car numbers
When walking up to the train, look for a four-digit number found by the door.
It should start with "19" for Southbound trains or Northbound with "20."
This number gives you the route, and the following two numbers are the car's position in the train's lineup. For example, car 2010 is on a northbound Crescent behind the Sleeper Lounge.
Occasionally, these numbers are not updated, so a Northbound sleeping car might say 1910 instead of 2010.
Still, the second part of the number should match your ticket. The attendants or conductors are looking for you, and all the sleepers on this train are together.
Once again, your ticket contains this information for sleeping passengers, and coach passengers get assigned cars and seats while on the platform.
The order of cars for the Amtrak Crescent
The following is an approximation and can change seasonally or with equipment availability.
| Southbound Car Numbers | Equipment Type | Northbound Car Numbers |
| --- | --- | --- |
| | Locomotive(s) | |
| 1943 | Coach | 2043 |
| 1942 | Coach | 2042 |
| 1941 | Coach | 2041 |
| 1940 | Coach | 2040 |
| | Café/Lounge | |
| | Sleeper Lounge | |
| 1910 | Sleeper | 2010 |
| 1911 | Sleeper | 2011 |
| | Baggage Dorm Car | |
This information could change, and Amtrak may add or subtract equipment.
Connecting to other trains
The Crescent allows easy connections with all long-distance trains in or out of Washington DC, plus many regional trains.
Depending on where you are going, the Crescent will enable you to transfer to Silver Service for those passengers traveling to the Carolinas, Georga, or Florida or stay on to head to New York and the New England area.
You can also connect with trains going West.
Layouts of sleeper and coach cars
Below are layouts of passenger cars on the Crescent, including coach and sleeper. Amtrak has new sleeper cars coming into service, so your sleepers may vary from these.
Nevertheless, the diagrams will help you find your room in your sleeping car. The placement of passenger rooms has not changed.
Sleeping car numbers 19XX/20XX

New Viewliner Sleeper Cars no longer have toilets in the roomettes; it moved between room 12, the end of the car is now the bathroom, and the coffee station moved between bedroom "B" and roomette 1.
The new sleeper cars have a burgundy interior, with the older cars having blue ones.
Coach Cars 1930-1932/2030-2032
Each coach car has bathrooms on one end, overhead baggage storage, luggage rack, seat tray, foot and leg rest, seatback pocket, water spout, and two grounded outlets (three-prong) outlets at each seat.

Amtrak Café Car

I do not have the layout of the Sleeper Lounge car.
The Average Cost of Riding Amtrak's Crescent
The prices below are based on one person traveling from end to end and should be a reference because they can change.
Similar to other transportation companies, Amtrak uses step or bucket prices. This process is where Amtrak sets aside a group of seats or rooms at one cost, and after selling those, the price goes up to the next bucket or steps for the next gro p. his process goes on until the train is full.
As you shop for reservations, you will see costs can go up or down over time. As people cancel or move their trips, accommodations and lower-priced coach seats can become available.
When booking, the displayed price is the total price for that section for the number of people in the search.
For example, if you plan a trip to Charleston, WV, for two, and after entering that information into the app, you may get results of $118, and the sleeper is $452; that price is for both passengers.
Sleeper tickets
Two prices have two parts, one for sleeping accommodations; the first is the room rate, and the second is the "rail fair."
You pay one room rate and two rail fairs when you book two people. For example, one person in a roomette is $319, but the total is $494 for two.
Discount
Senior, military, or other discounts come off the rail price, not the room price. Click the button below for more information on saving money on Amtrak and how deals work.
Accommodations
Approximate Price Range
Coach Seats
$90 – $265
Roomettes
$394 – $654
Bedrooms
$858 – $1397
Accessible Room
Call 1-800-USA-Rail
for more info
Prices can change at any point, and based on one passenger, use a guide only.
Notable views and fun info about the Amtrak Crescent
Amtrak's Crescent gives you views of America's South. This route provides you with vistas from rural communities to major cities.
One notable route attraction is Laura, MS, the featured town of the Discovery Channel show Home Town. The train rolls behind Mathew's shop. If you are a show fan, wave as you cruise past.
Amtrak Crescent Fresh air (smoking) stops.
Fresh air breaks allow you to get off the train, stretch your legs, and breathe, as the name implies, fresh air or smoke.
Getting off the train can add to your travel experience, and your body may welcome the ability to stretch out and walk on stable ground. These breaks happen during crew changes, fuel stops, stops with baggage service, or if the train arrives early.
If you decide to get off the train at a fresh air stop, follow the conductor's directions, and don't wander too far from the train. It is your responsibility to get back on the train; it can and will leave without you if you do not return on time. Often you will hear a few blasts from the train's horn, indicating it is time to reboard the train.
Walking around the Amtrak Crescent
First-time train riders should know a few tidbits about walking around the train. It is not hard, but often not what people are used to when traveling.
Trains are linear, meaning one car is in front of another, so you may need to walk through a few cars to get to the one you desire.
Remember, trains move and sway as they go down the track.
Use seatbacks or luggage racks for support. Avoid stepping where the plates come together when passing between cars, and use candy cane-striped handles for support.
The isles of trains are narrow and do not allow two people to walk in opposite directions to pass simultaneously.
If you have two seats to yourself, people may step into "your space" for a second to let another pass; therefore, be courteous of others as you walk through the train.
Smoking & Pot On The Amtrak Crescent
Smoking and marijuana on the train
The Crescent and all Amtrak trains prohibit smoking and vaping anything.
If caught smoking onboard, conductors can remove you from the train and issue you a fine. While marijuana is legal in many states, it is still illegal to transport or consume it on Amtrak because it is considered federal property.
Bathrooms and showers on the Amtrak Crescent
Coach passengers can find two bathrooms in each coach car (across from each other), plus one cafe car.
New Viewliners, the ones with burgundy interiors, have one bathroom at the end of the car, one in each bedroom, and one in the accessible room. Older sleeper cars (blue seats) have a toilet in each room.
Each sleeping car has a shower, and each bedroom has one in the small bathroom.
There are no shower facilities for coach passengers.
The Amtrak Crescent wrap-up.
The Crescent is a safe, relaxing, and fun way to travel to your next adventure.
Food Overview
Coach riders should budget funds for the café car or bring food and snacks. Amtrak cannot store, chill, or heat the food brought aboard the train; as of now, coach passengers do not have access to the dining car.
If you need to keep medication chilled and bring a cooler with ice, Amtrak may provide additional ice if needed.
Sleeper passenger reservations include your meals. Amtrak is currently offering these passengers flex dining.
If you want a treat or need a libation, the cafe car is for you, but soft drinks and coffee are available from the sleeper car lounge.
Lounges
Sleeping car passengers can use the station lounges in New Orleans, Philadelphia, and New York. These lounges offer priority boarding, complimentary beverages, and possibly more.
WIFI and streaming
This train may have Amtrak WIFI. Amtrak uses a cell-based service like your phone, so you may not always have service. I do not plan to have internet, and I am delighted when it does. Speeds can vary depending on the passenger load and location. Check this out for more info on Amtrak WiFi.
Headphones
I know you listen to the best music, and your electronic games are fantastic, but not everyone is into either of those, especially if they are trying to sleep. Don't forget that we can hear you if you wear headphones and sing along!
Use headphones for any noise-making device (phone, games, etc.), and turn down or silence your phone, especially at night.
Sleeper passengers can go without headphones, provided you keep the volume down. Often I have my iPad just loud enough to cover the noise of the train. When in doubt, use headphones or check to see if you can hear your device in the hallway with the door closed.
Remember, the walls are thin, and sound can bleed through. The moral of the story is to be considerate of others.
Bring an extension cord, charger, cables, or battery pack to keep everything running.
Entertainment
Amtrak provides scenery rolling past your windows., but anything beyond that is up to you.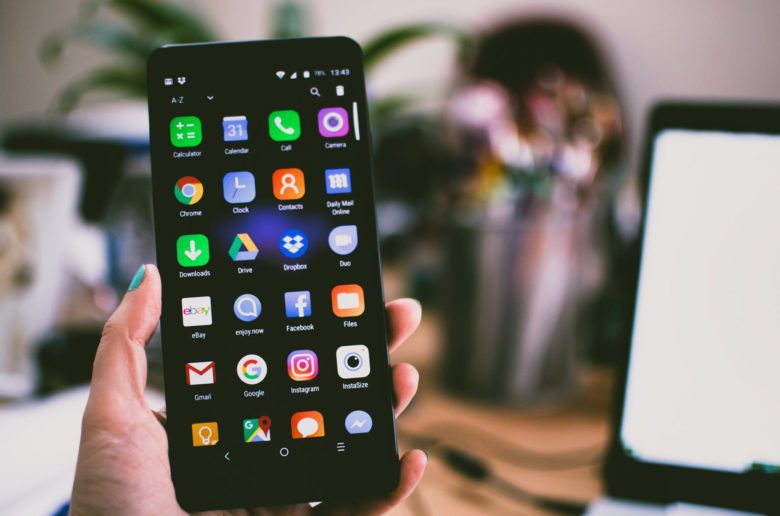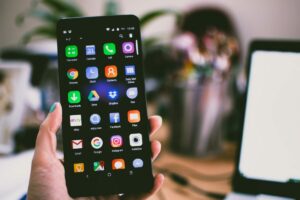 The right entertainment can help improve your trip, whether a book, videos, games or a good playlist.
Something simple like a book, magazine, or deck of cards can go far.
Electronically, apps that do not need WiFi can help you pass the time; ebooks and podcasts also help.
Here is a link for more ideas for entertainment on Amtrak trains.
Most of all, bring your patience.
I hope this helps you plan and enjoy your next trip aboard Amtrak's Crescent! Remember, if I can travel, you can too; experience comes from doing, not waiting.
Safe Travels!
Kev
Would you like train travel info in your inbox?
Consider joining the Travel with Kev email list for info, tips, and tricks for Amtrak travel.