The Missouri Runner travels between Kansas City, MO, and St Louis, MO, plus many intermediate stops., Additionally, one Runner connects with the Lincoln Service, allowing you to go from Kansas City to Chicago via St Louis. This printable Amtrak Missouri Runner Schedule page is here for you to use to get a printable schedule and train basic.
The information for these guides comes from Amtrak, and Amtrak can change them anytime.
Temporary Amtrak Missouri Runner Schedule Changes, Service Alerts, And Notices
Amtrak uses this page to inform you of any temporary changes to your train or stations. It doesn't hurt to check before booking and leaving for the station.
Amtrak Missouri Runner Accommodations
Seating Accommodations
Coach seating – features comfortable seats, a fold-down tray, individual reading lights, and 120v electric outlets. Some cars have USB chargers.
Business class– includes extra legroom, a comfortable seat, and complimentary non-alcoholic beverages. Plus, you are closer to the cafe car with some complimentary drinks (ask the attendant) and have lounge access in Chicago Union and the St Louis stations.
Additionally, Business Class customers receive 25% bonus points on Amtrak Guest Rewards points.
Bikes
Carry-On/Trainside bicycles: you can bring up to 50 lbs. Standard bicycle sizes apply. Maximum tire width: 2″, Check the link for details, and bike service may not be available at all stations.
Pets
Pet – Amtrak allows dogs and cats up to 20 pounds (combined weight of pet and carrier) for trips up to seven hours.
Food
Cafe – offers a variety of meals, snacks, and beverages for sale, and it is available for all customers for most of the journey. This car may close at the start and end of the route.
You can bring food on the train, but do not bring that food into the cafe car, FDA rules.
You can bring alcohol on the train but cannot consume it while aboard.
Luggage
Luggage: this train does not offer a checked bag service, but you can bring two pieces of luggage and two personal items.
All bags must be under 50 pounds. For more information, check out Amtrak's baggage policy.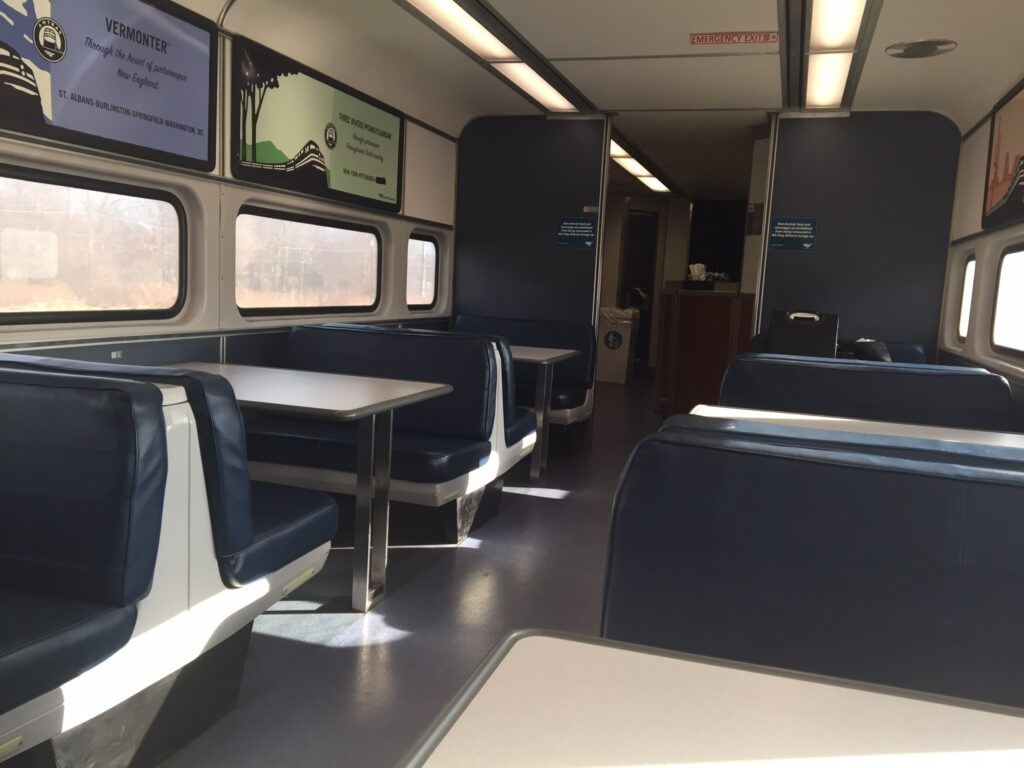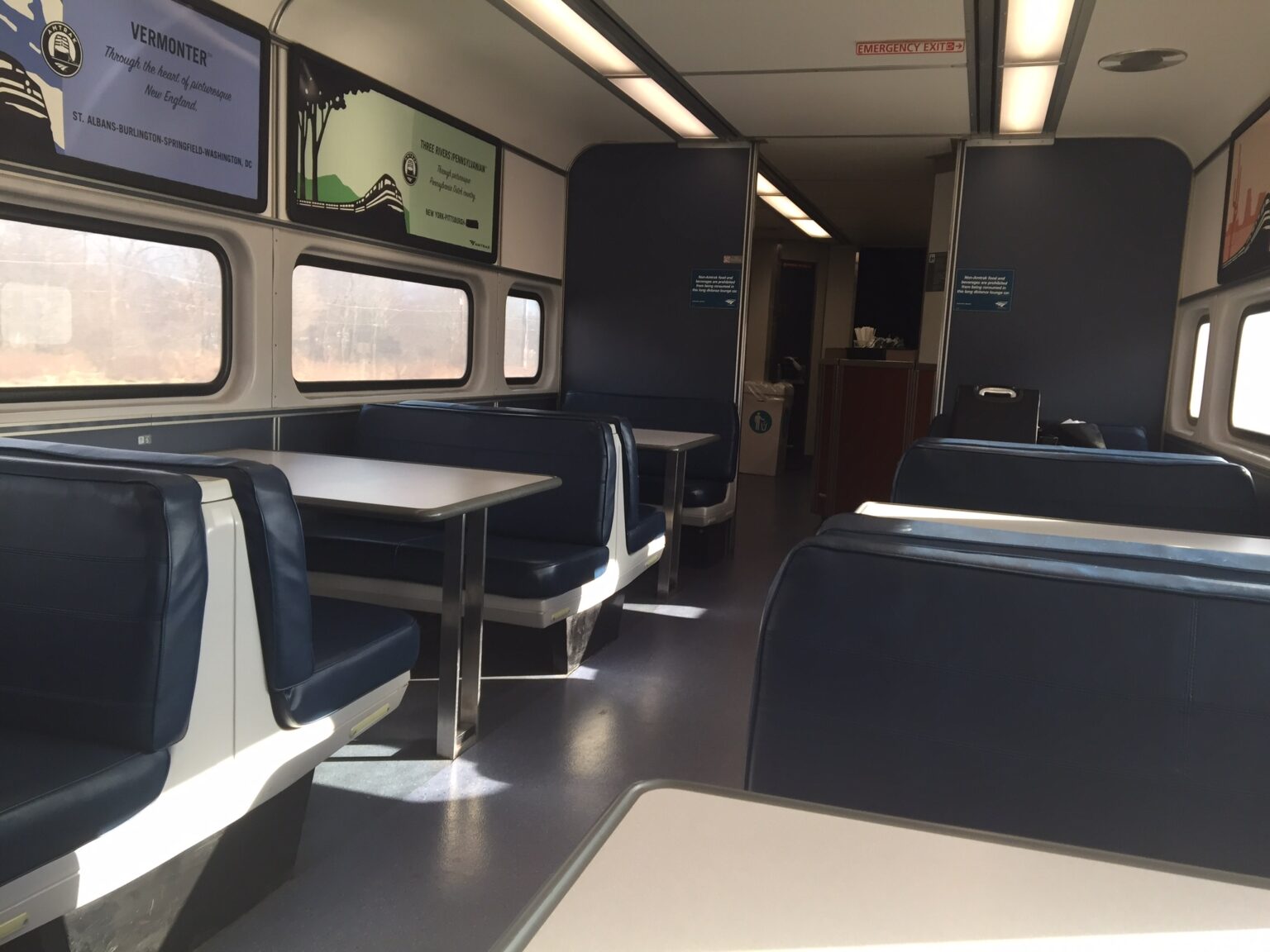 Amtrak Missouri Runner Schedule
I created this timetable as a guide from data found on Amtrak.com. Check with Amtrak or your eticket for exact times in case they changed without my knowledge.
If there are two times, the first is the arrival, the second is the departure, and if there is only one, it is a quick stop.
Trains 318 and 319 are a combined Missouri Runner/Lincoln Service from Chicago to Kansas City
311
Daily
Read Down
319
Daily
Read Down
Communities Served
316
Daily
Read Up
318
Daily
Read Up
Miles
–
9:30a
Chicago, IL
Union Station (CHI)
–
8:25p
0
–
9:53a
Summit, IL (SMT)
–
7:36p
12
–
10:20a
Joliet, IL
Gateway Center (JOL)
–
7:11p
37
–
10:52a
Dwight, IL (DWT)
–
6:33p
74
–
11:07a
Pontiac, IL (PON)
–
6:16p
92
–
11:40a | 11:43a
Bloomington-Normal, IL
(BNL)
–
5:47p | 5:50p
124
–
12:12p
Lincoln, IL (LCN)
–
5:18p
156
–
12:41p | 12:44p
Springfield, IL (SPI)
–
4:48p | 4:51p
185
–
1:25p
Carlinville, IL (CRV)
–
4:11p
224
–
1:52p |
1:54p
Alton, IL (ALN)
–
3:41p | 3:43p
257
8:15a
2:50p | 3:05p
St. Louis, MO
Gateway Station (STL)
9:40p
2:20p | 3:00p
284
8:44a
3:34p
Kirkwood, MO (KWD)
9:08p
1:47p
297
9:21a
4:11p
Washington, MO (WAH)
8:19p
1:03p
335
9:50a
4:39p
Hermann, MO (HEM)
7:52p
12:36p
365
10:40a
5:32p
Jefferson City, MO (JEF)
7:07p
11:49a
409
11:50a
6:42p
Sedalia, MO (SED)
5:49p
10:27a
473
12:21p
7:13p
Warrensburg, MO (WAR)
5:19p
9:57a
502
1:08p
7:59p
Lee's Summit, MO (LEE)
4:36p
9:16a
554
1:25p
8:15p
Independence, MO (IDP)
4:19p
8:59a
557
1:55p
8:45p
Kansas City, MO
Union Station (KCY)
4:00p
8:40a
567
*This train continues to Kansas City, MO, and runs as the Missury Runner/Lincon Service
Printable Amtrak Missouri Runner Schedule
This PDF is just for the Missouri Runner between St Louis and Kansas City,
This PDF is for the Lincoln-Service Missouri Runner that travels between Chicago and Kansas City via St Louis.
Alternatives to the Missouri Runner Schedule
Depending on where you are leaving from or going, these trains might suit your needs better.
Chicago and Kansas City
The Southwest Chief also travels between Chicago and Kansas City.
The Chief connects with other routes such as The Hiawatha, Illinois and Michigan Service, Capitol Limited, Lake Shore Limited, and Cardinal.
You could even connect to this route with the South Shore Line and Metra; some connections may require a walk from another train station.
Thanks for Learning About The Missouri Runner Schedule
My goal is to keep these as updated as possible.
Safe Travels,
Kev
Do you want train travel tips and news in your inbox?
If you want to learn more about Amtrak travel, consider joining the Travels with Kev email list.
You will get tips and tricks and discover what is happening with Amtrak travel.