Amtrak News From February 2020
Amtrak news from February 2020 includes new and updated services, a new saver fare policy change, and Next Generation Acelsa is out for testing!
This news digest is my first attempt at doing something like this, and I hope you like it.
Amtrak's new Acela prototype is ready for testing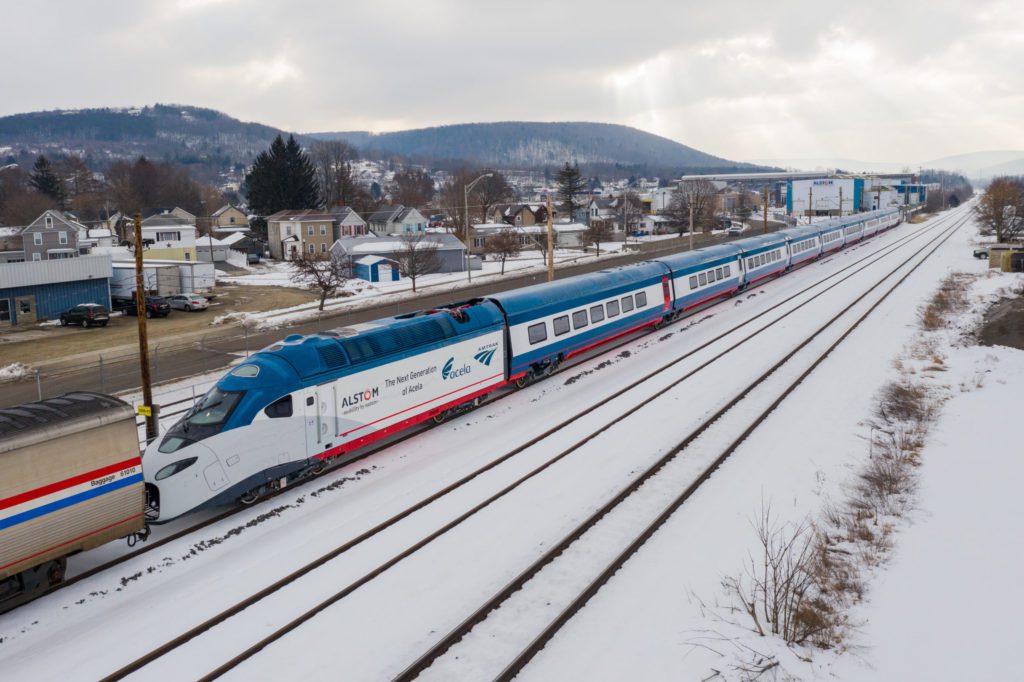 New Acela highspeed trainsets are coming to the Northeast Corridor (NEC)!
On February 17, 2020, the Next Generation Acela left Alstom's facility in Hornell, N.Y. For testing, Amtrak assembled a special train to escort it to the Transportation Technology Center near Pueblo, CO.! The special train traveled on the Lake Shore Limited route, stopped in Chicago, and headed off on the Southwest Chief route. Below is a video of this train.
Not only will the new Acela help move people along the NEC, but the production will help many U.S. workers. The Alstom Acela trainsets will use parts manufactured by nearly 250 suppliers in 27 states, with 95% domestically produced components. Ninety U.S. communities benefit from the more than 1,300 jobs created to support the production of the Acela. Some of these jobs include new, sustainable, engineering, high-tech, and manufacturing jobs.
Next Generation Acela's will accommodate nearly 25 percent more customers without compromising comfort. Passengers will notice improvements to the Wi-Fi, more personal outlets, USB ports, and adjustable reading lights. Amtrak plans on starting to use the new trainsets in 2021.
For more information from Amtrak, click here.
Changes to saver fare coach tickets
Amtrak announced new changes to the saver fare policy; starting March 1, 2020, those tickets are non-refundable. Amtrak claims that it will provide new, deeply discounted, non-refundable coach tickets and sell them as saver fares. The new policy starts on March 1, 2020, with the discounts beginning on March 2, 2020.
Here is the new breakdown of Amtrak coach class tickets:
Saver Fares: These fares offer the deepest discounts, but now have the most restrictions.

These tickets are non-refundable, and changes, upgrades, or cancelations after 24 hours of the purchase are not allowed.

Value Fares: A standard fare offered with some restrictions.

A fee may apply for cancelations or changes made within 14 days of departure.

If you are upgrading a ticket for the same day and on the same train the original reservation, you will not have an upgrade fee.

Flexible Fares: For those who need the most flexibility.

These fares offer you the ability to make changes without fees and receive a full refund up until your departure time.
This recent change does not apply to any reservations made before March 1, 2020. Sleepers and business class have different cancellation and change fees than coach class, and please review Amtrak's refund and change policies for they can change at any time.
For more information on saver fares, click here.
Amtrak allows you to cancel any unused ticket within 24 hours of purchase to receive a full discount.
New Amtrak thruway buses are coming to Decatur, IL
Amtrak is offering new Thruway services connecting Decatur, IL, to Springfield and Champaign, IL. The thruway will offer Decatur area passengers convenient access to Amtrak's Midwest Regional and national long-distance network.
Illinois Charter will operate the Amtrak Thruway service. The Springfield station connects you to Amtrak's Lincoln Service and Texas Eagle, and the Champaign station hosts the Illini/Saluki and City of New Orleans trains.
For more information on the new thruway service, click here
Amtrak prioritizes two stations on the NEC
Amtrak's NEC will increase weekday service to Mystic, CT, and Westerly, RI stations.
According to Amtrak President and CEO Richard Anderson, providing additional service for Mystic and Westerly will provide passengers with a more efficient travel experience. The benefits will also expand beyond these two stations but to the whole NEC.
Amtrak had two sales in February
Amtrak had two sales this month, one for Valentine's and the other celebrated Leap Year. The Valentine's Day Sale offered a buy one get one free deal for coach and roomette tickets, and the Leap Year sale offered 50% off many regional trains and select sections of long-distance routes.
Sign-up for Amtrak's email list if you want to receive information on upcoming sales.
My final thoughts on the Amtrak news from February 2020
While I never travel on Acela, I am excited about the new equipment. These trains will provide a positive economic impact both from jobs created by manufacturing and its increased capabilities.
I knew about the Acela coming through Chicago, but unfortunately, I could not get down there to see it. There are plenty of videos on YouTube if you want to see more of this move.
I am curious about the Saver Fare discounts Amtrak is talking about with these new offerings. Remember, when it comes to travel, you give up something else when you compromise on cost. It looks like cheaper tickets will mean you compromise your flexibility. If you need flexibility, buying Saver Fares is not the best idea.
A few months ago, Amtrak started a new thruway line in my home state of Wisconsin. Occasionally these lines are used as ridership test routes that could lead to new train routes.
In the 1980s, Decatur had train service from Amtrak, and maybe Amtrak is looking to return to stopping there.  I have been on a few Amtrak Connect and Thruway buses and found them comfortable and handy.
If you are interested in riding Amtrak, check out this page, or if you are interested in joining my email list or want to contact me, click here.
Safe Travels!
Kev