Amtrak's pandemic response is within that of the rest of the travel industry. Amtrak long-distance trains continue to run, but now three days a week for most routes. Somes state-sponsored trains are still canceled, but others started with limited-service based on the current demand and safety.
If social distancing or wearing a mask is not your thing, maybe now is not the right time to travel by any means other than driving.
Do You Have An Amtrak Trip Planned?
If you have a trip planned with Amtrak, as of 5/20/2020, you can make changes until the end of the year, without a fee, and cancel without a fee until Oct 31, 2020. For the latest info, click here.
Many changes are possible via the app or website, but with cancellations, calling 1-800-USA-RAIL is the ONLY WAY to receive a full refund or voucher for any canceled ticket. If you redeemed points for your trip, call 1-888-707-6600.
I had essential travel during this pandemic. During this time, I had a few trains canceled on me and had to move dates of other tickets, and the Amtrak phone agents were accommodating with all that is going on.
Not all stations that typically have staff currently have agents available at this time, so be prepared for that possibility. If that is the case, calling is your best option.
Traveling on Amtrak during the pandemic?
Amtrak is booking trains at 50% capacity for better onboard social distancing. For more information, click here.
If you are looking for additional social distancing options, long-distance trains offer rooms for you to book. These rooms include your meals and, for a limited time, also include one adult beverage.
Six, ten ride, or monthly pass holders need to reserve their spot on the train in advance. Click here for information on this process.
Amtrak's pandemic response, contact-free station experience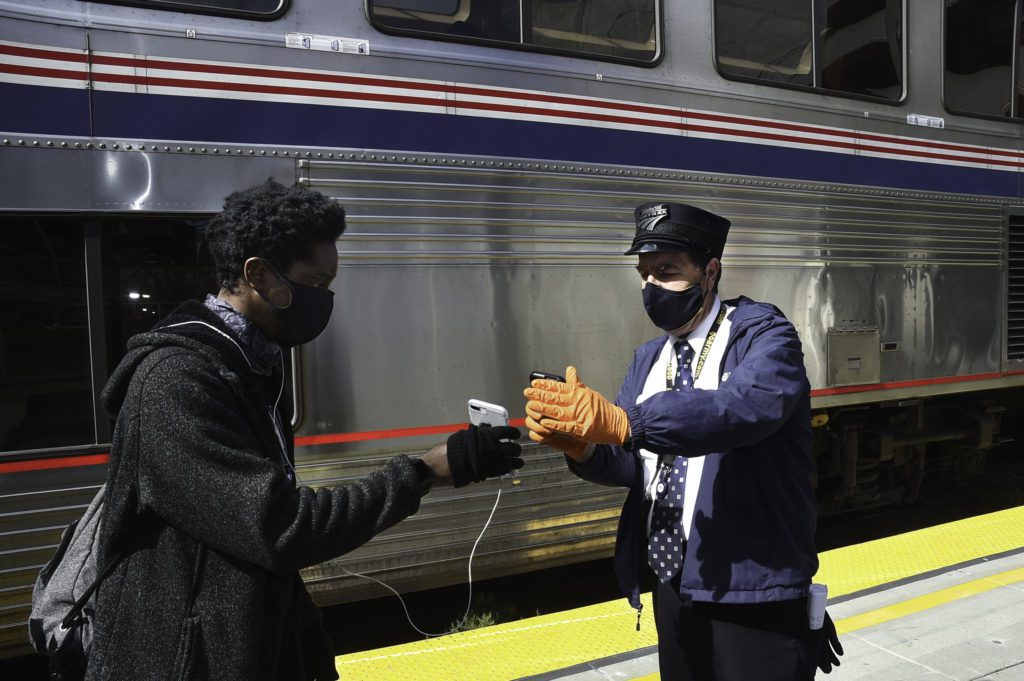 Amtrak is only accepting credit and debit cards at stations and on the trains.
To reduce crowding at the departure boards, passengers can use the Amtrak app to check arrival times. At select stations, Amtrak app users will receive push notifications for gate and track information. Make sure your settings allow Amtrak to send push notifications.
Amtrak encourages boarding with eTickets. Conductors scan the etickets from the Amtrak app or the emailed ticket from your electronic device.
Enhanced Station Cleaning & Safety Procedures
Amtrak has enhanced its station cleaning and disinfecting frequency. Amtrak also retrofitted protective barriers where necessary. Commonly used surfaces at stations, such as door handles, countertops, seating areas, and Quik-Trak kiosks, are frequently cleaned with EPA-approved and CDC-endorsed disinfectants. Signage is displayed at the busiest stations to indicate safe distances in high traffic areas.
Amtrak requires all customers and employees to wear facial coverings while in stations.
Except for the Auto Train, Amtrak encourages the guest to arrive no more than 30 minutes before departure when possible and within 60 minutes if in need of assistance such as ticketing or baggage service.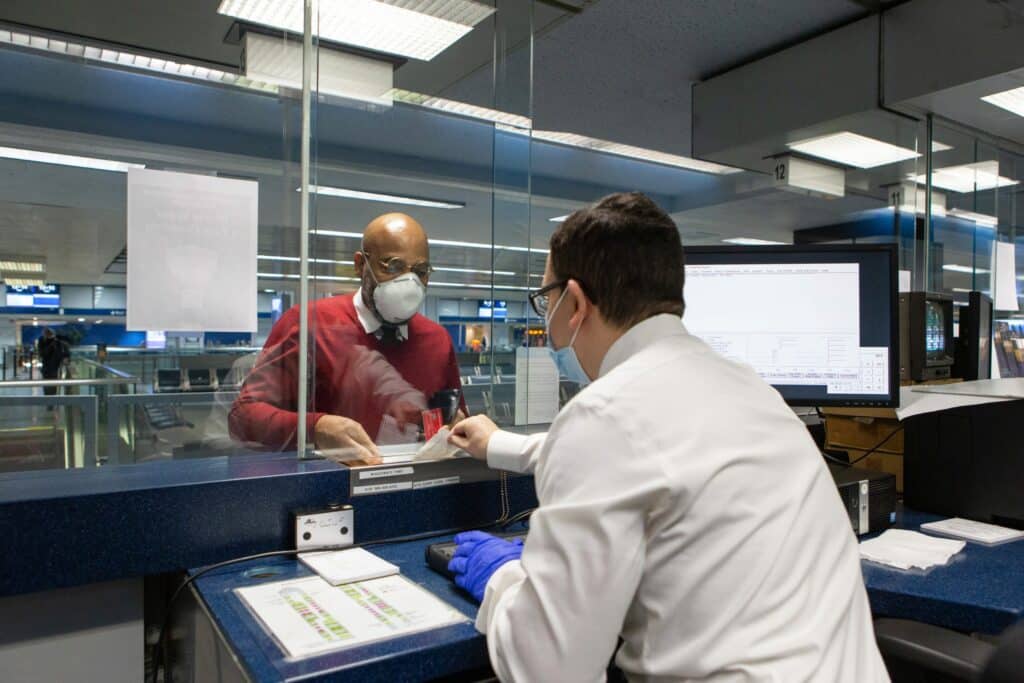 Onboard Food Service
Amtrak temporarily uses flex meals for all long-distance trains (except the Auto Train). Amtrak encourages passengers to have their food brought to their rooms by the car attendant or get it themselves. Limited seating is available in the sleeper lounge (dining) car.
Café cars are open, but Amtrak asks passengers to practice social distancing.  The seating in the café cars is closed, but you can take your purchases back to your seat or room.
For customers placing orders in the cafe, Amtrak added signage and markers promoting physical distancing leading up to the café counter. Additionally, sneeze guards are now at the café counters.
Dining and lounge seating will remain available on select long-distance routes with physical distancing protocols in place.
As a reminder, Amtrak is currently cashless. If you do not have a card, you may need to purchase a cash card.
Amtrak's pandemic response: onboard experience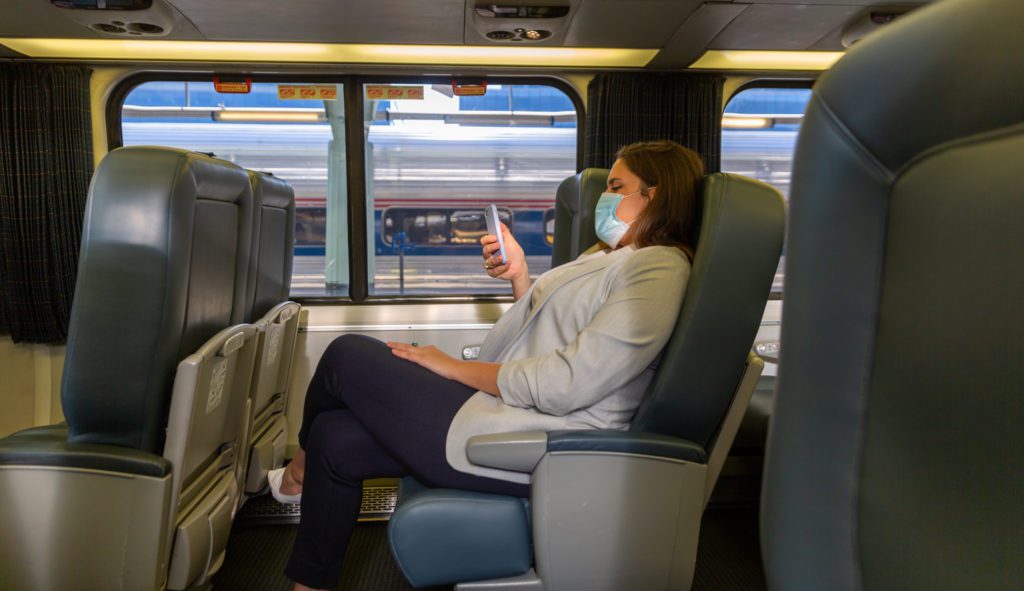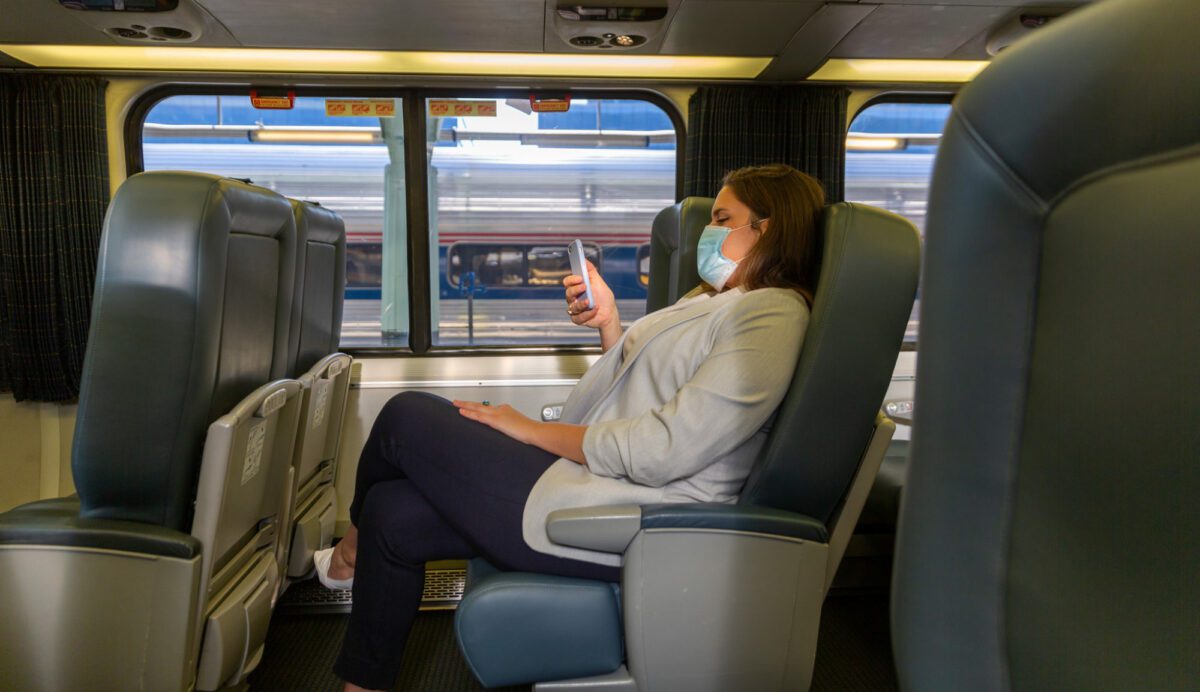 Amtrak requires all customers and employees to wear facial coverings while on trains or thruway buses. Passenger can remove their facial mask while eating and drinking or if their door is closed in their rooms.
Amtrak amplified the cleaning of their trains, including fogging the cars. Fogging is a sanitization method to disinfect surface areas, and the procedure is highly effective and safe. Following the fogging process, tray tables, seats, and restrooms are then thoroughly sanitized.
To reduce exposure, Amtrak removed all non-safety materials from the seatback pockets.
Handwashing is available in each car's restroom; at least two bathrooms are in each rail car. Amtrak strongly encourages washing hands often and thoroughly with soap and water throughout your journey.
One method of contactless movement onboard the trains is to us the foot button to open the doors that go between cars.
When the train is approaching a destination, conductors will announce where and when customers can disembark to minimize crowding at the door.
Wrap-up on Amtrak's pandemic response
Right now is probably not the best time to travel, and companies are doing their best to comply with the CDC and White House Guidelines. If you do need to travel, be safe.
If you choose not to follow the guidelines, removal from the train may occur along with other consequences.
Now more than ever, we stand ready to play a critical role as our nation recovers. We are doing everything we can to offer vital transportation services in a way that prioritizes employee and customer safety and well-being. ~ Amtrak President and CEO Bill Flynn.
If you are interested in traveling via Amtrak, check out my Riding Amtrak page. If you want to see more from me, contact me, or join the email list, click here!
Safe Travels!
Kev