Dad's Retirement Trip: To Texas And Beyond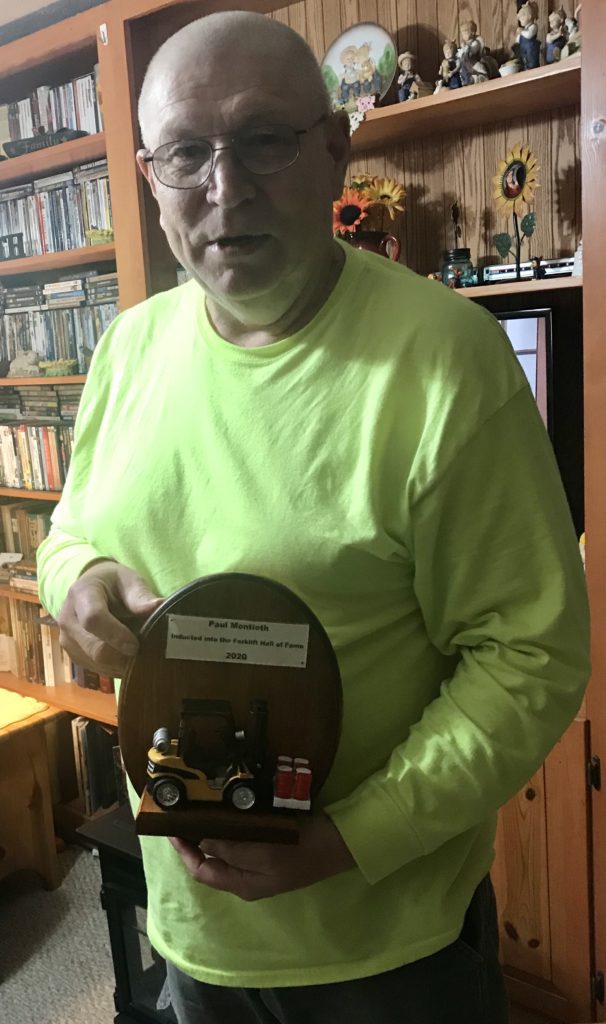 A few months ago, I finished booking a trip for my Dad and me. The adventure is my Dad's retirement trip to celebrate his 47 years of working at the same factory, ironically not for the company.
He started working there a week after turning 18 and retired at 65. The factory changed hands several times during his employment. But he lasted long enough to be the second person from the top on the seniority list.
He planned on retiring at the end of December (2019), with half of the month as paid vacation time.
Unfortunately, he had to go back and work in January 2020 due to paperwork issues. And as of January 31, 2020, he is retired! His department had a party, gifts, and the whole nine yards, so it is official.
My Great Aunt and Uncle made Dad a plaque to celebrate his achievement. It was nice to see he made it into the Fork Truck Hall of Fame. (Don't tell him, but I don't believe it exists, haha)
Dad's First Day of Retirement: He Took A Trip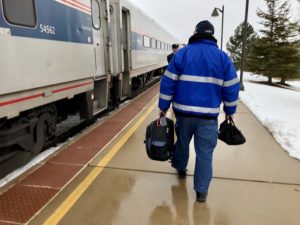 On February 1, 2020, he took his first solo train trip. He traveled from the Sturtevant Depot to Omaha, NE, via Chicago. He took the elite shuttle service, aka my sister's Buick, back to her home. My mom, his wife, stayed in Nebraska to help Paula while Mikey was at job training.
I am proud of my Dad; he is taking this next adventure with a positive outlook, and he is excited. His travel confidence is growing, almost a little too much.
Now he and mom are talking about taking Amtrak trips out to Paula's without me! I have been their chaperone for years, or as I like to say, their support traveler. It looks like they no longer need me for their routine trips.
I have mixed emotions with this new independence; I taught them well, proving I know what I am talking about and my teaching capabilities. But on the other hand, it does cut down some of my travelings.
Trip update: August was the original date for this adventure. As of 5/16/2020, the experience moved to October.
We Have Traveled Together
Over the years, Dad and I took several trips together by rail. Our long-distance Amtrak trips were to visit my sister and family in Charleston, SC, who moved to Papillion, NE. So, we never took any long trips for the sake of traveling.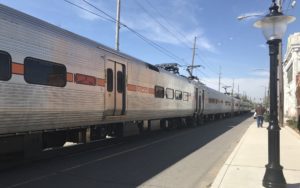 My Dad is more adventurous than my mom. He is open to new routes to visit family, providing they are not too inconvenient, cut down on layovers, or make travel more enjoyable. My mother is growing as a traveler, and she is more open to new things than ever before.
I enjoyed traveling to Charleston, SC, because of how long it took. Two nights and each night is on a different train. Plus, there were a few routes to choose from for that adventure. Since my sister and family moved, things have changed; there is only one option with no overnights between Chicago and Omaha.
Dad and I went on a few Metra and Southshore Line adventures. He enjoys seeing the South Shore Line running down the middle of the street in Michigan City, IN.
Dad's Retirement Trip: His
Dream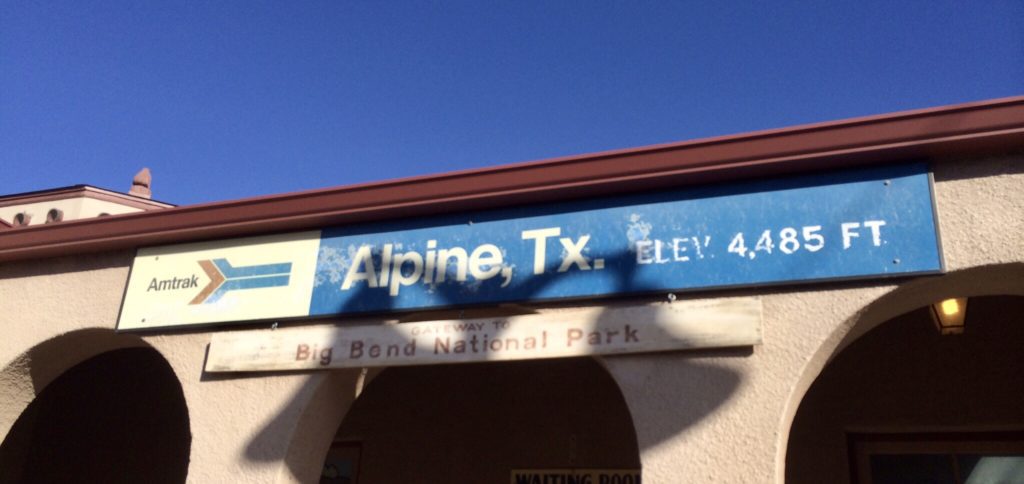 If you haven't picked up from the title, my Dad dreams of seeing Texas. The Texas Country Reporter piqued his interest in the longhorn state for years.
Growing up and spending most of his life in the midwest, getting a chance to see the "world of Texas" is a new and exciting adventure for him. I asked him what he wanted out of this trip, and he replied, "I want to see Texas." His answer gives me many options, but I need to remember this is his trip.
Since he likes train travel, an Amtrak adventure will fulfill his wants and wishes, with minimal stress, and is less work and possibly cheaper than a road trip.
A Little Backstory
I wanted my Dad to go on a westward Amtrak journey for years, but it never happened with our work schedules and little vacation time. But out of an unfortunate event, an idea came to mind, and tentative planning started.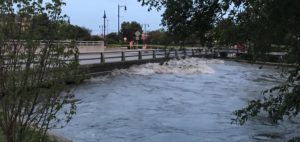 In 2017, a storm hit that caused a 100-year flood. The storm caused flash flooding on many streets and forced the banks of Fox and White Rivers to swell and overflow.
The river's flooding caused many streets to back up, and ours backed up for hours. The backup flooded our yard, garage, and our basement. We had had about 18″ in our basement, destroying many memories and causing damage.
To take my mind off of all that was going on, I decided to plan trips. Yes, I like planning trips for fun, even if I don't take them.
One of these adventures I planned included a long weekend adventure where Dad could see part of Texas, and I could take a train I hadn't been on before. The trip we looked at us to Oklahoma via Texas.
Sadly, once things calmed down, reality struck. Between the basement repair cost, an emergency plumber visit, and replacement of water heater and other appliances, the funds quickly depleted.
As time went on, the trip got shelved altogether.
Now when this milestone came up, my mom not only took the idea off the shelf but asked me to expand it, and I was excited to plan a week plus a long trip!
Dad's Retirement Trip:
The Plan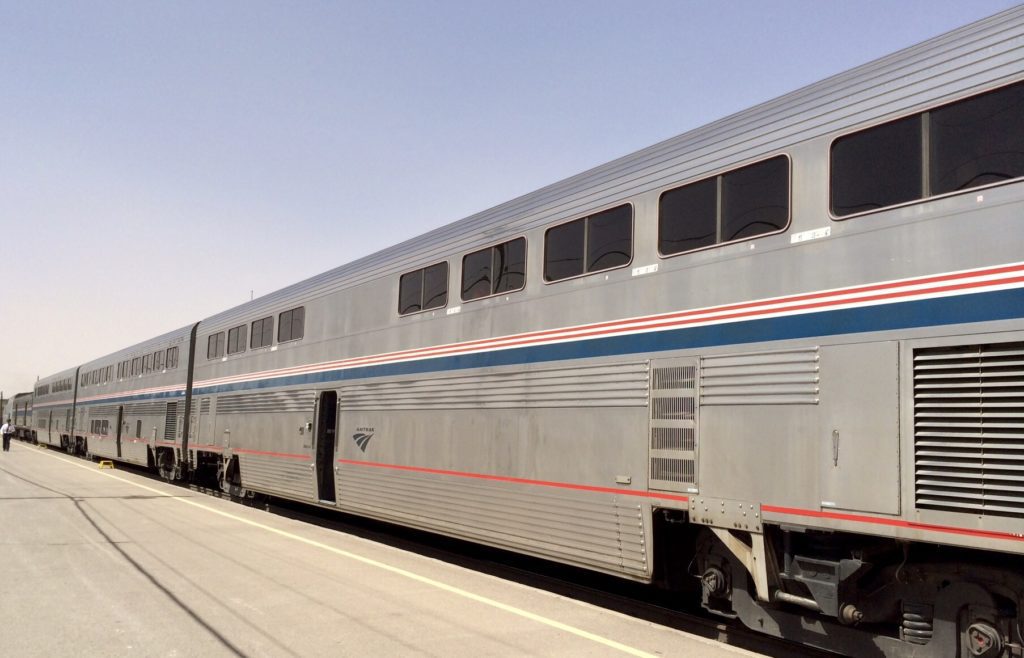 This trip will consist of five Amtrak trains, spending most of our time on the train. We scheduled two nights "on the ground" in New Orleans when we first booked the trip. We would also spend a day in Los Angeles between trains as well. So yes, this trip is about the journey and less about destinations.
We Had To Make Changes
Because Amtrak's reduction in service due to the pandemic, we are now spending one night in New Orleans instead of two because Amtrak discontinued service on Sundays. I gave my Dad three options,
We booked a bedroom in the City of New Orleans, separate Superliner Roomettes on the other two trains, and a coach on the Hiawatha (a coach-only train). All of our onboard meals come with the price of our room.
All the long-distance trains on this adventure are Superliners with Coach and Sleeper accommodations. They also have a Sightseer Car with a cafe and a dining car. Due to the pandemic, all of our meals are flex dining.
Dad's Retirement Trip: Getting What We Both Want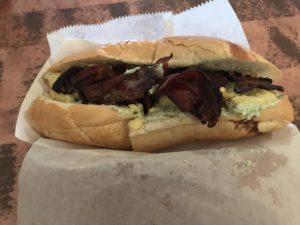 As I said before, my Dad's wanted to see Texas. Under his definition, he needs to view the state, and stepping on the ground is a bonus.
For me, I want a little more than that. I am traveling as much as I want other than to Nebraska to the family. There are cities that I want to see again, and that happens on this trip. One city I miss is New Orleans, and you know what, I talked my Dad into going there.
A few points helped talk him into it, one being by going to New Orleans, he can see more of Texas, as you will find out.
First & Last Legs Of The Trip
Like many of my trips, they start and end at the Sturtevant Depot, and the first and last train will be the Hiawatha. We could take Metra, and honestly, we still could, but the beautiful thing about this station is parking. As of now, parking is $7 for parking for up to 30 days. With Metra, it is cheaper to ride and park. But the convenience of Amtrak made us choose it; plus, the ride is shorter.
These plans are fluid at the moment because my mom may stay at my sister's while we are gone. We may take Califonia Zepher or fly from Omaha, NE. Those are details we are working out later.
Chicago & Boarding The City Of New Orleans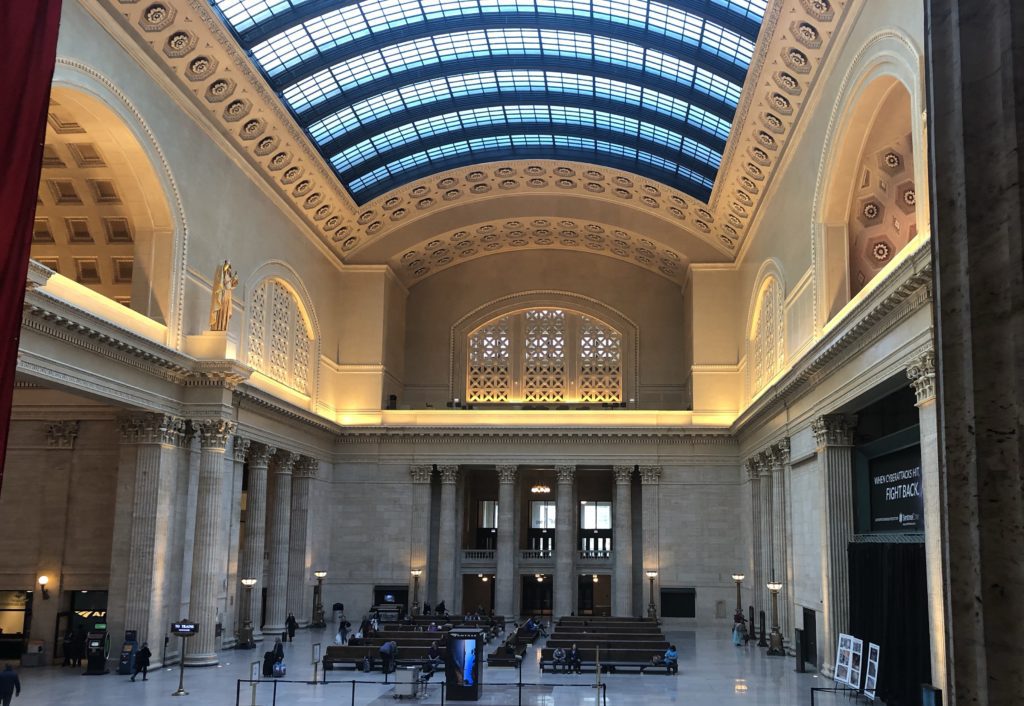 From Sturtevant, our next stop is Chicago. We can use the Metropolitan Lounge at Chicago Union Station because we booked a roomette on the train. The lounge area is a great place to relax before starting the adventure. We would wait in the beautiful Great Hall if we were in coach class.
Another update: there was a price difference when I moved our tickets. I could upgrade our City of New Orleans ride from a roomette to a bedroom and get $1 back!
Amtrak's City Of New Orleans
The City of New Orleans takes 19.75 hours to travel 934 miles. A decent amount of time is while we sleep, and I am sure we will miss the only stop in (Fulton) Kentucky. We will start catching our scenery from Memphis, TN, through Mississippi before traveling over Lake Pontchartrain into the Cresent City.
A New Orleans Layover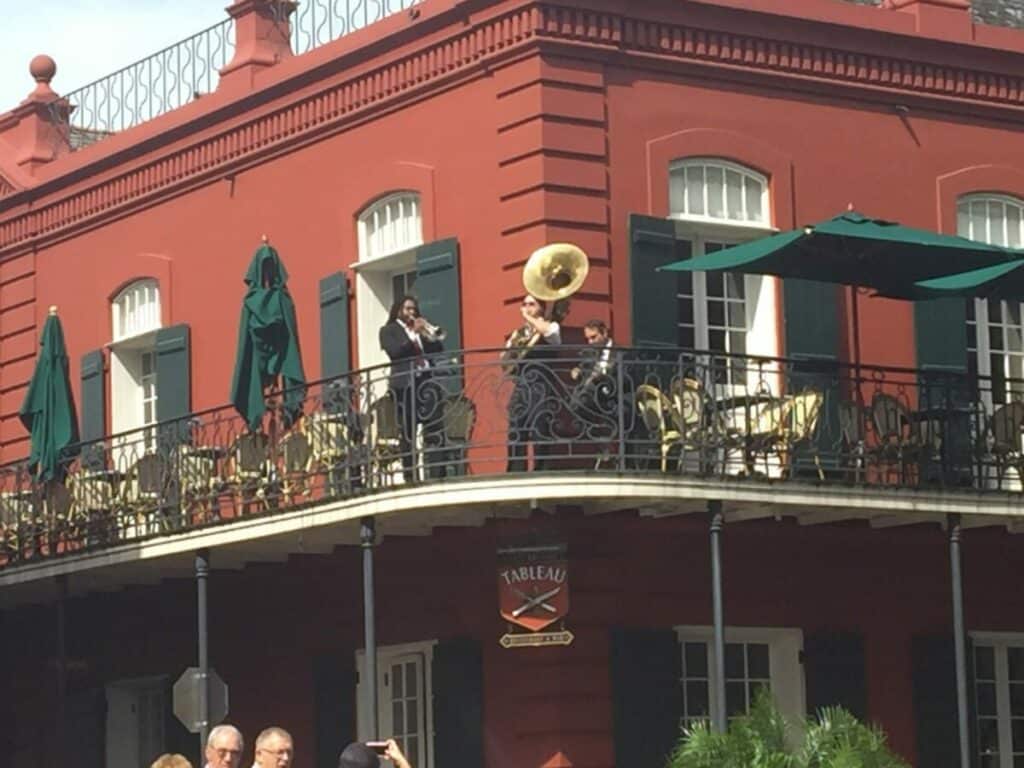 I am excited about this layover, as you know. I think we can both enjoy the city if both give a little. My Dad wants to try the food, and I want to walk around and maybe have a beer or two.
We have a room reserved at the Old 77 Hotel in the Warehouse District. This hotel suggestion comes from the podcast Beyond Bourbon Street; it is one of its sponsors. Side note: if you have any interest in New Orleans, Beyond Bourbon Street is a podcast for you.
Boarding the Sunset Limited – Dad Get's To See Texas
While the City of New Orleans started my section of the trip, Amtrak's Sunset Limited began my Dad's part.
The Sunset leaves New Orleans at 9:00 am, traveling west through Louisana. Five stops later will be in Beaumont, TX. From there, we will go across the width of Texas to El Paso. Dad will see a lot of the state. All the stops between San Antonio and El Paso will see twice, plus there we will have several opportunities to get off the train for a few moments to walk on Texas soil.
I am looking forward to one part of this ride towards the beginning. We will travel over the Huey P. Long Bridge. I went over the bridge a few years ago but in the dark, and I am excited to see it during the day. Check out the video or click the link to see more on the bridge; it's fascinating.
The Sunset Limited runs three times a week, in each direction, between New Orleans, LA, and Los Angeles, CA. The train takes 46.58 hours to travel 1995 miles from end to end.
From San Antonio, TX, to Los Angeles, a sleeper and coach car from the Texas Eagle gets added (or taken off when headed east). More on that in the next section.
A Day In Los Angeles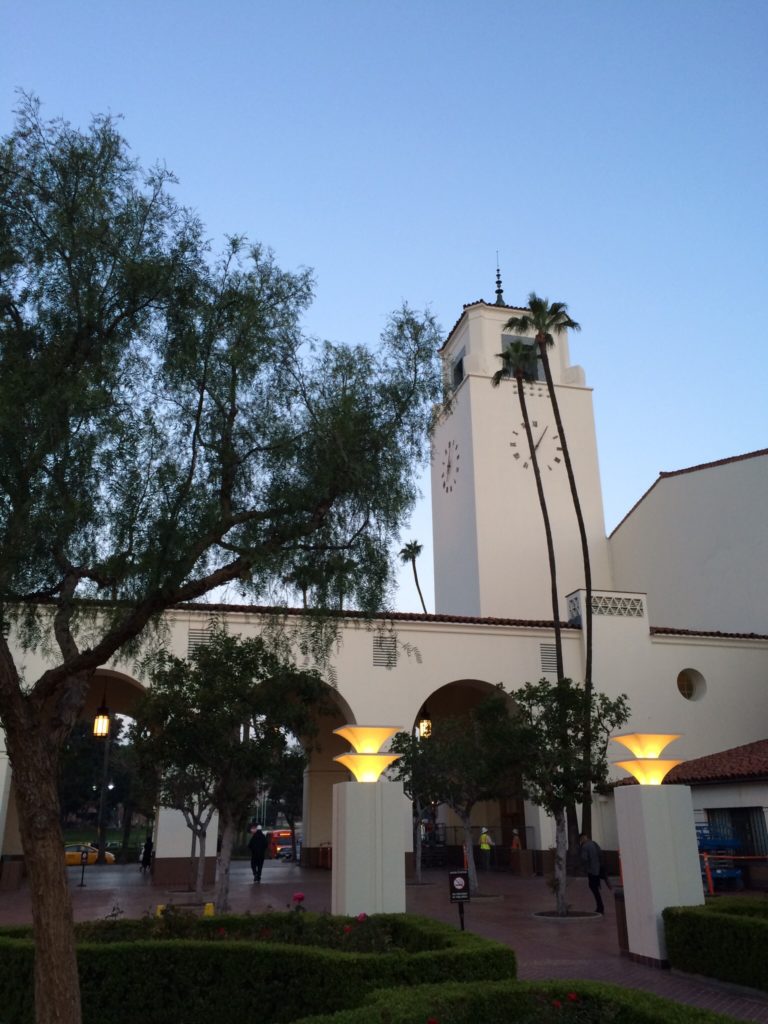 The train arrives early in the morning, leaving us with a day to fill before getting back on the train and heading home. Luckily LA Union Station has a lounge for us to keep our luggage.
I hope to find a place to do laundry, but we will see. A few activities we chatted about included taking a few train rides to bide our time and finding a few places to eat.
The LA Union Station is beautiful, and I think Dad will enjoy walking around the place. Like Chicago Union Station, Amtrak and commuter trains share the station, so people watching is available.
We are getting off a train to get back on almost the same one on this day. We will be in the Texas Eagle section of the train, so from LA to San Antonio, we are technically on the Sunset Limited/Texas Eagle.
The Train Heading Home: The Texas Eagle
Like I was saying, the Texas Eagle has two destinations, depending on the day. A sleeper and coach car from Texas Eagles joins the Sunset Limited in San Antonio, TX, to head to LA three times a week. The 4421/422 Eagle is the longest Amtrak route covering 2,728 miles taking 65.8 hours.
Not all of the time is rolling on the rails. Part of the time is schedule padding that Amtrak used to move cars from one train to another and adjust if a train is running late.
A Few Points Of Interest For The Sunset Limited & LA Texas Eagle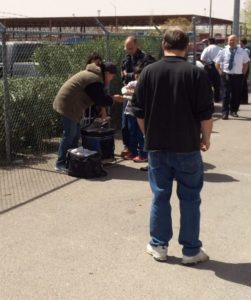 From LA to San Antonio, we will have the opportunity for a few fun things. The last I heard, Jaunita, The Burrito Lady, is still selling burritos at the El Paso station. I had them before, and they are tasty!
The El Paso stop is long, and I think both fuel or crew change; nevertheless, you are there for a while. The photo on the left is from 2014; the first time I saw it here and had a tasty burrito, I had to save some room. Last I hear, she is now closer to the station.
The train gets close to Mexico (although not cross over). One attraction to keep your eye out for is the "Marfa Prada Store."
The train does not stop for you to get out and see the store; you can see it as the train rolls by it. Besides, the store isn't a store, but it is an art exhibit. The product inside is real Parada, but the bags have holes in them, and the shoes are all rights or are they lefts. Nevertheless, it is something to see as you roll through Texas.

Why Aren't Spending More Time In Texas
Since your Dad wanted to see Texas, some of you might ask, Kev, why are you going to Texas instead of passing through? That is a great question that I have asked myself. When we looked at this trip, El Paso, TX, was an option, but my Dad opted to go to LA instead.
Going to LA saved us a few days of hotels. He also thought it could be less stressful. Since he hadn't traveled much, he didn't want to push it. As someone who travels a lot, I forget how overwhelming a trip can be to some people.
He also said that he has an excuse to go back if he likes the trip.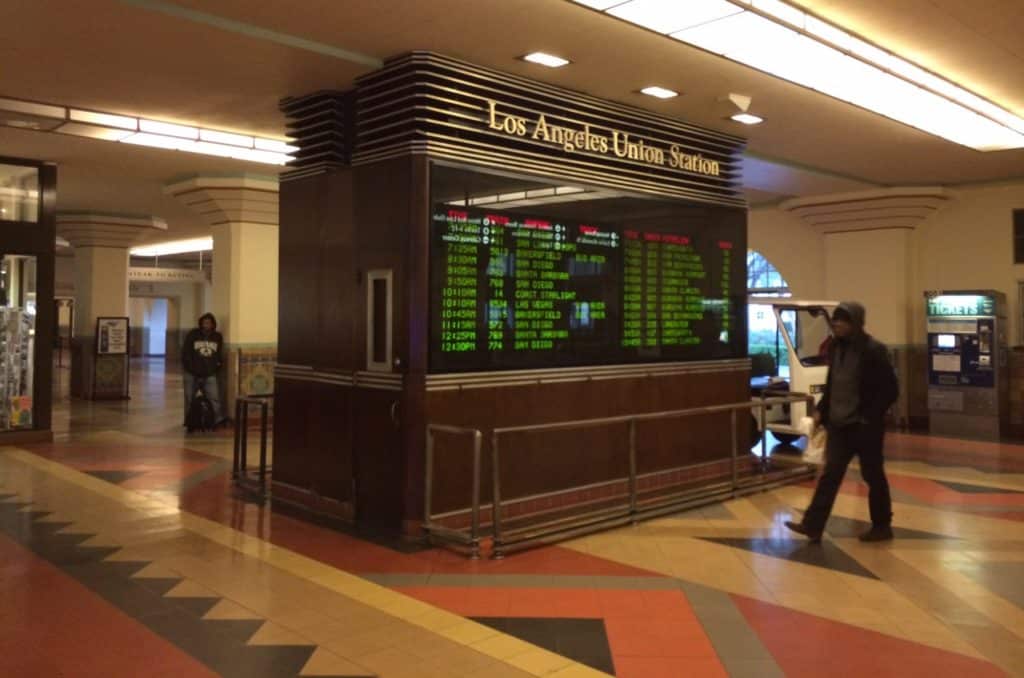 With All This Said
Planning a trip like this has its challenges; I know what to expect and what I would like to do, but this is not my trip.
My Dad struggles with letting me know what he wants for his adventure. He isn't for sure what to expect or what he can do. So I am trying to ask the right questions and give him options. I want him to know that his requests are not an inconvenience.
I hope this trip will make my Dad happy; I think it will. We both travel reasonably light, helping us maximize our space on the train.
Safe Travels!
Kev