What is a travel writer without a few trips? It has been a while since I took a trip that was not with or for family. The last one was a quick trip out and back to DC in winter.
Now I love every one of my family members, maybe my niece Mackenzie and Abby, my sister's dog, a little more. But there is still love for the adults. But as a solo traveler, it is nice to travel some on my own and enjoy the experience.
My Florida trip idea started with my friend Ben (a Travels with Kev supporter). He kept inviting me to visit, and I finally said yes.
If you read my article about planning this trip, you may remember that I decided to go because of fantastic airline deals. Ben was also free, so the time seemed right.
Now, most of you know me as the train guy, but, at heart, I am an intermodal traveler. This trip is no exception. Often all my trips start or end with a train trip unless it is a road trip. But this trip started with a bus and finished with a train.
Day One: Traveling to Florida
I am unsure if this is technically day one because I did not get to Tampa till 12:20 am, but instead of 11:20 pm like I was scheduled. I guess it is the first day of the trip nevertheless.
Traveling on Sundays is normal for me these days, although it is stressful. Sunday mornings are my busy workdays. Some Sundays are stressful when things do not go right, but everything went smoothly this Sunday.
Get on the Bus Gus
I decided, for convenience, to take a Coach USA Airport Shuttle bus to O'Hare. The best part of the bus was that it took me to my terminal.
The flexibility of the bus is great because there is a bus that leaves every hour on the half-hour from the gas station stop in Sturtevant, WI.
The bus ride was nice and convenient. I ignored most of the ride; I just got on, settled in, and watched a few things on my iPad, and the next thing I knew, I was there. It was a nice break in the day.
Chicago's O'Hare
One fascinating part of this trip is that I flew round-trip on Southwest, which was not exciting. But I flew out of O'Hare and returned to Midway. I wish Southwest did a multi-city ticket, but that is not a big deal.
Southwest started flying out of O'Hare this year, and oddly they fly out of the International Terminal, aka, Terminal 5.
After getting through TSA, there is an area to work or relax with outlets and tables, so I spent some time there.
My gate area was under construction, so it was not that fun. Seating was cramped and lacked conveniences, like outlets and charging ports. I know first-world problems.
Since my gate area was too crowded for me (I didn't want to sit on the floor), I spent time on the other end of the terminal until I got closer to my flight. I am unsure if it was due to the pandemic or because it was Sunday, but many shops were closed.
One bar was open in the terminal and was too busy for me. I didn't want to be on a waiting list to be seated, and in the long run, I probably saved money.
Somedays, I like to avoid waiting in line, not only because of the pandemic but because I don't want to stand in line with my luggage. The nice thing is an alternative at O'Hare, the Farmers Fridge, a vending machine with fresh food.
Getting ready to go
Not long after I got to the airport, I found out they had delayed my flight due to weather in Chicago, a storm I had never seen while there. But I guess it is better to be careful.
I headed to my gate around when I was supposed to board the plane. It was still reasonably busy, but less than before. By this time, I felt a treat was appropriate before I flew. I was thinking of something bitter and something sweet. So, a beer and a cheese danish are great for the soul but hard on the wallet.
Airports and cheap food often do not go together in the same sentence. But after years of travel, I found it is better to budget for a few overpriced treats and let it go.
I am used to paying $5 or so for a PBR tallboy at Chicago Union Station, but at the airport, the Leinenkugel was $11.
But at this point, I didn't care and wanted to be on my way, and the treats improved things.
Before we boarded our plane, the gate agent announced that there were only 63 people on the flight. They said, if someone you don't know sits next to you, ask them why. They said to stretch out. And most of us had a row to ourselves.
So few passengers could explain why I had an excellent loading position. After that fun announcement, we started the boarding process.
Here we go!
Because there were so few people and packed light, I slid my bag under the center seat instead of using the overhead bins. It made things easier when we landed.
While on the flight, there was only one service with limited offerings. They offered water, coffee, or soda to drink and then a bag of pretzels for a snack. They did not sell any adult beverages on the flight. None of this was a big deal.
The inflight entertainment is rather lovely. You need to bring "a screen" to use the onboard entertainment, like a tablet or phone. I used my iPad and was pleased they had episodes of my favorite sitcoms.
Southwest also offers free texting for phones with iMessaging and WhatsApp. I could keep Ben in the loop of what was going on. It is a nice touch.
Most of my flights have been either early in the morning or midday. I love watching the sun come up or set, but the darkness of the night has already set in; I don't mind flying at night. There is something neat about flying at night, and while in the air, I realized that the last time I did so was on my first flight to Tampa to see Ben.
Day 2: The Most Magical Place on Earth sometimes is hard to leave.
On the whole, I think I am a nice guy, but I do have a little sister who loves Disney. So when Ben asked me what I wanted to do, I said, what about Walt Disney World. If we went, awesome, I could rub it in my sister's face a little, as an older brother does, but if we don't, no big deal.
Ben's response was, Jeff and I have wanted to go; I'll get us tickets! Awesome
When we booked this adventure, we figured we would have a little more sleep than we did. But it was late to bed and early to rise, but surprisingly I was not too worn out from the very long day before us.
If you have never been to Walt Disney World, you should know that you cannot see everything in a day, and it is best not to try.
I found the best way to visit Disney is to plan a little and let the day happen, which is what we did. I had a few rides that I wanted, and Ben and Jeff had theirs, and I think everyone rode the main we wanted to try.
I learned that you don't have to do everything together when going to places with others. On the way to the park, I let the guys know if they wanted to do something on their own; just let me know; I don't mind doing things myself.
Magic Kingdom
After breakfast, we made it to the park and walked to Frontier Land within no time. One of our first rides was one of my favorites, Pirates of the Caribbean, which had no line. After visiting the Tikki Room, which had a longer wait than Pirates, we headed to the one ride I wanted to go on, the Jungle Cruise. I loved the ride and would love to do that one again. I loved the jokes, and it was neat to see the backside of the water.
We split up soon enough so they could ride a roller coaster. I should back up at this point; I wanted to go to the Magic Kingdom on Monday because a friend who also lives in Wisconsin was there. We were able to see each other for the first time in years.
After seeing Alan, I went to the Country Bear Jamboree, ironically, where he just left. My Uncle loves this show, and others said I should see it, so I did; I was not impressed with it. Although it was not busy, it was hard to hear the performance clearly, so maybe that was my issue.
We did a few other rides together, Haunted Mansion, Carousel of Progress, and It's A Small World (a ride I do not need to do again but probably will). We split up over in Future Land, where I rode the People Mover soon after leaving for Epcot.
Epcot
I enjoy Epcot! We were hungry before we left the Magic Kingdom and figured we would eat at Epcot.
We decided on Mexican food as we walked, so we made our way to Mexico, where we had a great meal; thanks, Jeff!
We all ended up having enchiladas, and it was a great choice. The guys did not know about the boat ride in the Mexico building. It was not a long ride, and it helped to settle our meals before facing the rest of the world.
After going through the World Showcase, the guys decided they wanted to go on another ride; I thought, fantastic. There was a ride I wanted to go on, Living In The Land, but it was closed; I found out it opened the next day. Lucky for me, it was in the same builder we talked about meeting up in when they finished so we could go on, Soarin' Around the World.
My mom is afraid of heights and flying, but she loves the ride; I don't mind flying and thought it was neat initially, but soon, I was no longer a fan. We went on a few last rides before deciding to head out, Finding Nemo and Spaceship Earth. I enjoyed both, my second time on Spaceship Earth.
I thought you had the keys!
Not to blame anyone, but I can say it was not my fault! To make things easier, we will blame Ben, so Ben lost the keys to the car!
We do not know where or when, but it happened; again, Ben lost the keys.
We could remotely unlock the car, thus giving a place to sit in the car. Ben checked with lost and found a few times, but we were stuck.
We had a few options, but one worked out the best; Ben called his brother, who brought a spare key to us.
Since you don't know Ben, I should tell you that we joke around a lot; this section intends to make light of the situation. I am the last person who can judge. I lost my keys, locked them in the car, left lights on, and more. So take it with all the humor intended. And don't forget, Ben lost the keys.
Day 3: Zoo Tampa
Ben asked me what I wanted to do in the morning; I said, go to bed before midnight. Since we had two late nights in a row, getting a little extra sleep would be nice!
Let's go to the zoo
I first heard about Zoo Tampa from Disney Plus. They have a series about the ins and outs of this zoo. Because of that, I wanted to go, and I like zoos if you haven't picked up on that. A plus of this zoo is I receive a discount because of my Racine Zoo membership! I get half off, so basically, buy one get one free.
A few things that I loved about the zoo
In the Africa area, there is a lovely FREE guided safari. While you wait in the queue to load the zoo safari vehicle, you learn of the adventure's backstory. You are training to become a researcher; the ride is your orientation. There is a Professor who interacts with you via audiovisual aids the onboard guide with humor and education. If you travel to the zoo, it is worth the ride.
The onboard guides give great information and point out some of the critters. Since the guide knows where the animals like to hide, they can point to them better.
If you have younger kids, there is a whole play area with rides for them.
Once you are in the zoo, most things are free, but for some animal encounters.
If I remember right, we did not eat at the zoo. But looking at the menus, the prices were reasonable for a zoo.
The biggest disappointment was the "zoo train." It was a pass for me as someone who loves a good train ride. A definite kiddie ride and not geared toward us train people.
Day 4: Al Ringling Museum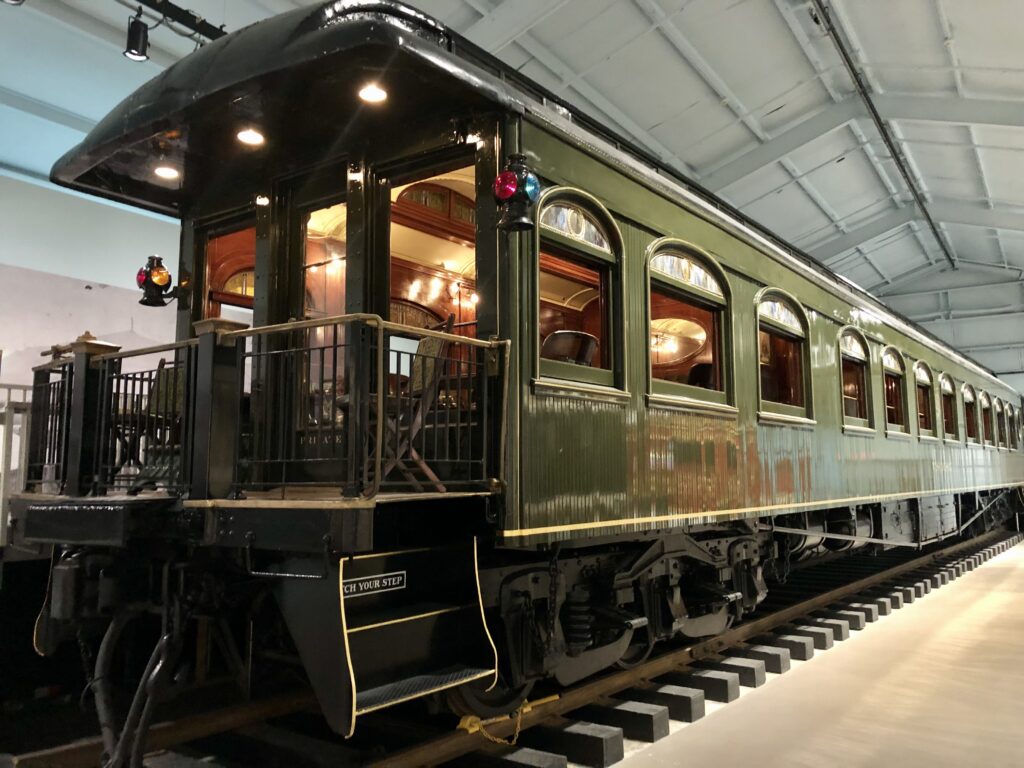 Day 3 in the "Sunshine State" was not sunny; it was pretty stormy!
Because of the storm, we decided to try an indoor place. We picked an activity with several buildings, but they were not connected. So we had to walk outdoors and got wet.
Many people know I am sweet but not sweet enough to melt.
So, Ben and I were troopers at this place. After halfway through the adventure, Ben remembered he had umbrellas in the car,
We got pretty soaked from the rain by the time we got to the Art Museum.
The Ringling is an eclectic place featuring The Circus Museum, Gardens, Art Museum, Performing Arts Centers, and the Ca' d'Zan. You can buy tickets for each or all.
I would love to go back here and see the grounds again. If I return, I would like to do it without the rain. With the mansion on the water, it would be nice to walk out the back porch and catch a calmer view of the Gulf.
Day 5: Bush Gardens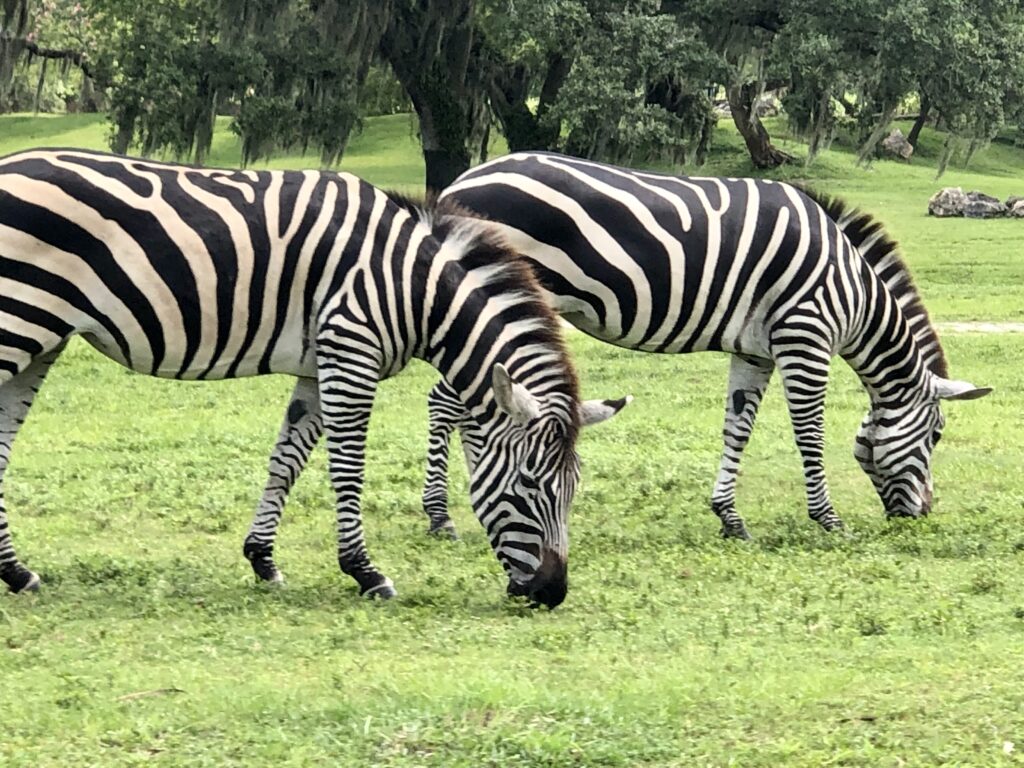 Busch Gardens is a combination of a zoo and amusement park together under one ticket. And for those people who love both, it is a great combo.
The zoo part of Busch Gardens is fantastic, with beautiful animal enclosures and an excellent selection of critters.
Seeing a roller coaster in the middle of an animal enclosure was odd.
Seeing the educational and care areas with excellent animal enclosures was interesting. I found the zoo area to be more impressive than I expected.
I had a great time walking around the park, and if you do go, the train is a must-do! The train takes you through animal habitats you may not see in any other way.
As you know from before, Ben likes to ride roller coasters, and I do not, so as with Disney, he rode a few on his own. But before I let Ben go on any rides, I asked for the keys; there are no more spares!
I noticed that the customer service at Bush Gardens is either over the top excellent or poor, with not much in between, which was disappointing.
Day 6: Going Home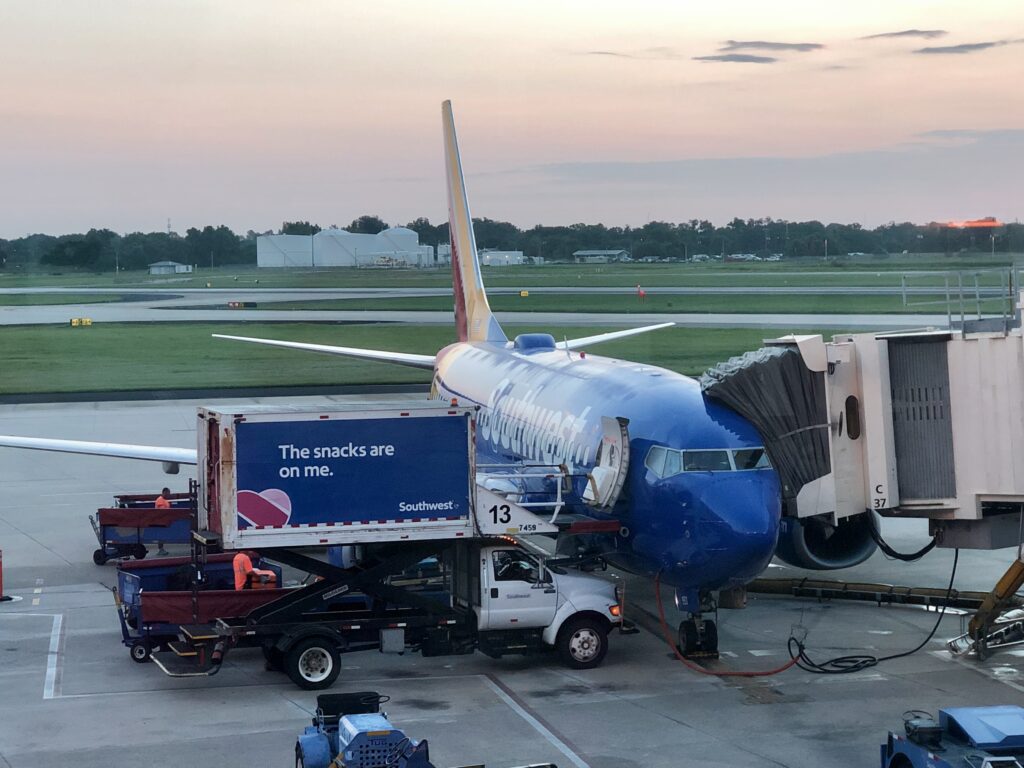 I have to say that Tampa has a nice airport. Going through the TSA was a breeze because I didn't need to take my liquids or electronics out of my bag, a first for me. Although my bag did get flagged, they looked in it for a second.
The waiting area is large and spread out, with plenty of places to work if you need to. The Wifi was much better than that of O'Hare. You could download a tv show in under six hours.
Once I got through the TSA, I quickly looked for food. Instead of doing what I usually do, looking at every place to get food before deciding, I went to the first place that seemed tasty. I could get a great-tasting breakfast at a reasonable price for an airport, $15.
Breakfast included a nice-sized breakfast burrito, hash rounds, and a large coffee. A nice touch about this place is they put your food in a bag with handles, making things easier for you if you take your food on the plane. I would eat mine while still on the ground, making it easier to carry it onto the plane.
Flying Southwest
I like a few things about Southwest and a few I don't, and one is the same.
I like Southwest because there are few add-ons, so the price you see is what you pay unless you want their early bird.
Since you get to pick your seat when you board the plane, there are no seat fees. Nor do they charge for carry-ons, and your first two checked bags are free. Some airlines do not allow you to carry on, United, if you fly in economy class, and discount airlines charge you a lot of money to bring your carry-on bag.
The part that I like and hate is the boarding process. I do like that you can pick any free seat on the plane. When you check-in, you are assigned a boarding group and number; before boarding the plane, you line up according to that. When it is your time to get on the plane, you can sit in whatever free seat is available. I like that, but I also like knowing where I sit before I get to the airport.
Thank you!
This trip was made possible because of the friendship and kindness of Ben and Jeff. Oh yes, and the boys, their dogs. Most of the boys, Smokey Joe, never liked me, but Liam's friendliness and hospitality made up for that.
We did much more than what I talked about, but I didn't want to write that much, and I am sure you do not want to know about every little place we went to, although I am sure there are one or two who would.
Ben and Jeff were not only great hosts but good friends along the way. It was great to see and chat with Ben in person. I cannot say thank you enough to these two gentlemen. I do not take their acts of kindness for granted, and they are appreciated.
Wrap up
I had a great time, and we ate at a few fantastic places while some were average. It is incredible how many family restaurants across the country have similar tasting food. One big difference I noticed is some have sweeter pancakes than others.
The way we planned this trip was my favorite, with flexibility. I even extended this trip by a day! We only had one event, which could not get moved, Disney. I liked flexibility because if the weather was not great like we had one day, we did not lose money and could do something else to make the most of it.
If you are interested in keeping current with what I am doing or want to know when new articles go live, join me here. If you have questions or want to reach out to me, do so here, and if you are looking to support what I do and join these fine people, like Ben, click here.
Safe travels!
Kev