I believe the last time I was in Philly was in 2018 when I spent the night there on a layover. On that trip, I took Amtrak's Palmetto to Charleston, SC. This trip was my fifth time visiting the city but my fourth time spending more than a few hours in the train stations.
If you have never been to Philly, it is worth a look! This eclectic progressive city offers something to everyone—architecture, shopping, history, fine and casual dining, museums, and other places for you to explore.
Every time I go, I am amazed at the city life and the richly diverse neighborhoods. I used to live in Milwaukee, and I miss the energy of living in some of these city neighborhoods.
Day one: Getting to Philly
You may remember that I laid out my Amtrak Adventure plans if you read my last article. Three trains in each direction. To get out there, the Hiawatha, Capitol Limited, and Pennsylvanian, and to return home, the Acela, Capitol Limited, and the Hiawatha.
On Sunday, the Hiawatha was running about seventeen minutes or so late. Not a big deal for me; I would still have plenty of time for a few brews. Luckily it was a beautiful day to wait outside for the train to come.
While I had my liquid snack, I downloaded a few shows, and soon it was time for me to go downstairs and get ready to board my train,
I booked coach class on the Limited, so I boarded the train from the South boarding gate.
Capitol Limited
The Capitol Limited travels between Chicago and Washington, DC, but I ended my time on the Capitol Limited in Pittsburgh for this adventure. From there, I switched trains to Philly, more in a few.
Since it was early fall, darkness came quickly, and it was dark by the time we pulled away from the station. I did see some neat rail cars in the Chicago yard, but the first part of this route is not that scenic. Unless you are big into oil refineries and factories, some factories look neat, all lit up at night.
Day two: Traveling across Pennsylvania
We arrived early in Pittsburgh, and half of us in the car I was in got off the train.
After a quick breath of fresh air, we went downstairs to wait for our connecting train, or it was the end of the line for them to head outside for their ride.
After waiting in the station, I got restless, so I stepped outside for a walk and got more fresh air.
During my walk, I called Amtrak to see if I could upgrade my Penssivanian coach accommodations to business class. After two tries, I got my free upgrade because I used an Amtrak Status upgrade coupon.
The nice thing about business class is more legroom and complimentary coffee and tea. Often it is a little quieter than coach, but that all depends on your fellow passengers.
Pennsylvanian: riding from East to West of Pennsylvania
I like this train, but I am not a fan of the two-plus-hour wait in Pittsburgh.
The views from this train can be beautiful, and it takes me to Philadelphia a little quicker than going through DC.
While this train is an option for my return trip, I decided to take the Capitol Limited from Washington to avoid a late-night transfer.
Besides the vistas of rural and metropolitan Pennsylvania, you also see the horseshoe curve, an engineering marvel dating back to the 1850s.
I was pulling into town!
At the 30th Street Station, all trains run under the building, so stairs, escalators, and elevators take you from the platform to the station.
Not long after I stepped off the train, I followed my fellow passengers up and into the station where the guys were waiting.
Once I got on the ground level, I met up with the guys, and we returned to their place; I was happy to drop off my backpack and take a well-needed shower.
Am I the only one that likes to take a shower after arriving home or at my destination, even if I took one that morning?
After some chit-chat and a clean and refreshed me, we went to the city center to see one of my favorite city attractions, the Wanamaker organ!
We arrived in time to catch the first few notes of Peter's performance. I try to get at least one concert per visit, but I will sneak in more than one if I can.
After hearing the majestic organ, we walk to an Irish bar. Since It was beautiful, we opted to eat outside.
As a Wisconsin boy, I loved my cheese and saw something on the menu that caught my eye. I also like things that are a little odd, so I found a winner! Grilled cheese with a few different kinds of cheese, some bacon added, and tater tots in the sandwich! It was amazing!
Day Three: Looking at humans inside and out
On day three, we went to the Mutter Museum, a place that Sean thought he wanted to visit; we found out he didn't once he got inside. I saw more of this place than he did.
The Mutter Museum is educational and informative, but we found out it is not for those with weak tummies.
All the displays are for medical researchers to use as tools, and these articles are on display when not in use. You can find human oddities to wax casting made to replicate medical problems and more.
While exploring the museum, I waited to run into Sean, but I didn't see him anywhere. After a few texts, I found out he got a little queasy and went outside. We came together and then explored the rest of the beautiful building, like the meeting rooms.
Besides that, we ate and walked around the city and their neighborhood.
Day Four: A dream comes true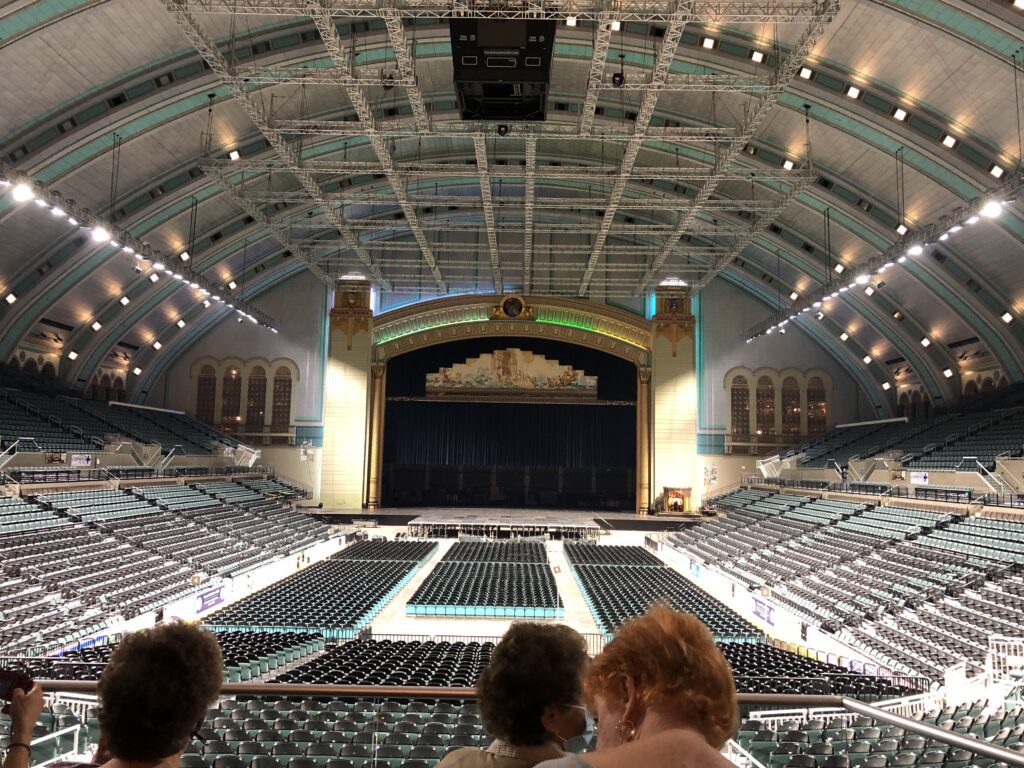 Day four was the day of the trip I looked forward to the most because Sean and I traveled to Atlantic City to see the Boardwalk Hall Organs.
The trip started with a train ride to Atlantic City; he had never been on that route before. It was a nice ride on the New Jersey Transit. The cars reminded me of Amtrak's Horizon Cars but for commuter rail. The line is unique to the New Jersey Transit because it is nowhere near other NJ Transit lines.
Being an organist, I knew of this organ because of its fame, the biggest in the world.
At that time, circa 2005, I think 10% of the organ was working and sounded ruff but loud.
It was impressive for what it was. Now that I know more about the organ, it is more remarkable that it is still here!
About 55% are playing now, and they have been working on the tonal finishing of the instrument.
After the builders install an organ, it needs a tonal finishing, which was supposed to get done to this instrument, but it never did. The best analogy I have is to imagine ordering your dream car, and it arrives in gray primer. It works, and you can drive it, but it's not right.
The tour also gave us the history of the building, showed us the ballroom Kimble Theater organ, inside some of the organ chambers, a view from the stage, and ended with a concert.
If you are interested in this organ, check out the curator tours! Also, check out the concert series and Youtube channel.
Day Five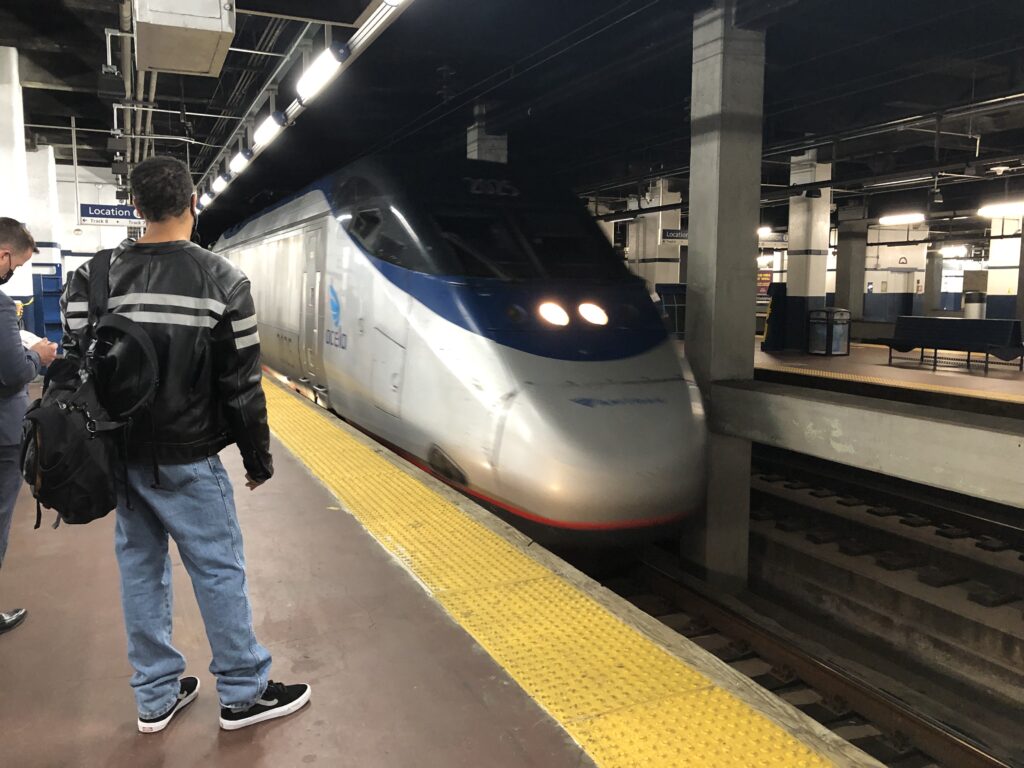 Day five held a new Amtrak first for me; those are getting rare. I rode Amtrak Acela high-speed train from Philadelphia and Washington DC.
One nice thing about this train is you can reserve the seat you want. But some people believed they were beyond that and decided what seat to take when they got on the train.
Sean and I picked seats at a table across from each other. When we got on the train, there was someone in my seat. After he realized we had booked those seats and received a comment from the conductor.
He moved to his assigned seat (that he could have changed if he wanted), one row back and on the other side at the next stop.
The ride took about an hour and a half and was enjoyable. I hope to ride the Acela again, especially once the new Liberty Equipment starts running.
Once we arrived in DC, I paid $10 to store my bag, and if you want to do that, go to the ticket office. I don't think it is a lousy deal and makes walking around easier.
The National Museum of African American History & Culture
Sean asked if I was interested in seeing the National Museum of African American History & Culture, and my reply was, why not?
The museum is fascinating, with interactive learning centers, historical artifacts, and more. Since this museum is part of the Smithsonian Collection, admission is free, but you need reservations (as of the article's date of publication).
It was fascinating to see historical artifacts from centuries ago and the costumes worn by musicians and actors that I have loved for years. It was fascinating to see a letter Nina Simone wrote, by hand, to her husband. She is a musician that I have loved and respected for years.
If you are interested in going, give yourself at least half a day, if not more. A few places were off-limits when I visited due to the pandemic or monitored for social distancing. These precautions could change by the time you visit.
I did not take any photos while there; part of that was out of respect, and I would get a glare from the glass. Plus, sometimes you want to be fully in the moment when you travel, and taking pictures sometimes takes away from that.
There is a cafe on the campus if you get hungry during your visit.
Almost time to go!
That time came for us to head toward the station, but we wanted to get food before parting ways. Sean had a place he wanted to go, and I thought it sounded fun; it was an Irish Pub!
After a few pints and an open-faced burger, I looked at the Amtrak app to see if any rooms had opened. Two bedrooms were available, but they were out of my price range.
I was shocked; a roomette opened in my price range within hours of departure. The first thought was I really shouldn't, but I could. Since I needed to retrieve my bag at the ticket window, I asked if that room was still open and how much it would be to upgrade.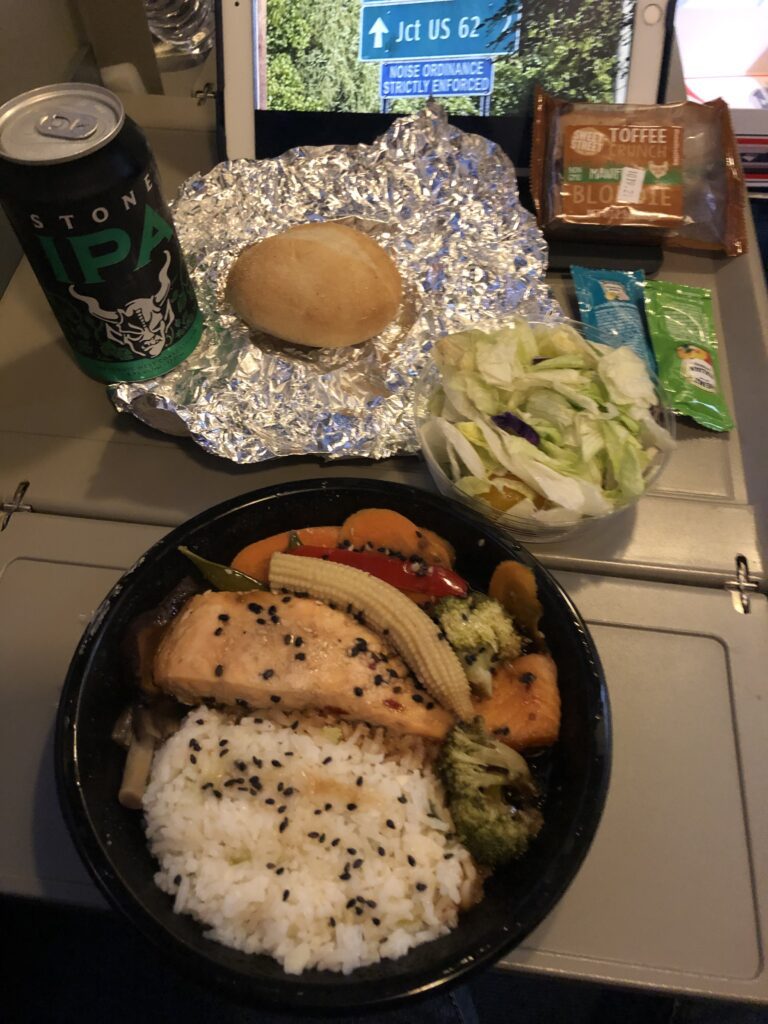 Next thing I knew. I had a new ticket and was heading to Club Acela!
It was a good move for my mental well-being, although not the best for my bank account.
It was an excellent change from the coach traveling I have been doing this year.
Plus, I could sleep well and horizontally! The other advantage of upgrading to a roomette is my dinner and breakfast came as part of the deal.
Not long after I upgraded and gathered my bags, Sean and I said farewell, and I headed to the lounge, and he went to his gate.
After a commuter train left, I could see his train head North, and a few minutes later, I headed West.
Day Six
Day six started with a shower and then headed to the sleeper lounge for French Toast! It is fun if you have never showered on a train going 79 mph.
The Capitol Limited still has flex dining; the rumor is that modified traditional dining could return to the other trains. But until then, the flex dining options, I think, have improved.
We arrived in Chicago twenty-seven minutes late, which was not a problem for me because my train did not leave for a few hours.
Since I had a sleeper, the lounge in Chicago was available. It was nice to grab a few snacks and coffee and work on this article before heading north on my last train, although I wrote much of it while on the Acela!
Wrap up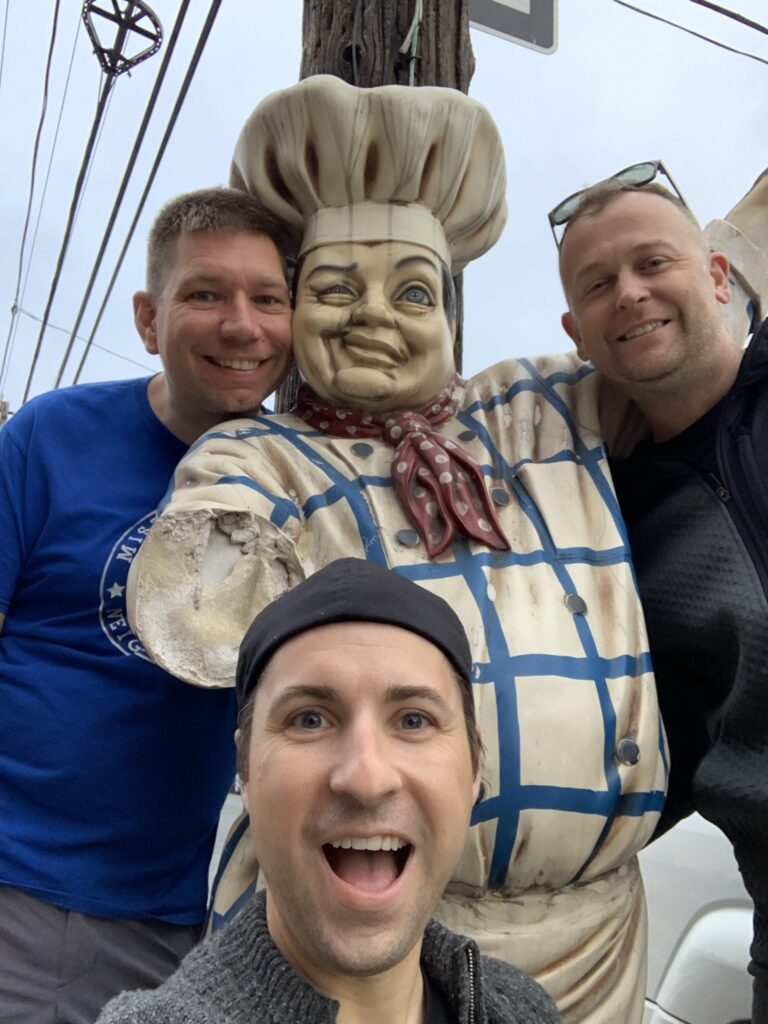 While this was a fast trip, it was outstanding and worth the time. I cannot go any further without saying thanks to Sean, David, Norman, and Jr (Normand and Jr. are their cats).
Their hospitality and friendship are exceptional! This trip is the second time they have opened up their beautiful home to me, and I appreciate it immensely.
While seeing and hearing these two beautiful organs was terrific and a dream come true, spending time with Sean and David alone would be worth the trip.
Again, their kindness and generosity did not go unappreciated.
If you are interested in anything, I talked about this trip, feel free to click that links to learn more or reach out to me.
Safe travels!
Kev