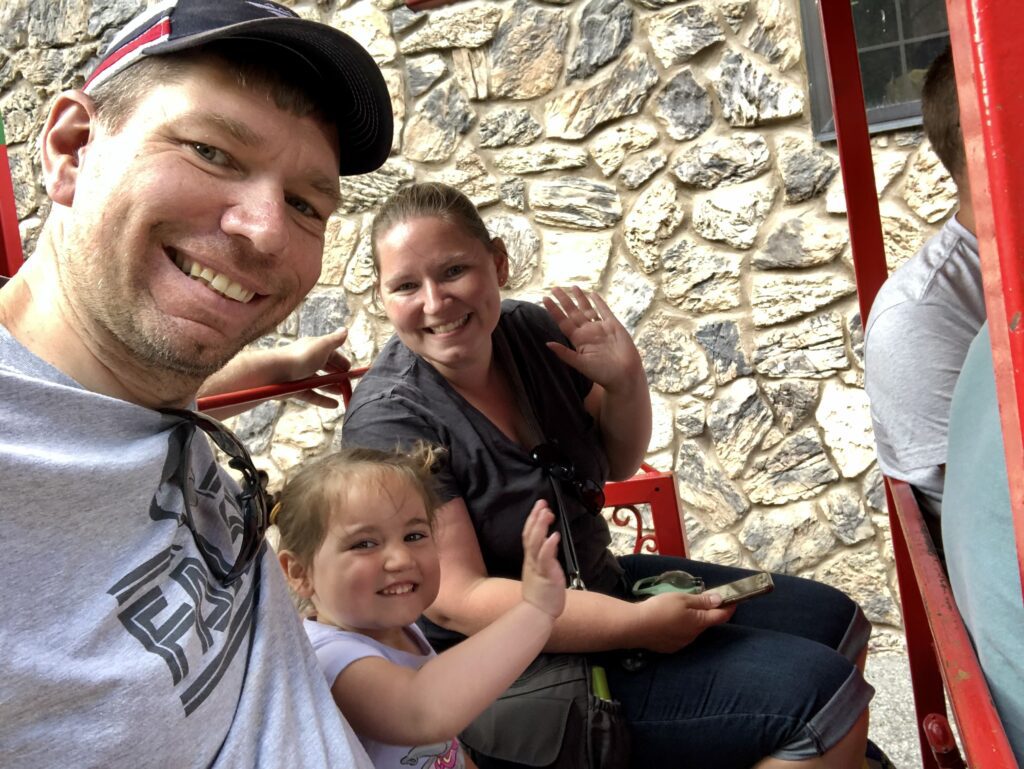 In June 2021, a new train traveler took to the rails, my niece. Paula and Mackenzie needed to come out for a few weeks, and Mikey and Abby were going to come out a little later.
A logistics problem arose since Abby is a 140-pound puppy and would not fit in Mikey's Camaro, well, not happily. So, the SUV needed to stay behind for their journey.
Since Paula didn't want to drive by herself, and everyone was going back together, they didn't want to drive separate cars back.
So we came up with a few solutions. First, I would drive out and then bring them back using "Papa's car." I would have done it, but it was not my favorite of the ideas.
Option two, I would take the train to Omaha solo and bring the girls back with me; I liked that one.
So, Papa and Grandma offered to use some of their Amtrak Guest reward points to pay for the trip. It was a late birthday present for me, in a way.
While this trip had some ups and downs, I am glad we did it, and Mackenzie had a good time. She even asked when we are going to ride a "real train" again. I guess she means Amtrak and not zoo trains.
This article covers my prep for this trip, the journey out to Omaha, taking Mack to the Omaha Zoo, and Mack's first trip on Amtrak. As you will find out, going to the zoo was essential to Little Mack for this trip!
People who you need to know about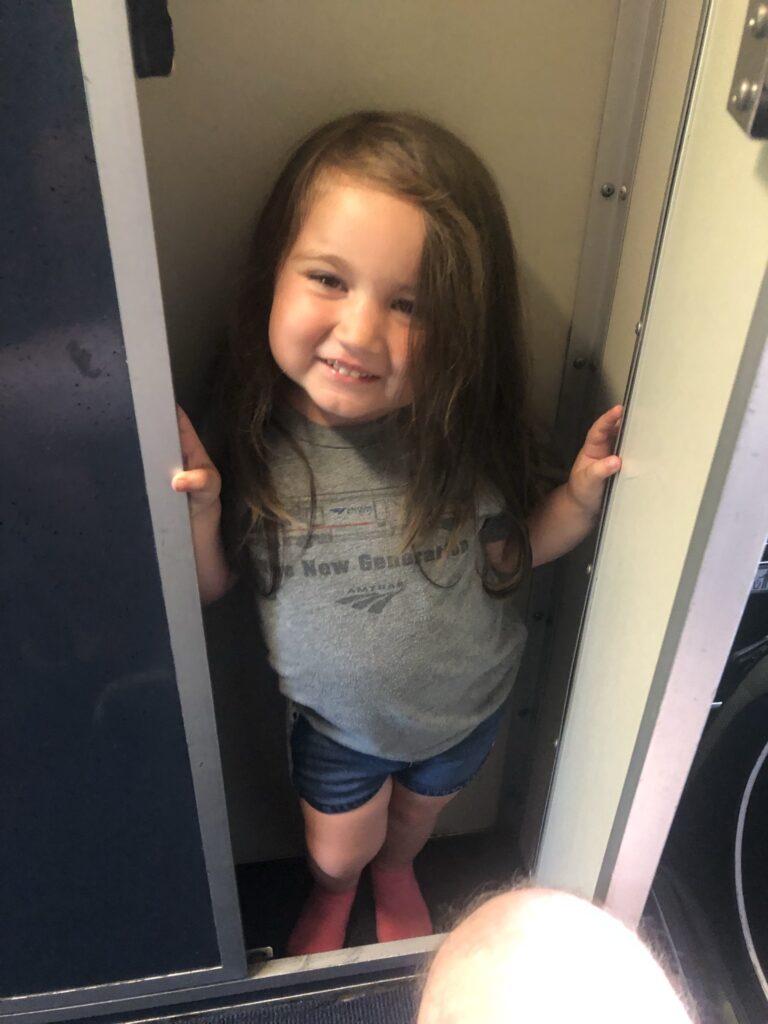 Here is a rundown of the people in the story.
Mackenzie: my adorable toddler niece, aka Little Mack or Mack, who just turned three, but she was still two.
Her folks are Paula (my sister) and Mikey. Papa is Paul (Paula's and my dad), Macks's grandpa, Grandma, Robin, Papa's wife (Paula and my mom). Abby is a 6-year-old Newfoundland puppy.
Now you know my family, we can move on to what you came here to read.
Prepping for the trip
Before I headed West to Omaha, I needed to work. I am the organist, video guy, and digital present for a small local church, if you don't know.
To save time, I packed light and bought everything with me to church. Also, the gear I needed for the church was coming with me. Since it was such a short trip, four days in total with two days in Papillion NE and two travel days, I used my Swiss Gear backpack as the main bag. I found out this bag was not as efficient as I wanted.
My goal was to play for the 9 am service and edit and then upload the video to Youtube before 10:30 am. This goal would give me plenty to get to the trains station, and I could finish up the other duties either on the train or while at Union Station.
Since everything I needed for working in church was packing in my backpack, I took it to church; this also meant that I could hop in the car and leave after work.
Leaving for Chicago and Omaha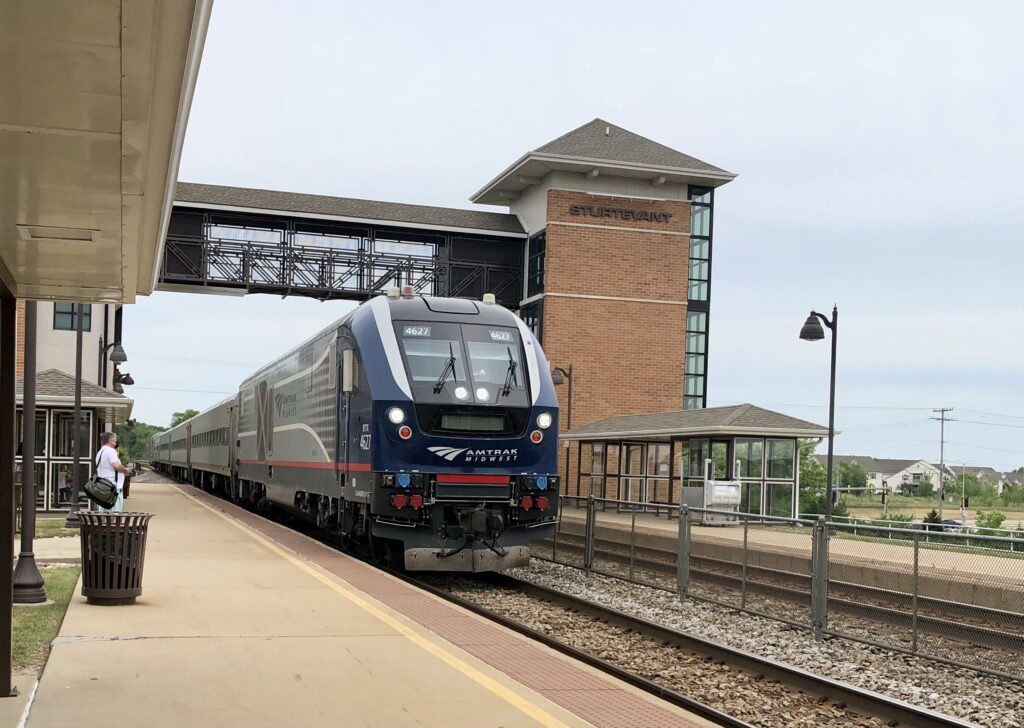 Everything started well and was going according to plan.
I walked into the house at 10:30 on the dot, and I finished up a few things before my dad drove me to the station.
Although there was a detour, I was able to get there smoothly and on time. I was surprised by how busy it was for a late Sunday morning.
Once on the train arrived, got on, and settled down to finish my duties,
Troubles on the train!
I grabbed the computer and discovered my computer's charger was still at church. I was "wise" during church and charged my laptop, but I forgot to put it back in my bag in haste to leave.
If I didn't do that and charged my computer on the train, I would have had my charger with me.
But wait, there are more unpleasant surprises.
Since my sister's family are not coffee drinkers, I packed some. It was not my first time doing this, but this was the first time I packed ground coffee and had both ended split open! Coffee went all over, and while I typically like the smell of coffee, smelling it in my bag is not my favorite place. One last thing, my child-proof vitamin container opened up. So now I have lightly coffee-coated vitamins.
And to make these first-world problems worse, my computer wouldn't connect with the train's wifi, although my other devices did. None of these in themself were big problems, but when you are excited and want to "get something done "quickly," it can be frustrating.
Things turned around and arrived safe into Omaha


My Amtrak adventures beyond Chicago always include a layover. The time between the Hiawatha and the Zephyr, I had a little over an hour and a half to get a few things done. After connecting to wifi that was fast enough to finish work, I spent time getting "a liquid lunch," a couple of PBR's and complete my duties.
During the layover, I found out my brother-in-law might be able to bring me a charger! Yay, one crisis averted!
To save money, and since it's not overnight, I rode in coach class. So all my meals came from the cafe car. I don't mind the coach food, but I am excited Amtrak has new menus on the horizon.
The trip out to Paula's went well, although we did come in an hour late. The portion of this trip I take is nice but has become somewhat routine because I have been on it often. I love going through the Rockies and Sierra Nevadas, but I see cornfields and farms at home.
Why the Zoo?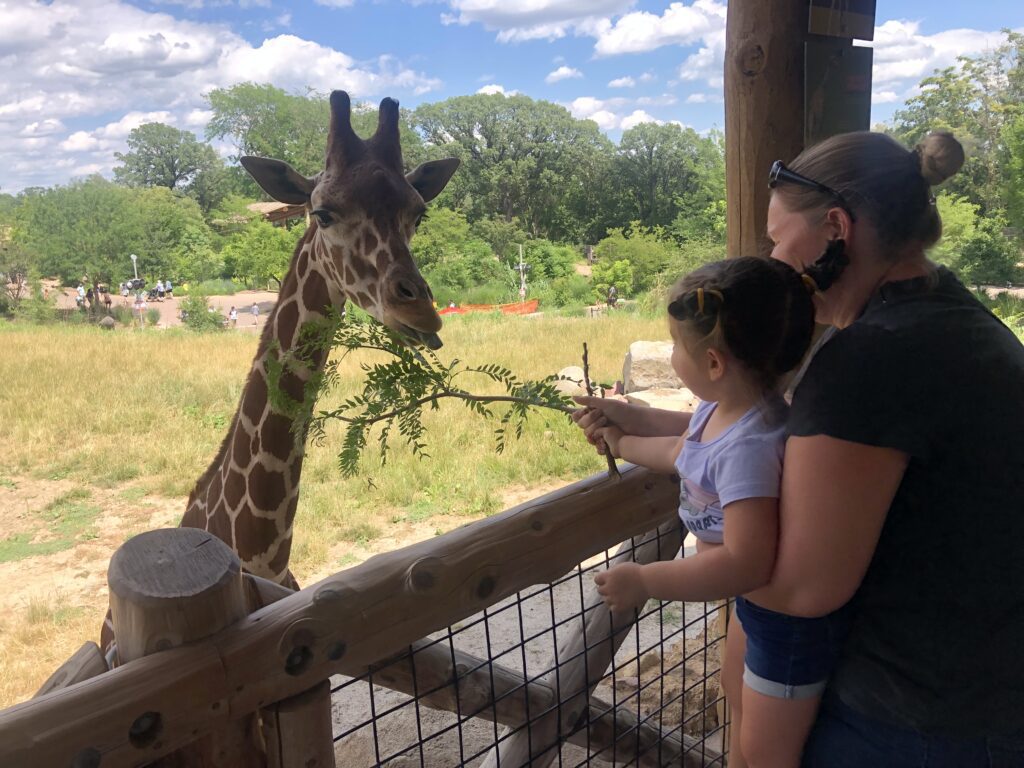 Mack loves the zoo. Her mom has helped to fosters her love of animals. Often they watch zoo programs in the morning or while playing.
Plus, having a big fluffy puppy at home helps with her love of critters.
Because of this, I often end up at the zoo. Those who follow Travels with Kev Instagram or Facebook see many of the photos.
If you didn't know that, now you know why there are many zoo photos there.
So before I started on this adventure, Mack asked if we could please go to the zoo; I said yes!
As you will find out soon, she had an ulterior motive to go to the zoo. Yes, she wanted to see the critters and hang out with Uncle (for some reason, she has decided to drop Kev or Kevy).
So on Monday, we stopped at Scooters to get my birthday drink and a light breakfast, and then we were off to the Omaha Zoo.
Zoo adventures with Mackenzie
As I said before, Mackenzie has been to the Omaha Zoo a lot, to the point she walks around like she owns the place. Sometimes, she walks through the areas she is less interested in while waving and greeting those animals who live there. It is adorable seeing her wave and saying, "Hi snakes!"
Mack has a routine she follows while at the zoo, and some days, she doesn't want that routine changed. First, the Lied Jungle, then the aquarium, things are up in the air after that. Lately, the desert dom and night animals are next.
She loves the carousel and the children's play area. Over the past year, the children's play area was closed due to the pandemic and is seasonally closed.
Since her first ride on the carousel, she only wanted to sit on the benches; she was "too scared" to ride on the animals. Although she thought they were neat.
This time, she wanted to ride an animal. Because of her height, she needed an adult to help her, and I get to ride for free. Her first animal on this carousel was the ostrich.
She knows if I go on a ride with her, she has to go on one with me. So after the carousel, we also rode the zoo train. Please don't feel too bad for her; Mackenzie does enjoy it and goes on willingly.
The One hundred-plus-year-old narrow gauge steam locomotive took us around the zoo. From the train, you can see a few off-stage animals, as the mighty lion!
Mackenzie's real reason for wanting to go to the zoo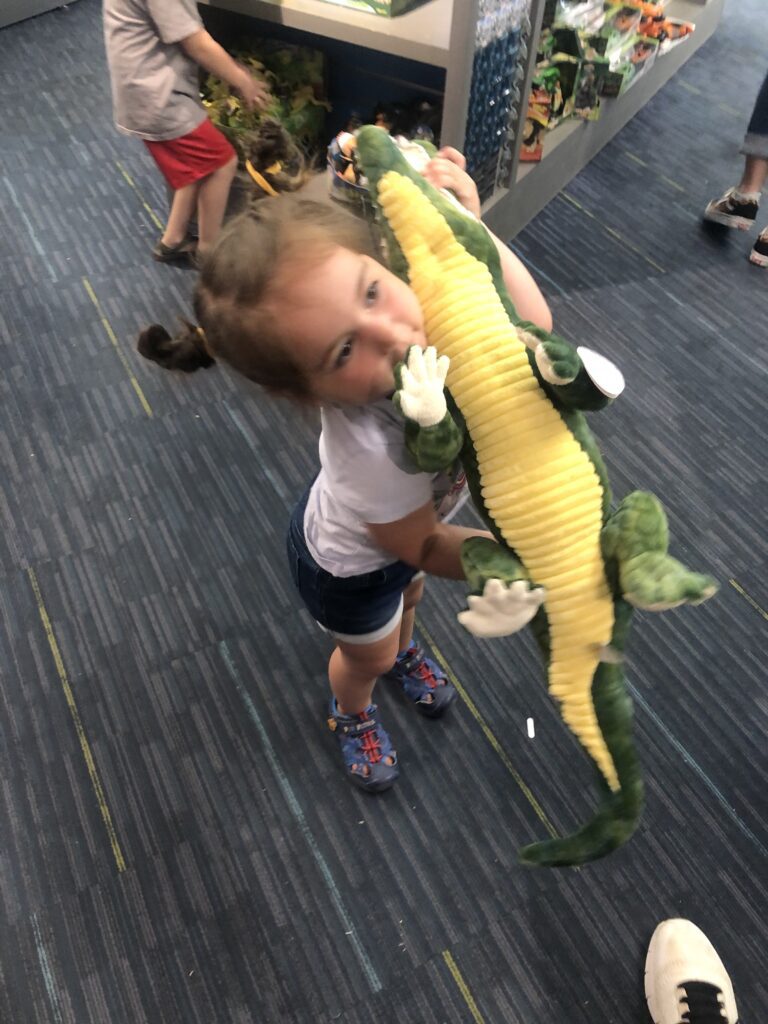 If you read the June News 2021 article, you know that Lil Mack wanted something special from the gift shop.
If you don't remember, weeks before this trip, I told her that she could bring one of her stuffed zoo animals along with her on the train ride. (She has a small zoo of stuffed critters at home.)
When I asked who she wanted to bring, she did not pick a critter from her current zoo, for her response was an alligator.
After reminding her she did not have one, she reassured me that we could go to the zoo and get one.
I told Grandma and Papa of her plans before I went out there, and they said The Grandparent Foundation For Grandaugher Zoo Animal Acquisition would fund the alligator procurement. In other words, they would buy it for her.
It took a text message with an adorable photo to secure the funds for the one alligator she wanted; she didn't like the smaller, cheaper one.
Getting ready for here first Amtrak trip.
For most of this summer, Amtrak has had delays on the Califonia Zephery route, none of which are their fault. Delays due to excessive heat (heat can cause the track to kink), wildfires, and landslides all caused on-time issues.
We used the delay to our advantage because we received a few extra moments of sleep. Instead of a 5:41 am departure time, we departed Omaha at 7:51 am. It was nice that I could get a shower in and make a cup of coffee closer to my regular schedule.
The situation worked out well for my brother-in-law too. He could drop us off and head to work and not get there too early. I think Mackenzie was happy that she could get a few extra moments of sleep.
Are you ready, Mackenzie?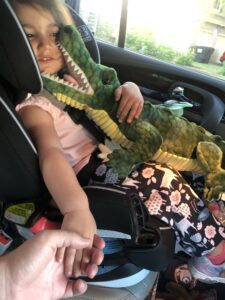 Mackenzie did well in the car to the station because she was excited about her new adventure. She wanted me to sit in the back with her. On the way to the station, she held her alligator in one arm and my hand with the other hand.
She has been to the train station before, but this was her first time inside. She found her spot when we walked in, took off her backpack, and waited for the train.
We were not at the Omaha Amtrak station long before we saw the California Zephyr rolling in. Mackenzie got off her seat, and with her mom's help, she put on her backpack and then grabbed her rolling suitcase.
All Aboard!
I had her trusty alligator under my arm as she and I walked to the train with her mom not too far behind.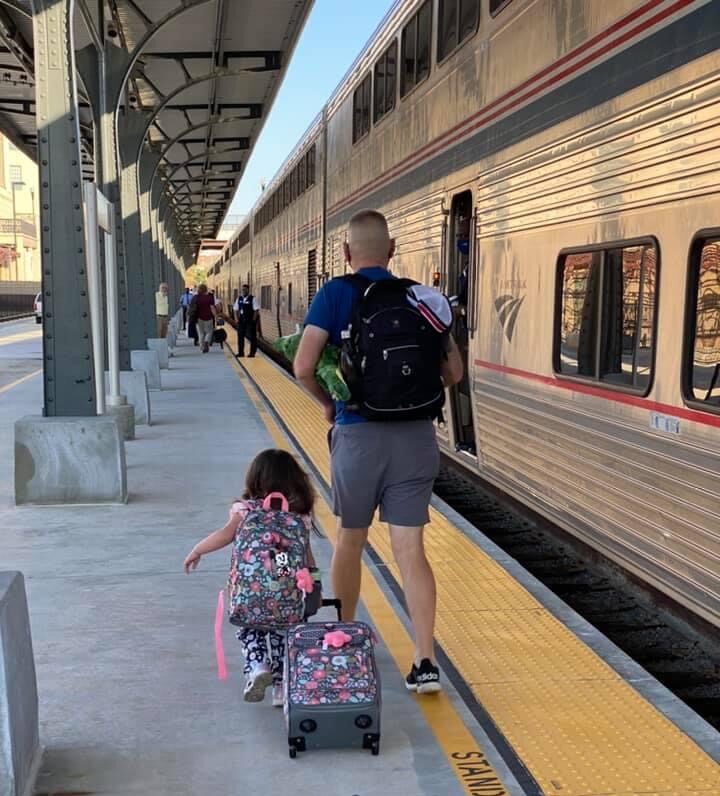 Trains can be noisy, but she was not bothered as we walked. Maybe her excitement outweighed her fears.
We walked to our car, she said hi to our attendant, and climbed aboard to the "family room." Not too long after that, we were off!
We settled in the room to let her get used to train life before going to breakfast.
When you are on the train, especially in the Midwest, it is not uncommon to hear things such as, look, there is a cow or a horse, but not long after we left, my sister reported she saw a zebra!
I forgot the tracks go behind the zoo. When I am on the train, usually it is late at night, or early in the morning, so I miss those views. Although I missed the zebra, I could see the outlines of many other things I recognized.
I think we were still in Nebraska before Mackenzie wanted to go to the dining car for breakfast. We were on the train the day Amtrak's traditional dining returns, but since this was the last day of our train's three-day adventure, we still had flex dining. I went on this trip expecting that is what would happen.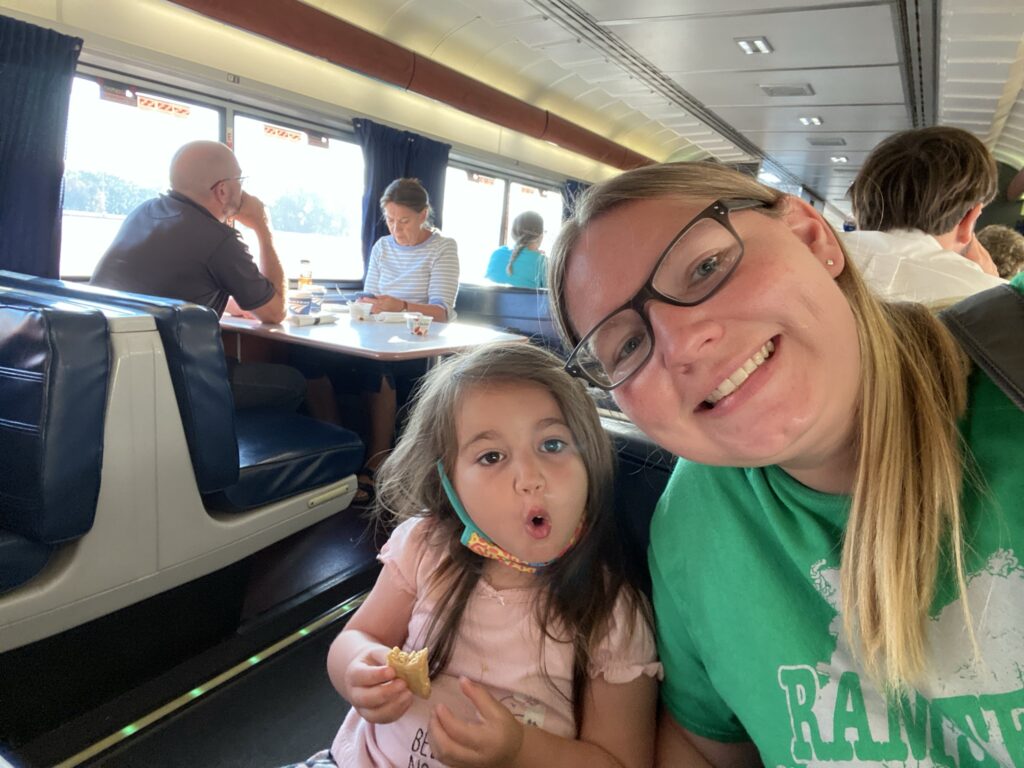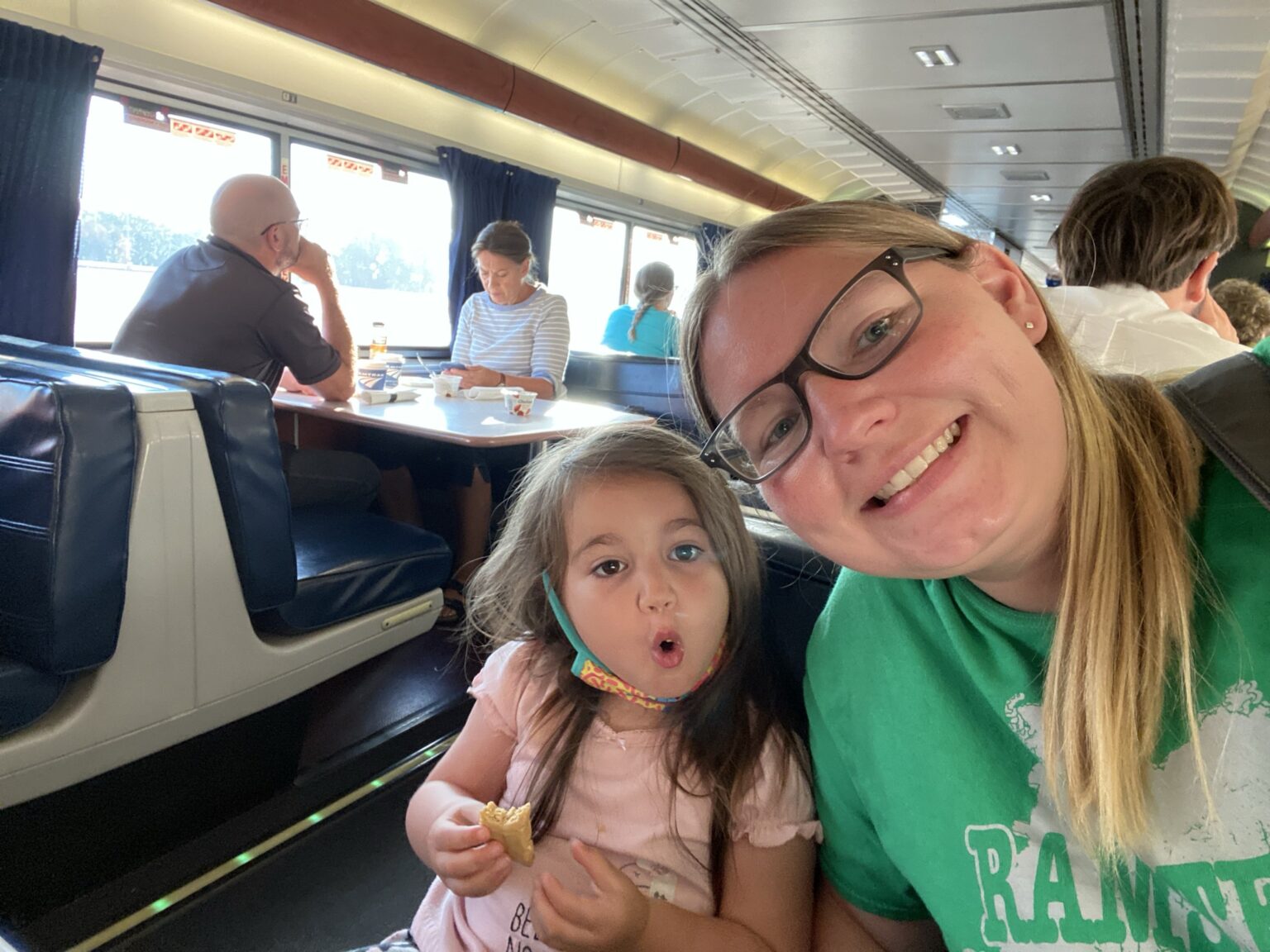 There was nothing on the menu for the picky toddler, which was fine; Paula brought food for her. We had views of the Missouri River as we ate. After breakfast, we walked around the train a little.
What we did while on the train
Getting settled in and breakfast
I think Mackenzie like the train's movement, but when we hit a switch a little harder or some rough track, she got a little nervous, but that quickly passed.
Grandma sent her activities to play with on the train. These included crayons, activity books, and other such things, and she enjoyed them. She liked playing on her iPad but still didn't understand the Wifi is not everywhere, but I know adults like that as well.
After Paula's failed nap attempt, we decided to take Mack for a bit of a walk. Just like when we went to the dining car, we had to walk through another sleeper. This time instead of stopping in the dining car, we kept going to the cafe/Sightseer lounge. We got a bag of chips and a beer; that was for me, not Little Mack.
After watching Iowa roll by, Mack wanted to go back to the room.
Lunch and the picky eater
A while later, it was time for lunch on the train. Meaning another adventure walking through the train, and the brave pint-size traveler was more fearless and better this time.
Once again, she was not a fan of what they offered; it is not Amtrak's fault by any means. After I ordered, I went back to the cafe car to get Mack a pizza and brought that back to the dining (I did ask first.) While she ate pizza, I had the Asian noodles, my favorite of the flex meals, but you have to like garlic and ginger.
Other train activities
We did get off the train a few times; she did take advantage of the train not moving to use the "little traveler's" room. While she is in the home stretch of the process of potty training, new bathrooms, let alone ones that sway when you go, are a little scary yet.
We made one last trip to the Sightseeer lounge with her trusty alligator in hand, and this time she found a friend to play with for a while. Playing made the time pass for her.
It was fun to listen in on to other conversations, and Mack chats with her train buddy. People of mixed backgrounds tend to talk more on the train than any other place I know, and I like that about train travel.
Do we get off now? Where is Papa?
As we neared the Windy City, someone thought we were closer to Papa's house than what we were where. She had a hard time understanding that the Naperville stop was not ours, and when we get there, Papa will not be at the station.
As we approached Chicago Union Station, I tried to figure out what train we would take next to Wisconsin (or close to the state line). Our choice was either Amtrak's Hiawatha or one of two of Metra's lines.
The one train that won was the Metra's Milwaukee District North line to Fox Lake, IL. So, we told Mack that we needed to get off of this train and get on another to see Papa. She was alright with that.
Not too much later, we pulled into Chicago Union Station. As the train pulled in, we got her backpack on her suitcase, ready for a walk through the station.
Once again, I had alligator handling duties. We walked from the South concourse to the North to discover our train was not in yet.
Getting off the train was enough of a distraction, and now she had something new to be excited about doing.
We found what track our train was coming in on and waited. To give Mack something to do, we walked onto our next platform to see where our train would arrive and then back into the station by her mom. She said hi to our Metra conductors who were waiting for the train too. They were extraordinary and chatting with her, and before too long, we could see the headlights of our train.
Once again, she grabbed her things and alligator, and we walked to our train.
Mackenzies third Metra ride
Mackenzie does not remember her first Metra ride, for she was a baby. Before she was one year old, she flew, took an airport shuttle, bus ride, and commuter train ride.
Her first train ride was between O'Hare and Antioch. We used the train to avoiding driving to the airport.
As we started down the tracks, she thought Papa lived in Chicago. Soon realized she had a while before we got to her promised land. To keep her happy and be the uncle of the year, I tether her iPad to my phone. She had wifi!
After traveling for a while on Metra, I looked around and discovered we were the only ones in the car. Mack was happy that she could take off her headphones to listen to her movies. We also stretched our legs and walked around our side of the coach car, even to the upper section.
Once we arrived in Fox Lake, IL, two beautiful things happened. The first Papa was waiting on the platform. Once she saw him, she ran to him with her support alligator in hand. She was so excited to see him, and Papa was glad to pick her up in his arms.
Not long after he had her in his arms, Mackenzie discovered the engineer! She waved to him, and he waved back! Not only did he wave back, but he also tooted the horn a few times for here. (Side note, as I remember this and write it, I still get a little misty-eyed.)
Wrap up
When we arrived at Papa and Grandma's house, she was excited to see Grandma and have a bite to eat. I think she had just enough travel for one day.
I had a great time with her, and I am proud of how well she did. Here ends this chapter of Little Mack's first Amtrak adventure.
I do thank Grandma and Papa for letting us use their points for the trip. Also, thanks to Paula for some of the photos. A big thanks to Mack for being the best little trooper on her first Amtrak Adventure.
I look forward to more train adventures and zoo trips with this little girl. She may not know it now, but she has changed my life more than she will ever know.
I was not much of a "kid person" before her, but she has changed that a lot!
Thanks for reading, following, and supporting in whatever way you can!
Safe Travels!
Kev
If you want to keep up to date with Travels with Kev and know when new articles come out, sign-up for the email list!