I went to New Orleans again, this time, August 2017, and it might be three times in 2017. It's funny; I never wanted to go there for the longest time, now I have a tough time staying away. I think my two favorite cities are New Orleans and San Francisco.
Traveling To New Orleans August 2017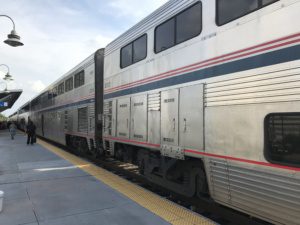 It was a great trip; the train down was pleasant, and I arrived early with no hitches. The staff was fun and helpful, and the food improved over the year before. It is a unique food service compared to other long-distance trains that Amtrak runs, primarily due to its schedule.
Amtrak has simple, abbreviated meals; for example, when the train leaves Chicago, they load the sleeping car passengers first and send us off to the dining right away, where they have things like warmed sandwiches. And lunch is short too because we get in relatively early.
Once I Arrived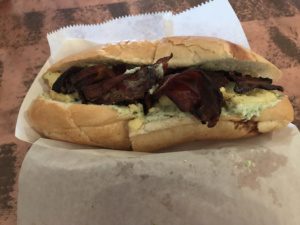 Once I got there, I walked to my hotel, one I stayed at several times, and it is only a mile away. I settled in got a marvelous Po-boy at Killer Po-Boys, just a block away. After my tasty sandwich, I walked to the heart of the French Quarter. Bourbon Street was under construction, putting in new sewers and making walking challenging due to less space for people to walk.
It is interesting down there if you go into a bar and order a beer or a drink and ask you, is this for here or to go?
It takes a while to get used to this, but you learn to enjoy this choice. You can walk around with a drink as long it is not in a glass bottle. I walked past a state trooper with a beer in hand; he looked at me, said hi, and then looked away. I found out you get used to just taking your drinks to go pretty quickly. People-watching is always fun down there as well.
The Next Day
I dealt with a few storms on Thursday, which interfered with my plans. I went back to Café Du Monde for beignets; the key is to go early, they are open 24 hours, so if you have a craving in the middle of the night, they got you. Just be warned that they are cash only. It is $6 for three beignets and a café au lait, not a wrong way to start your day.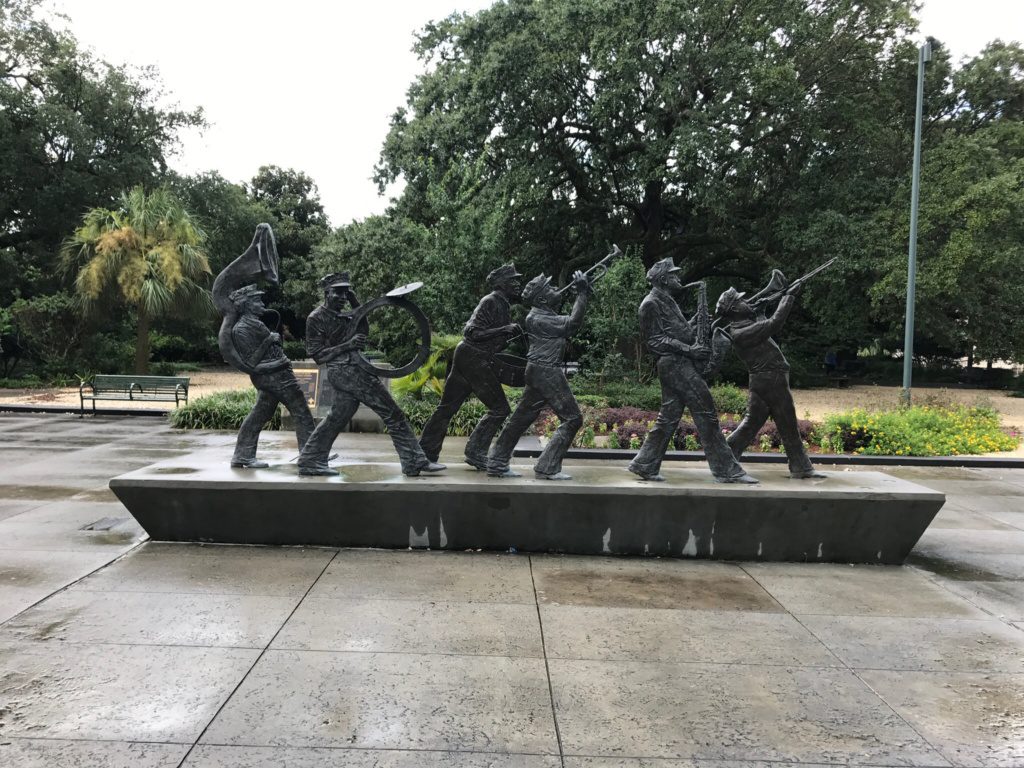 Most of the day, I spent walking around and trying to stay dry. I visited Armstrong Park, an attractive park with unique statues based on jazz themes.
I did not get to explore too much, for it was thundering and lightning out. One place I did want to go to was Lafitte's Blacksmith Shop Bar, but something was going on there. The other place I wanted to visit was the Carousel Bar, but it looked busy.
I did have a great lunch at Arnaud's Remoulade; I had the muffuletta, toasted, at my server's suggestion, my that was tasty! On the side, I had crab-boiled new potatoes; they are small red potatoes boiled in the same spices that they prepare the crabs in, they had just enough kick to be fun, and a little butter just made them better.
Later that day, I had plans to go to Preservation Hall, but I ended up chatting with people at a bar, just as good. Traveling solo isn't always lonely, but a friendly conversation is still enjoyable. After a few rounds, I went back to Pere Antoine's, one of my favorite late-night places to eat and to find out, breakfast is excellent there too.
My last day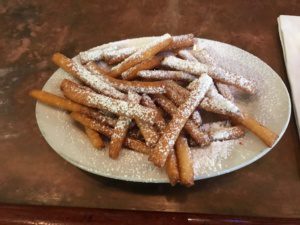 Friday was my last day, and it started out packing. I went out for a walk, trying to find a doughnut shop I was looking for, but I could not find it. I was probably a block off or walked past it, not know it. Some places are open later in the day, so it might not have been available for business yet.
As I said, I went back to Pere Antoine's for breakfast. I had beignet fries; if you go there, GET THEM! They are tasty! I had that and the Raging Cajon omelet, a great combination. The food had some kick but not too much, just perfect.
After that, I went back to the hotel to chill for a little while and get my bag. I walked back to the train station but first stopped at the Company Burger. If you like beer and burgers, this is a place for you. The bartender, who remembered me from last year's visit, is excellent, knows his beers, and is happy to share that knowledge with you. The food is terrific as well.
Going Home
I was not at the station long, I got in around 1 pm, and they were already loading the 1:45 pm train! So, I got in line, and not long; I was in my bedroom on the train.
The ride home went well for the most part; I like the extra room in the bedroom. The only big problem we had was getting stuck behind a disabled CN freight train. It took us a while to get around that, and we never made up the time. CN kept getting put on sidings for other CN trains to pass us. It did not affect me too much, for I just took a later next Hiawatha back.
If you are interested in taking your own Amtrak adventure to New Orleans, check out my Riding Amtrak Page to get started. If you are interested, join the email list or joining me on the socials!
All in all, a great trip!
Safe Travels!
Kev