Here is a quick low down of this past trip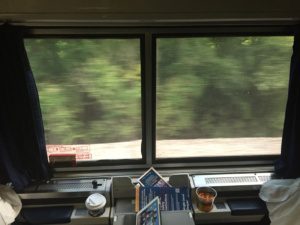 I took three long-distance trains on this trip, but that was necessary. I did it for fun and adventure. I took the Capitol Limited from Chicago to Washington, DC, the Crescent from DC to New Orleans, and then The City of New Orleans back to Chicago. The trip, on the whole, was enjoyable.
The trip was a quick five-day trip that many rail travelers call a Traincation.
A traincation is when a good part of the journey is spent on a train or in other words, the train trip is a part of it and not only our transportation, and we like it that way.
I want to highlight a few places: one is a place to eat, and the other is a place to visit. I think you need to see it.
The problem could be you.
First, I want to say that if you cannot find something to do in New Orleans, you don't know how to have a good time.
There is a little something there for everyone. The food is fantastic, and so is the music! If you like the local fair or not, there is something there for you too (you can always go to a McDonald's). I do not like seafood, but I found plenty to eat!
Well, sometimes, as you'll see, I can be adventurous.
Food
Food-wise I would say try the Napoleon House.
As I said, I am sometimes adventurous with eating, and I did have the alligator sausage Po-Boy with Tabasco Pepper Jelly & Creole Mustard. Oh my, that was a tasty dish with a Dixie Beer!
My mouth is already watering for another one! I have a few other places coming up too.
Music
This trip helped make my dream come true. I have wanted to go to Preservation Hall and heard the Preservation Hall house band since high school.
The Hall and the house band are full of history and known for keeping traditional New Orleans music alive.
The Preservation Hall Band dates back to 1961 and has showcased the top players in Dixieland and changes often, and the passion for the traditional music style is always there! I have wanted to go there since I was in high school. When I was in high school, I borrowed a CD from the library and fell in love with the music and band, and I finally got there.
To get tickets for the Preservation Hall, either buy your Big Spender tickets early and get reserved seats or wait in line with your cash to buy your tickets before the concert. The line for tickets starts outside the front door. Try to be toward the start of the line for a chance at a bench seat.
Preservation Hall doesn't sell concessions, but you can bring beverages. So, if you were walking around with a Handgernade, you can get that in with you.
Safe travels!
Kev
622