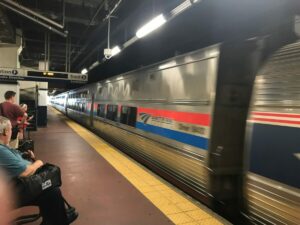 My next trip is coming up in mid-October, and I am looking forward to it. I will be taking trains, planes, and automobiles for this one. October is a busy travel season for Amtrak on the East Coast, and I usually have tickets for this trip in the Spring, but I waited, and the room price went up, so I am flying back. For the past two years, I have taken my folks to visit my sister and family in Charleston, SC, in October, and we usually booked our tickets early. Due to a few things that happened this year, my folks decided not to go this year, so I decided to go by myself.
I am taking the Capitol Limited to Washington, D.C. from Chicago, and then the North-East Corridor train to Philadelphia. My second time there this year, but this time I will stay for a couple of nights. I will be staying at a hostel downtown, and I hope to see the Wanamaker Organ again. If you are in Philadelphia, I would highly suggest you go to the Macy's Store downtown and see this wonderful organ along with all the history that Philadelphia holds.
I am taking the Silver Meteor from Philadelphia to the North Charleston Station; originally, I was going to take the Palmetto, which runs that same route but during the day. I changed to get a little more time in Philly, plus I get a few extra Amtrak points.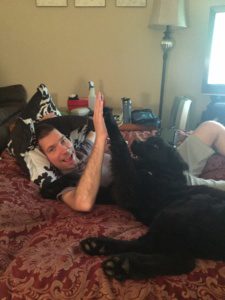 It is always fun when they bring Abby, my puppy niece, to greet me. The Amtrak staff has let Abby on the platform greeting me before as I get off the train. Nothing like 125 pounds of lovable fur monster to welcome you. I mean, yes, it is nice to see my sister and brother-in-law, but they don't seem to have the same excitement to see me as Abby. (You know Abby from my Two for Tuesday post on Instagram.)
I decided to fly back because I was buying too late, and room prices were getting higher than I wanted to spend. I do not go into debt to travel, so I had to wait; this sometimes causes issues of higher cost. Over the past few years, I have flown from Charleston to Chicago Midway on Delta, but I decided to fly into Milwaukee this time. The few extra dollars more to fly into Milwaukee, I think, is worth it for this trip. I will still take the train from the airport to my car in Sturtevant. That is one smart thing that Amtrak and the State of Wisconsin did, connecting the airport to Milwaukee and Chicago's downtowns by train, Gen Mitchell International, aka, Chicago's third airport.
I'm not particularly eager to fly, but not due to what most people think. I don't mind the airplane; my favorite parts of flying are the takeoff and landing. I'm not too fond of the hassle of flying, worrying about what I packed and how I packed, the security hassle, and many of the attitudes of the other passengers. I know you can get that on any mode of transport, but it seems that flying people seem to get a big head. We are all getting into the metal tube together, we all have places to go, and you are no better than the rest of us, so get off your phone and relax. (this ends the rant)
I don't have any set plans for this trip. I am working on that now, and if you have any suggestions for Philadelphia or Charleston, SC, let me know!
Safe Travels!
Kev