Taking the soon to be grandma to Charleston, S.C., to help with the new bundle of joy
This past June (2018) my mother and I embarked on an expedition to Charleston, S.C. We took Amtrak's Capitol Limited to Washington, D.C. where we transferred to the Silver Meteor. Travels with Kev trivia: every year since I started riding long-distance, trains I have ridden the Capitol Limited. (For more information on the why we went and how we got there.)
Our trip started with a tardy Hiawatha from Sturtevant, WI, to Chicago. After arriving in Chicago, we walked to the upstairs of Union Station to the Junction Bar for food and beverage. I tend to enjoy an adult beverage before traveling to relax, and my mother wanted a bite, so we were both happy.
After we left the bar, we headed to the Metropolitan Lounge, because we had a roomette on the train were able to relax here before our departure. The Metropolitan Lounge a contemporary lounge reserved for business class and sleeper class passengers.
For years I carried a deck of card that I rarely use, well while we waited we played a few rounds of rummy. If was a great way to pass the time even though I think my mom cheated, somehow.
Boarding our train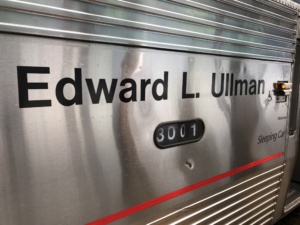 While we were playing cards, we heard the announcement for our train, so we gathered our things and walked down to our waiting train. After the short walk, we found our sleeping car, we meet our car attendant, Carlos, and he directed us to our roomette. Quickly we settled into our roomette preparing for our adventure to Charleston, S.C.
If you ever have Carlos as an attendant on the Capitol Limited, he will treat you well. He did an excellent job of making sure we knew what was going on, we had food, and he pointed out places of historical interest or natural beauty. This simple act added to the enjoyment of our trip.
Leaving Chicago
This trip was full of delays, but they all worked out to our advantage.
We departed Chicago Union Station a little late due to issues with a locomotive, that did not delay us too much. From what I heard they needed to swap out one of our two engines with a different one. I would rather have that then have one breaking down on the trip.
I joked with my mom that if we just pulled out as far as the yard, I would be happy. Well, I should have shut my mouth, after we started moving, the yard was as far as we got.
The train left the station, and we rolled out as far as the yard, and we stopped, and we waited.
There was a drawbridge that was excited and did not want to go down. During this time we decide to grab dinner, more information about our food experience later.
After we returned to our room, the train started to move, backward! The bridge was in place, but we had to get out of the way of another train that was come into the station before we could go further. This incident is the first time I have ever had something like that ever happen, but I have had some crazy things happen on trains.
Changes to Amtrak food service
We got to sample Amtrak's new "contemporary" meals for sleepers, the crew did their best to make this work, but the design of meal distribution is weak and not efficient. Instead of sitting and having your food brought to you, the made you stand in line. This food line could be an issue for some of the older passengers or that passenger with special needs.
The meals were good but not great, and they ran out of breakfast, that was not too much heartbreak because I did not like most of is offered in the breakfast box. You would think that they would plan enough meals for all of the travelers that where entitled to a "box." I have to admit I am used to the typical hot meals and services on Amtrak long-distance trains and enjoy the food.
With this change, I tried to be open-minded about the move, and the execution may have sounded good on paper, but the actual implementation of the process needs work, and I hope the process is still under development. I should not have to wait in line for a box for money that we paid that usually would have included a steak. Side note, these meals, as of now this service is on the Capitol Limited and Lakeshore Limited. Since this trip Amtrak added a warm meal, that was lacking.
Okay, thus ends the rant, back to the rest of the story.
Delays
Train delays are not fun, but the brights side often you will get see views that are usually only seen at night. It was interesting coming into Pittsburg in daylight; it usually is during the early stages of sunrise.
On the way out there, because of the delay, Amtrak bought us chicken sandwich box meal from a fast food chain delivered to the train. It was hot and tasty. This meal held us over till we got on our next train.
We did not have to wait in Washington D.C. that long, our next train became slightly delayed, so that did give us some breathing room, and that was nice. But we had an hour before we were on our next train.
Our last train
Once on the Silver Meteor, we settled in our roomette before we went to the dining car for a more traditional Amtrak meal. We shared a table with a lovely lady and not only did we enjoy the meal but the company as well. We found out that she was on our previous train, and I think she might have been in our car, but our paths never crossed until that point. That is one thing I do like about train travel, meeting new people.
This train still has traditional Amtrak food. The food was excellent along with the service. I had the salmon while my mom had her favorite Amtrak meal, the steak.
After we returned to our room, we settled in for a while before having our room made up for the night. With a 4:50 am arrival you want to get to bed a little early.
Arrival
When we arrived in Charleston, we found my sister and for the last time crawled into her Santa Fe to go back to her home and see Abby. (Before I left to come home my sister's "new" Buick arrived.)
Not a lot of exciting things happened while I was there, mostly shopping for the baby, swimming, and playing with Abby.
Safe travels!
Kev