The trip is going well, and I am safe at my sister's home; Abby and I are keeping each other's company.
This post is about how the trip is going thus far. (Click here for background on the trip)
The departure day – traveling after work
As you may know, I am a church organist; on departure day, I played an 8:30 am Sunday Mass and had difficulty constraining.
While I was playing, questions ran through my head, and they didn't help my playing. I started thinking, did I pack everything I needed, overpack, and prep everything for when I am gone? (I pre-record all the services I miss, so the church will still have music while I am gone. Thanks to my friend, Jenn, for pushing play on the organ)
Aboard the Hiawatha again
Between the long Wisconsin winter and using Metra more, I have not been on the Hiawatha as much this year before, and I enjoyed riding it again.
The adventure started at Sturtevant Station, like all of my big trips. That station has good long-term parking.
The other option was Fox Lake, IL, taking Metra Milwaukee District North Line, but I didn't want to park my car for an extended time. Nor did I want someone to drop me off and pick me up.
The train ride down was my transition from getting ready for the trip to the start of a new adventure.
Arrival in Chicago
After the train pulled into the station, I walked a few blocks to catch the Brown Line to head north to Slade's Barber Shop for a haircut; this gave me something to do, but it also made me look my best for my trip.
After my cut, I returned to Union Station to relax in the Metropolitan Lounge. You may use this area if you have a business class ticket or a room on a train.
After claiming my spot in the lounge and buying a PBR, it was time to relax and download a few shows on my iPad. The internet was a little too slow, and the wait time was too short to accommodate the speed, so I did not download everything I wanted. Before I left for Chicago, I downloaded a few things but wanted to try more shows.
While waiting for my train, I chatted with a couple traveling to New Orleans for a riverboat cruise. I was slightly jealous; I love New Orleans, as many of you know. Our time together was short, and around 6:10, they announced that Amtrak's Capital Limited was pulling into the station, and it was time for me to gather my things and head down to the tracks.
When the clock struck 6:40, the Washington DC-bound train number 30 left the station on its journey eastward to make all scheduled station stops.
By then, I was comfortable in my Superliner Roomette. Phill, my attendant, greeted me at the door and later filled me in on the information needed for the journey.
The food on the Capitol
As much as I prefer Amtrak's standard dining car service and menu, the new "contemporary" meals have improved. Albeit still lacking presentations and organization. (general information on Amtrak dining)
What I did like about the food service on the Capitol
Dinner aboard the Capitol Limited,

that I

enjoy

ed

Chicken Penne Alfredo

It included a salad, a dinner roll with butter, and a blond toffee brownie
Washed down with a Stone IPA
Last year there were only cold options

Increased breakfast choices

Like a hot ham and cheese sandwich
Breakfast is No longer a box meal
The setup reminds me of a breakfast selection in a hotel

When Amtrak first switched to the "contemporary" meals last year, the only offering was one breakfast box, and I never took it because I did like the majority of what was in it
What still could be improved
The dinner process is better than the first time, but the attendant could quickly become overwhelmed, and the passengers can get frustrated.
Passengers wait at the counter for the attendant to take their orders, then sit down to wait for the attendant to deliver the meals and drinks.
At least one additional staff member would help the situation.

Then one person can take care of the tables while the other preps the meals.
Then the passenger could sit down and have their orders taken and served with less confusion and more class.

Breakfast wasn't as bad, but the personal touch was missing.

Something like french toast would be a tremendous additional

Ditch the dinner boxes for a restaurant-style presentation

The containers take up too much space on the table and are wasteful.

Part of the heart and soul of the train is missing without a dinner car

This car is where you often meet new people and fix the world's problems.
Glad to be back on the rails
Being back on the tracks to a destination past Chicago helped with my winter blues. The past winter was hard emotionally, and I am sick of dealing with snow. I may have that seasonal disorder thing.
A roomette on the train is my happy place, and being back was great. Being a traveler, not traveling as much is hard.
Layover in Washington, DC.
We arrived in DC about five minutes early, and the weather was pleasant, so that I could enjoy the city for a while. Since I had a sleeper and transferred to another, I stored my bag (although unsupervised) in the Washington (DC) Union Station lounge.
Seeing Amtrak refreshing the Acela Lounge with new furniture and other aesthetics was nice to make the room more enjoyable.
A bonus of rail travel is occasionally the opportunity to explore the community you are in during a layover. (Not always available at every station)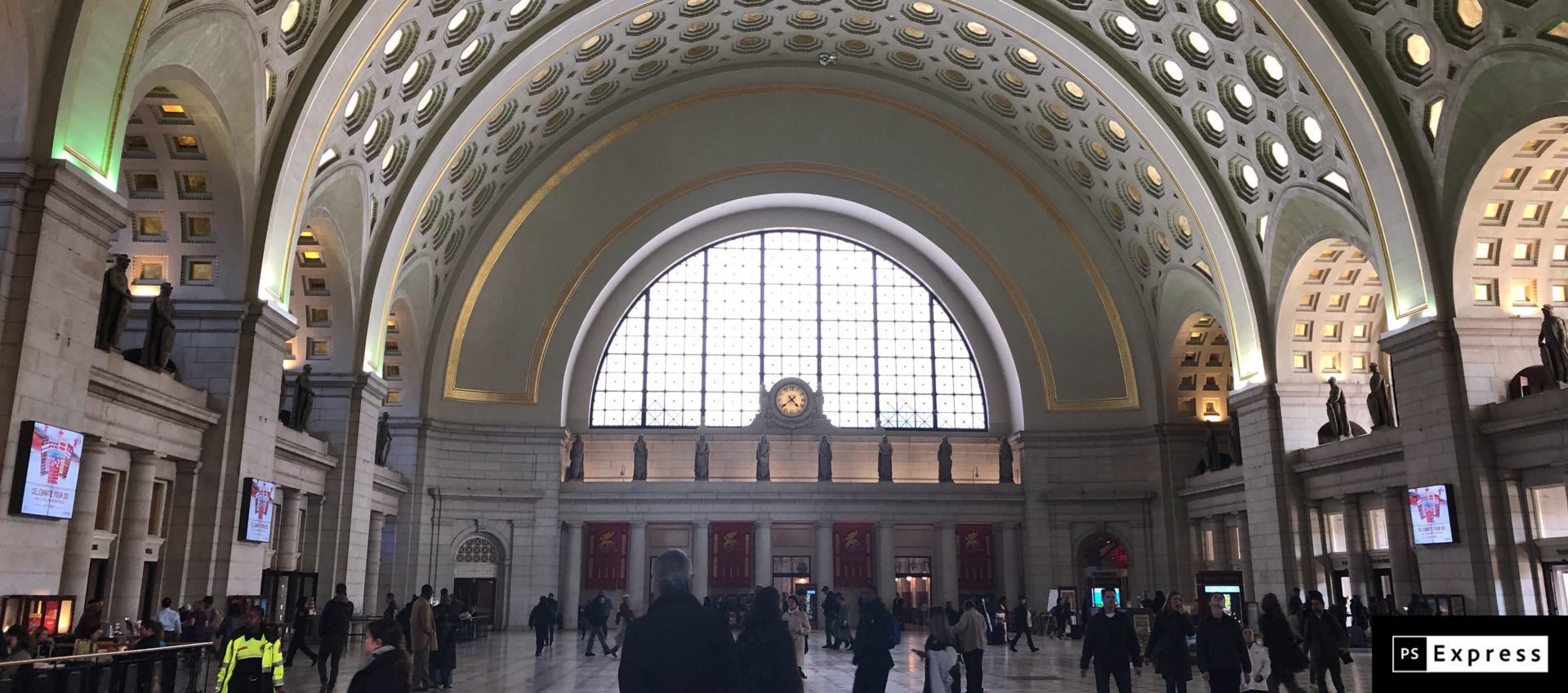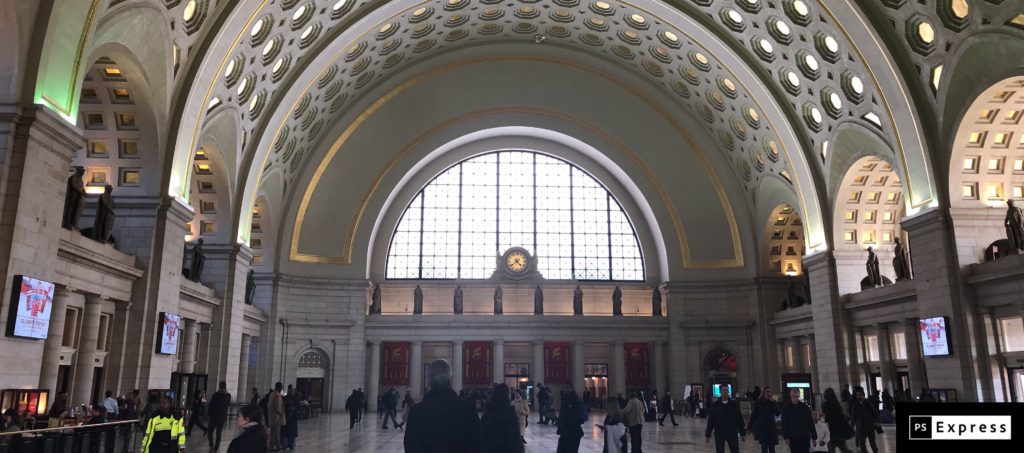 What I was able to see while in DC.
Washington Union Station is fun to explore and worth a visit; there is an app to assist you.
The Capitol Building (from the sidewalk)
The Washington Monument (from a distance while walking on the Mall)
Oh yeah, The Mall
Smithsonian Castle If you are in the area, it is fun to see, but I wouldn't go out of my way to go there.
The Castle does make for a lovely rest stop for restrooms and does have WIFI.
Outdoor art garden (there are a few in D.C.)
Crazy tourist and school groups (they can get annoying)
The Canadian EmbassyOutside the embassy is a fun whisper dome.
1948 Tucker Torpedo, my dream car
If you have never been to Washington, DC, it's worth exploring; there is much more to see.
I boarded the Meteor from the Acela Lounge; the sleeping car attendants loved my jacket, for I wore my blue Amtrak jacket with an old Amtrak logo.
The food on this train was terrific; the traditional Amtrak dinner menu included an Amtrak Signature Steak (cooked rare) with baked potato and green beans. For dessert, I had pumpkin spice bunt cake with whipped cream. To wash all of that down, I had a Stone IPA.
The whole meal was almost too much.
A lovely couple joined me for my meal, and they were traveling back home to Florida from New York. We had a great conversation about train travel and Newfies. I told them I was going to see Abby the Newfie.
After dinner, I returned to my room, and soon after, the car attendant made my room up for the night. Bedtime was a little early because we arrived in Charleston at 4:50 am.
Around 10:30 or so, there was a knock on the door, and it was the police. Great! They were looking for a male with a black backpack, well, I fit that description, but I had the wrong one and not the one they were looking for, thankfully. I must admit I wasn't fully aware of the situation then.
I discovered someone had stolen one of the conductor's bags from the dining car the following day. This act could be a federal offense because Amtrak employees are federal employees.
Arriving at Charleston, SC.
Because of the police search, the Meteor was late getting into Charleston. It worked out okay for my sister and baby Mackenzie. I don't think little Makenzie was amused to see me that early in the morning; I felt like she judged me the whole time we walked to the car.
When Paula brought me home, one little girl was excited to see me, Abby. When I walked in, she was thrilled. Abby wanted my attention from when my bag hit the floor, and she probably thought I was there to see her, which is partially true.
More to come!
Safe Travels!
Kev
For more info on traveling Amtrak, check out this page!