Are you looking for a gift for that traveler in your life? Maybe you want to save up for a trip and look for a way. What about Amtrak Gift Cards? These gift cards make for an excellent gift for the traveler in your life or to yourself, whether physical or digital forms.
Before getting an Amtrak gift card, you should know a few things. That is where this article comes in handy. It will give you the basics, let you know where you can buy them, and how to watch out for scams related to Amtrak Gift Cards.
Amtrak Gift Cards FAQs
You can choose an amount up to $500.
The minimum amount you can put on the card can vary by vendor.
Some physical cards come in set amounts.
No fees to get a gift card (outside of shipping)
Cards Never expire.
You can get an electronic card emailed to you or someone else.
Physical cards can be sent through the mail.
Redeem online, in the app, phone, or station.
Give The Gift Of Amtrak Gift Cards
A great way to help travelers is to give them the gift of travel.
Sometimes, a great way to save up for a trip is to get yourself gift cards; that way, your money is tied up just for travel.
The nice thing about new Amtrak gift cars is that they were more flexible than traditional ones a few years ago.
Years ago, you could only get gift certificates from Amtrak stations or by calling. When using them, you had to call or visit a staffed station. They also carried cash value, so you were out of that money if you lost it.
Today, you can store gift cards in your Amtrak. That way, you have the credit, even if you don't have the card.
Where Can You Buy Amtrak Gift Cards
You can buy these cards in two ways, physically or digitally, and how you want to do that is up to you. You should know that Amtrak and Amtrak Vacations run differently, and gift cards do not transfer.
Be aware that you cannot use Amtrak Vacation gift cards on the Amtrak website, nor can Amtrak gift cards be used on Amtrak Vacation. While they have the same branding, they do operate separately.
Physical Cards
Physical gift cards make great gifts to throw in a letter or greeting card or when you want to hand them to another person.
You can purchase physical gift cards online through Amtrak or other online vendors. Amtrak can send your gift card with a personal message to you or your traveler for free, and for a fee, Amtrak will expedite shipping.
You can find Amtrak gift cards in some brick-and-mortar stores you can leave with them.
Places To Shop For Amtrak Gift Cards
A few places that sell Amtrak Gift Cards (these can change at any time)
Digital Gift Cards
One fun advantage of buying digital cards through Amtrak is they offer several designs, including route-specific cards.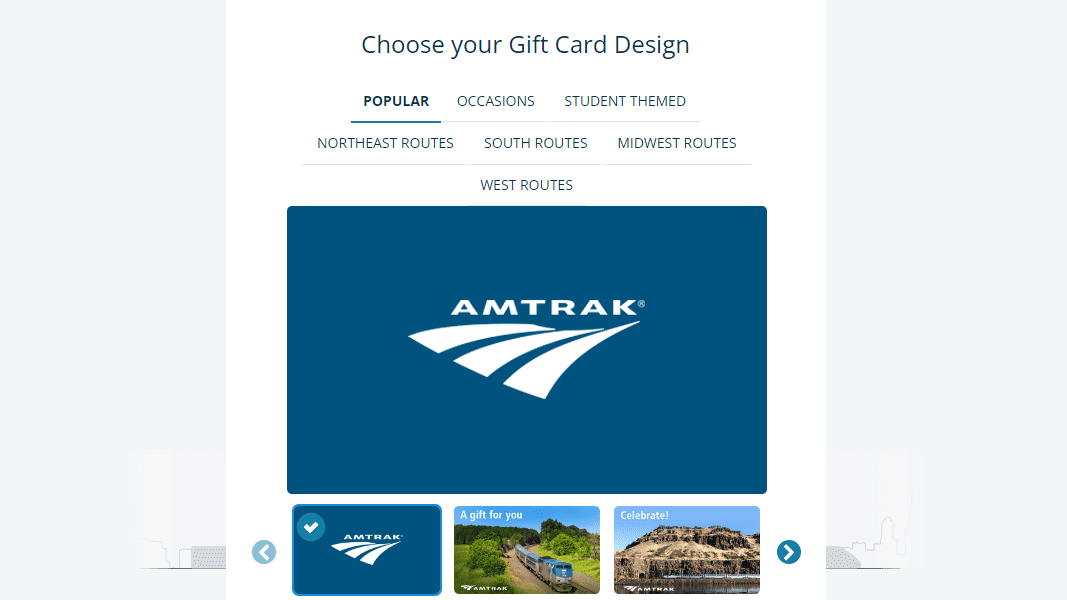 This option could be a neat touch if your traveler plans to go on a specific route.
If you want to send one my way, I am not picky, but digress.
If you buy the e-gift card from Amtrak, they will receive an Amtrak-branded digital copy in the email.
Target and other retail locations can send digital cards. However, the messages depend on the retailer's rules and availability.
How To Get A Discount On Amtrak Gift Cards
Who doesn't like a good deal? Amtrak does not run (or at least I have seen any other than scams) deals on these cards, but there are a few ways to save.
If you have a Target Red Card, you receive 5% off when you use it at checkout, and this works for both physical cards bought in-store and digital online. Sometimes, stores offer gift card deals, so keep your eyes out for that. If you use your Amtrak Credit Card, you can earn points while buying travel for others!
Where You Can Use Amtrak Gift Cards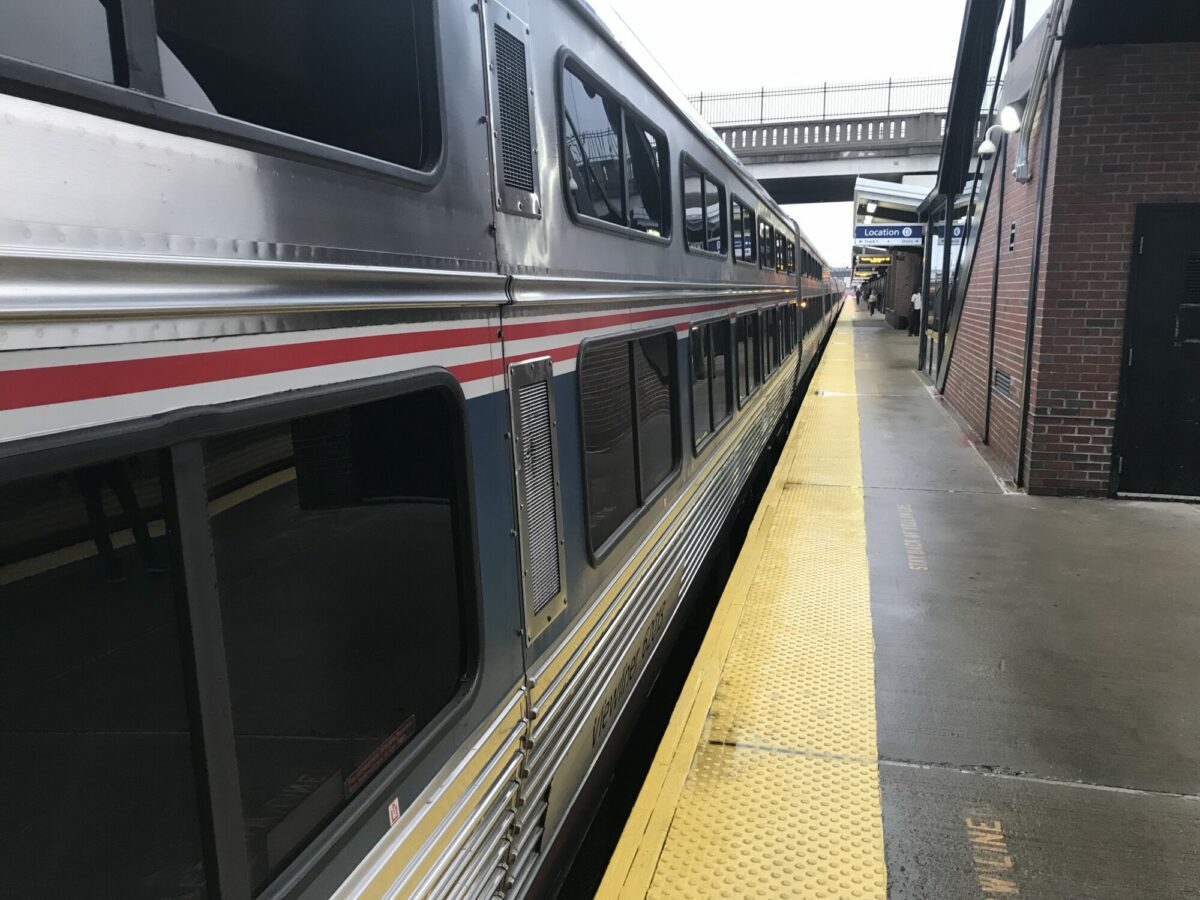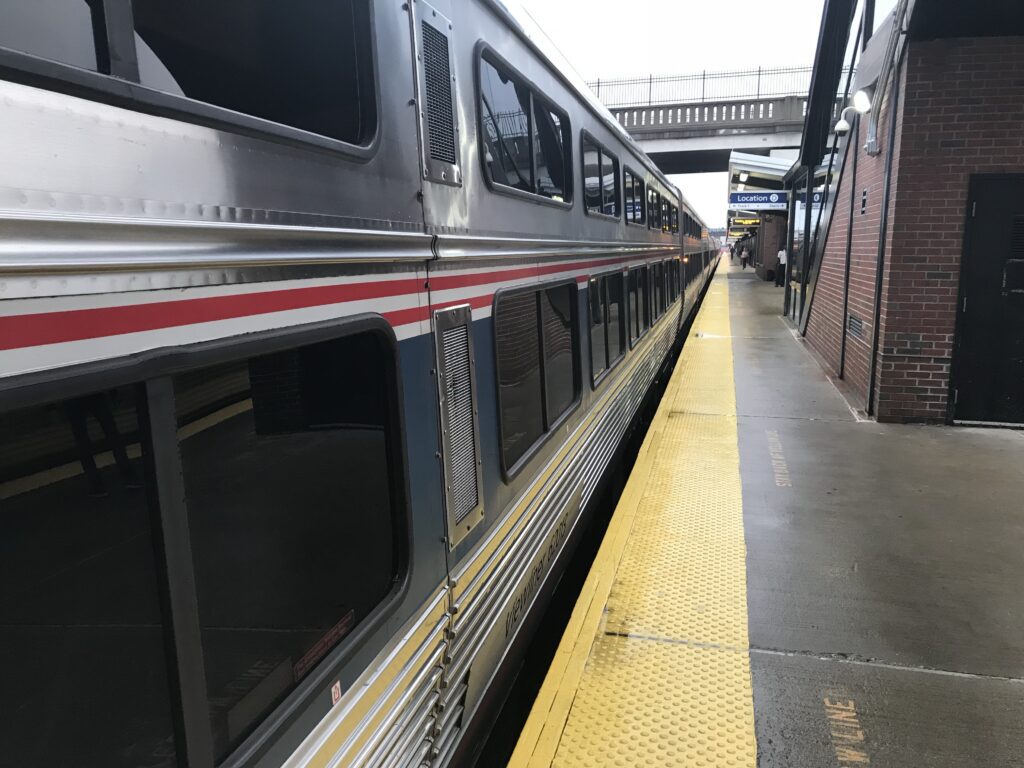 Amtrak gift cards can be used online, in person, or over the phone for Amtrak travel only.
At this point, you cannot use gift cards for onboard purchases. (I am unsure if you can use them in Amtrak ticket machines).
What To Do When You Receive A Gift Card
If you purchase or receive a gift card, you can save them in a "safe place,' which is not a good option for me, or you can store them in your Amtrak account.
To store them in your Amtrak account, log in, and from there, you can store them there under the payment section. Then, when you are ready to book your next trip, they are already there waiting for you!
If you store them electronically, you may be unable to use them at stations. You can also visit the Amtrak website and check your gift card balance. To do so, visit this page.
Limits To Amtrak Gift Cards When Buying Tickets
One of my readers recently informed me that there is a limit on how many Amtrak gift cards you can use per transaction. They tried to use eight at a time and could not, which leads me to believe you can use up to six per transaction. You may need to break up the reservations if you have more than six.
If you have more than six, buy two one-way trips instead of a round trip; often, there is no deal for round trips.
Social Media Amtrak Gift Card Scams
If you buy your cards online from a store you know or in person, you are fine, but if someone is selling them online and you do not know them or if you buy them from a store you do not know, keep an eye out.
You may see a Facebook group, ad, or something on other social media saying you can get Amtrak gift cards for a dollar or practically nothing; think twice. These are scams!
Often, these groups go after data or your credit card information or try to scam you somehow.
What To Look For
There are a few ways you can check. If they are running a contest, you will find it on the Amtrak website.
These sites will try and spoof Amtrak.com. One way to check if the page is legit is to click on the logo in the upper right-hand corner, and when you do that, it should go to the Amtrak home page.
Also, the photos of trains often are not of Amtrak trains but stock photos of trains with Amtrak logos.
Doing a little digging can also raise red flags. If you notice on the example faux Amtrak page, it states that this is only valid to US residents, but when you look at the people who claim to win, they were not from the US, if they have current or even real profiles.
My Final Thoughts On Amtrak Gift Cards
I received a few Amtrak gift cards from friends, which were easy to use and give.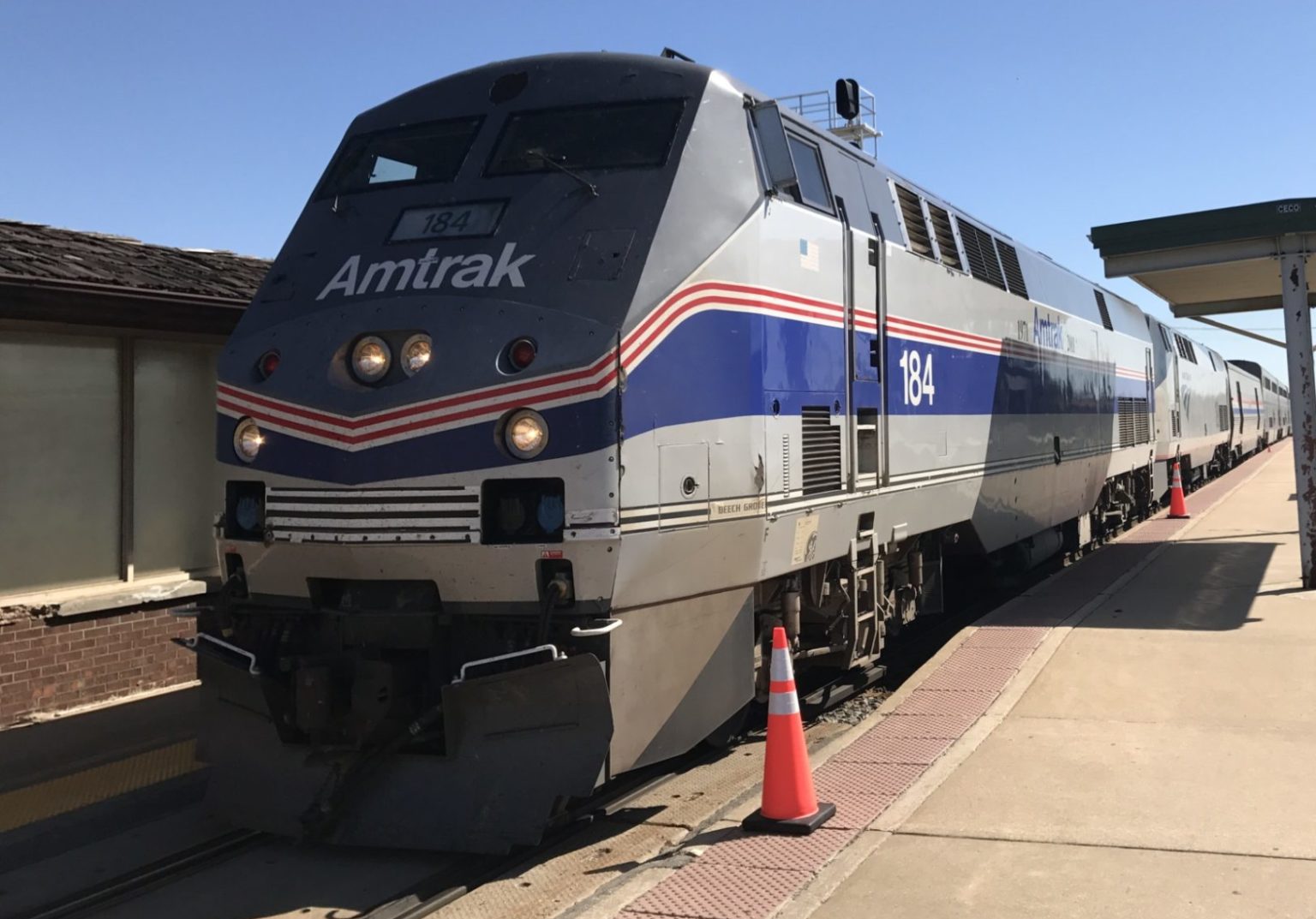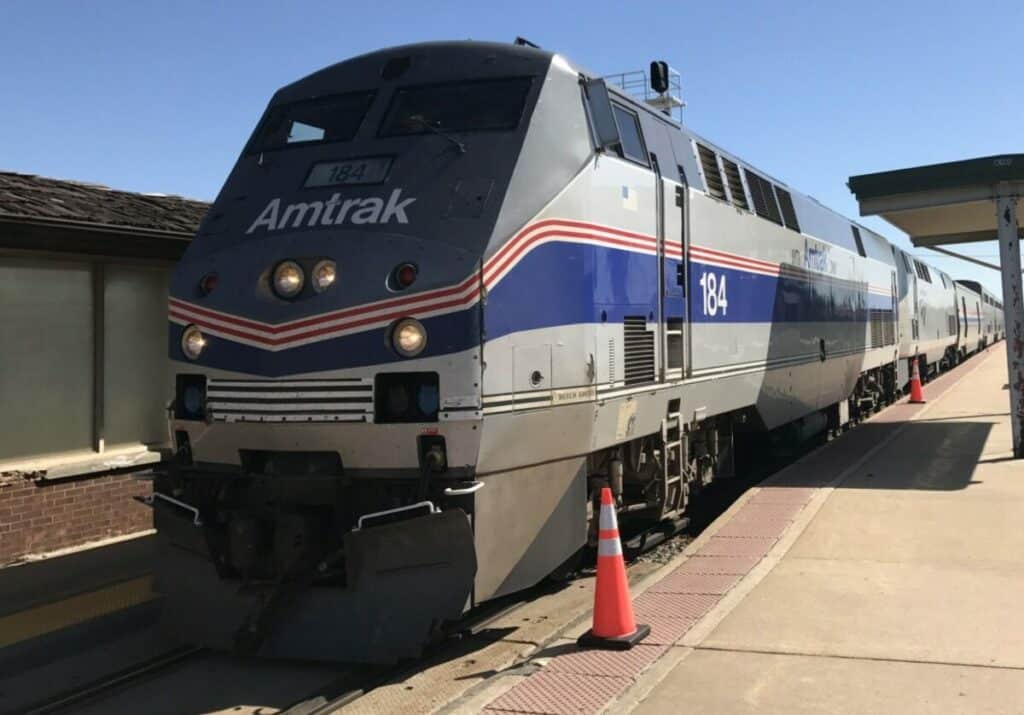 Amtrak had a somewhat archaic paper gift certificate system not long ago, and you could only redeem the gift certificates at staffed stations.
These new cards are more convenient and valuable for travelers.
If the traveler in your life enjoys riding the rails, these cards will be a welcome gift! They also are great gifts for your favorite travel blogger (that's me, right?)!
If you receive an Amtrak gift card and don't know how to travel on Amtrak, fear not; I have you covered!
Check out the Riding Amtrak Page as a starting point for your next Amtrak adventure. If you like what you see, there are other ways to follow my work, or if you want to know when new stories come out, join my email list.
Safe Travels!
Kev
Would you like train travel info in your inbox?
Consider joining the Travel with Kev email list for info, tips, and tricks for Amtrak travel.
03172020