One thing I enjoy about modern travel is how we can make reservations online for lodging and transportation. Those born after 2000 may not know that once upon a time, we needed to call to make a reservation or go to a hotel to book transportation. Tickets got mailed to you! I never had that happen; I started doing non-road trip travel after those "dark ages." Since we do so much electronically, is printing out Amtrak tickets something we still need to do?
Ironically, we still use phones to buy tickets, but with an app instead of calling.
That is what this article covers how to do it and alternatives.
Printing Out Amtrak Tickets, Do You Need To?
The short answer is no; Amtrak conductors can scan tickets from an electronic device or paper ticket.
Sometimes, conductors may ask for your name instead of scanning but don't plan on it. Amtrak mainly uses this method if you are the only one boarding the train.
Having a ticket with you (printed or electronically) is wise because it makes things easier for everyone.
When Do You Get Your Amtrak Tickets?
Unlike airlines, you get your tickets when you complete your reservations.
How Do Tickets Come From Amtrak?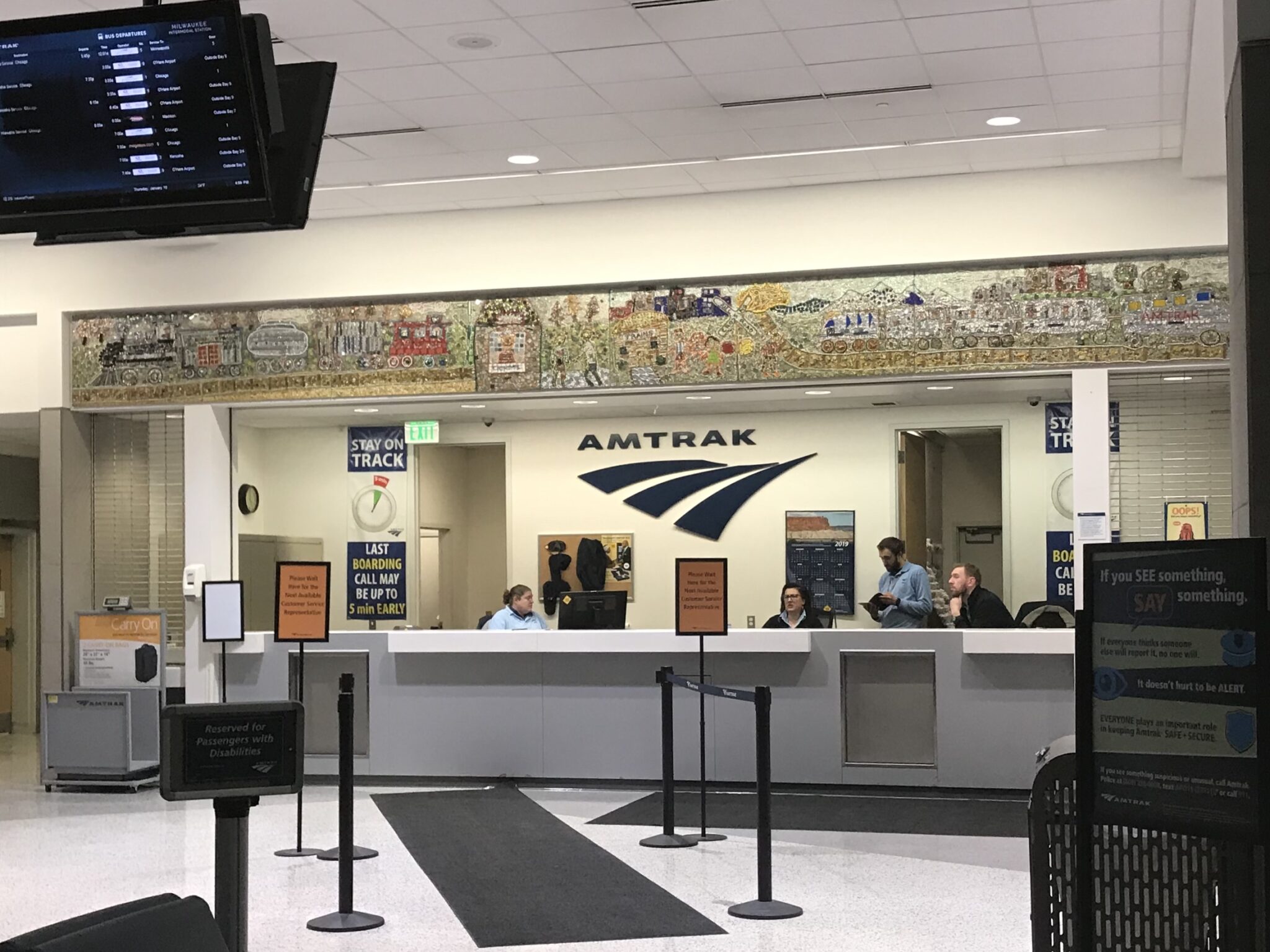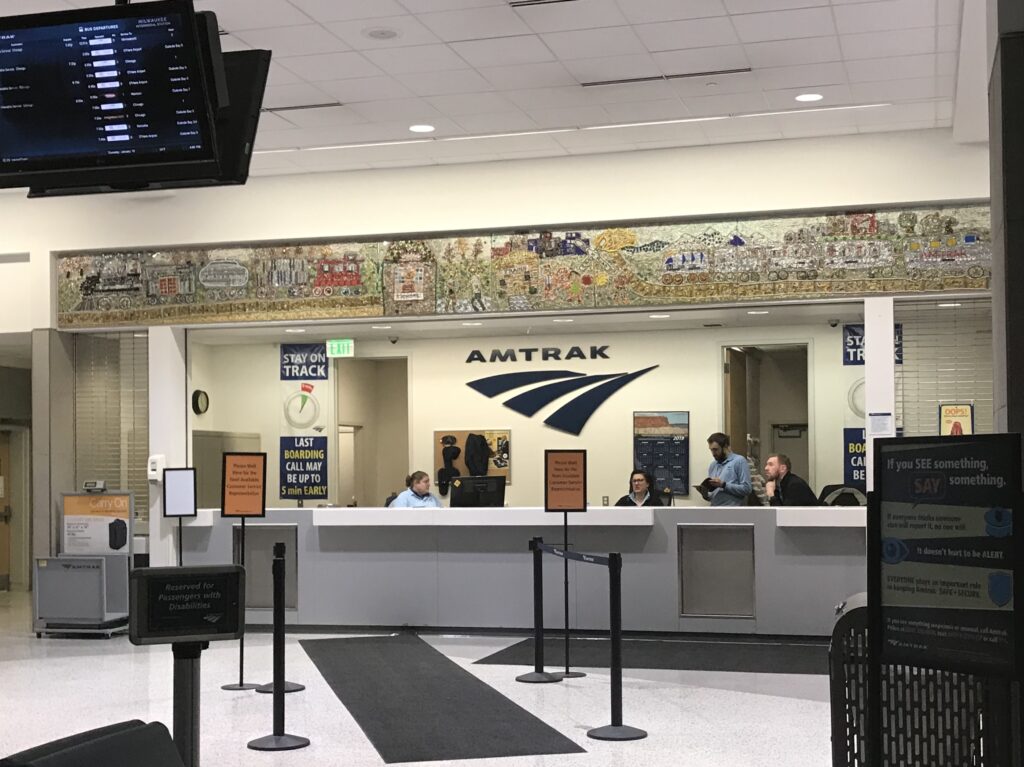 Maybe we should cover that first.
Where you make your Amtrak reservation determines whether you automatically get a paper ticket or one gets emailed to you.
If you get them at a staffed station or from a Quick-Trak machine, you will leave the station with a paper ticket. They look like an airline boarding pass.
If you order them online or by phone, Amtrak emails you a PDF file.
If you like paper tickets, keep reading. This page will help you print them out or learn alternatives.
Do Amtrak Tickets Have Cash Value?
Years ago, all transportation tickets had cash value, but in most cases, these days, things have changed for the good.
These day paper ticket does not hold cash value.
So. if you leave your tickets at home, you are not out your cash, in most cases. You can reprint them at the station or use the app or email.
When Printing Out Amtrak Tickets, Make Sense
Printing your tickets makes sense if you feel more comfortable with a paper ticket. There are a few reasons why printing them makes sense.
If your adventure has transfers, business class, checking luggage, or room accommodations, it may make sense to print your tickets out.
Printing things out may be easier if you plan to check bags.
When you check in your bags, agents may give you a claim check that they staple to a ticket. A paper ticket makes it easier to find. Some will automatically print tickets in this case.
Passengers with a room can use lounges, and it is easier to show the agent a paper ticket than your phone. Also, seeing room information for long-distance trains during boarding may be more manageable.
If you have business class, you may need to show your ticket to the cafe car attendant for complimentary beverages. Plus, it does make it easier for conductors to see your accommodation.
Is your phone always dying? If your phone is unreliable or you are not good at charging it, it may make sense to print them out. That way, the conductors can scan your ticket and not have to wait for your phone to charge when you get on the train.
When Printing Out Amtrak Tickets Might Be Overkill
For some trips, taking the Hiawatha from Sturtevant to Milwaukee or Chicago, for example, may not be worth printing out that ticket. Especially when taking the Hiawatha from Sturtevant Depot to the Milwaukee Airport, a 13-minute ride, printing one out could be overkill.
If you buy your ticket last minute, as in ten minutes before it comes, you may not have time to print or have one available; it is not worth worrying about.
Should I Print Tickets For Everyone On The Reservation?
Technically no, that is up to you. If you only print one ticket out, ensure everyone else has one, at least electronically, just in case. While Amtrak tries to keep groups together, sometimes it is impossible, so if you are not together, it makes things easier if everyone has one in whatever form.
Printing Out Amtrak Tickets: How To Do It
You can print out tickets from your home or at many Amtrak stations.
Printing At Home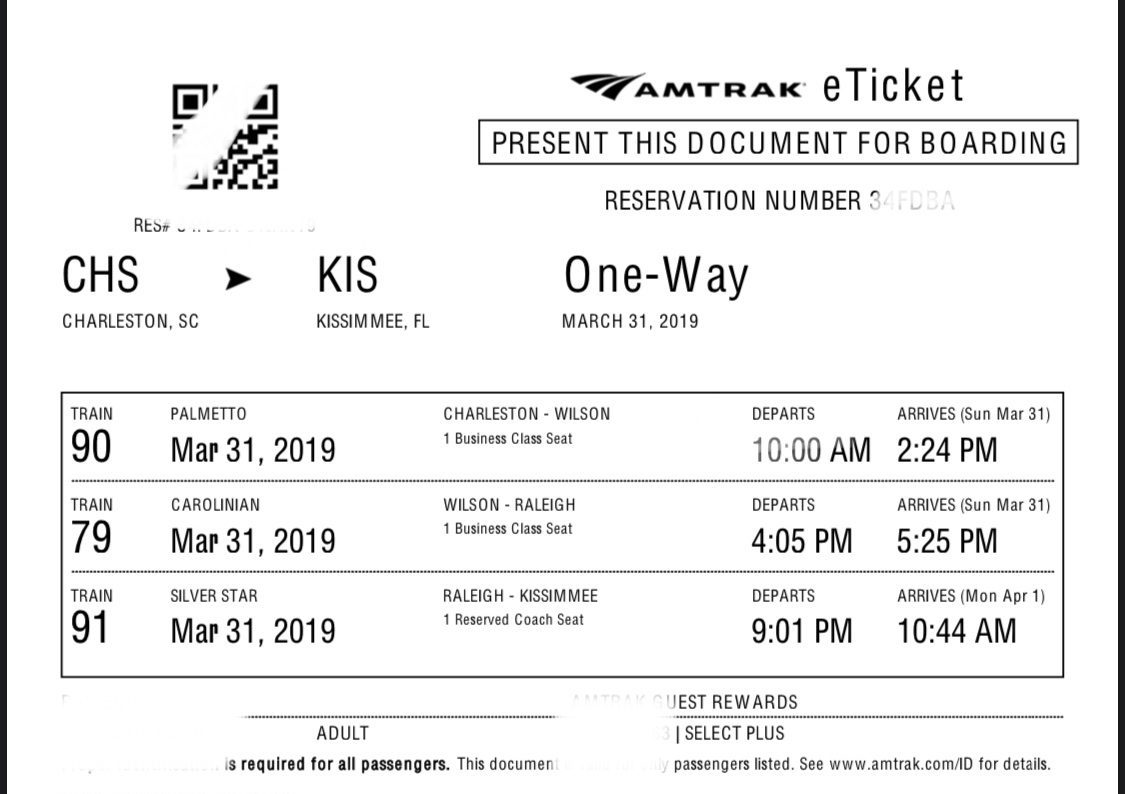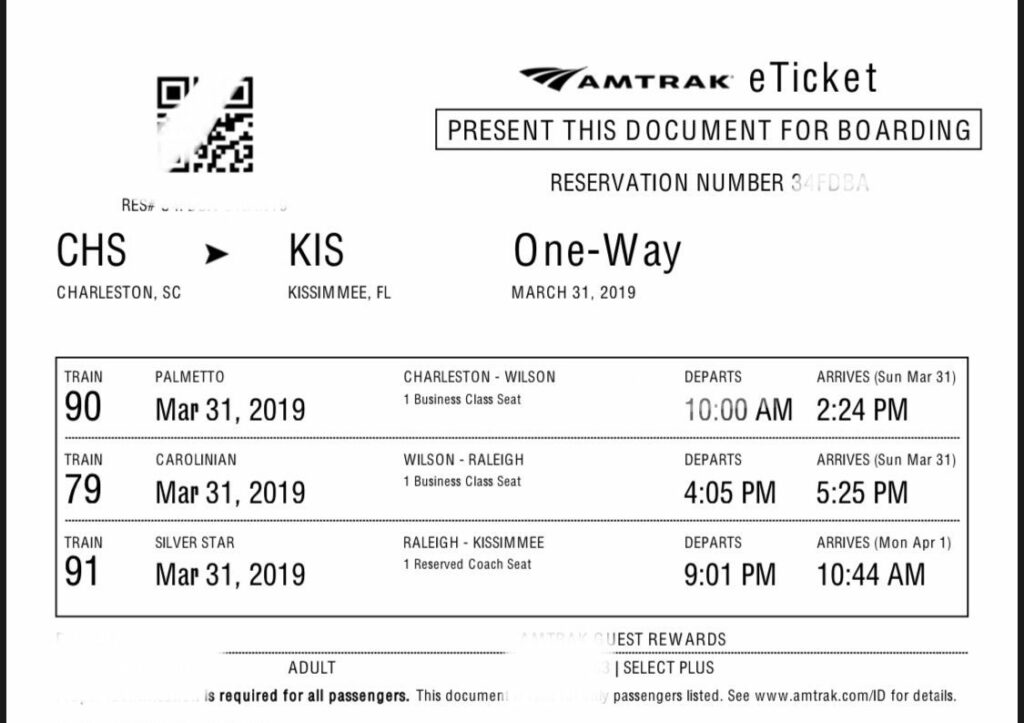 If you want to print your tickets at home, open the email from Amtrak and the attached pdf file; you can print it there. These tickets are full sheets of paper with additional travel info.
When printing from home, use white or colored paper. Dark colors may make it harder to scan tickets, so when printing, ensure the bar code is easily readable so the scanner can pick it up.
Some travelers use different colors for each section of their travels to keep themselves organized.; an excellent idea for some travelers.
A Kev travel hack, get a plastic folder with flaps on top and a plastic envelope. The link is close to the one I use. A travel folder not only keeps you organized but makes it easier to find your tickets. I like the flaps on the top so everything does not fall out if it gets dropped. I like the clear pocket for storing boarding pass-style and transit cards for places I return to.
Printing At A Station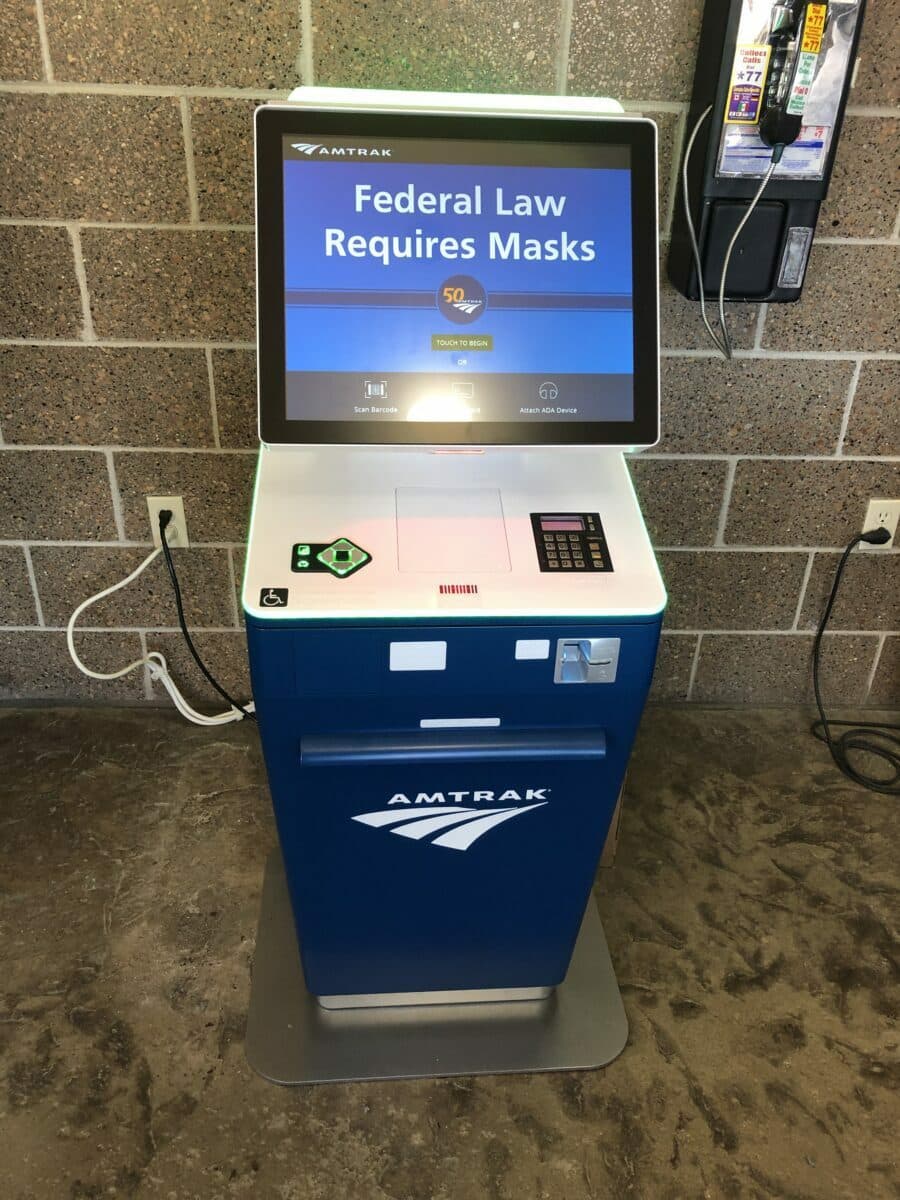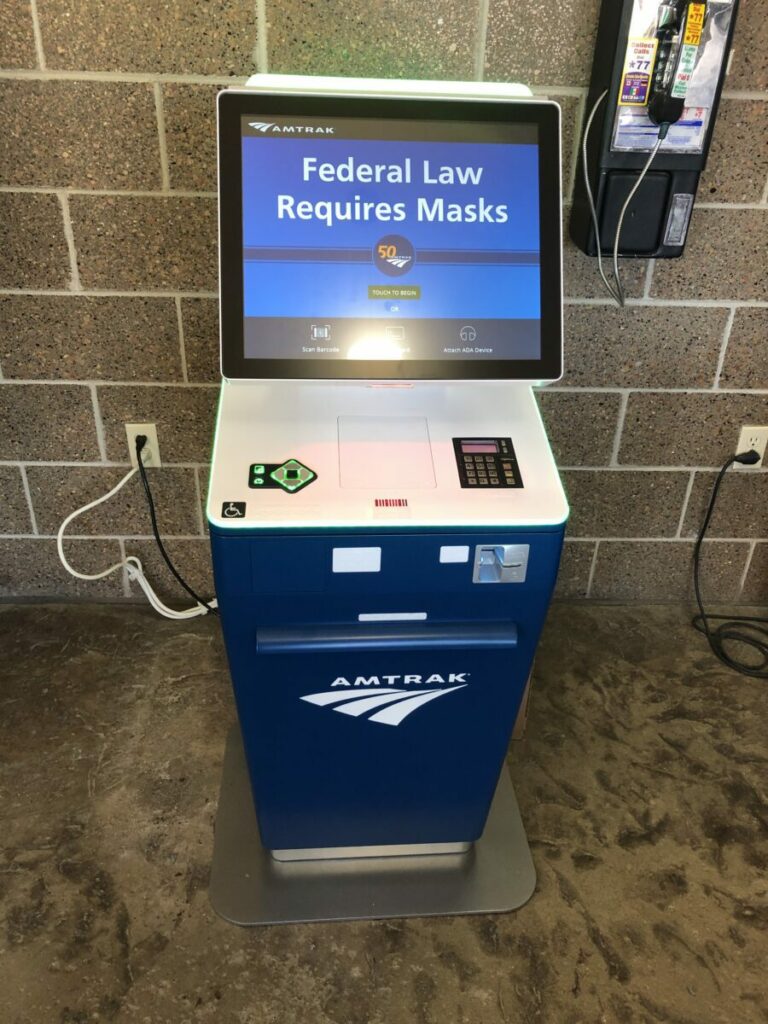 A station agent can print them out if you go to a staffed station, or at some stations, a lounge attendant may be able to print them too.
Many people are unaware that besides making reservations Quik-Trak machine can print your tickets.
To print tickets from this machine, swipe the credit/debit card you used to make the reservation or scan the barcode on your phone or paper ticket. Once you do that, the machine asks if you want to print and follow the prompts, and you will get your tickets in a few seconds.
Side note: if you plan to purchase tickets using the machine, be aware they only take cards.
The tickets from stations, whether from an agent or machine, work great for travel because they are smaller and can fold them and slid into a pocket. Plus, they are more durable than printer paper.
Alternative Ways Of Printing Out Amtrak Tickets
When working on this article, I learned a few things; according to Amtrak.com, you can receive your Amtrak tickets by mail or pick them up on the train. Be aware that these methods have restrictions and may not always be available.
The following section is primarily verbatim from the Amtrak website, with some light editing. Check the current terms and conditions if you are interested in one of these options.
Amtrak Tickets By Mail
Amtrak will mail tickets to U.S. and Canadian addresses for no additional fee only if you have booked a reservation for which you have not received an eTicket.
For tickets sent by mail to most addresses within the continental U.S., you must purchase your tickets at least nine days before your departure date. For tickets sent by mail to addresses in Alaska, Hawaii, and most addresses within Canada, you must purchase your tickets at least 15 days before travel.
The Ticket by Mail service is not available to locations outside of the U.S. and Canada, including Puerto Rico, the U.S. Virgin Islands, or any other U.S. territory or possession, as well as APO/AFO addresses.
Express Delivery
In certain circumstances, you may request that your tickets get delivered by express delivery for an additional fee. To be eligible for express delivery, you must make your reservations at least four days before travel for U.S. delivery and at least six days for Canadian delivery. This option is available only for continental U.S., Alaska, Hawaii, and Canadian addresses. Delivery to P.O. boxes is not available. Deliveries are made Monday through Friday only, and someone must sign for the delivery.
Special considerations for short-notice travel from unstaffed stations:
If you depart from an unstaffed station and purchase your tickets within ten days of your departure date, you must select the express delivery option. An express delivery fee applies.
If you are departing from an unstaffed station and you are purchasing your tickets within four days of your departure date, please call 1-800-USA-RAIL (1-800-872-7245) and speak with a reservations sales agent to determine what alternative ticketing option may be available to you.
Picking Up Paid Tickets Onboard
You can only pick up your tickets from a conductor in limited circumstances.
For example, when you pay for your tickets before travel, your departure station is closed at departure time, and no other delivery option exists.
Amtrak's online booking system will determine your eligibility for onboard pick-up based on your itinerary. If you are eligible, you can get presented with the option to pick up your tickets onboard during the booking process. When making reservations by phone, your agent will tell you whether you are eligible for this service.
If You Choose Not To Print Out Your Amtrak Tickets
You need a smart device if you do not print out your tickets.
Smartphones work best because they can access the Internet (most of the time), which they need for the Amtrak app. But there are other ways you can access Amtrak tickets without their app.
One thing that saves time is putting your tickets in an e-wallet. You may need the app to put your tickets in an e-wallet. If your phone does not have this option, there are several third-party apps, such as Google Wallet, you can use.
The most significant advantage is they often do not require the Internet to operate, so they load faster. Additionally, some of them give you a push notification that you swipe for fast access.
The other trick is to take screenshots of your ticket from the app or email. Then you do not have to worry about the Internet.
Printed Tickets Do Not Update, But Often Still Valid
Sometimes we need to change a trip, and the only way to update paper tickets is to reprint them.
If you make an update and your reservation number does not change often, your barcode is still valid for your upcoming trip.
For example, if you booked a trip from Sturtevant, WI, to Omaha, NE, Amtrak will book you on the 11:23 am Hiawatha. Let's say you decided to get to Chicago a little earlier; you could change your ticket to 8:23 am. In this case, if you make the change, your printed ticket should still be valid.
This point is especially true if changes get made while you travel.
Kev's Thoughts On Printing Out Amtrak Tickets
As a Gen X'r, I grew up with catalogs coming in the mail, but I love technology. So I am comfortable in both worlds, and my ticket outlook reflects my generation.
Depending on my trip, I may not print tickets, like in the example of the Hiawatha. Most of the time, I use my phone unless I am connecting to another Amtrak train.
For long-distance trips or those with a transfer, I like to have printed tickets.
Occasionally I will print them out at home and from the machine at the station. Even when I do that, I still have them ready on my phone.
When traveling on a long-distance train, especially in a sleeper, I like to have those tickets in my wallet to reference my room and car number when in the dining car.
Printing Out Amtrak Tickets, Wrap-up
The moral of this article is that there is no wrong way to do this, as long as you have a reservation bar code while traveling.
The advantage of paper tickets is you do not have to worry about battery life, screen brightness, or wifi.
I hope this article helped to answer a few questions you had, for this should not be something you should worry about.
Safe Travels!
Kev
Would you like train travel info in your inbox?
Consider joining the Travel with Kev email list for info, tips, and tricks for Amtrak travel.