Are you wondering about tipping on Amtrak trains? Maybe you heard you need to but don't know who gets one or how much to give them.
If those questions crossed your mind, this article guides you through this part of your Amtrak adventure.
Tipping is often a hot topic on social media. You may find bitterness, misunderstanding, and bad advice in some forums and groups. Yay, internet!
Thanks for checking out this article for tips and advice based on years of Amtrak travel.
Grab your favorite beverage or snack, and let's walk you through the thought of tipping on Amtrak.
Listen to the Travels with Kev Tipping on Amtrak Podcast
This episode is an overview of this article.
Is Tipping on Amtrak Trains Necessary?
The technical answer is no.
Before we go too far, you should know tipping does not have a set protocol among Amtrak passengers.
Some passengers feel it is unnecessary, while others can't think of a better gesture. I often tip, but not always; further down, you will discover my when, where, and why.
Unlike many US service industry workers, Amtrak employees do not depend on tips for their income. But tipping on Amtrak is a great way to thank you and show that you appreciate their efforts.
If you are financially unable to tip, a sincere thank you and letting Amtrak know what a great job they did is appreciated. At the bottom of the article is a link to contact Amtrak to praise the Amtrak employee.
While tips are not essential, if you require extra attention, tipping is a grand gesture to say thanks for the extra running around and help.
Remember that attendants are there for the whole car, not personal servants. Be patient and understanding with their time.
Who Would You Tip Along Your Journey?
When and who you should tip is up to you, but these employees tend to receive tips and when to tip them.
Amtrak's Acela First Class Attendants
If you have a ticket for first class on Acela, an attendant will bring you your complimentary food and beverages. These people work hard to give you a good experience and help you.
Car attendants (Coach or Sleeper)
Some people like to tip their attendants at the beginning of their adventure. I am not one of those.
I believe a tip should be earned and not automatically given. I get why some people think that doing this is bribing an attendant. I can see that, although I don't believe that is everyone's intention.
Looking at what other passengers say, they feel that tipping at the beginning is bribing the attendant for better service. I tend to agree.
Tipping On Amtrak: When To Do It
Acela
Many people give tips at the end or along your journey.
A tip of $5 or more is appropriate, depending on your required services.
Sleeping & Coach Car Attendants
Usually, I tip when the attendant comes around to alert me of my stop or during one of the sweeps they do as we approach the final station. You can also do it as you step off the train.
The typical tipping range for car attendants is $5-20 a day based on the level of service and your budget.
Foodservice employees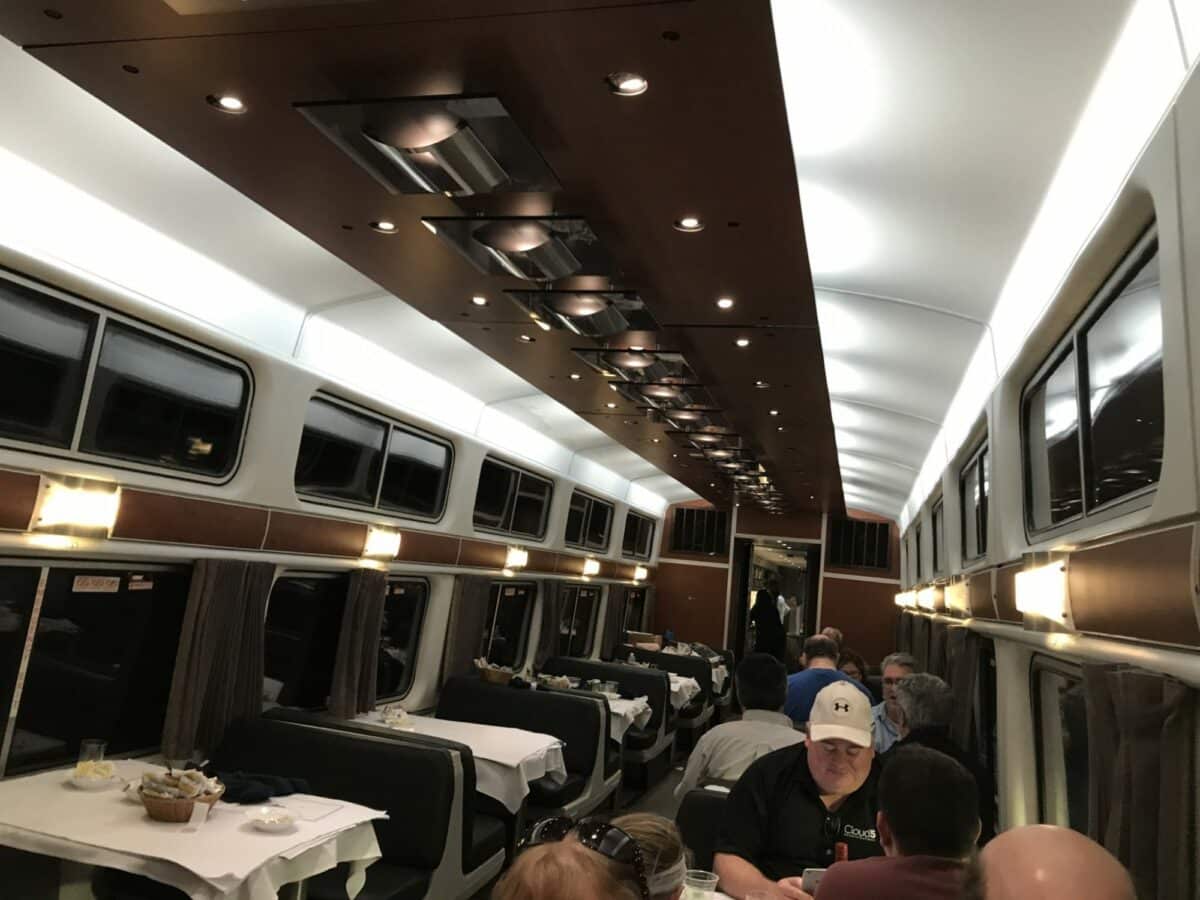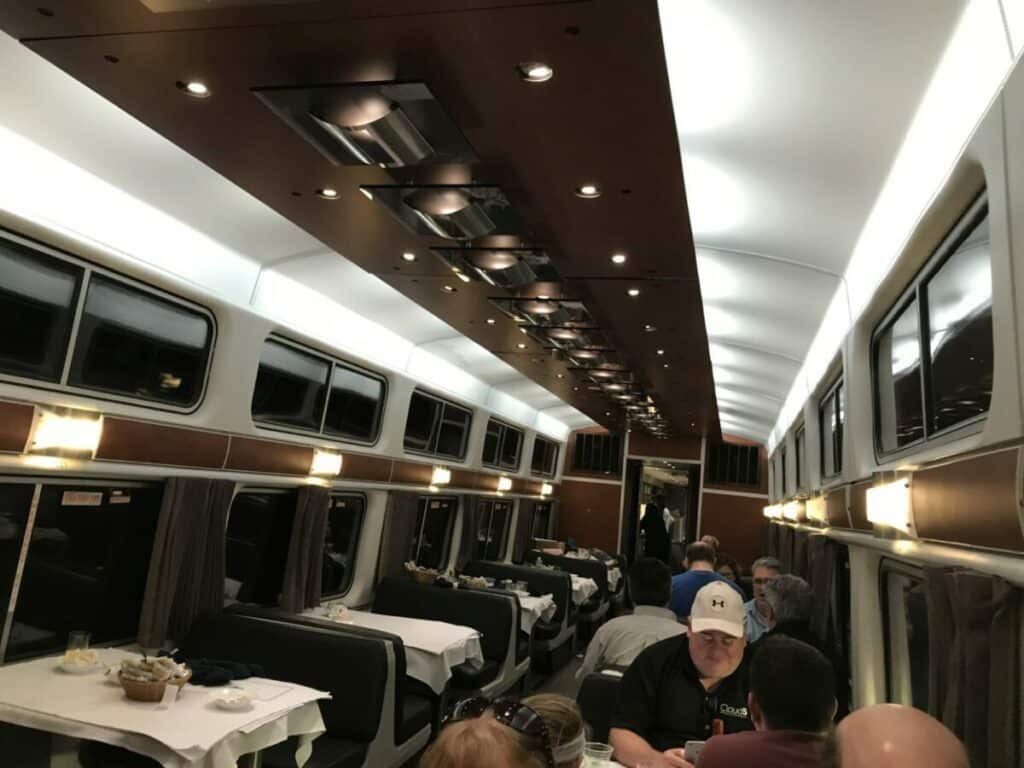 Like at bars and restaurants, you can tip at the end of the transaction if you pay with a card or cash.
On occasion, if I have the same dinner attended for the day; in that case, I have tipped at that day's last meal. But that all depends on how much cash I have. You do have the same cafe for the whole trip.
Often, the standard food service rates of 15% – 25% are typical. Below are the prices charged to coach passengers, so you can use those as a base or what you feel is appropriate.
Meals are included in sleeper reservations, but there are meal prices for each meal for coach passengers.
$20 for Breakfast
$25 Lunch
$45 Dinner
$20 Kid's Meals
Station Staff
Some stations have red caps or agents to help you get to or from the train. You are free to tip them a few dollars per bag.
Information to consider about Amtrak staff
Who stays with you for your whole trip?
Conductors and engineers change throughout the trip. The FRA sets the amount of time these employees can work. When the "smoke" or "fresh air breaks along the route, crew changes occur.
Coach class, sleeping car attendants, and food staff stay with you for the whole train route. The exception is the staff of the Texas Eagle. If you are on 421/422, you will have a staff change in San Antonio, TX.
How long are staff away from home?
Amtrak employees are often away from home and family for four to six days or more.
For example, the California Zephyr crews are based out of Chicago and travel with you to Emeryville, CA, spend the night, and work the next day's train as they return to Chicago. So they are gone from home for about a week!
These employees work behind the scenes to make the trip the best they can for you and your fellow passengers.
For example, sleeping car attendants help you along your journey. They make your beds and put them away, assist with getting you off the train, help with meal reservations, give you the information you may need along your journey, and more. They also run and grab meals for some passengers and clean the car.
When Tipping On Amtrak Is Not Recommended.
Not everyone will agree with me on this point, which is fine. You know what is best for you; like all my articles, these are the guides, and take from them what you want.
For the record, I tend to follow the motto, assume positive intent, and, when in doubt, try to improve someone's day. But a few times over my travels, I received inadequate service, so I would not tip.
With this section, remember to keep your expectations in check.
If you expect the car attendant to be a personal attendant, you will be disappointed because they have a whole car to maintain.
It does take time for one person to make up twenty rooms in a full Superliner sleeper car.
When I haven't tipped on Amtrak
Over my many Amtrak trips, I only had a few poor attendants who refused to tip.
For example, once I hit the call button, the car attendant came to my room, looked at me, and walked away, so I ended up putting my bed down. The other time, the attendant ignored me for most of my journey. Both times, I did report them to Amtrak.
If they do well or poorly, I let Amtrak know. I tend to let things go in the middle of the road service. On the other hand, if I get excellent service, I let Amtrka know too. The link to do that is at the end of the article.
Tipping On Amtrak Trains, How You Do It!
Tipping Station, Coach, and Sleeping Attendants
If you want to tip these, cash works best! You can always ask if they have electronic payments if you run out or forget. Packaged treats and gift cards are also lovely gestures.
There are no ATMs on the train, nor can you get cash back, so bring tip money.
Tipping Cafe And Dining Car Attendants.
You can tip these hard workers with cash, but there is another way.
You can leave a tip like at restaurants if you pay with a credit or debit card. With sleeper cars, your meals are part of your reservations, so if you want to tip and forget cash, you can buy an adult beverage to take back to your room or lounge car and leave your meal tip on that charge slip.
Wrapping-up About Tipping On Amtrak Trains
It is your choice to tip or not.
Tipping is a fantastic way to thank someone who improved your Amtrak adventure. While most attendants do not expect it, it is a pleasant gift.
Don't worry if you can't afford to tip, but then let Amtrak know what excellent service you had.
If you want to tell Amtrak about the excellent service, there is a way, with the yellow button below. I had a conversation with someone in Amtrak management, and they told me the comments go to the managers who share them with the employees.
---
Safe Travels!
Kev
Would you like train travel info in your inbox?
Consider joining the Travel with Kev email list for info, tips, and tricks for Amtrak travel.
032322