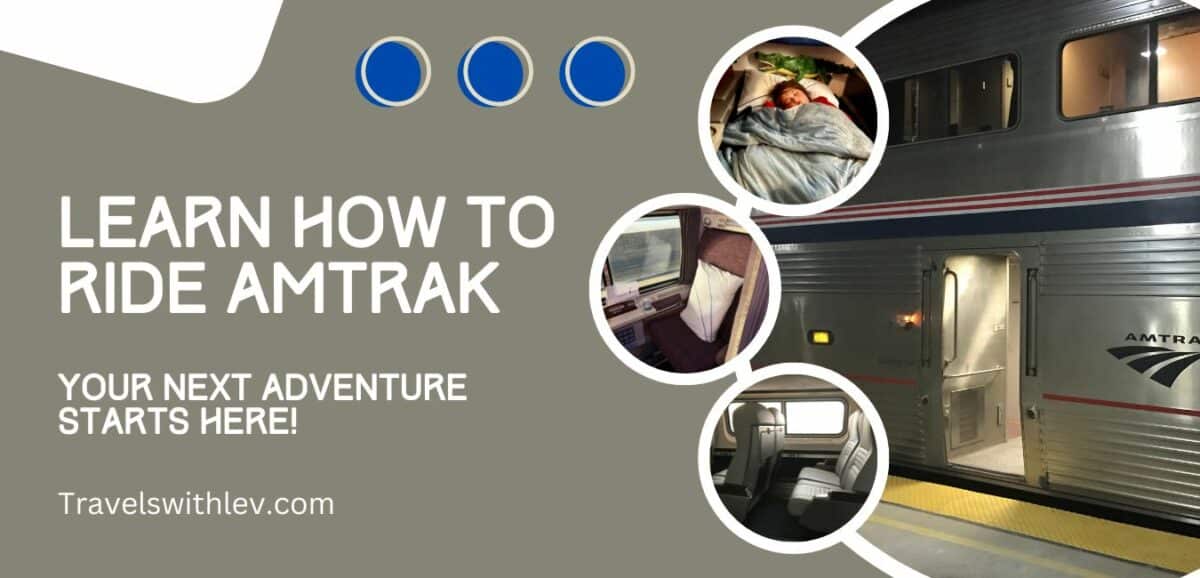 Riding Amtrak is not hard if you do some research, listen, and prepare yourself for the adventure. Planning an Amtrak adventure can lead to questions; I know this can be the case because I had several as I started. Links on this page direct you to articles on this site, Amtrak's site, or occasionally someone else's if I do not have that information ready or if they did a better job than I can. Come learn how to ride Amtrak.
My Story: Advice From My Experience
Over the years, I went from asking to answering questions.
My first Amtrak adventure took place in 2012, and back then, there were not many websites like this one outside of the Amtrak website.
If there was, I couldn't find it.
At that time, I found an Amtrak forum (It still is around); albeit handy, it was also discouraging. Several trolls were more interested in complaining and being negative (apparently, welcome to the internet).
A few times, the trolls had me second-guessing if I wanted to travel anymore, just like the modern-day Facebook groups.
Luckily, I didn't listen, and I found most trolls were people with unrealistic expectations or bitterness because "what was" is now in the past. Or, my favorite, there were a few "experts" that had never been on an Amtrak train but knew it all.
While they have the right to say what they want, I also have the right to move on to other resources.
Without seeing many other options, I pressed on, found a few Amtrak friends, and decided to start this site to give you a more positive place while still being as honest as possible.
Instead of hoarding that information, I want to share my experience with you on this website.
If you can't find your topic, please reach out, and I will try to help!
At this point, I have over 160,000 miles on the rails and over 660 trains; I have experienced most things.
Below are the topics I currently cover, and more are coming, so come back or sign up for my email list. Some of these articles come from questions asked by people like you.
Ride Amtrak During The Pandemic Info
Face masks are now highly suggested but not mandatory on trains. They could require them at some stations depending on state and local rules. Here is more information on Amtrak and the pandemic.
Helpful Planning Topics For Your Next Amtrak Adventure
This section could be great if you want to plan an Amtrak Adventure but do not know where to start. Or, if you have a specific question, this section may help you find that topic faster.
Accommodations: Coach and Sleeping Cars
For comprehensive information on Amtrak sleeping accommodations, start here.
Onboard Experiences When You Ride Amtrak
Amtrak Wi-Fi
You can find Amtrak Wi-Fi on many regional and long-distance trains; this article will let you know what trains plus what you can expect.
Showers on Amtrak
Sleeping cars on long-distance trains offer a few nice perks, including privacy, sleeping horizontally at night, and more!
One nice amenity is the shower! This article covers everything you need to know to stay fresh while traveling.
Eating While You Ride Amtrak
Eating on Amtrak can be a fun experience, and knowing what to expect can help you plan what snacks you want or need to bring and how much money you need to set aside as you roll down the rails.
Eating on Amtrak Long-Distance Trains
Sleeper car passengers on the Auto Train and those trains that run for two nights use Amtrak's traditional dining. The remaining long-distance trains offer sleeping car passengers Amtrak's flex dining.
Coach passengers, at this point, do not have access to dining cars, but they can use the cafe car. Business Class passengers on the Coast Starlight can use the dining car at their expense, and this is a trial run.
Amtrak provides a cafe car for coach and sleeper passengers looking to add more to their food, snack, or drink intake.
Food On Amtrak Regional Trains
Many regional trains offer food aboard the trains. Short routes like the Hiawatha do not provide food or beverage services. The cafe car is where you can find food on regional trains. This article covers the basics of what you need to know and the menus.
To Ride Amtrak, You Need To Know About Train Stations
The Amtrak system contains different station types, from a platform and a sign next to a cornfield to a beautiful station leftover from rail travel's glory days.
These articles will prepare you for whatever station starts or ends your Amtrak adventure. You could encounter different types on a trip.
No matter what station, you need to know how to board Amtrak trains, and this article will help.
Some of Amtrak's stations have lounges for select passengers. Do you qualify to use an Amtrak lounge? Find out what stations have them, what you can expect, and who has access.
Learn How To Ride Amtrak Long-Distance Trains.
This page is an excellent start to learning more about each route. This page includes articles I wrote about each train route, or if I haven't written about that route yet, I link to Amtrak's page. You can also get schedules and route guides.
Amtrak's Auto Train
The Auto Train runs on the east coast as an alternative to driving I-95. This train travels from the great DC area to the great Orlando area.
The Auto train allows you to ride comfortably and bring your car along. You do need a car to ride on this train.
There are two articles, the first is what you need to know, and the second gives an idea of where your room is on Amtrak's Auto Train.
Other Helpful Tidbits & Links To Help You Ride Amtrak
This page is growing!
More stories and articles are coming! Thanks for stopping by, and I hope you can learn a thing or two about riding Amtrak.
Safe travels!
Kev