As you plan your next Amtrak adventure, you may find out that you may start or end at an Amtrak flag stop. If this is the case, you should know a few things.
First, don't worry; they are not hard to deal with if you plan well and set the proper expectations. Overall your time at the station is just a tiny part of your trip.
This article gives you the resources to prepare yourself for your trip so you are ready for your next rail adventure.
What is an Amtrak flag stop?
An Amtrak flag stop is either a platform or an unstaffed station; in other words, there may or may not be a building to wait inside.
At these stops, the train will stop only if at least one ticketed passenger has reservations to board or off the train at that station.
So, if you want to get on the train, you need your ticket in advance and don't plan on buying onboard.
If you do not have a ticket before departure time, the train will not stop.
Why Have Flag Stops?
Flag stops help railroads operate more efficiently in areas or communities with low passenger traffic.
It takes time and energy to stop and get a train going, Soo if a railroad can keep a train moving by not stopping at low-used stations, it can save fuel costs and time.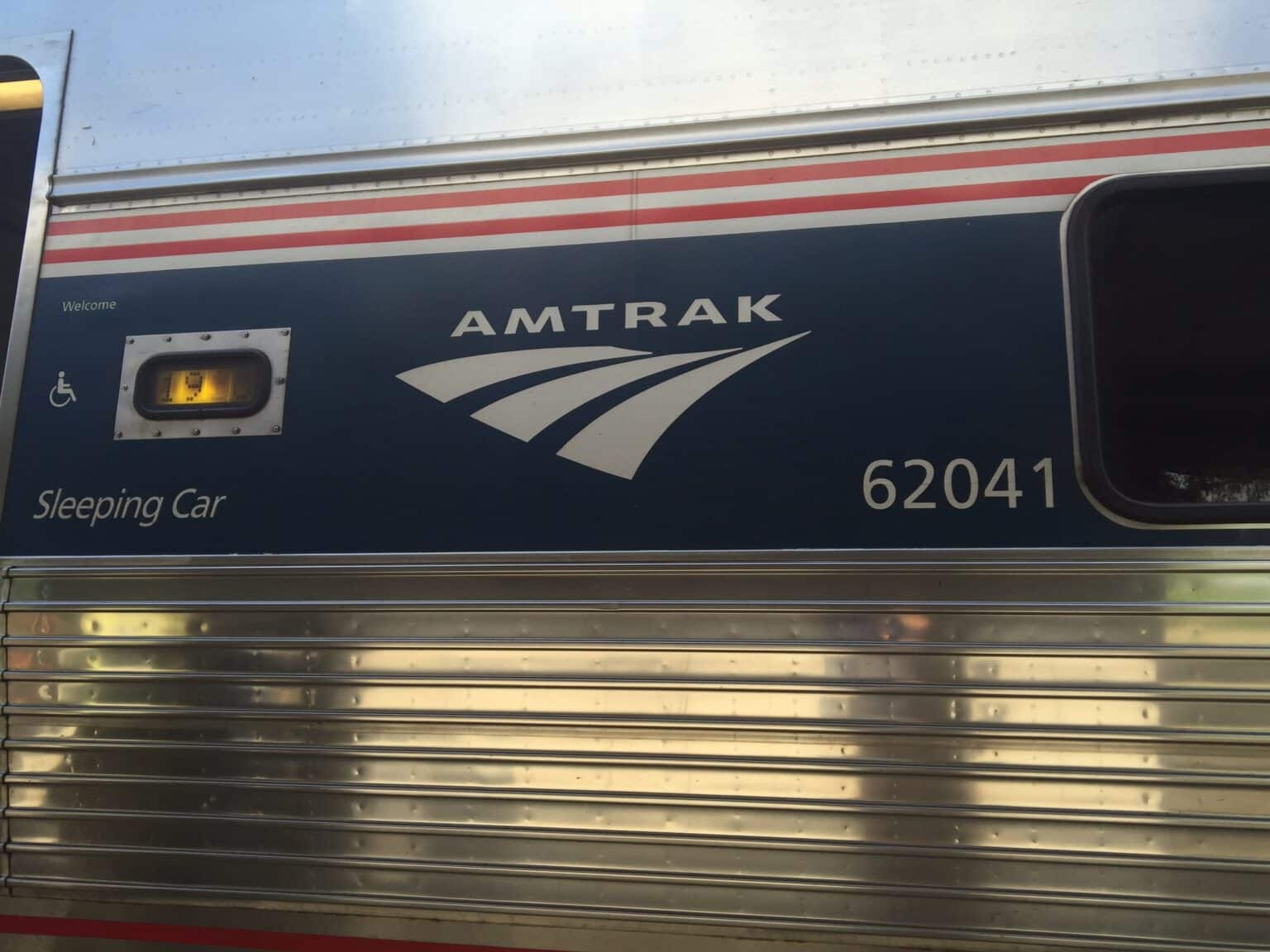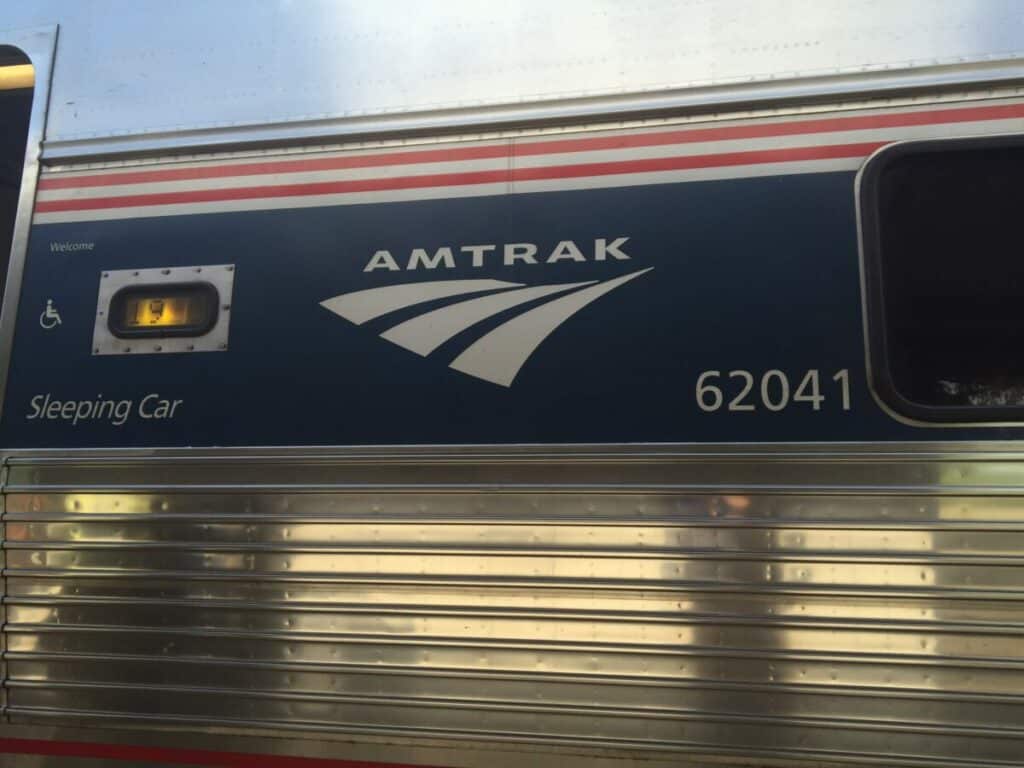 Even if a train slows down for a flag stop to see if there are passengers, it uses less energy than coming to a complete stop.
In the past, if you wanted to have the train stop for you to get aboard, you or the station agent needed to wave a flag to stop the train. And that is how the term flag stop came about.
These days, Amtrak has a more sophisticated way of telling if they have to stop. Conductors have an iPhone-like device that informs them if they need to stop to let people on or off without anyone waving flags.
I know a few people are now disappointed that they can wave flags.
Back in the day, the train didn't need to stop if no one was out waving flags. The same is true today, so if no one is getting on or off, they can zoom past the station at track speed.
This practice saves time and energy and can help get a late train back on schedule or at least make up some time.
Is Amtrak The Only Railroad That Uses Flag Stops?
Amtrak is not the only passenger railroad that uses flag stops.
These days commuter railroads like Metra, South Shore Line, and others across the United States commonly use these stops. (Those are the closest to me I know the most).
Later you will learn how to deal with flag stops and Amtrak, but commuter rails are slightly different.
In these cases, ensure you are on the platform before the train is set to arrive so engineers can see you. Sometimes, you may need to hit a button so they know to stop the train.
A Station Can Be A Flag Stop For One Train And A Regular Stop For Another.
A great example is the somewhat famous Kankakee (IL) stop. This stop is a regular for regional trains but a flag stop for the City of New Orleans. The reason for this is historical passenger traffic trends. While regional trains may have the passenger trains may have the traffic, those stops may get the long-distance ones.
While these stops may not have a lot of traffic, they are already there and may have enough occasional traffic to keep them on the schedules as a stop on demand or flag stop.
How Does The Train Know To Stop?
Before the advent of modern electronic ticketing, if someone wanted the train to stop, they would wave flags to signal the engineer someone wanted to get on, hence the term. Lucky for some and disappointing for others, we do not need wave flags these days.
Today you do not need to wave a flag; I apologize if that disappoints you. The easiest way to get the train to a stop is to buy a ticket for that stop. That is the best way to get the train to stop.
As discussed before, Amtrak conductors have a tool that looks like an iPhone that informs them if passengers are getting on or off at any station in real-time.
As the train gets near a flag stop, the conductor checks the device to alert the engineers whether they can keep going or need to stop. This technology eliminates the need to wave flags to get the train to stop.
Boarding At Amtrak Flag Stop.
If you are getting on an Amtrak train at a flag stop, keep an eye on the time, and before the scheduled time, stand out on the platform so the engineers can see you. Standing out confirms that someone is getting on the train. The train will stop and listen to the conductors and onboard crews for instructions for boarding.
How Do You Know If Your Station Is An Amtrak Flag Stop?
A few years ago, Amtrak had schedules that would indicate flag stops at a glance. These days, it is a little harder to tell. And since they are like unstaffed stations these days, it is less critical.
You can check out my page on long-distance train schedules, and if there is an "F" next to the city, that stop is a flag stop.
Be prepared!
Always do your research before leaving on a trip. Check out details like the parking situation before the day you leave. Nothing is more frustrating than trying to figure that out while the train's headlights shine in the distance.
If someone drops you off, parking is not an issue. If you do not see signs about parking, check with the local community or police department.
One travel hint is to find a place to get a snack or wait for your train.
If you get to the station early, you have a place to wait for the train if the train is running a little late, and maybe treat yourself before your trip.
Coffee shops and cafes work well for this. Make sure you return to the station to start your Amtrak adventure in plenty of time.
There are a few ways to check your train's status; the first is to sign up for email/text alerts when you buy your tickets. If you forget to do this or the option is missed or not asked, you can still get them afterward. You do not need a reservation number to receive the messages, so if someone picks you up, they can get them.
The Amtrak app, website, and third-party sites can give you all Amtrak trains' statuses. The Amtrak Alert on Twitter can be a handy tool as well. Amtrak tries to run their trains on time, but sometimes outside forces, like freight rail traffic, weather, and other fun opportunities. Remember, the train can't always go around things or take a different route.
Expectations for Amtrak flag stop
The flag stop's expectations are either an unstaffed or platform station, so do not expect them to have staff.
The onboard staff will help you get on or off the train. There will not be wifi at these locations unless there is community-free wifi. Bathrooms might be unavailable, and baggage service is unavailable to or from these stations.
To know what amenities are available at your station, click this link and enter the community's name in the search box. After the station appears, the middle station info button will help illuminate what is available.
How To Prepare For Amtrak Flag Stop
To be best prepared, come with your ticket printed out or use the one in the app or email. Taking a screenshot won't hurt because sometimes you do not have cell service at the station. If you are in a sleeper, note your car and room numbers. Packing a power stick or brick will help if your electronic device runs low until you get back on the train and can plug in and charge.
Here are also a few essential pointers to make your trip successful.
Know the parking rules before you go
Pack as light as you can, with all your bags under 50 pounds
Have your tickets ready when the train arrives, electronically or on paper.
Get there early!

If you are not on the platform at the scheduled departure time, the train can and will leave without you if running on time.

For those who need assistance, let Amtrak know when booking.

If you have a disability that could require assistance, indicate that when booking, then the Amtrak staff will try to look for you to help you.
Amtrak Flag Stop Wrap up
Flag stops are nothing to worry about; your trip will go well if ready. Don't pack more than you can handle getting on and off the train. While this article covers the basics of what you need to know, I would check out the articles on unstaffed and platform stations for a more in-depth look.
Safe Travels!
Kev
Do you want train travel tips and news in your inbox?
If you want to learn more about Amtrak travel, consider joining the Travels with Kev email list.
You will get tips and tricks and discover what is happening with Amtrak travel.