Many beginning train travelers are unfamiliar with what types of stations they can encounter on their first trips; some may be glorious stations, like the 30th St Station in Philadelphia, to a simple platform station.
Platform stations are standard on commuter railroads; if you ever took a city bus, you can understand the concept.
If your first trip starts with platform stations, you have nothing to fear, and this article will guide you with what you need to know. Besides, the time you spend at the platform station is a small percentage of your trip.
What Is A Platform Station?
An Amtrak platform "station" is the most basic stop you can have; think bus stop but with a train. It can be as simple as a platform (a long sidewalk) and a sign, but the deluxe ones may have a simple shelter.
One could say stops used by Amtrak connecting bus services are platform stations.
Who Pick The Type A Station A Community Has?
Within Amtrak platform requirements, the local municipality usually determines what they want to provide for a "station" and how they want to represent their town. Some communities, like Sturtevant, WI, put effort into their stations, while others offer the bare minimum with a platform "station."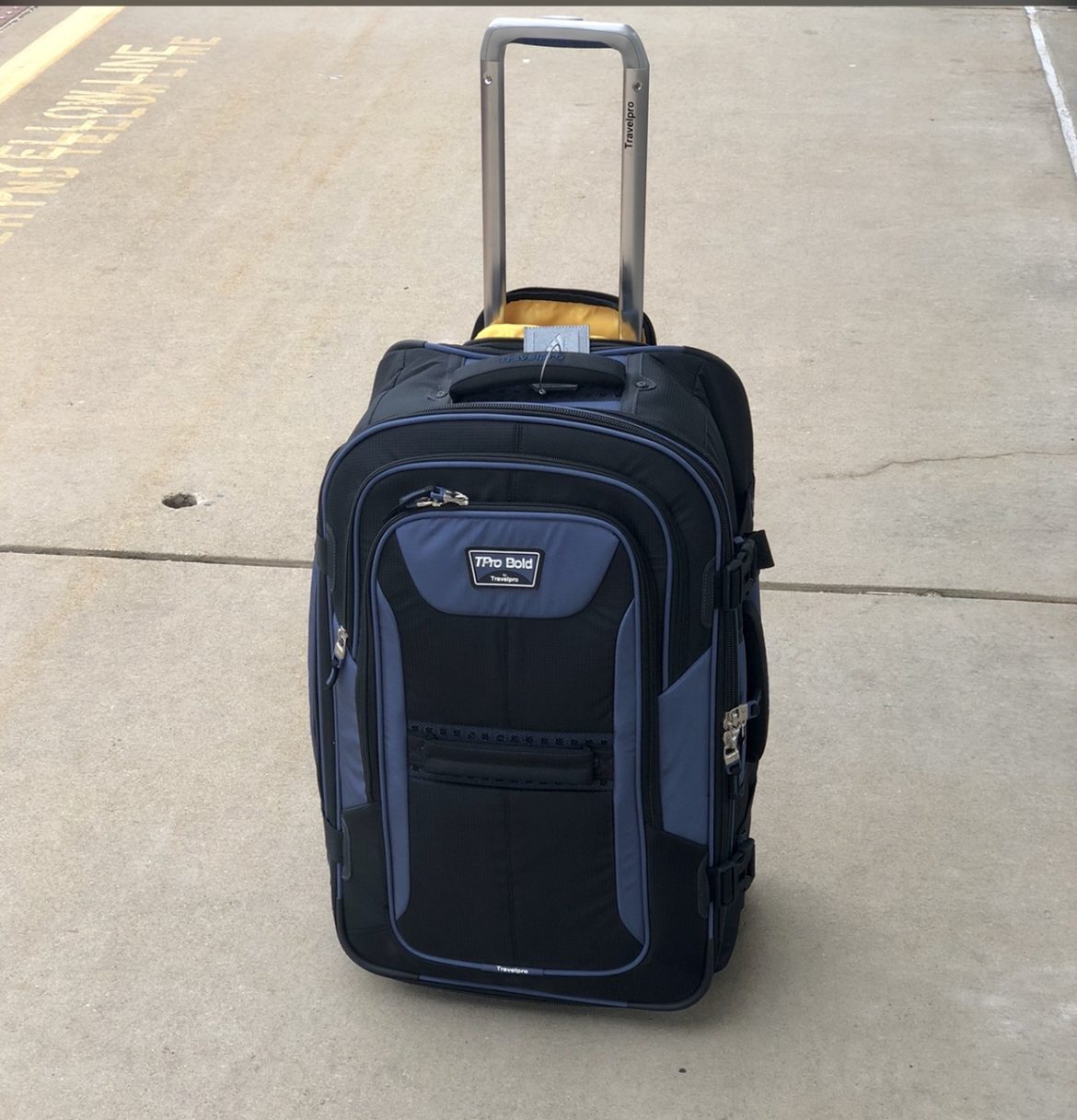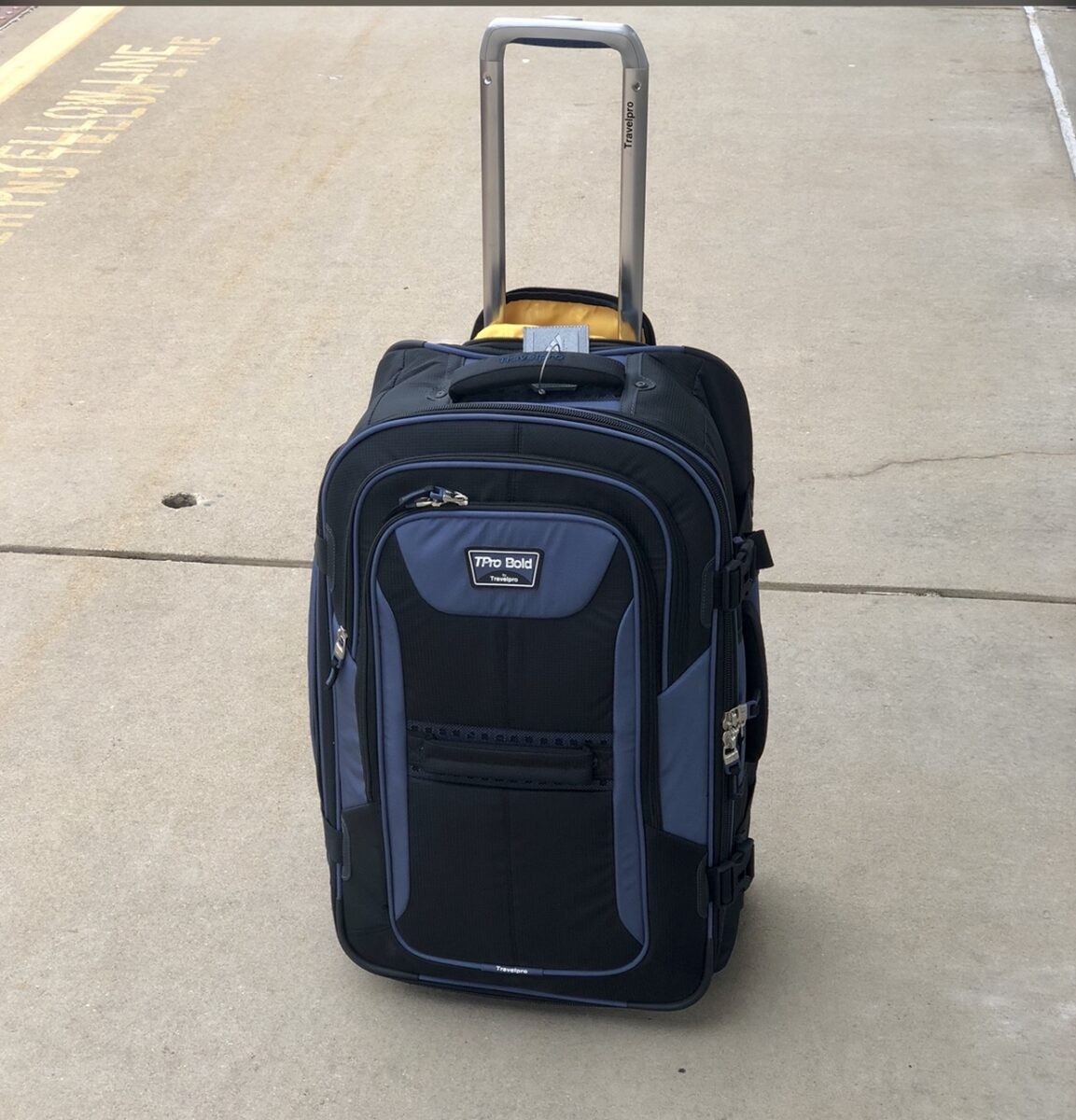 Packing For Platform Station
Platform stations do not offer baggage service, so the lighter you pack, the easier it will be for you, and your travel will have less stress. Carry-on-size luggage (around 21") or travel backpacks work great for these situations and any travel.
If you do pack heavy, fear not. Amtrak offers a generous carry-on policy. You are allowed two 28" suitcases plus two personal item bags (like small backpacks, purses, diaper bags, and so forth).
For your safety and the Amtrak staff, luggage cannot weigh over fifty pounds.
If you are new to travel, fifty pounds is the most weight most transportation carriers allow. If your bag is overweight, it could get flagged, and you could face a fee for being too heavy. A few stops have trackside checked baggage.
Something To Consider When Packing
Remember that whatever you bring to the platform must be carried onto the train and upstairs.
Conductors can help you get your belonging onto the train, but you still need to schlep them onboard. If you have special needs, Amtrak has ways to assist.
Baggage On Superliner Trains (Bi-Level)
Coach passengers can use the unattended shelves on the lower level of the car to store bags. These areas are not supervised, but you have access during your entire journey. The space is limited and could be used up when you enter the train, depending on how much luggage your fellow passenger brought onboard.
You can bring your luggage upstairs and place them on the shelf above your seat, like airplane seats but with no doors and a lot deeper.
Tale note that bringing your belongings to your seat requires you to carry them up a narrow staircase. If this could be a problem, reserve a lower-level seat, or get a travel buddy!
For sleeper passengers, the rooms have limited storage for your bags. Solo roomette passengers can store a suitcase on the upper bunk step (providing it is not too large). An option for solo travelers is to fold down the upper bunk and keep stuff up there. Bedrooms have more room than roomettes but are still a little tight.
Baggage On Most Viewliner & Regional Train
Like Superliners trains, Viewliners offers luggage shelves and coach class overhead for coach passengers.
There is ample storage space above the door in all rooms in the sleeper cars, so Viewliner sleepers do not offer luggage shelves like Superliners. If you need help getting your bag up and down, your car attendant or fellow passenger may help.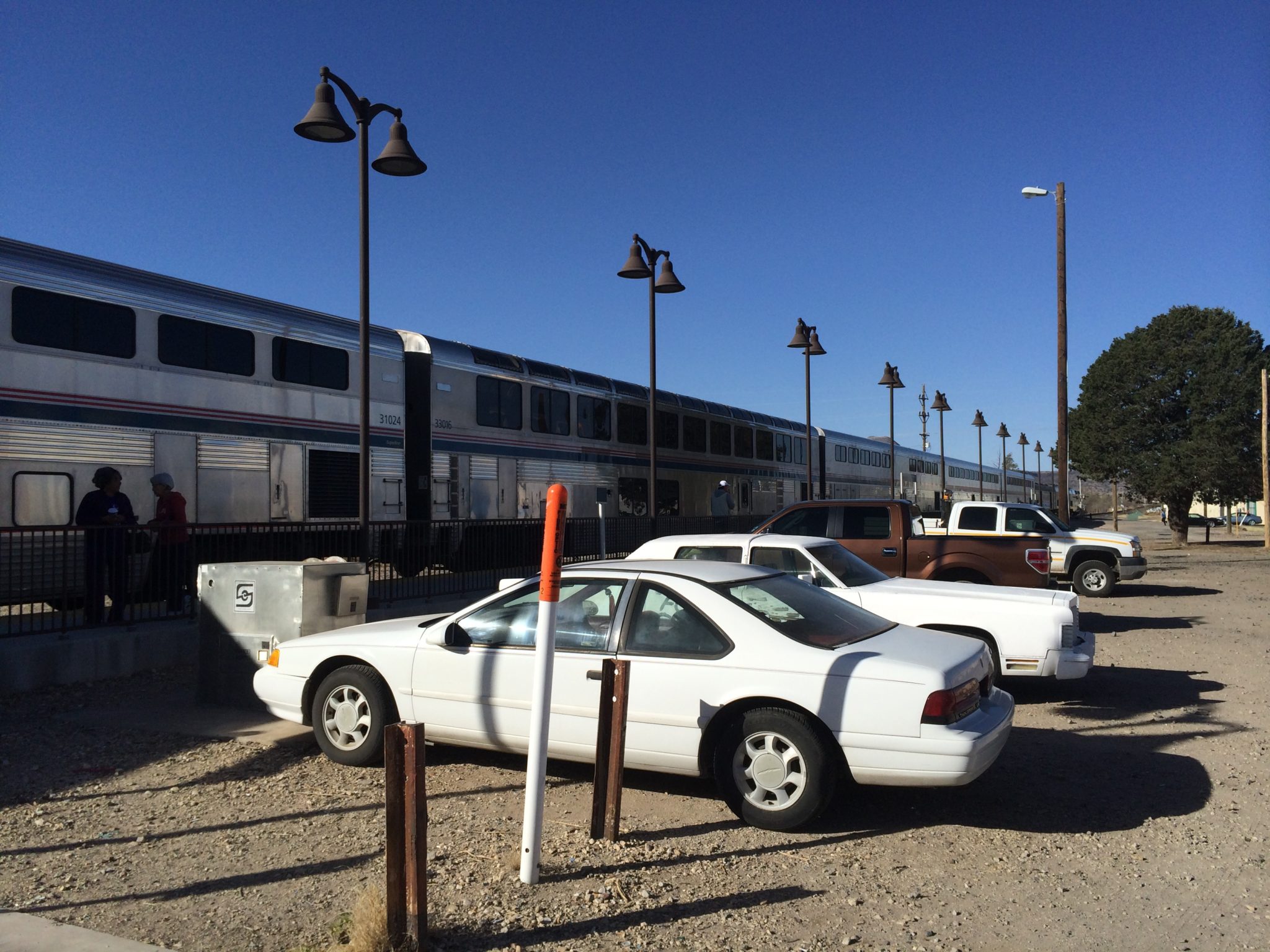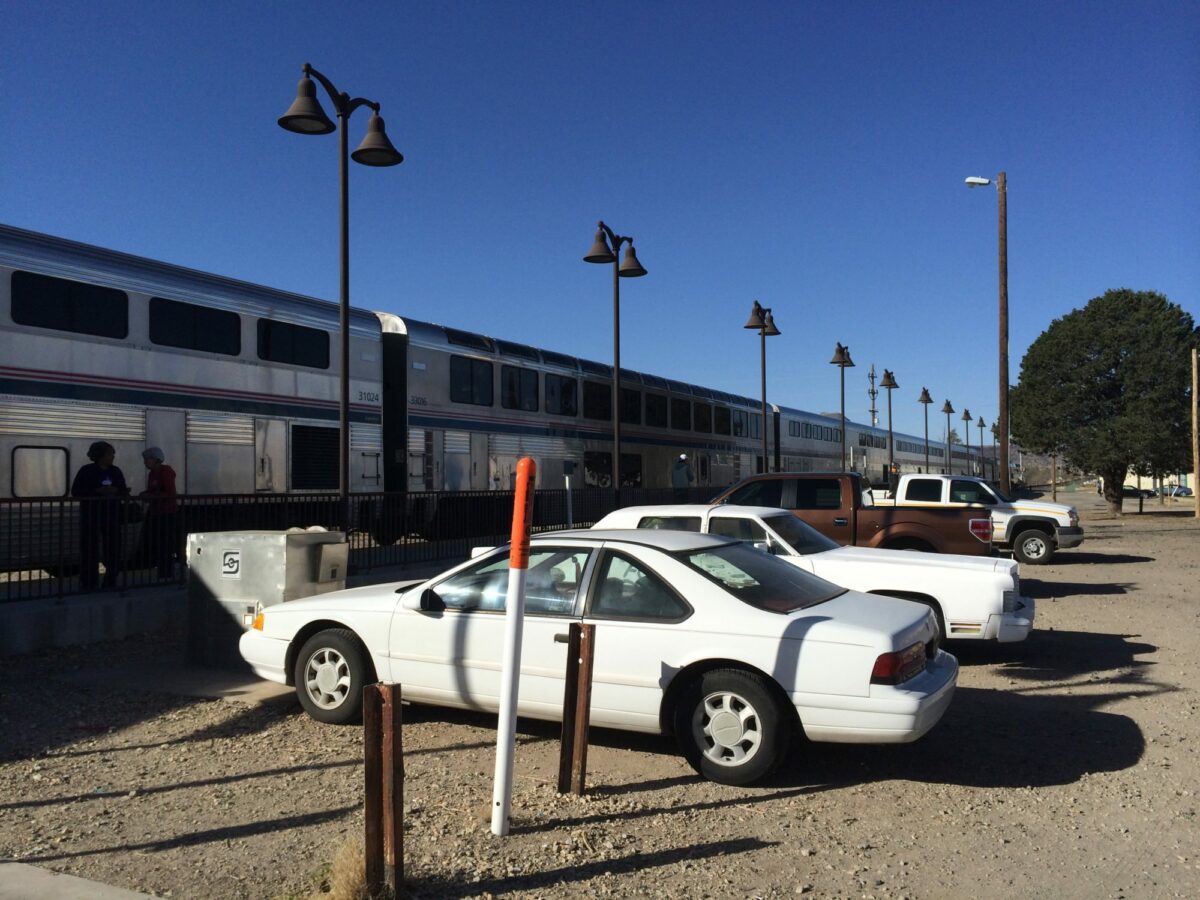 Parking At A Platform Station
It is easier to figure out parking ahead of time than dealing with it the day of the journey.
Station parking varies depending on the municipality. If you are unfamiliar with the area, call the town or check out their website for long-term parking information.
It is best to do this before your departure date. You don't need a ticket, or worse yet, see that your vehicle got towed while on a fantastic adventure.

Preparation For Using A Platform Station
If you are unfamiliar with the platform station area, doing a "dry run" could eliminate stress on the day of travel.
I know one traveler who did not do that for his first Amtrak trip. He thought he knew the station location and was unaware that Sturtevant, WI, had built a new station.
He did catch his train on time, but it wasn't a great start on his trip. Also, by doing a dry run, you could find a place to hang out if the train runs late or the weather is not marvelous. Although he dealt with an unstaffed station, the story still rings true.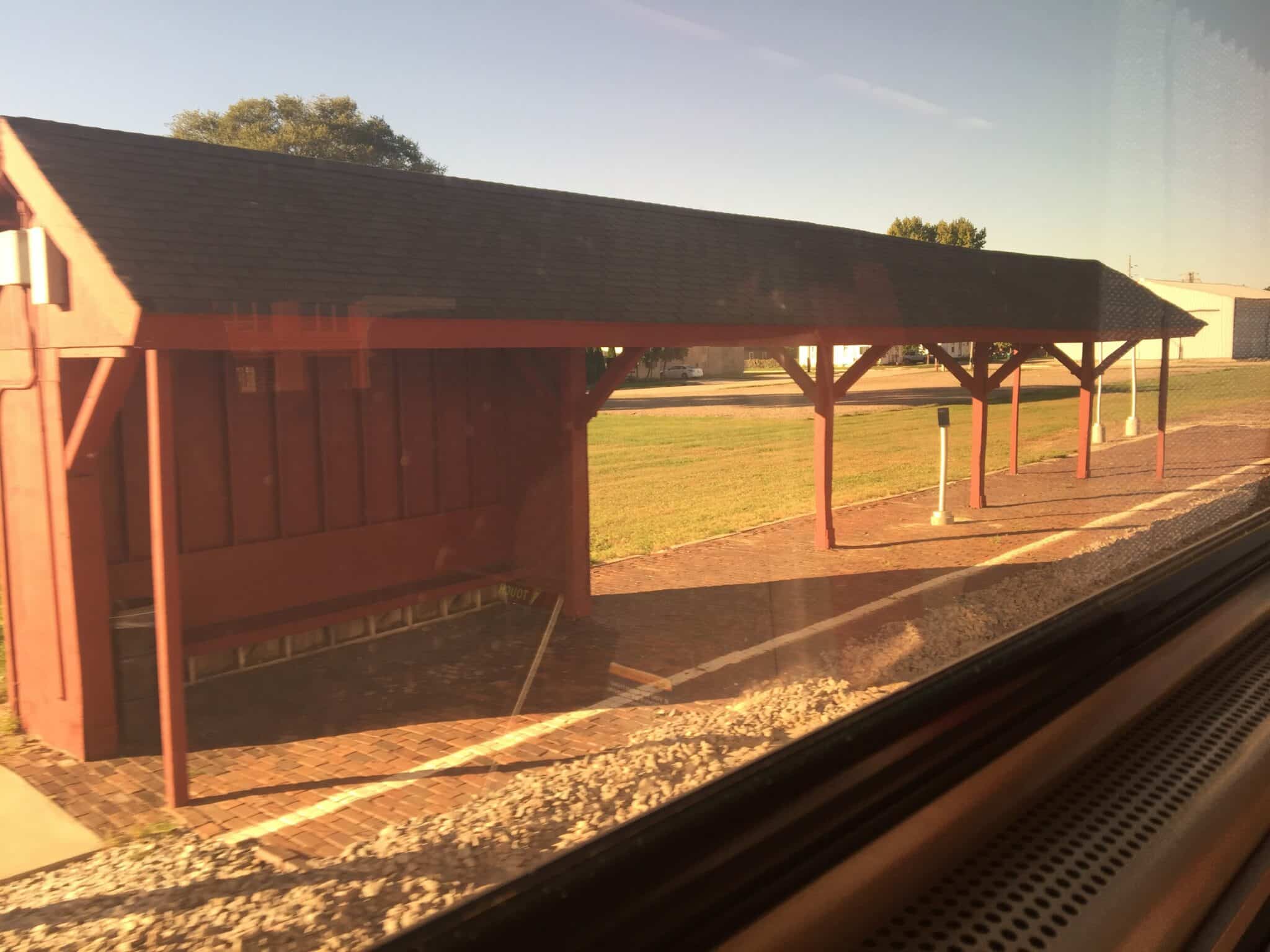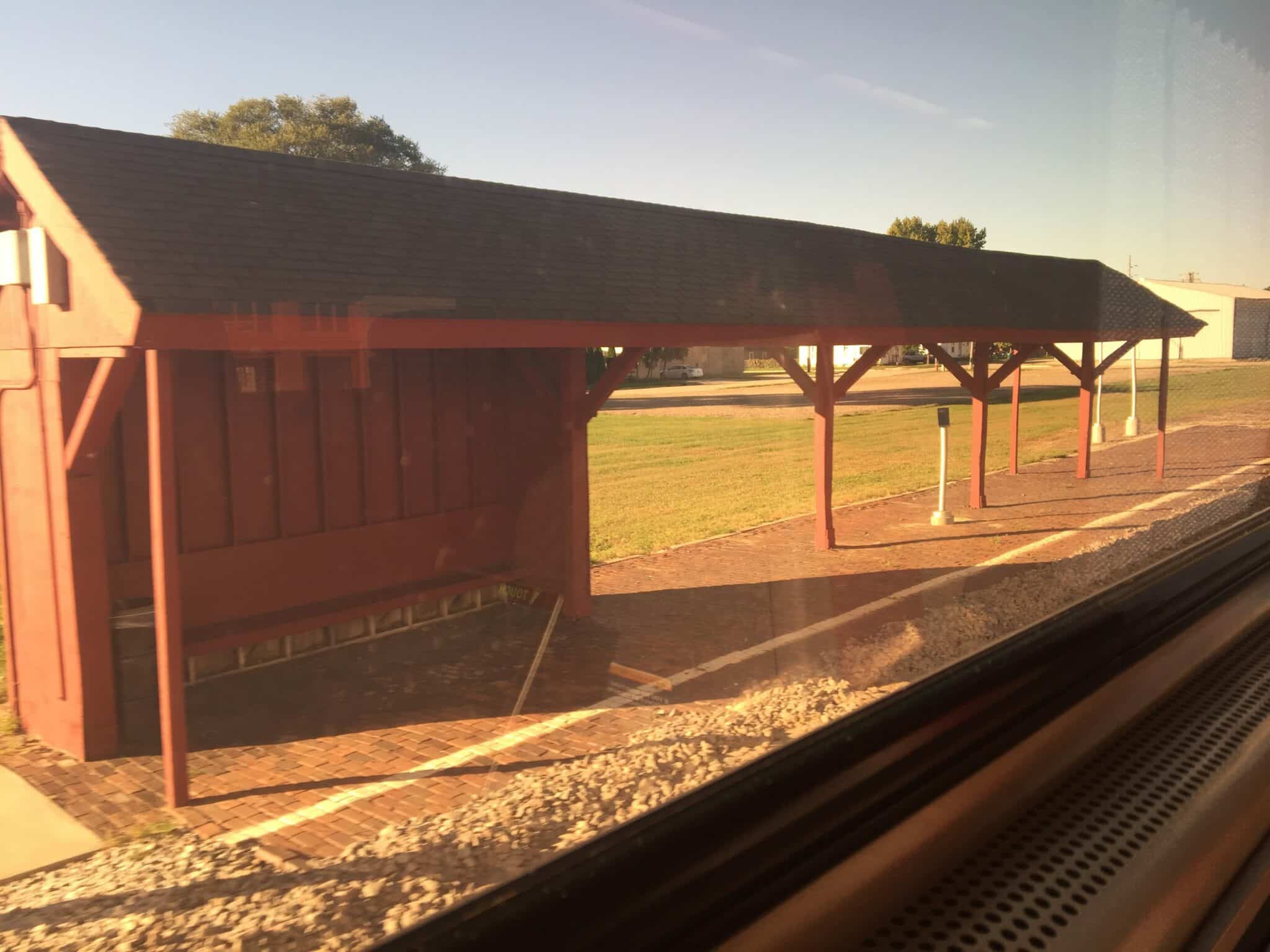 When The Train Arrives At A Platform Station
Pretty straightforward here, wait for the train to come to a complete stop and listen for instructions from the conductors or Amtrak staff for directions. They will direct you to the right car and assist you with your room or coach seats.
In some cases, Amtrak gives you a seat number; when you board, look for the numbers above the seat on the luggage rack. Amtrak assigned you a sleeping accommodation; check the ticket for your sleeping car and room numbers when you make your reservations.
Conductors may scan or lift your ticket before boarding the train; wait until you are on board. The crew and how many people are getting on with you determine when they collect them. Either way, have your tickets ready as you see the train coming or before.
When staff asks you where you are going, they want to know your destination for THAT train, not your final destination. For example, if I am traveling from Omaha, NE, to Sturtevant, WI, they want to know I am going to Chicago and not Sturtevant when I board in Omaha. All the information you need is on your ticket.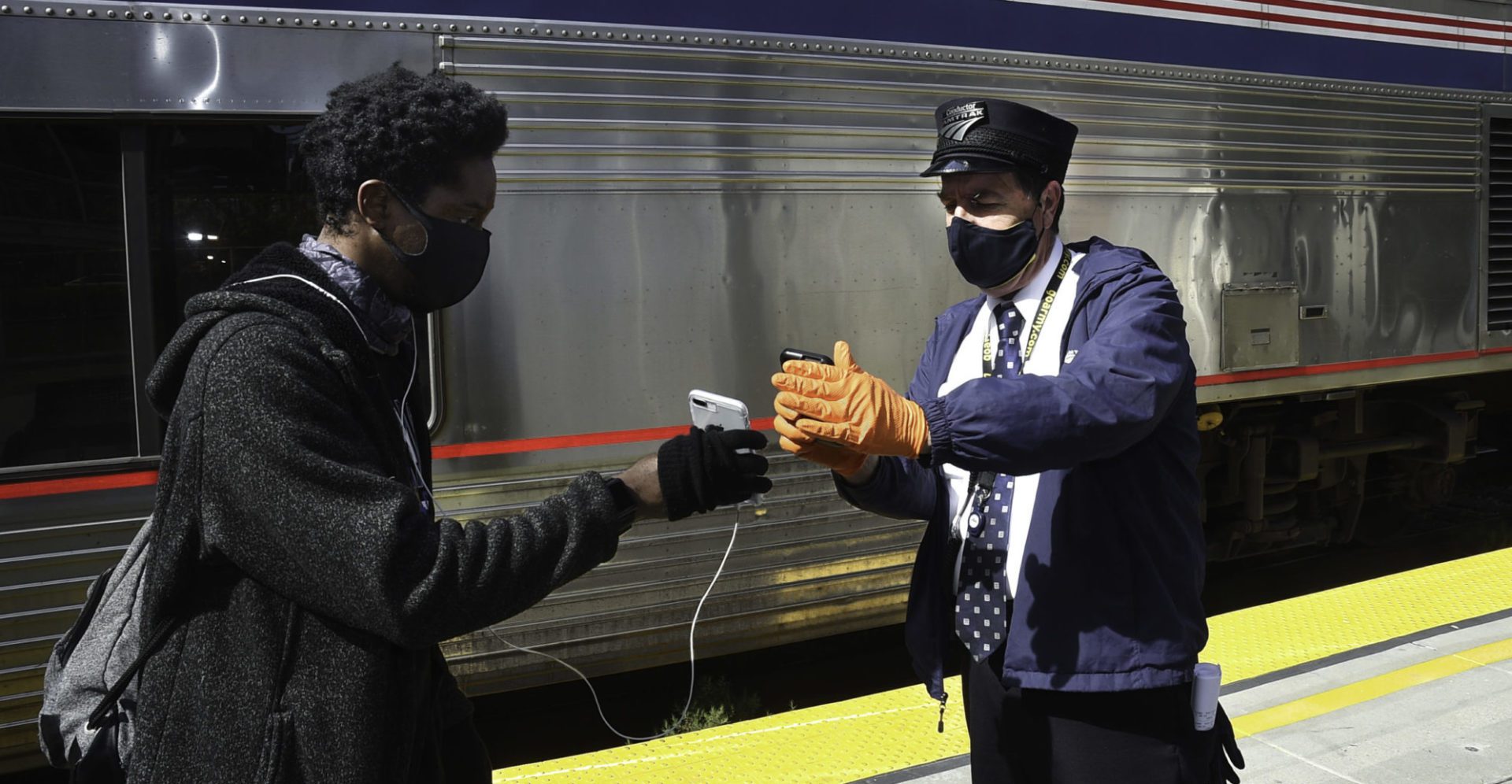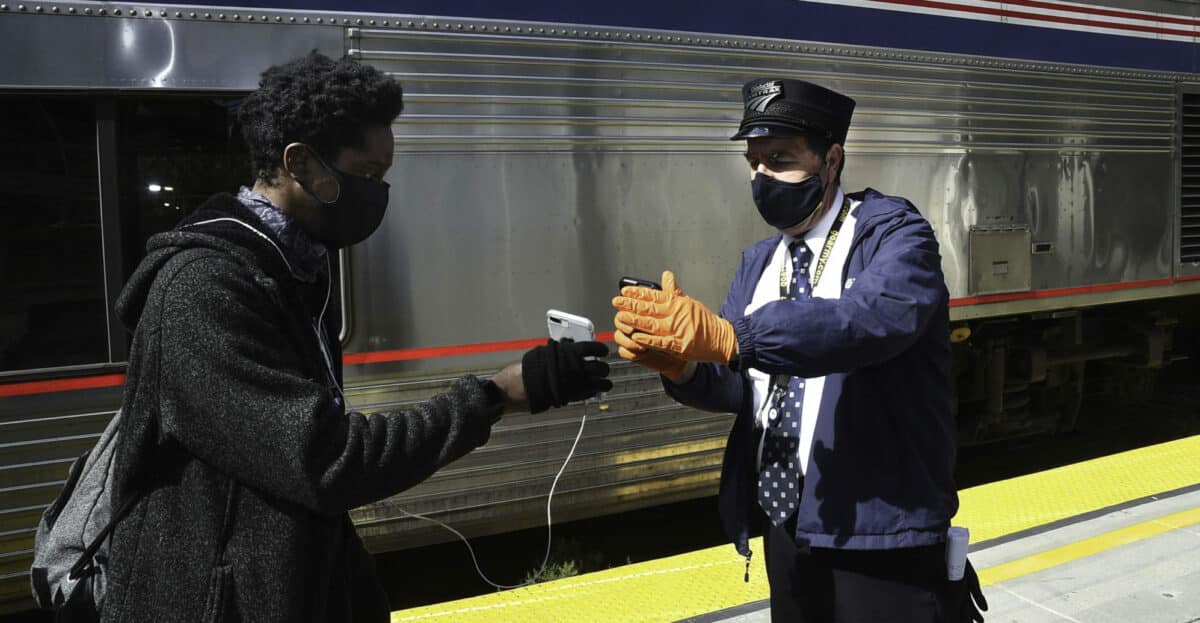 Ticketing Information For A Platform Station
For the best price, buy your tickets before you leave for the station.
You can buy tickets electronically via the app or website or by calling 1-800-USA-Rail. You need an email address so Amtrak can email your eticket. There are a few ways to save money when buying Amtrak tickets. While you can purchase tickets on some trains, I wouldn't suggest it.
If you do not have an email, there is a chance you can get your ticket on the train, but you will have to call to see if this is an option.
Amtrak will scan either paper tickets or an electronic device. If you or others in your party are Amtrak Guest Rewards members, your etickets will appear in the app.
After purchasing a ticket online or over the phone, Amtrak emails you a receipt and a pdf attachment of your travel documents. You can print them out from home or show the conductor the barcode from the email.
Platform stations do not have Amtrak ticket machines.


Where Is My Train?
If you want to know if your train is running on time or a little late, you have the following resources:
Amtrak's App
1-800-USA-Rail
Another option is to have Amtrak text or email you if your train is running late. You could sign up for delay notices when you book your ticket or later if you forgot or have them sent to whoever is picking you up.
Another helpful tip is to sign up for the station stop before yours. If it is running late, you can better judge when to leave. Remember that trains can make up time along the route.
Safe Travels!
Kev
Would you like train travel info in your inbox?
Consider joining the Travel with Kev email list for info, tips, and tricks for Amtrak travel.
10042020