If you are here, you are planning a trip or have a reservation and want to know more about Auto Train rooms and where to find them.
This article should answer the fundamental questions and help you locate where your room is on the train; plus, it covers the sleeper car room types and layout of the train, also known as the consist.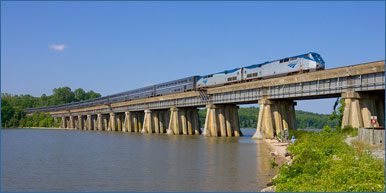 This page is a guide, and Amtrak may change things at its discretion. I do not work for Amtrak, so if there are changes, I may take a little time to keep this page current, but I'll do my best.
Auto Train Rooms: What Amtrak Offers
There are four types of rooms on the Auto train, roomettes, family rooms, bedrooms, and accessible bedrooms, plus there is also coach class.
Roomettes are on the upper and lower level, bedrooms are only on the upper level, and the family and accessible rooms are on the lower level.
And the rooms come with meals, shower use, and more.
If you go with the coach class, you will get a seat, outlet, leg and footrest, tray, and more.
What side of the train is in my room?
Amtrak cars are designed to run as push-pull cars, meaning they run in either direction.
Because of that, giving a definitive answer is challenging; you may not know until you get on the train.
Baggage On The Auto Train
Amtrak does not offer checked bag service because you can leave everything in your car.
Pack a small bag for your time on the train leaving as much as possible in your car. This will give you more room in your accommodation. Bring your medications and medical devices because you cannot access anything once you check your vehicle.
Where is My Sleeper (Coach Car) Located On The Auto Train
The Southbound Auto Trian is 52, with the Northbound train is 53. Both trains follow the same schedule.
This layout can change at any time, based on information I had at the time of publishing this article. Amtrak can add and subtract cars seasonally or due to equipment availability.
| 52 Northbound Car Number | Car Type | 53 Southbound Car Number |
| --- | --- | --- |
| XXXX | Trans-dorm Car (staff) | XXXX |
| 5245 | Superliner Sleeper | 5345 |
| 5243 | Superliner Sleeper | 5343 |
| 5241 | Superliner Delux Sleeper | 5341 |
| Cafe | Sightseer Lounge/Cafe Car | Cafe |
| Dining | Superliner Dining Car | Dining |
| 5240 | Delux Sleeper | 5340 |
| 5242 | Superliner Sleeper | 5342 |
| 5244 | Superliner Sleeper | 5344 |
| 5210 | Superliner Coach | 5310 |
| 5211 | Superliner Coach | 5311 |
| 5212 | Superliner Coach | 5312 |
| 5213 | Superliner Coach | 5313 |
| Lounge | Coach Passengers Sightseer Lounge | Lounge |
| Cafe | Cross-country Cafe Car | Cafe |
| | Auto Racks & Other Seasonal Cars | |
This chart is a guide; this information can change at Amtrak's discretion.
Auto Train Room Layouts
Below are Amtrak sleeper and coach car layouts.
Transdorm Sleeper
Regular Sleeper
Auto Train Deluxe Sleeper Room Layout
Auto Train Coach Car Layout

A few extra tidbits on Auto Train rooms
Rooms are small on the train, so packing light is essential.
If this is your first ride on Amtrak, don't forget to pack some entertainment for your ride.
And pay attention to Amtrak's Auto Train Schedule to ensure you get your car checked in on time. Late vehicles are not accepted. Plus, there are some restrictions, so it is best to check that out before leaving for the stations!
Safe Travels!
Kev
Do you want train travel tips and news in your inbox?
If you want to learn more about Amtrak travel, consider joining the Travels with Kev email list.
You will get tips and tricks and discover what is happening with Amtrak travel.
06242023