An Amtrak Bedroom is a great way to watch the scenery roll by as you travel to your destination. Bedrooms are the largest of Amtrak's private rooms, providing more creature comforts than rooms on the train. These rooms appear on both styles of Amtrak long-distance trains.
An Amtrak bedroom is spacious for one, comfortable without being cramped for two, and possibly has three passengers in the room (some cuddling is required for that (more on that later)).
These rooms offer more amenities compared to other Amtrak accommodations.
In this article, you will learn about bedroom basics, trip planning, and what you need to know about boarding the train and arriving at your destination.
Plus, 360-degree interactive photos and a few ideas and tips to better your trip.
Grab your favorite beverage, sit back, take some notes, and discover what Kev says about Amtrak's bedroom.
What is an Amtrak Sleeper Car?
Sleeping cars offer you a private place to sit during the day and sleep horizontally at night. Amtrak sleeper cars are similar to RVs; they are designed efficiently with everything you need in a small space.
Amtrak has two types of sleeping cars, and the following two sections discuss this.
Superliners are bi-level, and Viewliner and single-level with a similar bedroom layout. Since bedrooms are identical in both equipment types, I combined the information into one article.
Types of Amtrak Sleeper Cars
Amtrak's Superliner (bi-level)
Superliner sleeper cars are bi-level, offering more bedrooms than their Eastcoast Viewliner counterparts.
Superliners sleeper cars contain five bedrooms, fourteen roomettes, a family "bedroom," and an accessible room.
This layout has a few exceptions, such as transdorm or bedroom cars on the Auto Train.
Viewliner (single-level)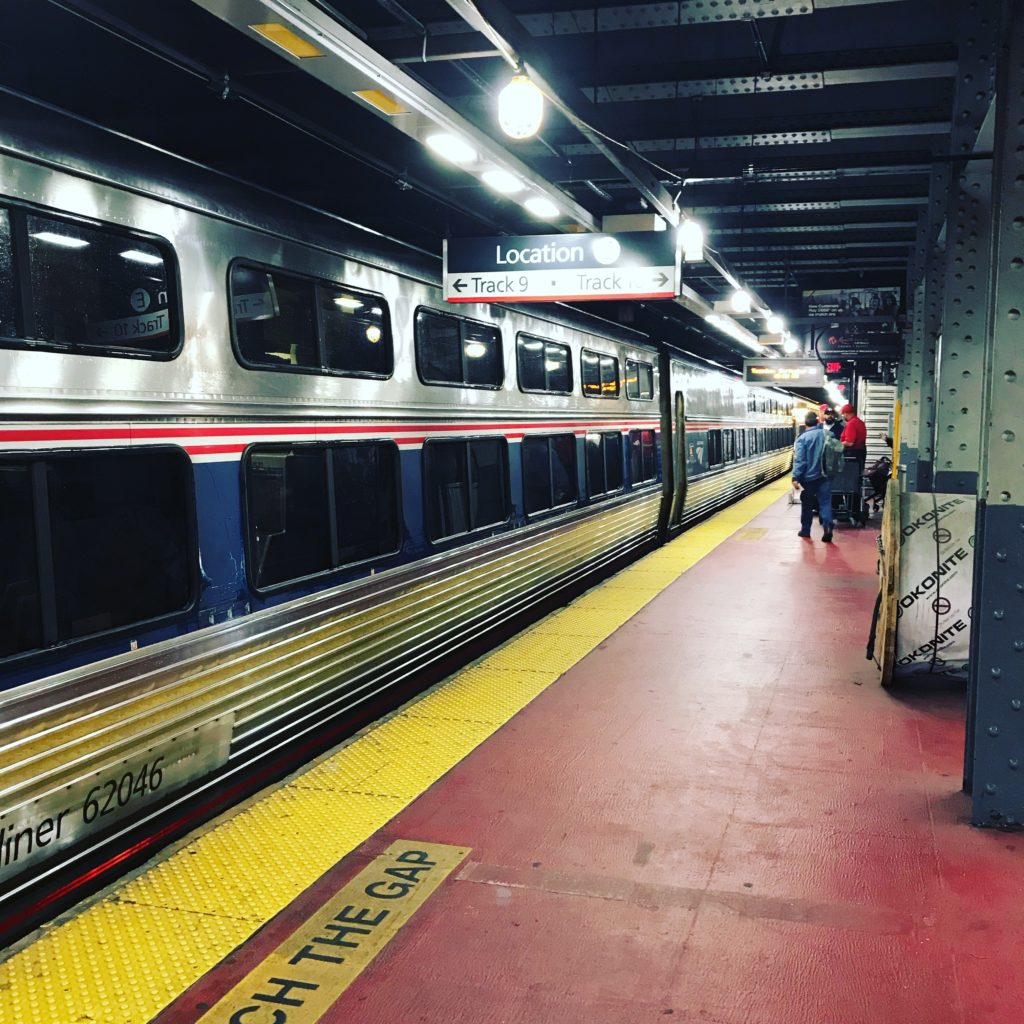 Viewliner sleeper cars appear on the Eastcoast routes because these cars fit the tunnels that lead to New York Penn Station.
These sleeper cars have two bedrooms, an accessible room, and fourteen roomettes. Amtrak is rolling out new Viewliner cars on most of these routes; new sleeper cars have wood grain and burgundy interiors.
Viewliners offer more storage than their Superliner counterparts, the most notable difference.
Amtrak Bedroom Size And What's Inside
Room Comforts
Amtrak bedrooms measure around 6.5′ by 7.5.'
These rooms have two large windows, with Viewliners having additional upper windows for more light and views. The upper windows allow the person in the upper bunk to look out at night without disturbing the lower passenger.
The entry door to the bedroom has a window for a more open feel, plus it allows you to look out the other side of the car. All windows have curtains to block light and for privacy.
Bedrooms have room and reading lights and a nightlight. There is at least one outlet in the room for charging your devices. An extension cord is always a must for train travel.
There is a small closet for storage and hanging up clothing, and there are a few hangers.
More on what these rooms look like in the next section.
Bathroom and cleaning up
There is a sink, trash can, medicine cabinet, storage space inside the bedroom, and a combined toilet and shower room. Also, in your room, you will find fresh towels and washcloths.
The bathroom in an Amtrak bedroom is not large, but it accommodates a shower and toilet efficiently in one space, with little room to spare. Yes, they are both in the same small space.
Superliners and the new Viewliner sleeper cars offer public restrooms if your in-room facility is busy.
Seating and Sleeping
The main area of the bedroom features a sofa, a chair, and a fold-out table between the chair and sofa. The sofa becomes the lower berth at night, and the upper berth folds down for your companion.
The lower berth size is between a full and twin-size bed. Two people could sleep on the lower bunk, but you must cuddle. A ladder helps passengers access the upper berth.
I am about 6'2″ and just fit length-wise in the upper bunk. The upper bed is slightly shorter than a lower roomette bed, but the width gives you extra room. There is just enough room on the upper bunk to move around, but you cannot sit up while in the upper bunk.
Packing Note
Packing light is essential for travel, especially by train. Although bedrooms offer more space, luggage can quickly fill up your room.
Be aware that checked bag service is not available between all stops.
Superliner sleeping cars have an unsecured rack on the lower level for extra baggage.
Viewliners bedrooms have additional storage space above the door and bathroom in your room.
Amtrak allows each passenger to carry two 28″ suitcases under 50 pounds and two personal items aboard the train. For more information on Amtrak's generous baggage policies, click here.
The moral of this story is the less you bring, the less you have to worry about, and the more room you'll have.
What Does The Amtrak Bedroom Look Like Inside?
People ask me what the bedrooms look like on the inside. The problem is my iPhone doesn't have a tremendous wide-angle lens to capture that perfect view, so these are the best I can do.
Below my photos is a button for a 360 interactive view of these rooms.
Daytime
Move your mobile device to see the different angles, or use the mouse.
What Else Come With Amtrak Bedrooms?
Complimentary meals
Your bedroom accommodation comes with all of your meals and a little more.
All two-night trains and the Auto Train have traditional dining in the dining car. Viewliner trains, City of New Orleans, and Texas Eagle between Chicago, IL, and San Antonio, TX, offers flex meals in the Sleeper Lounge.
You can consume meals in the dining car or sleeper lounge or bring them to your room.
In the morning, Amtrak offers coffee and juice in your car at the coffee station. If you want coffee throughout the day, you may need to visit the sleeper lounge, dining car, or cafe. You can grab complimentary beverages in the Sleeper Lounge or Dining car.
At Station Services
Several major stations have lounges you can use while waiting for your first train, having a layover, or waiting for other transportation.
Many large stations offer red cap service, people who assist you to the train. Assistance could be helping you walk to the train or using a motor cart, depending on the station and the available equipment.
Where Can You Find An Amtrak Bedroom?
Sleeper Cars are on either end of the train's consist, and on a few, sleepers are on both ends.
Viewliner (Eastcoast Single level cars)
Viewliner bedrooms are near the boarding door vestibule. If you board the sleeper from that end of the car, walk past the accessible room, and you will find both bedrooms. You know you went too far if you see the roomette hallway.
If you board from the other end of the car, walk through the roomette corridor till you hit a bend in the road, and the bedrooms will be right there.
Superliner Sleeper (Bi-Level)
Superliner bedrooms are on the upper level of the car.
Deluxe Sleeper
Deluxe Sleepers are found exclusively on the Auto Train.
Getting Around The Train
Sleeper cars are next to the dining car for most trains, and the cafe or sightseer lounge is next in line.
The exception to this rule is the 27/28 section on the Empire Builder; those sleeper(s) are at the end of the train, and the Boston sections 448/449 of the Lake Shore Limited.
Remember how many cars you are away from the dining car, so you don't end up in the wrong car. It happens even to experienced travelers.
With Superliner Trains, remember two things. To go between cars, you need to be on the upper level, and if you want to get on or off the train, you need to be on the lower level. They also have one restroom on the upper level and a few downstairs near the shower. All bedrooms are on the upper level.
Viewliners, everything is on one level. Sometimes you will board or get off the train in the adjacent car.
Special Request For Booking An Amtrak Bedroom
Two bedrooms in each car can turn into a suite, similar to hotel rooms with interior doors between the two rooms. If needed, you can book three people in a bedroom, but two people need to share the lower bed, which will be cozy. If you want to reserve either, call Amtrak at 1-800-USA-Rail.
Booking Your Amtrak Bedroom
Different Ways To Book
Amtrak offers a few ways to book reservations depending on your needs, in-person at staffed stations, by phone (1-800-USA-Rail), and electronically via the Amtrak website or app.
The best way to book is whatever is most comfortable for you. For me, using the website or app is convenient. But I will call to make changes or special requests like rooms near each other.
Usually, you can modify a trip if space is available on those trains. You are responsible for the difference in cost, or you could receive a refund, depending on the situation.
You have 24 hours after the purchase of your trip to cancel a trip without penalty.
If you share a bedroom with others, all passengers must be on the same reservation.
Your Ticket
If you make reservations over the phone or electronically, Amtrak will email you an eticket. These etickets can be printed out or scanned from your phone.
You can store and display your tickets in Amtrak app on a mobile device if you are signed in. Be advised that the app needs Wifi or data to work. Taking screenshots is another electronic way to gain quick access to your etickets.
If you make reservations at a station, you will receive a paper ticket; you can ask the agent if they can email them. These tickets may or may not be available on your mobile device.
Some stations have a Quik-Trak machine. These machines allow you to book trips using a credit or debit card. You will leave the device with a paper ticket.
You can scan the ticket you purchased online at one of these kiosks to receive a paper ticket.
The ticket machines print the size of airline boarding passes and the same ones you get if you make your reservations at a station.
The Info On Your Ticket
Each ticket contains the train name and number, followed by the sleeper car's number and room numbers. Bedroom "room numbers" are letters. The car number is four digits found by the door, and the first two numbers are the route number.
Cost & Fees
When you book, there are two parts to your reservation: the rail fare and the room cost. The rail fare is the price that everyone pays to be on the train. So if you are traveling solo, you pay to rent a room and be on the train. If there are two passengers, each person will pay to be on the train but only one fee for the room.
If you qualify for a discount, the discount only applies to the rail fare portion of your ticket.
The price on the screen is the final price for you and your travel companion and is not for each person. You will have to work that out independently if you split the cost.
Booking Tip
I have a tip that might seem odd for this article, but I'm still putting it out there.
If you are traveling with someone else and a bedroom costs more than you want, see if you can book two roomettes instead. While the roomettes are smaller and do not have a bathroom, booking two roomettes gives each person more personal space, possibly at a lower price.
If you call Amtrak or use a staff station, they can check and see if two roomettes are available across or next to each other.
If you book this way, you can go to the other person's roomette to hang out, or they can come to yours. This tip does avoid someone climbing on the upper bunk, although bedrooms have ladders, and roomettes have built-in steps.
If you book two roomettes because of the cost, keep an eye on bedroom costs, and if the price drops, you can switch accommodations.
Check with Amtrak's current booking rules for fees associated with modifying reservations.
Boarding The Train
General
When the time comes for you to board your train, you should do a few things to make the boarding process more effortless.
The first thing, listen for announcements at a staffed station. Next, have your tickets ready and review what car you are assigned.
As you approach the train, the conductors and onboard staff will help you get where you need to go. If you see the sleeper car roll by you, keep an eye out for it, and walk in that direction.
The Lake Shore, Limited, and Empire Builder have sleeping cars on both ends of the trains, which can be tricky for new travelers. The Builder's 27/28 sleeper is on the tail end, and the 7/8 is near the engine.
At some stations, like North Charleston, SC, the staff gives you a position point on the platform, giving you the right spot to wait for the train stops.
A few stations have short platforms, and the train must make two stops. One stop is for coach passengers, and the second for sleepers, not always in that order. If that is the case, wait patiently for your turn and listen to the conductor's announcements.
Other boarding tidbits
Sometimes, the car numbers aren't updated; ask a uniformed staff member if you get confused. For example, train 6, a sleeper, could read 0531 instead of 0631.
Sometimes, Veiwliners do not open all the doors; you may enter or leave the adjoining car.
The conductors use an iPhone-type scanner to check tickets, verifying you are on the right train, on the correct date, and in the right car and room. Sometimes conductors scan tickets or lift tickets before getting on the train; others will wait until you are on the train and come by after they lift the coach passenger tickets. Occasionally they will consult with your car attendant and check you off later.
When Onboard
When you are on the train, your car attendant can help you get acquainted with the room, inform you about meals, and prepare or put away your beds when it is time.
There is a call button if you need to get ahold of them.
You can tip, often $5 – $20 daily, if you receive good service. How much you tip depends on the quality of service and your budget. To learn more about tipping on Amtrak, check out this article.
You are free to walk around the train, within reason. If it has a Sightseer lounge, you can walk there, the cafe car (could be in the lower level Lounge car), the dining car, or Sleeper Lounge on Viewliner trains.
You can walk to the coach cars; sometimes, you may need to walk through them to get where you need to go. You cannot sit in those seats if you have a sleeper ticket. If you wanted to check them out, that is one thing, but those seats may be revered for someone else further down the line.
Fresh Air Stops
There are select stations for getting off the train to stretch, get fresh air, or smoke. Do not wander too far away from the train. The train can and will leave without you if you stray too far.
If you step off the train, listen for the train horn. Before the train leaves, the engineer will often give two quick blows to warn them to get on the train.
Amtrak will not leave before the scheduled time except for flag stops. If the train comes to a stop early, it may need to wait until its scheduled departure time, even if all the ticketed passengers climb aboard.
Smoking On The Train
Do not smoke or vape on or near the train. If you do either on the train, the next stop could be your last stop, even if it's not your destination. Along with a new final destination, you could have federal fines. I saw this happen a couple of times, and I have been in a car where someone smoked in the bathroom, and the smell filled the car quickly, so don't.
Arriving At Your Destination
This one is a little easier because you only need to get off the train.
Getting Ready
I like to note the stop before mine; you can find that on the train's timetable. Because I know after we leave, I should return to my room and prepare my belongings.
For example, if I take Amtrak to visit my sister in Bellvue, NE, near Omaha, NE, I note the Cresent, IA, stop. After we leave Cresent, our next stop is where I get off, Omaha. If all goes well after we leave Cresent, I know I have at least two hours before arriving.
Using my example, I know I have almost two hours from the Cresent, IA, stop, and Omaha to clean up my area, re-pack my things, and text my sister, letting her know I am close.
You may have more or less time. If you are not sure, ask your car attendant or a conductor.
The Staff Will Help You
During the day, conductors and car attendants announce the upcoming stops over the PA, but the quiet hours are from around 10 pm to 7 am.
During the day but especially during quiet hours, conductors or the car attendants will knock on your door to let you know your stop is coming. They often come fifteen to thirty minutes before your destination.
I have had some fantastic car attendants that would wake me up around 4:30 am for 4:50 am arrival time into North Charleston, SC. It was not remarkable that they woke me up, but they offered me a cup of well-needed coffee.
Staff often offer to take your luggage to the door before arriving at your destination. Staff will direct you to the right door and help you off once the train comes to a complete stop. If you are on a Superliner, you will know what door you are leaving, but Viewliners may let passengers from two sleeper cars out of the same door.
Checked Bags
If you checked your bags, listen to the instructions on where to claim checked bags. Because there are various station types across the system, there is no one protocol for checking baggage.
Checked baggage is often like an airport with a baggage carousel at larger stations, but you could claim your bags off the baggage trailer at smaller stations.
Amtrak Bedroom: Packing List to make your trip more enjoyable
Electronics and entertainment suggestions (

Be aware. typically,

trains do not have internet)

Extension cord, headphones, chargers, and cables
A tablet that you can download entertainment, such as an iPad or Kindle

Download a few Podcasts and music you enjoy (phone or tablet.)
Apps such as Netflix, Disney +, and Amazon Prime allow you to download movies you can watch without the internet. Other apps allow you to watch videos that you digitally purchase.

A few books or magazines

Refreshments

I pack enough snacks for each direction of my journey. I put them in a small reusable bag that easily fits into my luggage.

This method saves space and is an excellent excuse to get out and explore your destinations or layover city. Many larger stations, like Chicago, have stores with snacks but with convenience store prices.

A refillable water bottle is a handy way to stay hydrated and save money and the environment.
You can bring alcohol to consume in your room only. If you want to drink in other parts of the train, you must purchase those adult drinks onboard. Amtrak can remove you from the train if you get out of control, so the next stop is your stop, regardless of your destination.

Sleeping and misc

Eyeshades are handy for those who are super sensitive to light at night. There are

The windows have drapes, but sometimes at a station stop, platform lights can be at the same height as your window so that a bit of light could leak in.

Earplugs for those who need it quiet, for safety, and engineers will blow the horn all night due to FRA rules.
Sleep aides because sometimes people get too excited to sleep or struggle sleeping away from home.
Amtrak Bedroom Etiquette
Basic manners apply, but a few things to remember.
Inside voices are essential because the walls are thin, so be mindful of your neighbors.
Keep your electronic devices low, including your text message and ringtones.
Treat your car attendant with respect. There is only one of them per sleeper car, and they try to help everyone the best they can.

Sleeping car attendants are busy during meals and bedtime, so be patient.
Here is an article about tipping on Amtrak trains.

Clean up after yourself in common areas for the betterment of your fellow passengers
Amtrak Bedroom FAQ
Amtrak bedrooms are the largest rooms available in Amtrak sleeper cars and are often the most expensive. With the increased cost come more space and amenities.
Superliner Trains have five bedrooms per car, and you'll find all bedrooms on the upper floor.
On Superliner sleepers, bedroom A is smaller in width by 10″, and E is next to the stairs. Bedrooms B and C form the bedroom suite, similar to hotels. On the Auto Train, a few cars have ten bedrooms.
Viewliners have two bedrooms located on the opposite side of the roomettes. These bedrooms can become a suite.
Suppose you want a specific bedroom or the "bedroom suite," book at a staffed station or call 1-800-USA-Rail. If you booked online or with the app and want a different room, try contacting the above number. Room changes or picking a particular space are only possible if they are not reserved. You can always try at a later date in case something opens up.
When possible, Amtrak offers priority boarding to sleeper car passengers. Priority boarding is a service provided at the train's initial station. Still, some intermediate stations send you to a location on the platform, so you are in the right spot when the train arrives.
While priority boarding is sweet, don't worry if you miss it or if the station does not offer it. Your room is reserved just for you; if you are the first or last person on the train, you still have that room.
Amtrak Bedroom Wrap Up
Wow, that is a lot of information, and some of it will make sense once you see it on your first trip. I find researching as you are doing with this article helps you keep your expectations realistic.
My best advice is to book your tickets early, get on the train, sit back, relax, listen to the announcements, let the staff help you, be kind, and enjoy the scenery and adventure.
Please let me know if I missed something or if you still have questions!
Check out these articles for more information.
Safe Travels.
Kev