My first Amtrak adventure started on May 25. 2012, and it has changed my life. I saw things I would never see, met some fantastic people, and had experiences I never thought I would ever have. It was also the first time I had imposter syndrome regarding travel.
My Amtrak adventures took me to places that otherwise were off my travel radar. One of those was New Orleans.
I Did Travel Before This Trip.
My travel life breaks down into four phases, each a building block.
In phase one, from birth to eighteen, my parents taught me travel could be simple as visiting family or a trip. But I don't remember getting hotel rooms or trips like Disney.
Phase two started at age eighteen; I bought a 1990 Oldsmobile Silhouette and used it on many road trips and as a bike carrier for cycling tours. During this next phase, I learned to enjoy solo travel from eighteen to twenty-four.
I did not travel much in phase three (twenty-five to thirty-five) but learned the basics of public transportation. Then comes phase four, which this article covers; it started with one train trip and ended with me traveling across the country.
In phase four, I have been on all but one (the Auto Train) of Amtrak's long-distance routes, most of the Midwest regional routes, and coast-to-coast by rail and air. And phase four starts with this story.
Don't Drive Down Here.
In 2012, Pete, a friend, invited me to an event in Chicago. He had recently moved there that year and thought it would be fun for us to hang out and attend the event together. And he was kind enough to let me stay with him.
Pete had a caveat for my visit, don't drive down.
His logic was solid, parking downtown is expensive, and parking by his place was at a premium. I owned a 1989 Chevy Celebrity, not a tiny car, yet not the land yacht.
He suggested taking the train down, either Amtrak or Metra. Since I was coming from work, Amtrak became my choice because it was closer.
Pete took the train a few times before to share his experience with me.
Driving to Chicago is not appealing, although I have done it in the past. It did not take much to convince me the train was a good idea since I didn't want to deal with that stress, plus the parking situation. On the other hand, I had never done anything like this before, but Pete said it was easy and comfortable, so I trusted him.
A fast side note: after a few trips, I because reasonably familiar with the process and the CTA.
I did the research and booked my first Amtrak Adventure.
This new adventure started with a trip to Amtrak.com, where I found the Sturtevant Station. This station was a great choice because it was near work, had cheap parking, and was closer to home when I returned.
I soon had the Amtrak app on my phone, signed up for Amtrak Guest Rewards, and booked my round trip aboard Amtrak's Hiawatha.
With Pete as a guide, I would not get lost. At least, that was my hope. I had experience with mass travel in Milwaukee, but the CTA is a little different. Busses are one thing; the "L" is another.
I know where the station is; apparently, I didn't
I was ready for my first Amtrak adventure; my bag was packed and in the car, my shift at work ended, I was punching out for the weekend, and I was excited to head to Sturtevant.
I knew how to get to Sturtevant from home, but I needed Google Maps from where I worked. I used the app until I reached an area I recognized, and then I turned off the GPS and went by memory.
Great idea, right?
That was a mistake because I drove past the depot on a parallel road on the other side of the tracks, headed for the original Milwaukee Road station's former location.
By that, I mean the old station had moved, and in its former place sits a Canadian Pacific building. I don't know why I had so much confidence in myself because I had never taken the train from there before, but I thought I knew the area better.
So, I swallowed my pride, re-entered the station's address in the app, and found the depot. After paying for parking and gathering my belongings, and headed to the platform, ready for my first Amtrak adventure.
Soon, an announcement came over the PA, and the passengers at the station gathered for the train. A few moments later, the train stopped at the platform and picked us up for our 63-mile journey to the Windy City.
All Aboard!

Before boarding the Hiawatha, I had discovered another Amtrak newbie. So between the two of us, we figured out what we were doing and when the train came. She and I climbed aboard and searched for our seats. We sat in a section reserved for those needing assistance, so we moved and sat back and enjoyed the trip.
The train had six coaches, and it was full but not packed. The train took about an hour to get to Chicago, and I loved the train's motion; the steel wheels rolling on the steel rails did something to my soul.
Watching the world go by was fun; before I knew it, the Chicago skyline appeared. When we reached Chicago, my travel buddy and I bid farewell and went our ways.
Chicago, Chicago, that toddling town.
I find it funny that I got confused and overwhelmed my first time at Chicago Union Station.
I know that station well these days and no longer find it confusing. After leaving the train, I went up the escalator, out the door, on my way to meet with Pete (remember him from earlier).
I left the station and turned to Google Maps to guide me to Pete's place of employment.
I liked the trip
After a fun weekend, I headed home; I had mastered Amtrak's Hiawatha.
In 2012, I visited Pete four times via Amtrak. Little did I know that something happened to me on that first trip; the little wanderlust bug in my soul woke up again. Not only did that bug wake up, it now likes train travel.
You might like San Francisco.
Later on, in 2013, my friend Ben traveled to San Francisco. After his return, he told me I might enjoy a trip there. Sometimes people say something, and you ponder it in your heart for some unknown reason; this was one of those tidbits.
Planning my first long-distance trip
My taxes were kind.
In February 2013, I worked on my 2012 taxes, and because student loan interest was tax-deductible (at that time), I found out I was getting a nice chunk of change back.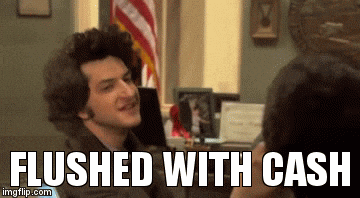 As Jean-Ralphio Saperstein of Pawnee, IN, would say, I was flush with cash (Parks & Recreation reference).
Maybe not flush with cash, but I had enough for an adventure.
Now I could have invested that money, but I decided to take a trip; I invested in myself—the first destination that came to mind was San Fransico, CA.
I started planning and researching again. At this point, I discovered I enjoy trip planning and research.
I talked to Ben again, asking him a few more questions about the City by the Bay. Because I enjoyed my short train trips, I thought, why not see if Amtrak could take me there, and yes, it could.
What my research told me
My research showed I could start at the Sturtevant Depot, and instead of Chicago being my destination, it would be a layover. In Chicago, I would take the California Zephyr. The Zephyr would take me to Emeryville, CA; from there, a bus finishes the journey to San Fransico.
I don't want to say I am cheap, but happy not to pay retail. I am always looking for a way to save money.
I found NARP, the National Association of Rail Passengers. NARP is now the Rail Passengers Association.
When I joined, I received 10% off the base rate of the tickets, and my membership fee covers close to the same amount of money I saved.
If I took any more trips, I would start saving. (Yeah, that may resemble a commercial, but they do not sponsor the post. I believe in their cause and can save money simultaneously.)
New Amtrak adventure: New Luggage
Since I had not traveled much, it was time for new luggage. My secondhand luggage was falling apart and impractical for this journey.
Clueless about what was there, I turned to the big box and discount stores.
I was on the hunt for a 24-25″ rollaboard, which ended with a walk to the clearance section of my store (I worked at a big box store then). Someone returned their online order of a set of four suitcases that retailed for $119.
After I checked out and used my discounts, I purchased the four-piece luggage set for about $40; I kept the 25″ and the small hand carry-on bag and sold the rest to my mom, so $20 for what I wanted wasn't too bad.
From my experience, I found it true that you get what you pay for with suitcases and luggage.
I also learned that designer suitcases cost more but are often not much better than the cheaper ones, usually made by the same company. I am sure that is not always the case.
Looking back at my first trip, I discovered I traveled too heavily because I brought a full 25″ suitcase plus a backpack!
The start of my first long-distance Amtrak Adventure
The day came for my Amtrak Adventure, and I was excited. My coach seats were booked, my bags were overpacked, and I made it to Chicago.
Because of my excitement, I left early. I would rather wait at the train station or airport than at home.
By this point, I knew Chicago Union Station pretty well. I had my favorite places to eat and wait. One of those places I enjoyed was a bar off the Great Hall. (The bar is closed now, and I cannot remember the name.)
I often went there because they had good food, free popcorn, and sometimes more snacks, and their beer selection, both tappers and cans.
Side story: often, while waiting at that bar, I had self-doubt before these trips. I contemplated if I was doing the right thing. Can I cancel? I would remind myself It is okay for me to travel.
After a few drafts and bowls of popcorn, I had to get ready to climb aboard the California Zephyr.
California, here I come; a new Amtrak Adventure is underway!
My seat was behind the center stairwell on the train. I had a female seat partner visiting the USA from one of the Scandinavian countries.
If I remember correctly, she was on her way to meet with her boyfriend, who was meeting her in LA.
After the train left Chicago, I walked to the Sightseer Lounge car. Soon, I found a seat and started chatting with a gentleman from Canada.
While riding down the rails, the dining car steward came through the car, and I decided to treat myself by making a reservation for dinner in the dining car.
After some time, the dining car steward called my dinner reservation time.
Since I was in the Sightseer Lounge car, I did not have to walk far because the dining car was next.
When I walked into the car, I was seated with three ladies, two were a couple from San Fransico, and the other was another solo traveler.
After we sat down, I asked, are you all from the United States, and they looked at me and said yes, but why?
I told them they were the first US citizens I chatted with on the train besides the staff. We had a nice chuckle, and it broke the ice. The City by the Bay ladies gave me some excellent tips and hints.
Later that year, I wanted more Amtrak Adventures.
A few things happened on my first long-distance Amtrak adventure; I fell in love with the views, the pace of train travel, and the people that made my trip fun. All of these made me fall in love with train travel.
After that first long-distance trip, I had train travel withdrawals, and I wanted more. I found Amtrak's Midwest Corridor. I found out there were several places I could go for day trips.
The furthest destination I could go in a day was St Lois, MO; the closest was Milwaukee.
I needed to learn a new skill: how to ride Metra. By the way, it is not hard.
Metra could take me to Chicago earlier than the Hiawatha, allowing me time to get coffee or breakfast and catch early trains. Plus, Metra is cheaper.
Tuesday became my train day, and I rode a train on that day or at least once a week for years.
One big trip for the year was not enough for me, so I booked another long journey, but this time to Washington, DC. The trip was another coach trip. I took the Capitol Limited to DC, stayed at night, and took the Cardinal home.
Why am I telling you about my Amtrak Adventures?
I am not trying to brag, but to let you know, that people make mistakes, and travel is a skill you learn from and grow.
I loved watching cooking shows as a kid and remember watching Yan Can Cook. His philosophy was simple, if I can cook, you can too, which is my philosophy with travel.
I am a regular person if I can travel this, so can you.
When I started traveling, I had fear, as I am sure you may have.
My nervousness almost got me on a few trips, but I fought through the anxiety. Fear and worry can lead to regrets, and you can miss out on a lot. (I am sympathetic to those with crippling fear.)
There is more to this story, and I plan on sharing that with you in another post. But this is how it started for me, and maybe it is time to begin your travel story.
If you want to start your Amtrak journey, click here to start your research on riding Amtrak.
Safe Travels!
Kev
Would you like train travel info in your inbox?
Consider joining the Travel with Kev email list for info, tips, and tricks for Amtrak travel.