Depending on your next Amtrak adventure, an Amtrak lounge could be part of your next rail journey! A visit to a lounge can add a special touch to your experience and are a comfortable place to wait for your train. This article covers who can use the lounges, what stations have an Amtrak lounge, what they offer, and more.
There are three types of lounges within the Amtrak system: Metropolitan, Club Acela, and unstaffed. No matter what kind of lounge is at the station you are visiting, they provide a place to wait, and they often have coffee available for you.
Due to the pandemic, Amtrak may not offer all services discussed in this article, and some lounges may be temporarily closed. Please adjust your expectations accordingly. Amtrak lounges and stations require a face mask at all times unless you are actively eating or drinking.
Do You Qualify To Use Amtrak Lounges?
There are several ways for you to qualify to use the lounge.
Select Plus and Select Executive Amtrak Guest Rewards members with a valid member card.
Amtrak passengers with a same-day travel ticket (departure or arrival) in First Class or sleeping car accommodations.
Complimentary Single-Visit Station Lounge Pass holders may access ClubAcela, Metropolitan Lounge, and Unstaffed Lounge locations.
Private car owners/lessee and their party may use them between arrival and departure time specified in the reservation. Provide your reservation number to the lounge agent.

Due to space limited in Los Angeles – Union Station Metropolitan Lounge may restrict the size of a private car party sizes in the lounge.

Chicago offers a day pass for its lounge, but there is a fee.
Amtrak Unstaffed Lounges
Unstaffed lounges do not have an attendant but provide a place for you to wait for your train and, in some cases, allow for priority boarding. If you need help while using these lounges, go to the ticket counter for assistance.
St Paul, MN (MSP) and New Orleans, LA (NOL) offer unstaffed lounges for sleeper car passengers. Business-class and sleeping car passengers can use the lounge in St Louis, MO (STL) station. These lounges often provide coffee and snacks, subject to availability.
Ask an Amtrak employee for the unstaffed lounge location and hours. In the case of the Magnolia Room in New Orleans, you need a code to enter that is available from the ticket agents.
My experience with the Magnolia Lounge in NOL
My only experience with unstaffed lounges was at The Magnolia Lounge in New Orleans. Amtrak had complimentary coffee, comfortable seating, and a few outlets for charging. Amtrak staff informed those of us using the lounge when it was time to board the train. The lounge had a small area for kids. While the lounge was nothing too exciting, it is nice to have less traffic and a little more secure place to leave my bag for a second.
Amtrak's Metropolitan Lounges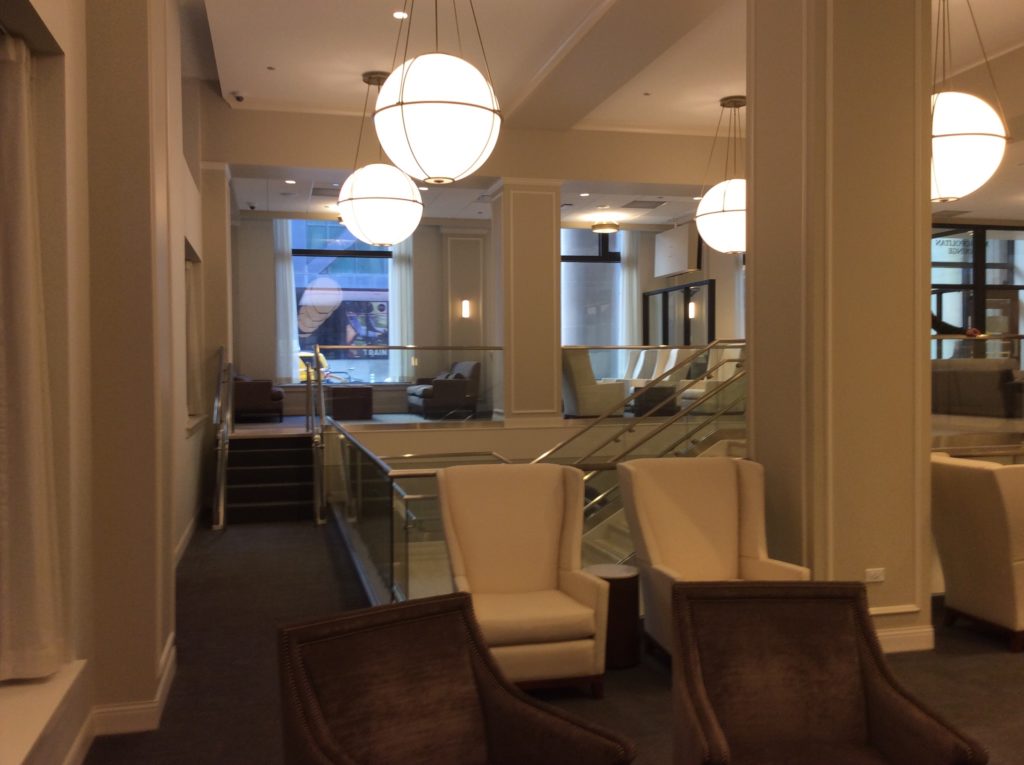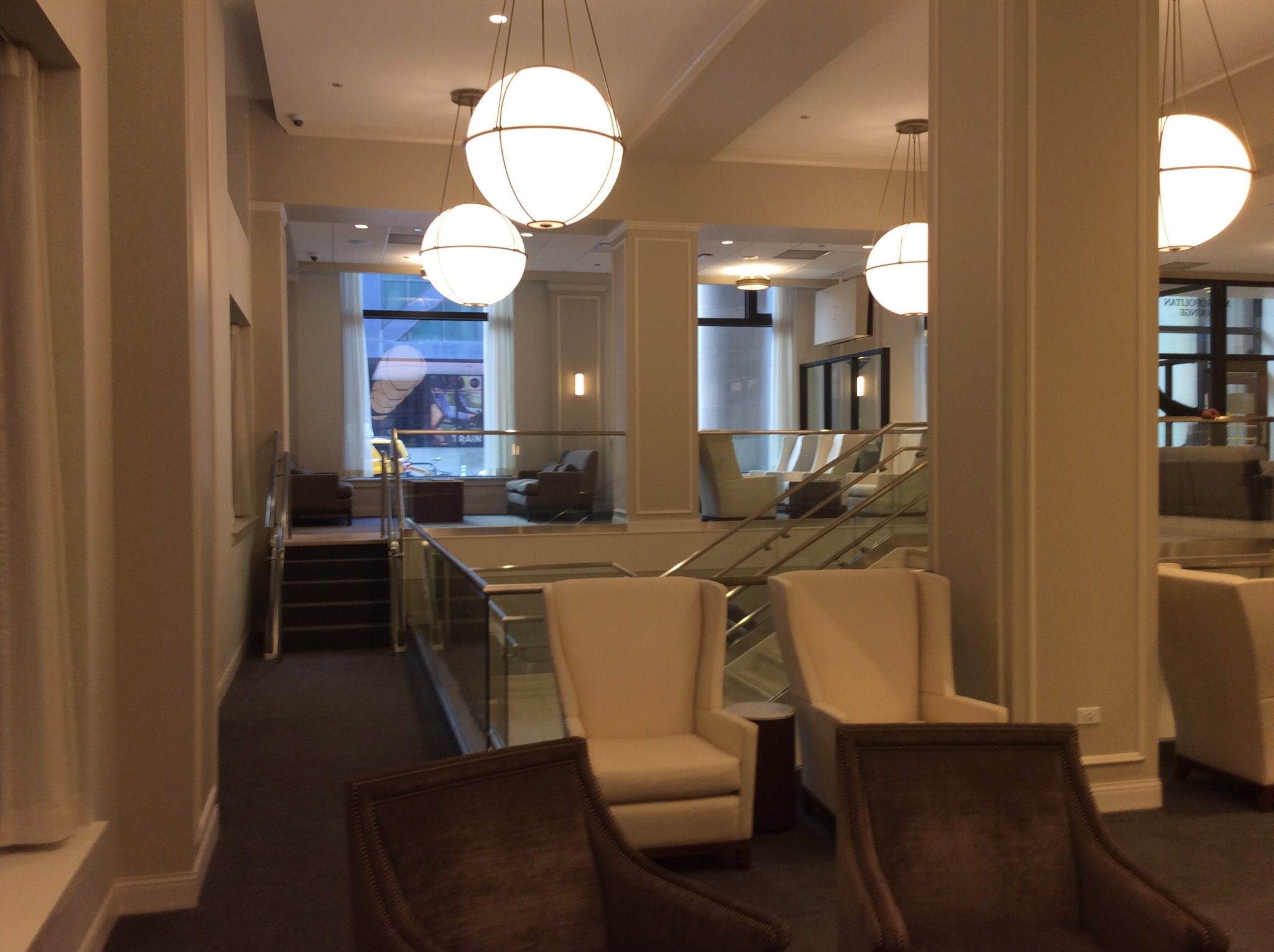 One type of Amtrak staffed lounges include the Metropolitan Lounge, and these lounges are for sleeping car passengers and those with Amtrak Status. Chicago Union Station (CHI), Portland Union Station (PDX), Boston South Station (BOS), and Los Angeles Union Station (LAX) have Metropolitan Lounges.
Chicago Union Station allows business class passengers to use its lounge as part of the ticket price. Any coach passengers may purchase a day pass; as of the publish date, a day pass is $35. (12/2020)
Amtrak's Club Acela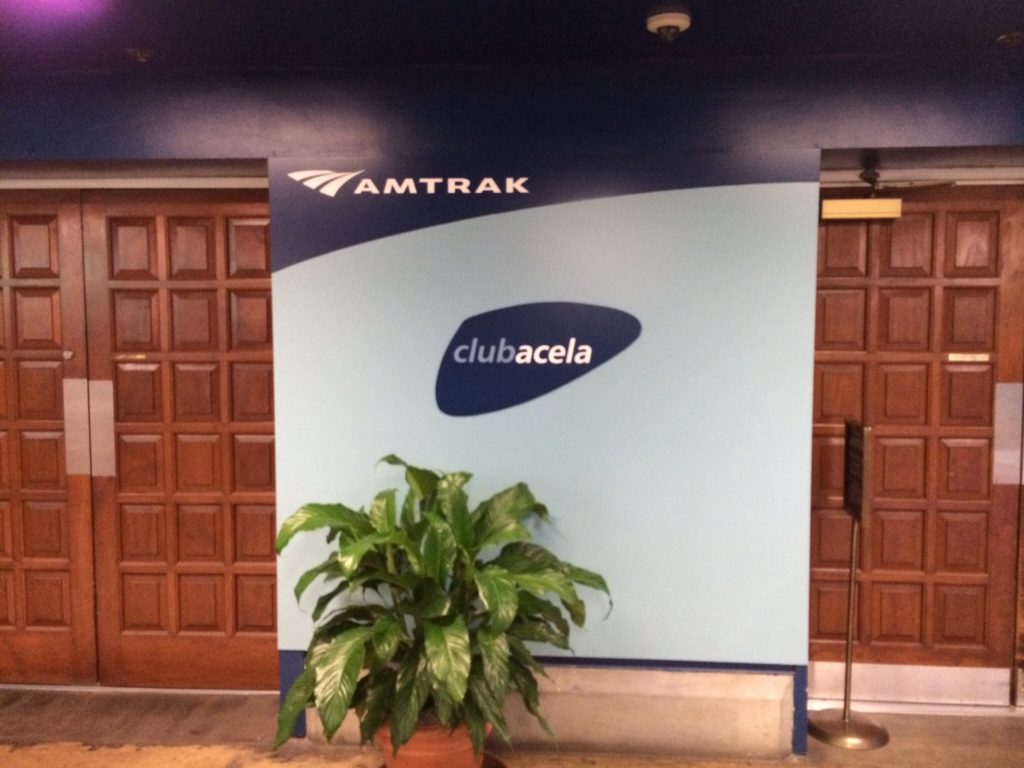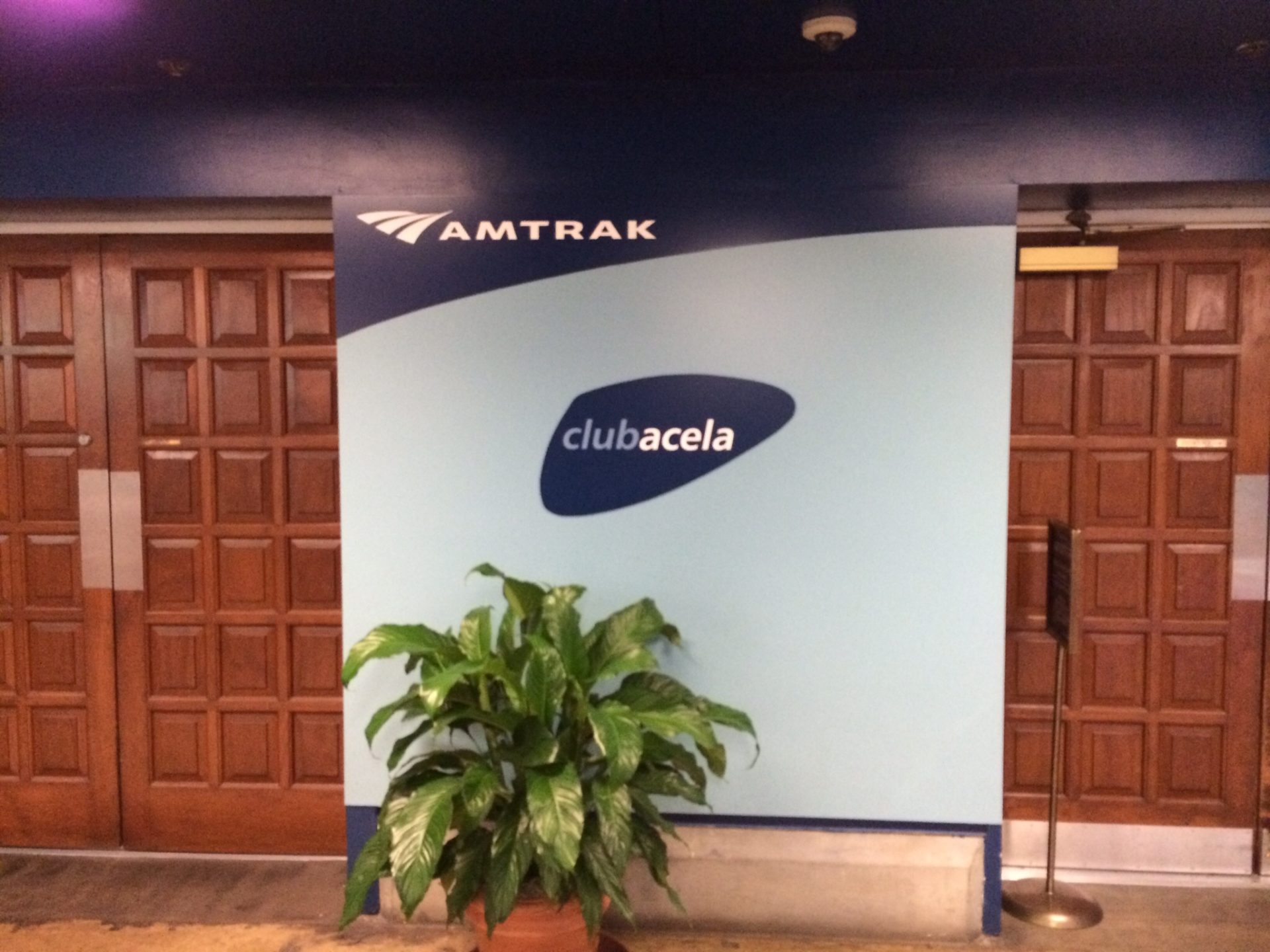 Club Acela's are staffed lounges for Acela passengers and those with sleeping car accommodations. The most significant difference between Club Acela and Metropolitan Lounges is the name, and the Clubs are set up more for business people. These lounges are not for business class passengers without a pass or Amtrak status. You can find Club Acela's at Washington Union Station (WAS) and New York Penn (NYP).
Offerings at Amtrak staffed lounges
Lounges give you a place to relax and enjoy comfortable seating. While you wait, you can enjoy complimentary non-alcoholic beverages, snacks, and free WiFi.
The food offered is usually pretzels, chips, muffins, fresh fruit, sweet rolls, and other tasty treats. The food offering will vary from lounge to lounge.
The lounges also have bathrooms for the passenger's convenience and freshen up. As the lounges are updated, USB charging stations are more plentiful, along with outlets for computers.
Attendants can assist with reservations, ticketing, and local information. Features and amenities will vary at each station. Often they mark your tickets when you enter so you can come and go as you need.
Amtrak may suspended some food service in lounges, so plan accordingly.
Chicago Union Station Lounge Offers A Little More
Chicago's Metropolitan Lounge is the premier Amtrak lounge (my words, not Amtrak's). The Chicago Metropolitan Lounge has two floors for you to enjoy, with the upper floor being a quiet area.
The lounge has TVs for your entertainment and schedule boards throughout the lounge to keep an eye on departure times and track information. Soft drinks, coffee machines, and various snacks are available on the lower level, with water dispensers on both floors.
If you wish to indulge with a drink, there is a cash bar by the stairs leading to the upper level, and during peak hours, at table service. Due to FDA regulations, you cannot bring outside food into the lounge, but if you bought a meal at the station, there is a table in the lounge's outer lobby or the Great Hall where you can eat. The food court is on the station's upper level, although a new food court is coming with an entrance off the Great Hall.
Chicago's lounge also offers showers, talk to the lounge attendant if you wish to use it, and unstaffed baggage storage. The upper lounge is the "quiet area."
For now, passengers can bring outside food and drinks into the lounge. If you wish to receive a Coke product, you may ask at the front desk, and they can get you a can when possible. Wrapped snacks are often available.
The Location Of Staffed Amtrak Lounges And Hours
Metropolitan Lounges
Station
Hours of Operation
Location
Boston, MA (BOS)
Boston South Station
5:30 am – 9:30 pm, daily
Between the ticket office and the information booth
Chicago, IL (CHI)
Chicago Union Station
6:00 am – 9:00 pm, daily
In the hallway leading to the Great Hall
Los Angeles, CA (LAX)
Los Angeles Union Station
5:00 am – 10:00 pm Monday – Friday
6:00 am – 10:00 pm
Weekends
The second floor, above the ticket office, so walk toward the car rental booths; then take a left and then up the stairs or take the elevator.
Philadelphia, PA (PHL)
William H Gray III 30th Street Station
6:30 am – 9:00 pm daily
End of the hall behind stairway 1, then up the stairs
Portland, OR (PDX)
Portland Union Station
9:30 am – 5:40 pm, daily
Inside the boarding area at gate 5
Lounge times and availability may change at any time
Club Acela
Station
Hours of Operations
Location
New York, NY (NYP)
New York Penn Station
Moynihan Train Hall
5:00 am – 9:30 pm
Monday to Friday
7:00 am – 9:00 pm
Saturday and Sunday
full-service bar open
11:00 am – 7:00 pm daily
Mezzanine level
Washington, DC (WAS)
Washington Union Station
4:30 am – 9:30 pm
Monday – Friday
5:00 am – 9:30 pm
Saturday – Sunday
Behind the information booth, between gates D and E
Lounge times and availability may change at any time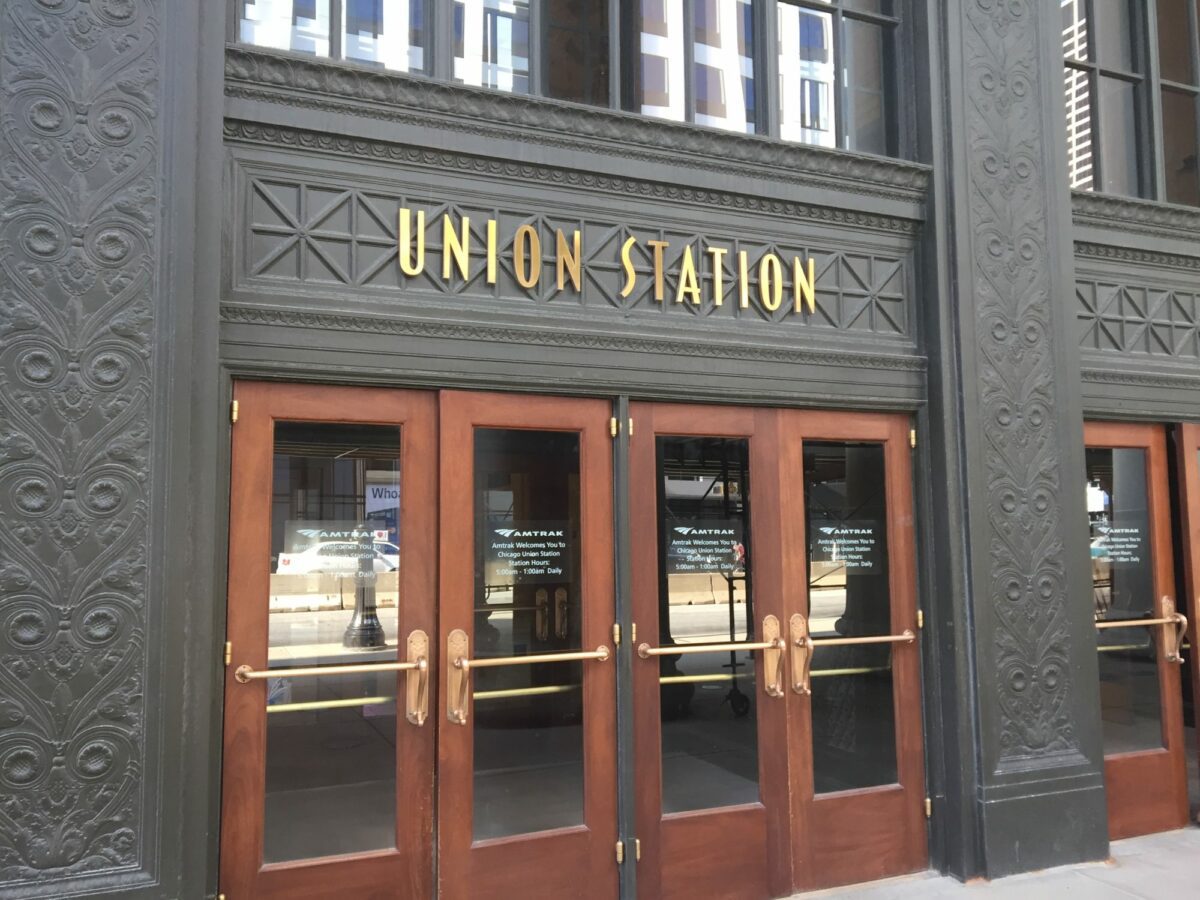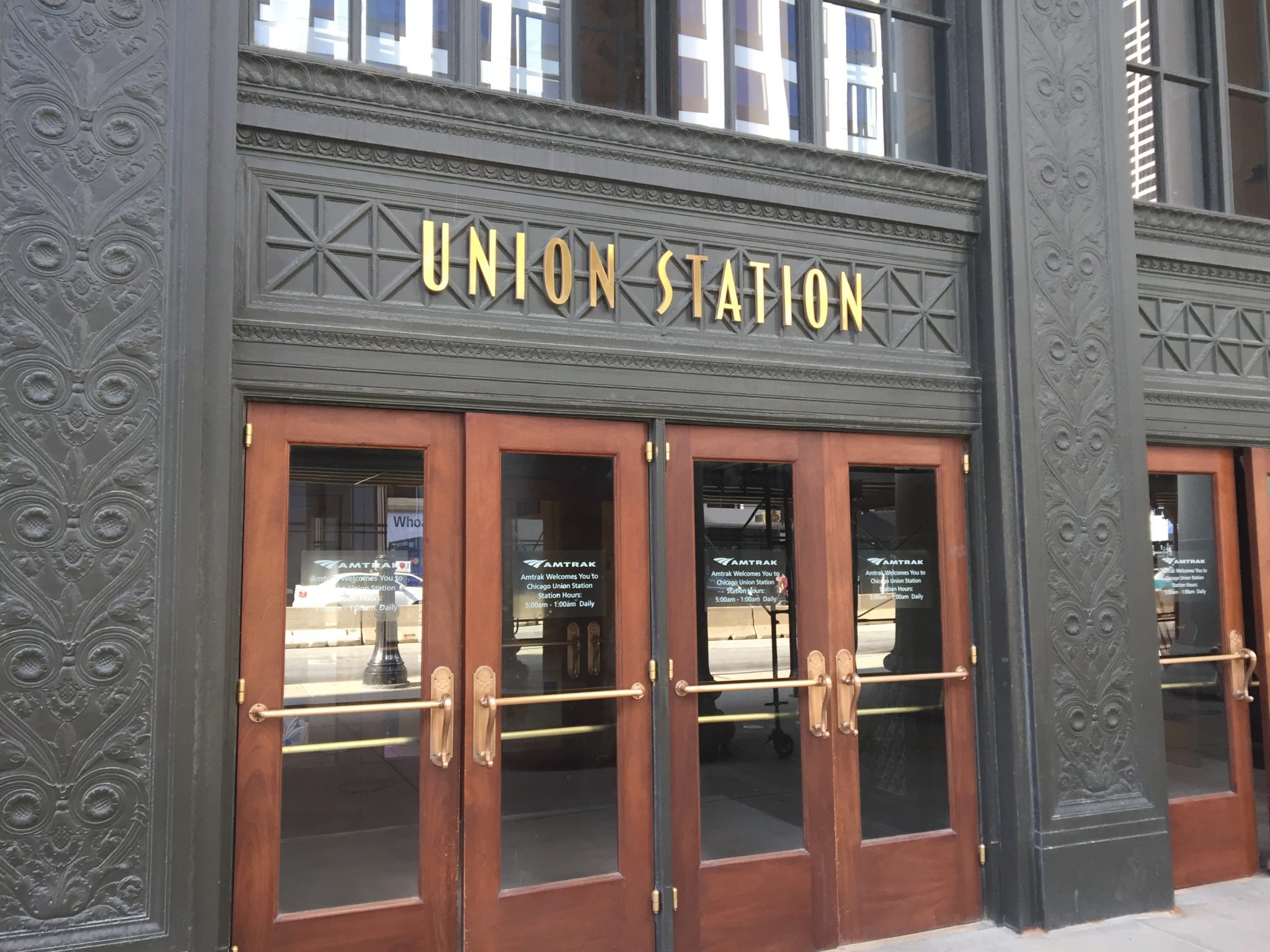 My Lounge Experiences
Chicago offers a little more than the average lounge, but it is the biggest hub for Amtrak's long-distance trains and hosts the midwest corridor. This station provides an excellent selection of snacks for passengers to enjoy.
Washington DC's lounge can be bustling, and other times it's a ghost town. Here they have an unsupervised storage area for your gear just past the front desk. This lounge has two levels with places under the "plants" (see photo) to store luggage. Amtrak recently upgraded to this lounge with new furniture and light cosmetic upgrades.
The Los Angeles lounge is a little tricky to find but worth finding. The attendant stores your luggage behind the desk or in the conference room. This way, you can walk around without lugging your bags, nor do you have to worry about them. There are a few available souvenirs in the lounge. Often they have cookies and fruit for snacks plus things to drink like coffee, soda (pop), tea, and water.
Portland's lounge is a quaint station with an unstaffed place to put your gear. The last time I was there, there was no food but beverages.
How To Use Amtrak Lounges
Getting in to an Amtrak staffed lounge
Using an Amtrak lounge is easy. Here are a few tidbits you should know for your first visit. Most staffed Amtrak lounges require you to use a doorbell for access, so if the door is locked, look for the button. To save time at the desk, have your boarding information prepared to show the agent before entering or while you wait in line.
After entering the lounge, check in at the desk with the agent by showing them your ticket; they will check to make sure you are there on the right day and inform you what you need for your train.
The attendant may mark your ticket during the check-in process to show you already checked in if you leave and return.
Once in the lounge
After you get checked in, feel free to walk around and get familiar with the amenities. You are welcome to partake in the food and drinks.
After looking around and obtaining a snack and drink, find a place to sit and enjoy. Often there is free WI-FI, but depending on how many people are using it, it might be slower than you want. As I have traveled over the years, I noticed that the WiFi has improved, but it is complimentary, so you can't complain too much.
As you wait, keep an eye on the time and arrival/departure monitors to see how your train is doing. Keep an ear out for any early announcement, or at least one person in your travel party. Close to your departure time, like 30-45 minutes prior, turn down your volume levels on your headphones, avoid phone calls, and pay attention to announcements because they can load trains early at Portland (PDX), Los Angeles (LAX), Chicago (CHI), New York Penn (NYP), and Boston South (BOS).
Before going out of the lounge for food (or drink), ask if you can bring outside food back into the lounge; this can vary at different lounges. It's less frustrating if you know ahead of time you can't bring food into the lounge than learning that fact with your food in hand.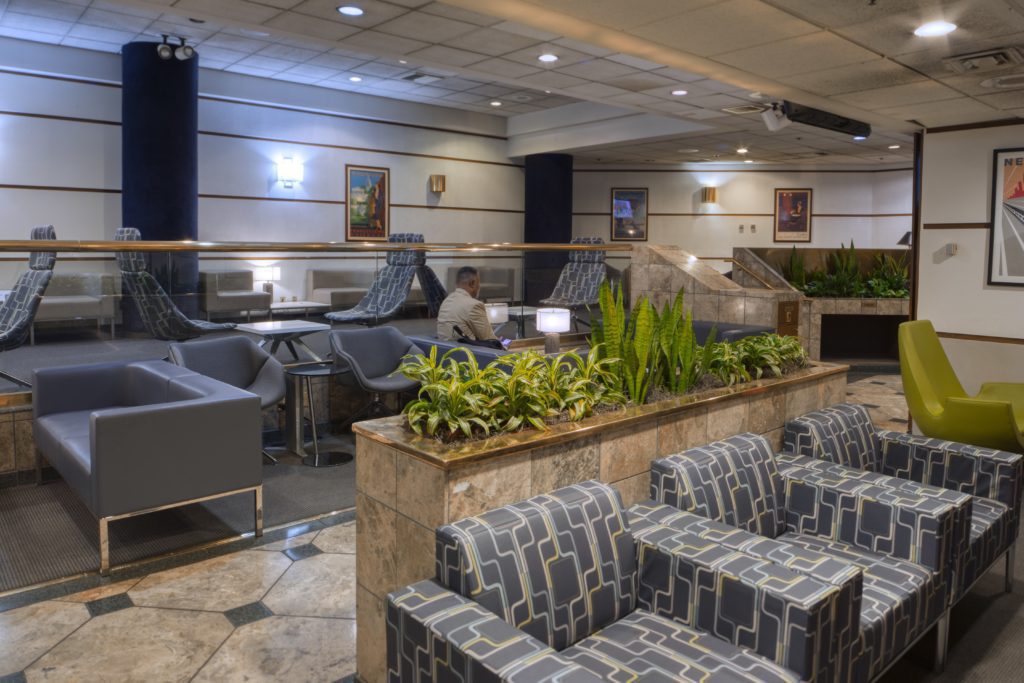 Things NOT To Do In An Amtrak Lounges
Most of this is common sense, and some of the points are my opinion, but I will still throw this out there. I hope this section does not come across as judgmental because the moral is considering your fellow passengers and the staff as you use these lounges.
Amtrak lounges are shared spaces
Be respectful, and remember this is a shared space. You may need to rearrange your bag, which takes up space, and that is alright as long as you consider others.
Especially if the lounges are busy, don't sleep or layout on the couches, or put your feet on the furniture. We might do it at home, I do, but it's not cool when you are in a public space. Besides, people don't want to put their food and drink on a table where you just had your feet.
Please clean up after yourself; it does not take that much effort. It is incredible how many people leave messes.
Remember that the food in the lounge is for more than just you. I recall waiting in the Metropolitan Lounge in Chicago; I saw a lady put two oatmeal containers in her purse. These were not cheap, quick oats but from a local coffee shop. To me, it looked very tacky and selfish.
Using Electronics in a lounge
When it comes to electronics, use headphones! Keep phone calls short or find an area that will not disturb others. Using the speakerphone option on your phone is disruptive to others; headphones can help instead.
Video calling (Facetime, Skype, etc.) is okay if you follow the same rules. People sometimes do not realize how loud they are when they talk on the phone and what information they accidentally share with others.
If you need to take up a lot of space to work, ask if the conference room is open for you to use, it will be easier for you and others. Sadly this section is based on the experience I had with other passengers.
Safe Travels,
Kev