Below is the Amtrak Hiawatha Schedule. The Hiawatha travels between Milwaukee and Chicago with three intermediate stops. In addition to the train, Amtrak has a connecting bus service for communities between Milwaukee and Green Bay, WI. There are talks of this bus line eventually becoming a train route.
Amtrak Hiawatha Basics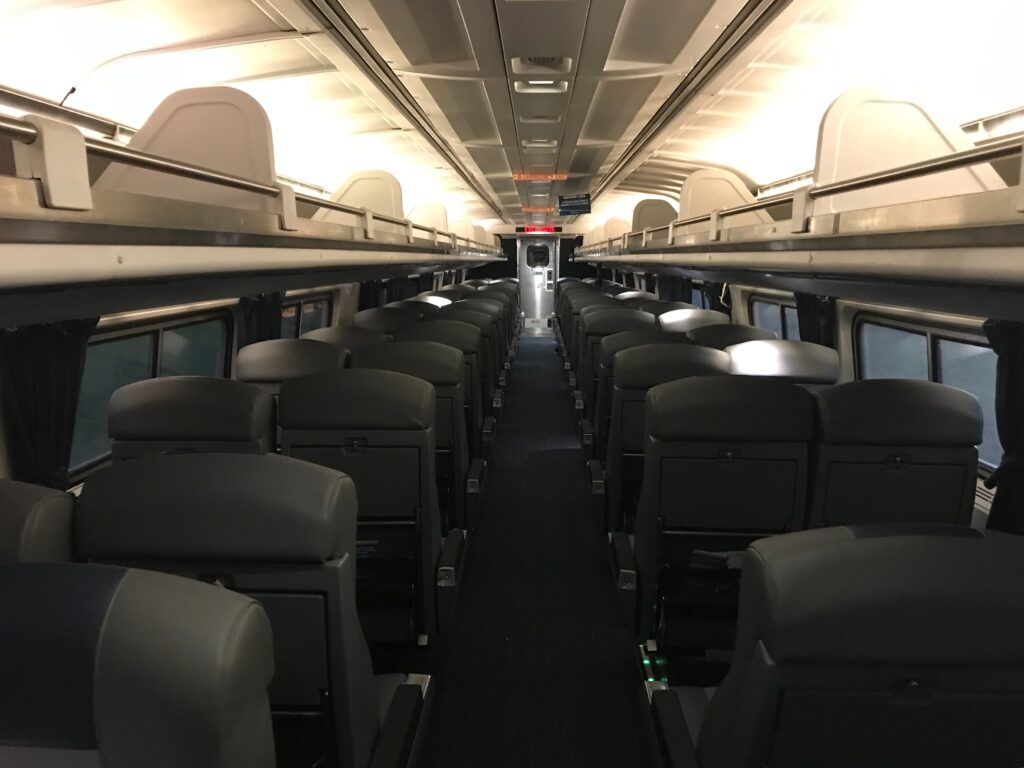 The Hiawatha has fourteen trains running between Milwaukee and Chicago. The average trip from start to finish is an hour and a half. The three interstate stops for the route include Milwaukee Airport, Sturtevant, WI, and Glenview, IL.
This train does not have food service. You are free to bring snacks along to consume on the train. Alcohol can be brought onto the train but not consumed while riding.
Seating is open, meaning no assigned seats. Any open coach seat is available for you, so you could sit next to someone you do not know.
The Hiawatha has a Quiet Car for passengers that want a quieter ride. The Quiet Car does not require special reservations and has limited seating.
The Quiet Car prohibits cell phone calls and, noise, loud talking, and you must use headphones for anything that makes noise.
Baggage Service, Bikes, Golf Clubs, And Pets
Checked Baggage – Amtrak could be phasing out checked bag service on all Hiawatha lines. When it is available, it is only available in Chicago and Milwaukee and not at any of the intermediate stops.
Bicycle and Golf Clubs – Space is available for standard, full-size bicycles and golf clubs; check the link for details. You must book your bike or clubs when making your reservation.
Pet – Amtrak allows dogs and cats up to 20 pounds (combined weight of pet and carrier) for trips up to seven hours. You must book your pet when making your reservation.
Wheelchair Lift – is available to assist passengers in boarding and detraining with a wheeled mobility device. They are available at all stations. When booking, indicate that you need assistance so conductors are aware that someone needs help and so they look for you.
Amtrak Hiawatha Schedule
The route averages an hour and a half from end to end in most cases; 339 is an hour and thirty-seven minutes. These schedules come from the official Hiawatha page and can be changed by Amtrak, Wisconsin DOT, or the Illinois DOT anytime.
Amtrak Hiawatha Schedule Southbound Trains
Amtrak Hiawatha Schedule Northbound Trains
8307 is a late-night bus.
Printable Amtrak Hiawatha Schedule
Amtrak I-41 Connecting Service
The Hiawatha has a connecting bus service; this is an Amtrak-branded bus and only services these Amtrak stops. Buses 7333 and 7338 are run by Lamers and connect to Amtrak trains but are not Amtrak-branded charter buses.
Southbound I-41 & Amtrak Hiawatha Schedule
Northbound I-41 & Amtrak Hiawatha Schedule
Printable I-41 & Amtrak Hiawatha Schedule