Are you planning a trip to the brew city by rail or bus? If so, the Milwaukee Intermodal Station will be a part of your trip, and this article covers the information you need.
The Milwaukee Intermodal Station serves both rail and bus passengers in the heart of downtown Milwaukee.
If you have a layover at this station, you have many opportunities to get around the city by walking, public transport, or taxi and rideshares.
A little history about this station
The Milwaukee Road Railroad built this station in the 1960s. During that time, the station housed passenger services for Milwaukee Road and Chicago & Northwestern passengers. The station also housed office space.
Later on, the Wisconsin DOT acquired the building, and Amtrak and bus lines started to use the station, creating a surface travel hub.
What you will see today
The Wisconsin Department of Transportation modernized the station in 2007, giving the building an updated look. Later on, in 2016, the train shed received much-needed updates to improve the passenger experience.
With These updates, the Milwaukee Intermodal Station is ready for the future for rail expansion to and through Milwaukee.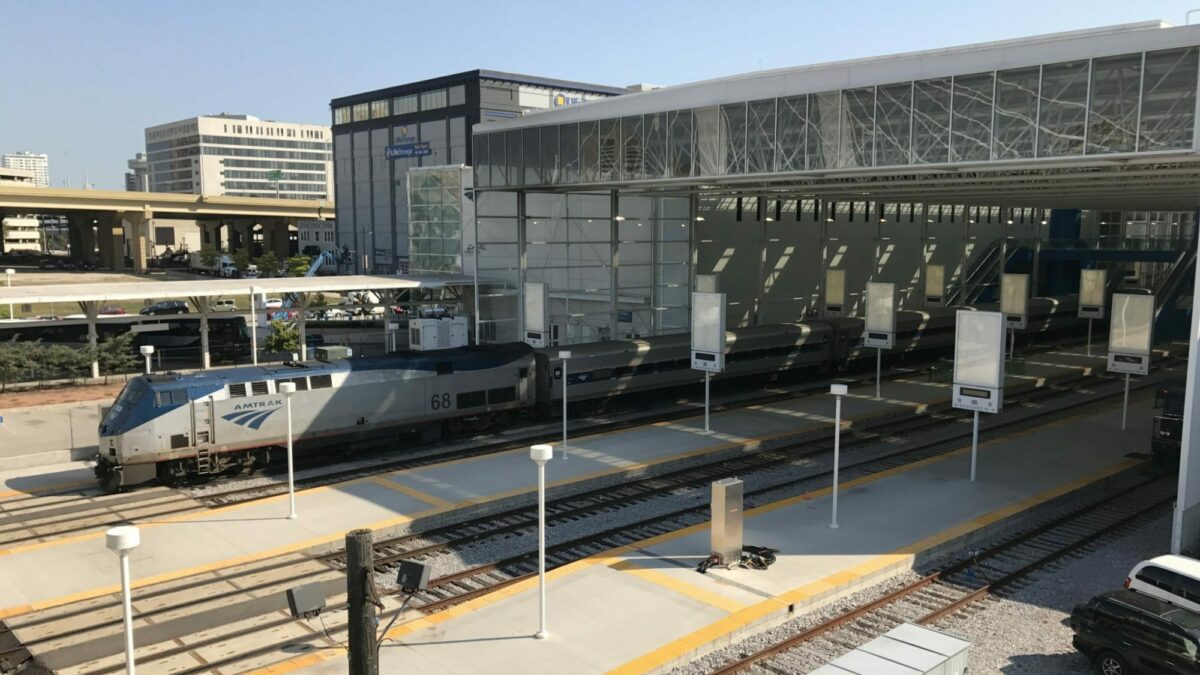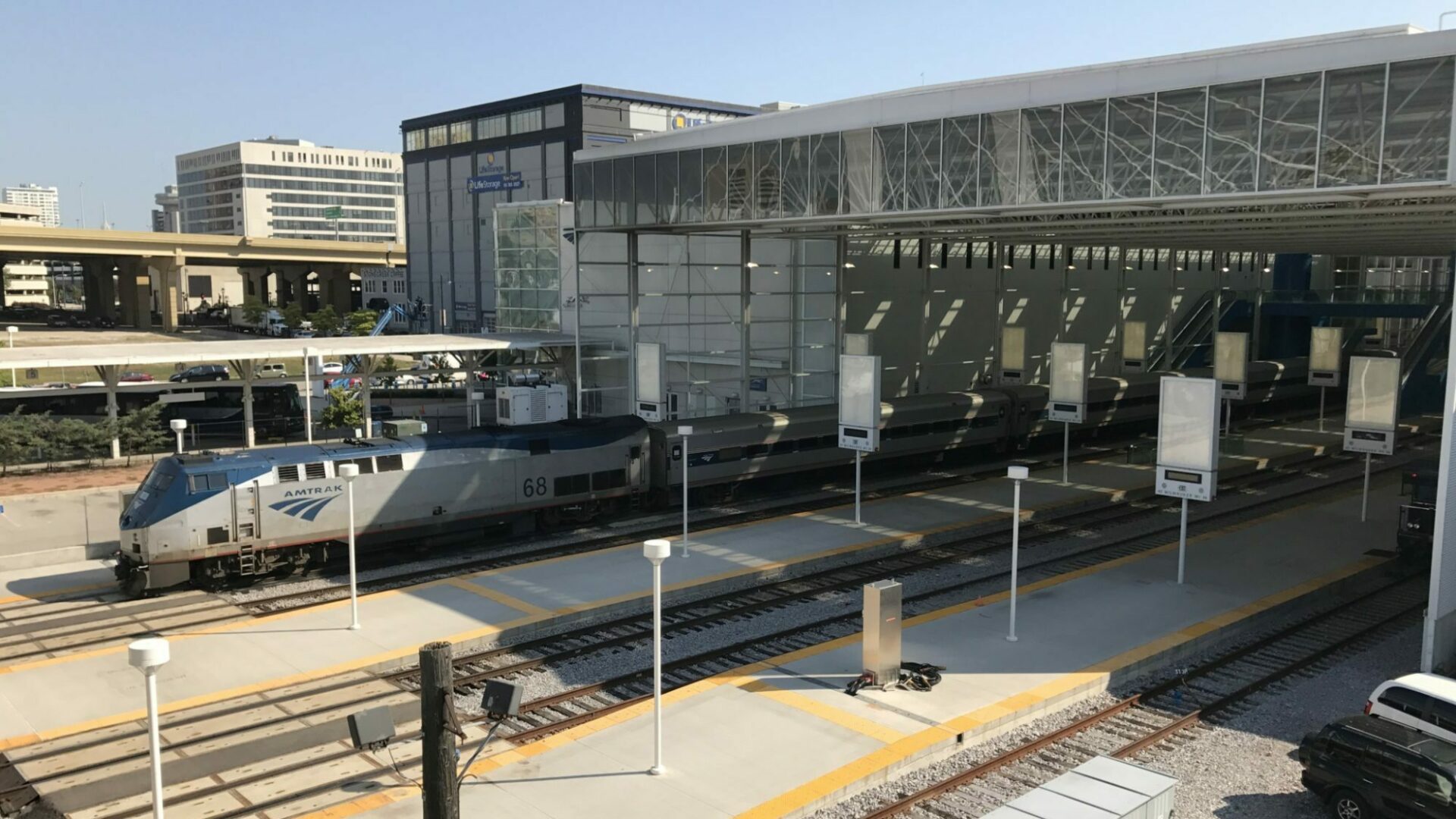 The Location of the Milwaukee Intermodal Station
433 St. Paul Avenue
Milwaukee, WI 53103
Fun Facts about the Milwaukee Intermodal Station
Amtrak Station Code: MKE
Annual station ticket revenue FY 2020: $8,536,034 *
Annual station ridership FY 2020: 311,350 *
WDOT own the platform, station, and parking lot (managed by an outside vendor)
The tracks are owned and maintained by the Soo Line/Canadian Pacific Railroad.
Amtrak routes served by the Milwaukee Intermodal Station
The Milwaukee Intermodal Station currently hosts two Amtrak train routes plus an Amtrak connecting service.
The Milwaukee Intermodal Station is the home to the Empire Builder, an Amtrak long-distance train to the Northwest, the Hiawatha, a regional train to Chicago, and an Amtrak Connecting Service Bus line up to Green Bay.
Empire Builder
The Empire Builder is the Amtrak long-distance route that runs between Chicago and Seattle/Portland.
The Empire Builder operates a daily train in each direction. Be aware that you cannot purchase tickets between Milwaukee and Chicago on this train. If you need to connect between these cities, try the Hiawatha.
Hiawatha
The Hiawatha is a regional train funded by the WDOT and IDOT. The Hiawatha operates seven round trip trains a day Monday through Saturday and six on Sundays.
While the Hiawatha is not a long route, it can be the start of many Amtrak Adventures. This train takes you to the hub (Chicago) of Amtrak's most prominent long-distance train and Midwest Regional hub.
Amtrak Connecting Service
The Amtrak Connecting Service can be a bus that Amtrak tickets and contracted, taking you to cities without rail service. Or Amtrak Connecting service could mean you use your Amtrak ticket on another bus service.
In many cases, if you want to book a connecting service bus, you need to have a train trip included, be aware when you book.
Amtrak Thruway I-41 Bus Service
| | |
| --- | --- |
| Green Bay, WI | Transportation Center, 901 University Avenue |
| De Pere, WI | Park & Ride – 100 Lawrence Drive |
| Appleton, WI | Transit Center – 100 East Washington Street. Motor The coach loads on Oneida Street. |
| Oshkosh, WI – UW | Gruenhagen Conference Center – 208 Osceola Street |
| Oshkosh, WI – Wittman Airport | Wittman Regional Airport Terminal – 525 West 20th Avenue. |
| Fond du Lac, WI | Radisson Hotel and Conference Center – 625 West Rolling Meadows Drive |
| Milwaukee, WI – Amtrak | 433 West St. Paul. Bay #7 |
| Milwaukee, WI – Airport | Motor Coach loads outside Baggage Claim Door #1. Walk across lanes to median/island. Look for signs. |
Milwaukee Amtrak Connecting Bus Stops
Amtrak Services at the Milwaukee Intermodal Station
Ticket agents are available for Amtrak services.
Staff is available if you need help with the train.
Check bag service (if your final destination has baggage service)

Amtrak Express shipping not available
Checked baggage service available
Checked baggage storage available
Bike boxes for saleThe number of bike boxes available in the station is limited.
Baggage carts available
Ski bags for sale
Bag storageBaggage storage is an area where passengers may store their bags, equivalent to "left luggage" in Europe. A storage fee may apply, often aroudn $10.
Shipping boxes for sale
Baggage assistance provided by Station Staff
Bus service at the Milwaukee Intermodal Station
Greyhound staffs the bus side of the station on the Westside of the lobby. Buses load just outside the West end doors.
The Greyhound ticket office is open from 3:30 a.m. until 4 a.m and from 6:30 a.m. to 11:30 p.m.
This information can change at anytime
Station amenities for all passengers
Seating for both rail and bus passengers
Vending machines
A cafe with food, bottled beverages, coffee, and more.
Convenience store
Wifi
There are usually plenty of taxis outside the station waiting for passengers.
Bublr bikes are available outside of the station.
Public transportation, both bus and streetcar stops, are within a reasonable walking distance.
Their are other food and coffee places avable within blocks of the station

A half a block North is Stone Creek Coffee's Factory Cafe.

Stone Creek offers brewed coffee, espresso drinks, food, and coffee accessories.

The Public Market is a few blocks East.

The Public Market offers a diversity of food vendors plus coffee and more.
Also offered is in and outdoor seating.
Wrap-up
If your next Amtrak adventure starts or ends at the Milwaukee Intermodal Stations, you now know all the basics for a successful stop through the station.
* Information from The Great American Station