Sadly, Amtrak does not have trains everywhere we want them, but Amtrak took a page from its predecessors to solve this problem. Back then, Illinois Central and other railroads used buses and other transportation to connect passengers to their trains. Amtrak Connecting Service and Thruway Service is an economical and often comfortable way to reach your destination or connect with a train when no tracks or right aways are available.
This article will help you plan your next trip if you see Amtrak Connecting or Thruway Services as part of your future travel plans.
What Are Thruway And Amtrak Connecting Services
Amtrak extends its reach to communities without rail service for more destinations. In general, connecting and thruway services are the same; buses, vans, taxis, commuter trains, or ferries that connect you with Amtrak trains. The difference is who runs the routes.
Connecting Service
Connecting services is when Amtrak sells tickets for another transportation company's services, such as Greyhound. These services could have a self-transfer across town, or you might transfer at the station.
Example: Chicago and Mobile, AL, you take the City of New Orleans to New Orleans and then transfer to Greyhound's Route 1596.
Thruway Service
Thruway service is when Amtrak charters a service to line up directly with their train's schedule. Often these have shorter layovers, and transfers are always at the station.
Example: Califonia Zephyr to San Francisco, the train runs to Emeryville, CA, so Amtrak runs an Amtrak-branded bus to the city.
In either case, these services are part of your reservation when booking tickets.
These days Amtrak is not the only one that uses other forms of transportation to get its passengers where they need to go. American Airlines started to use vans and buses as well.
Amtrak Connecting Service – Buses And Other Carriers
Again, Amtrak Connecting Service is when an Amtrak ticket contains another transportation that is not one of their trains. This service could include another rail company, ferry, taxi, bus, etc.
Where Do I Transfer?
The short answer is it depends, and Amtrak is straightforward if you need to self-transfer when you book.
Sometimes these connect services are at the train station like Milwaukee, WI, or Chicago, IL. So you get off the train and pick up the bus outside the station.
A self-transfer is where your connections bus is not at the train station you get on or off. The transfers could be a short walk, like in Pittsburg, PA, where the bus station is across the street. But sometimes the self-transfer may be some distance where you may need a ride share or taxi to get where you need to go.
Booking Amtrak Connecting Service
Booking is easy; it shows up the same as a connecting train. As you book, check all the transfers you have on your journey so you know what is happening with your trip.
Amtrak allows extra layover time to transfer and for late trains (to the best of their ability). With connection services, it is best not to make a fancy booking with them because you could lose transfer privileges.
Some connecting tickets are for a specific time, but sometimes tickets are open where you can take a different time than what is on your reservation. Ask onboard staff or Amtrak agents if you have questions.
A Few Tips For Amtrak Connecting Service
You cannot check your bags with Amtrak and have them transferred to the next leg of your trip. So pack light and be prepared to carry your luggage. Most buses allow you to stow your luggage during your ride. You may be able to check bags with the connecting service.
Bringing extra snacks and entertainment will help fill your time and prevent you from getting hungry at layovers and traveling.
Some companies, like Greyhound, offer onboard entertainment that you can access from your phone or tablet. These days most buses have Wi-Fi and an outlet, but they may not be the best and could be one outlet for two seats.
A power bank may help ensure your devices stay charged if there are no outlets or they do not work. A charger with a longer cord and an extension cord can make things more comfortable for you; often, the outlets are low.
If you need Wi-Fi, check if your phone can work as a hotspot or get a separate one. Keep an eye on your data plan if you do not have unlimited.
If you are booking a trip where you do not plan to use a connecting service right away, such as spending the night, it may be best to book directly with that carrier. An example is taking the train to Champaign, IL, and going to Normal the next day. Amtrak does tell you what the bus company is when booking.
Amtrak Thruway Service FAQs
Amtrak established a Thruway service with guaranteed connections on select routes to connect passengers with Amtrak trains or destinations with dedicated chartered buses, taxis, or vans.
Often buses are Amtrak-branded, but not all time. It depends on the route.
Buses Sometimes Finish A Train Route
Some train routes get lengthened with these Amtrak Connecting Bus Service. Routs like the California Zephyr to or from San Fransico, the bus takes you over the Bay Bridge. Amtrak California uses Thruway buses to connect passengers to the San Joaquin and Pacific Surfliner trains.
Buses Connecting One Train To Another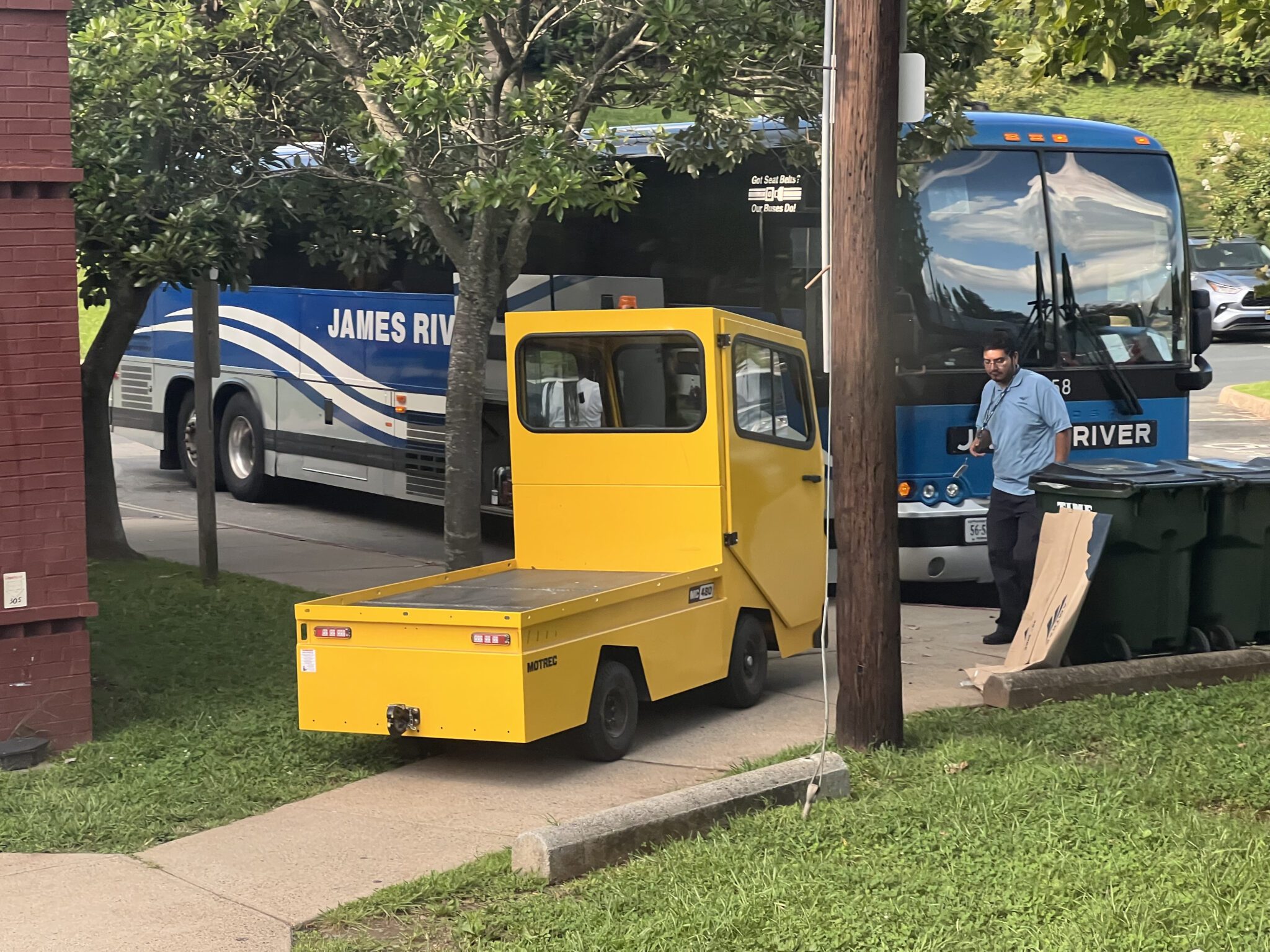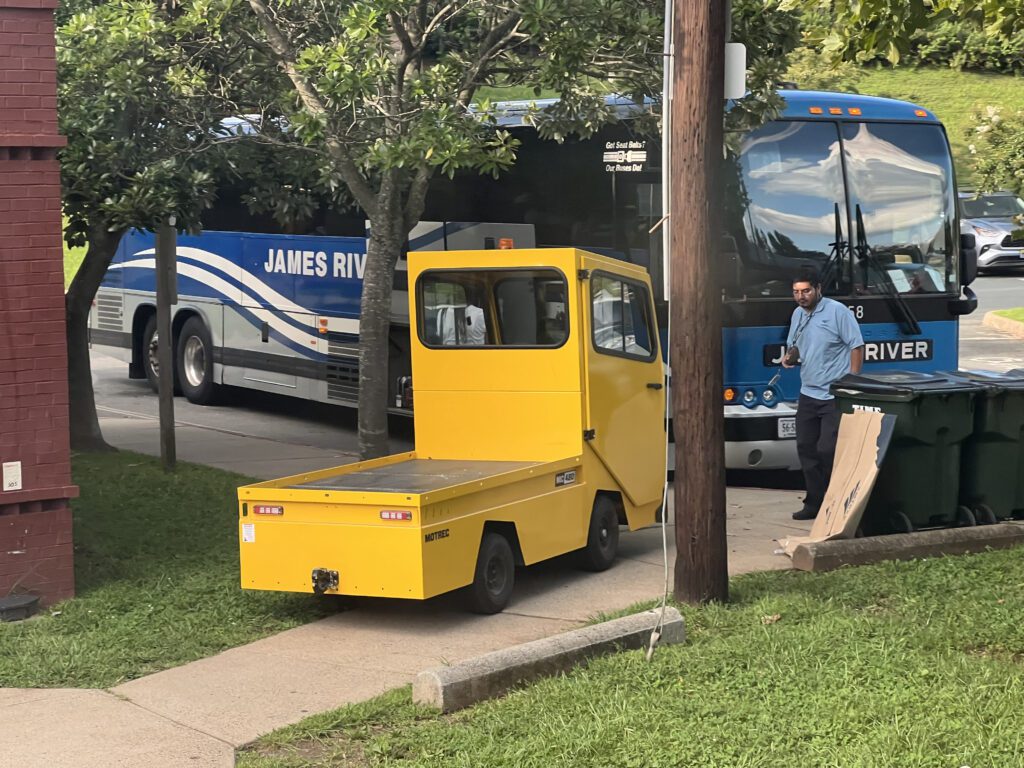 Sometimes, you may need to take a Thruway Service bus to get from one train to the next.
A great example is a bus connecting eastbound Cardinal to catch the Silver Meteor. In this case, the Amtrak Thruway Bus connects Charlottesville, VA, and Richmond, VA.
Some Amtrak Stops Are Bus Only
Your transfer point may be at a station like Milwaukee Intermodal Station, where it connects with the I-41 bus. Some Amtrak stations and stops never see a train, such as St Petersburg, FL, an Amtrak connection stop for the Silver Service, and a few intermediate stops.
Travelers Note
There is not always a station for these buses and vans. Some stops are signs on a pole, such as in San Fransico.
In these cases, look for the sign so you know the right place at the right time. Check out this article about unstaffed stations if you want more information. In this case, the bus and train are similar.
I Have A Short Layover With An Amtrak Thruway Bus; Is that okay?
Absolutely! Amtrak would not offer these connections if they were not okay. Since these buses and vans are train specific, they will wait for you.
For example, suppose you are taking the California Zephyr to San Fransico. The train will take you to Emeryville, and the Amtrak Connecting Bus will take you over the Bay Bridge. If the Zephyr is early, the bus may leave as soon as all passengers board or wait for you if the train is running late.
Getting Tickets For Amtrak Thruway or Amtrak Connecting Service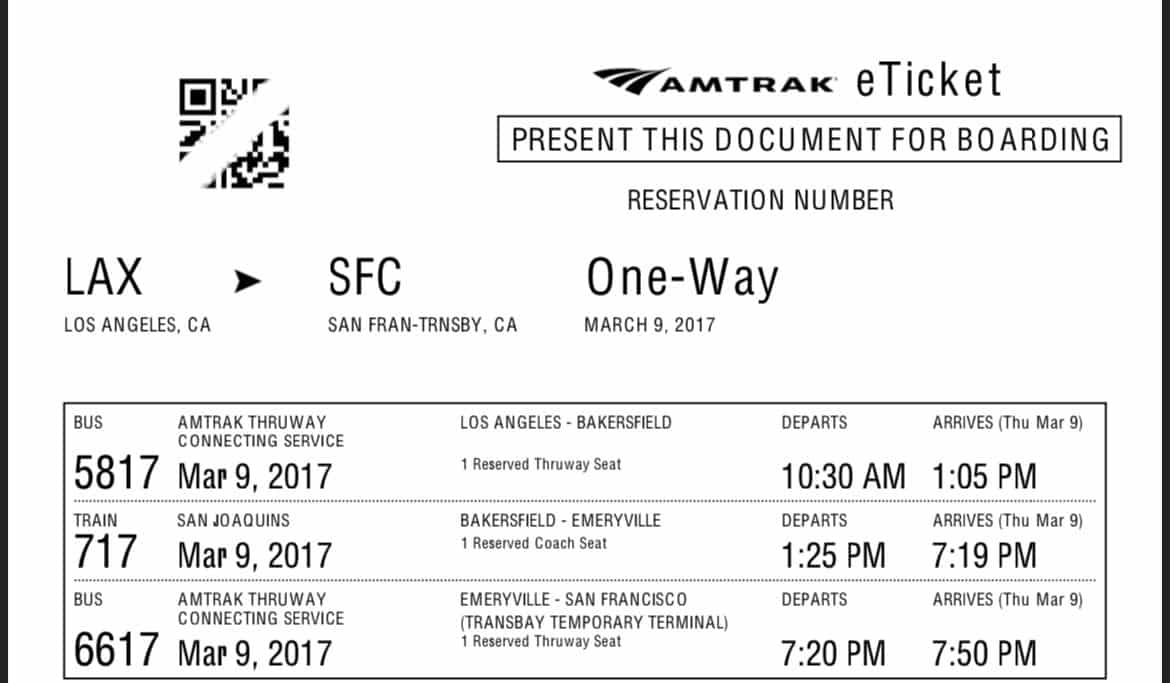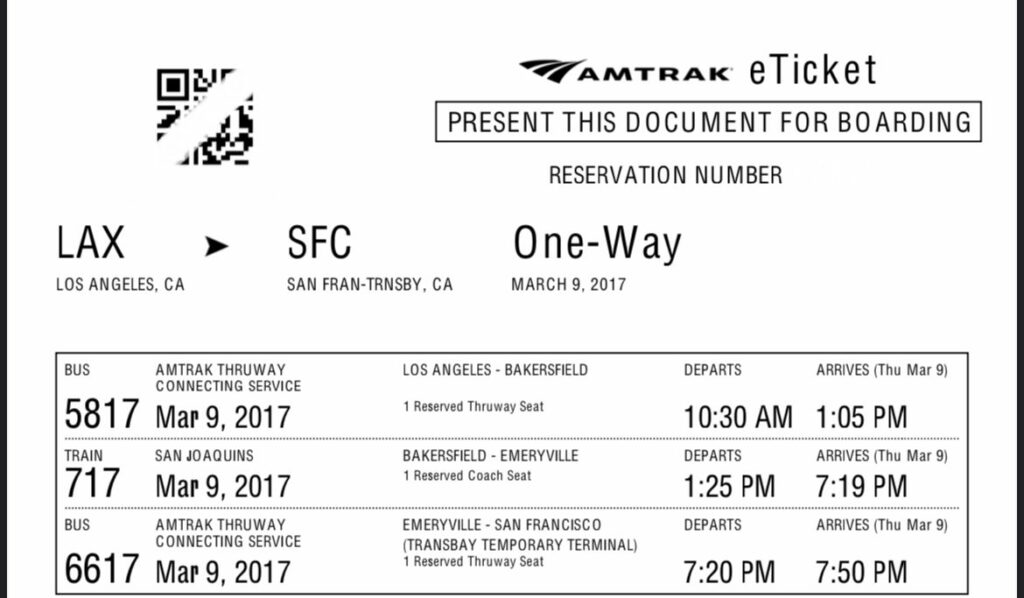 Booking tickets for these services with Amtrak should feel no different than booking any train.
Sometimes, you may be unable to book an Amtrak Thruway Service without it being part of a train ticket. So, if you get an error message when you book, that could be the cause. In this case, you may need to start or end your trip on a train.
Wrap-up on Amtrak Connecting Service
When traveling getting from where you want to start and where you want to finish is essential. If you are planning an Amtrak adventure, it could mean you are traveling on something other than an Amtrak train.
While we may love train travel, sometimes a bus or other transportation may be necessary to go where we want to go. I have done it a few times and had an enjoyable time.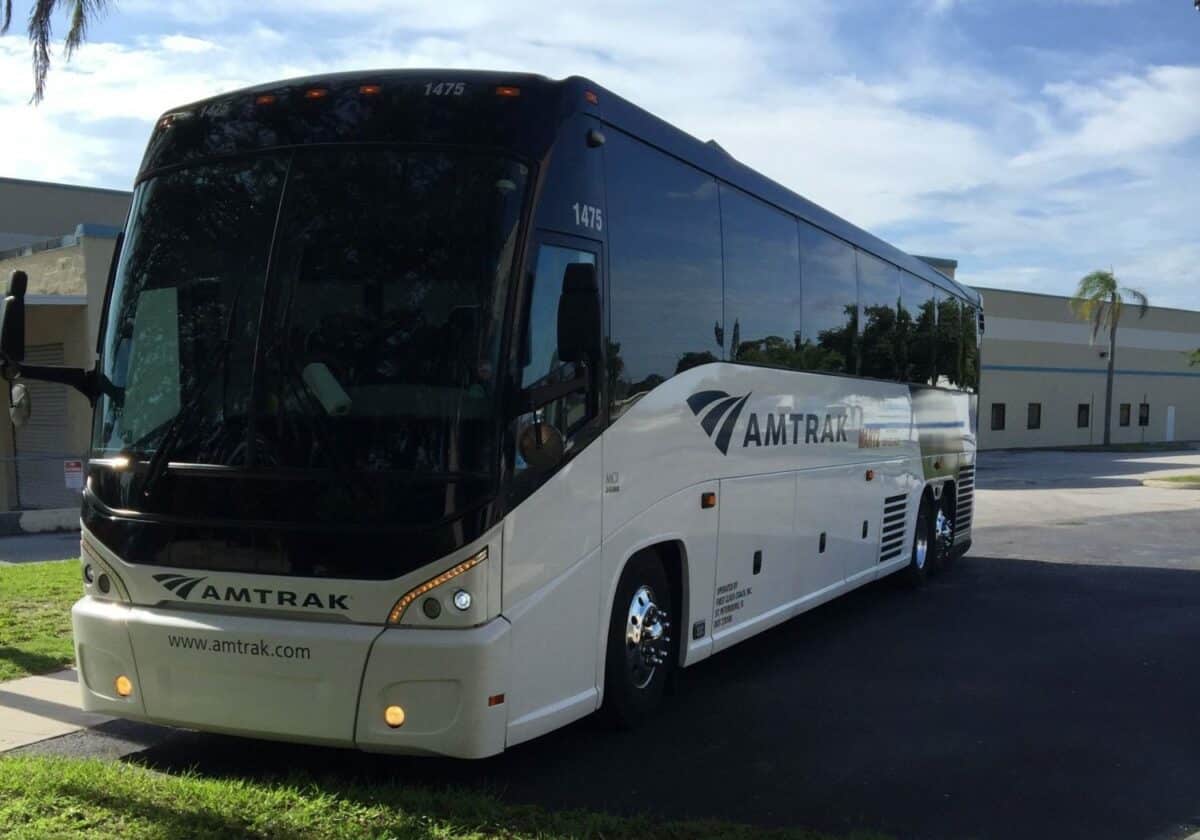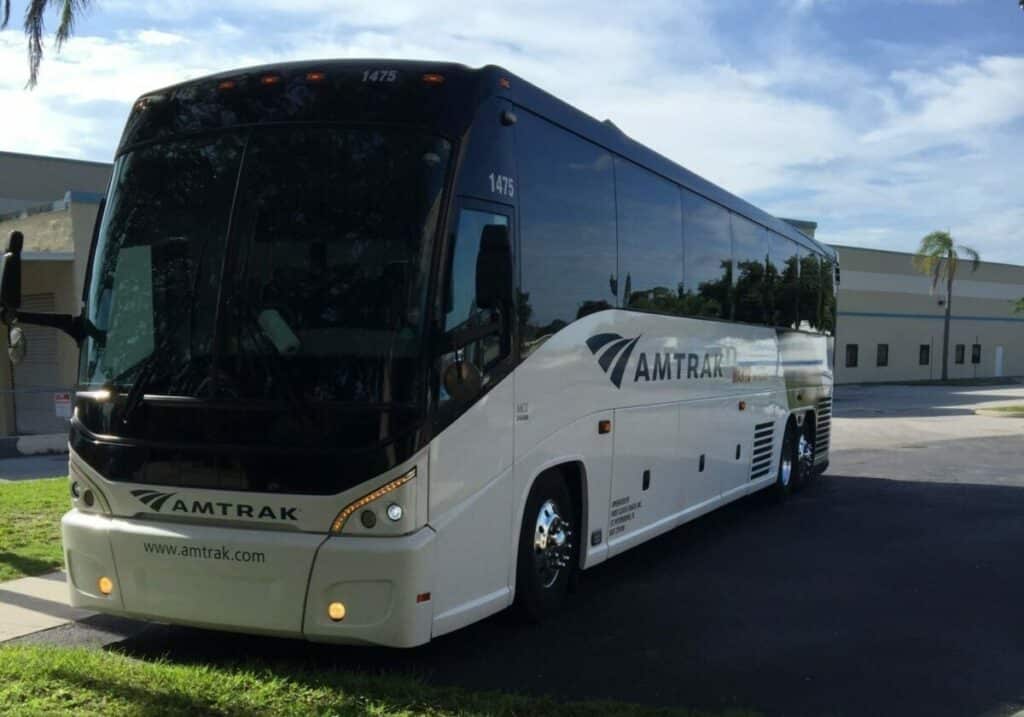 The best thing you can do is pay attention in the booking and research phase to avoid a surprise when traveling. When you enter your starting and ending point into the app or website, Amtrak will inform you how many transfers you will have and what kind of service. It is your responsibility as a traveler to check these things out. If you don't, that is on you and not Amtrak.
Pay attention to layovers and transfers. See if you have to self-transfer or if you are staying at the station. If you do, have a plan in place. Sometimes a self-transfer could be a walk across the street, or it could be across town.
Bring some extra entertainment for layovers with some snacks. Power bricks and chargers with longer cords can keep your phone and electronics charged.
No matter how you go, a great attitude and realistic expectations can ensure the best trip within your control.
Have a great trip, and don't worry about short layovers on the Thruway bus service.
Safe Travels!
Kev
Would you like train travel info in your inbox?
Consider joining the Travel with Kev email list for info, tips, and tricks for Amtrak travel.