Did you know you can take an Amtrak train between New York, New York, and Montreal, Quebec? You can, plus there are several intermediate stops for this train. This page offers printable Amtrak Adirondack Schedule pdf and information on the train's accommodations and services.
Temporary Amtrak Adirondack Schedule Changes, Service Alerts, And Notices
Below is a link to Amtrak's service disruption and service changes to schedules and station amenities. It doesn't hurt to check as you book and check back a few times before leaving for the station.
Amtrak Adirondack Service Accommodations
Here is an overview of what you should know to prepare for your next trip aboard the Adirondack!
Coach Class
Amtrak Coach seating offers comfortable seats, a fold-down tray, individual reading lights, and 120v electric outlets.
Restrooms are on the end of one car with trash cans on the other. If you bring luggage aboard, there are overhead shelves, or you can use the racks when you walk into the car.
Business Class
This train does not offer business class.
Wi-Fi & Entertainment On Amtrak
This train offers free Amtrak Wi-Fi but it may not be available in Canada.
The service is cell-based and may have dead spots. Additionally, the service is not for streaming. Amtrak does not entertain like other transportation, but here are some ideas for entertainment on Amtrak.
Food
The Cafe Car
The cafe car offers a variety of hot and cold meals, snacks, and hot and cold beverages, including adult drinks.
The cafe car is open for most of the journey; it may be closed for breaks, border crossing, and at the start and end of your trip.
Conductors and the cafe car attendant will let you know when it is open and its location.
Cards are accepted the whole route; Canadian funds may be restricted to the Canadian section.
Bringing Food On The Adirondack
Amtral allows you to bring food and drink aboard the train; if crossing the border, check to ensure you can import food and drink.
While you can bring alcohol on the train, you can't consume it on the rails. If you get caught drinking your own or get out of hand, the train's next stop will be yours.
Bikes
This train does not allow bikes aboard.
Pets
Amtrak allows dogs and cats up to 20 pounds (combined weight of pet and carrier) for trips up to seven hours; here is more information on bringing pets on the train.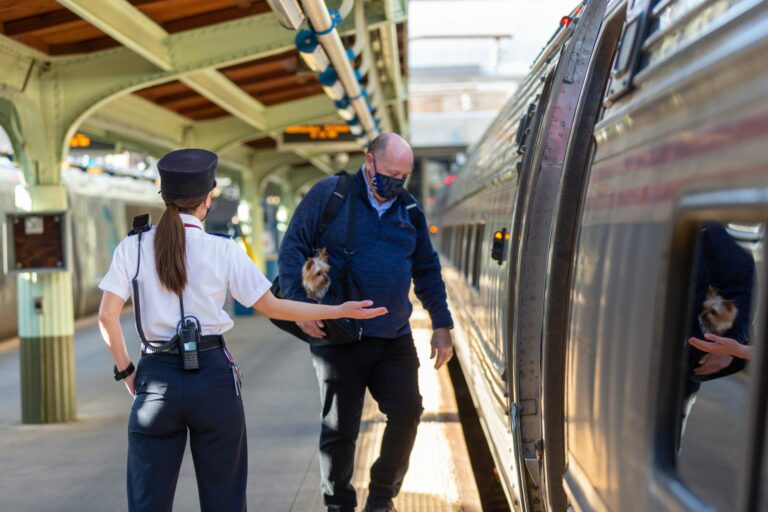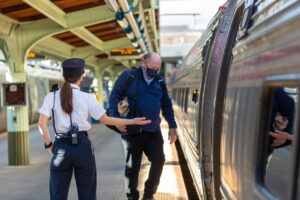 Luggage
This train does not offer a checked bag service.
Each passenger may carry on:
One personal item, 25 lbs. (12 kg) and 14 x 11 x 7 inches, and
Two carry-on pieces of luggage, 50 lbs. (23 kg) and 28 x 22 x 14 inches each
If you transfer to the Pacific Surfliner at some point along your journey, the baggage size for that train is up to 28 x 22 x 11 inches each. 
Charges apply for additional and oversized luggage; check out Amtrak's carry-on bag policy for more information.
A Quick Look At Requirements and Guidelines For Crossing The US/Canadian Boarder
To cross the border, you need a passport or other ID. Ensure you are prepared to cross the border before booking your trip.
You must be prepared and honest when dealing with border officers to ensure things go smoothly.
Be aware of what you can bring into the country you are going to, including money and agricultural goods.
Sites like Customs and Border Protections can help you travel into the USA and Canada Border Services Agency for crossing into Canada.
Delayed To The Amtrak Adirondack Schedule Due To Border Crossings
You may experience delays at border crossings. Such delays are usually due to either or both US and Canadian customs and immigration procedures, and these delays are beyond Amtrak's control.
Passengers will detrain with baggage at the border, should be prepared to show the ID selected when making reservations, and will reboard the same train.
Amtrak Adirondack Service Schedule Overview
This guide uses available information from Amtrak.com; times could change since this article was published. Check with Amtrak or your ticket to ensure the times do not vary.
If there are two times, the first is the arrival, the second is the departure, and if there is only one, it is a quick stop.
Click on the stations to see the services offered at that stop.
Amtrak Adirondack Service Schedule Timetable
68
Southbound
Communities Served
By the Adirondack
69
Northbound
Read Up
Miles
Read Down
Daily Train
Last Stop
–
11:10a
Montreal, QC T
Gare Centrale/Central Station (MTR)
8:16p
0
11:25a
St-Lambert, QC (SLQ) T
8:03p
4
1:05p | 2:15p
Rouses Point, NY (RSP) T
4:33p
49
2:45p
Plattsburgh, NY (PLB) T
3:57p
72
3:46p
Westport, NY (WSP) T
2:32p
112
4:11p
Port Henry, NY (POH) T
2:09p
123
4:35p
Ticonderoga, NY (FTC) T
1:47p
140
5:07p
Whitehall, NY (WHL) T
1:14p
162
5:33p
Fort Edward, NY T
Glens Falls (FED)
12:51p
184
6:02p
Saratoga Springs, NY (SAR) T
12:30p
203
6:38p
Schenectady, NY (SDY) T
12:03p
222
7:00p | 7:40p
Albany-Rensselaer, NY (ALB)
11:20a | 11:40a
240
8:03p
Hudson, NY (HUD)
10:52a
267
8:25p
Rhinecliff, NY (RHI)
10:30a
293
8:40p
Poughkeepsie, NY (POU)
10:13a
308
9:21p
Croton-Harmon, NY (CRT)
9:29a
349
9:42p
Yonkers, NY (YNY)
9:09a
367
10:15p
New York, NY
Moynihan Train Hall (NYP)
8:40a
381
Final Stop
Station Stops
Read Up
Miles
T + This could be a temporally suspended stop due to CN track issues. Check with Amtrak.com for more updates.
A Printable Amtrak Adirondack Schedule
Feel free to print out or download this page from Amtrak.
Connecting To VIA Rail From Amtrak Adirondack
If you want to see Canada by rail, VIA Rail is the railroad you want to connect with! You may need to overnight in Montreal to make some connections.
From Montreal, you can explore Canada with VIA Rail!
More options are possible; visit the VIA Rail to see where the train can take you!
Does The Amtrak Adirondack Schedule Fit Your Needs?
If it does, there are a few ways to book, and you can book online using the website or the app or call 1-800-USA-Rail.
Amtrak Adirondack Schedule Wrap-up
The information for these guides comes from Amtrak, and Amtrak can change times anytime. This site does not represent Amtrak.
My goal is to keep these as updated as possible.
Safe Travels,
Kev
Would you like train travel info in your inbox?
Consider joining the Travel with Kev email list for info, tips, and tricks for Amtrak travel.