Are you working on a train trip and wondering about Amtrak Wi-Fi? You might have questions like what trains have Wi-Fi and what you can expect. If these or other questions are running through your head, you are in the right place.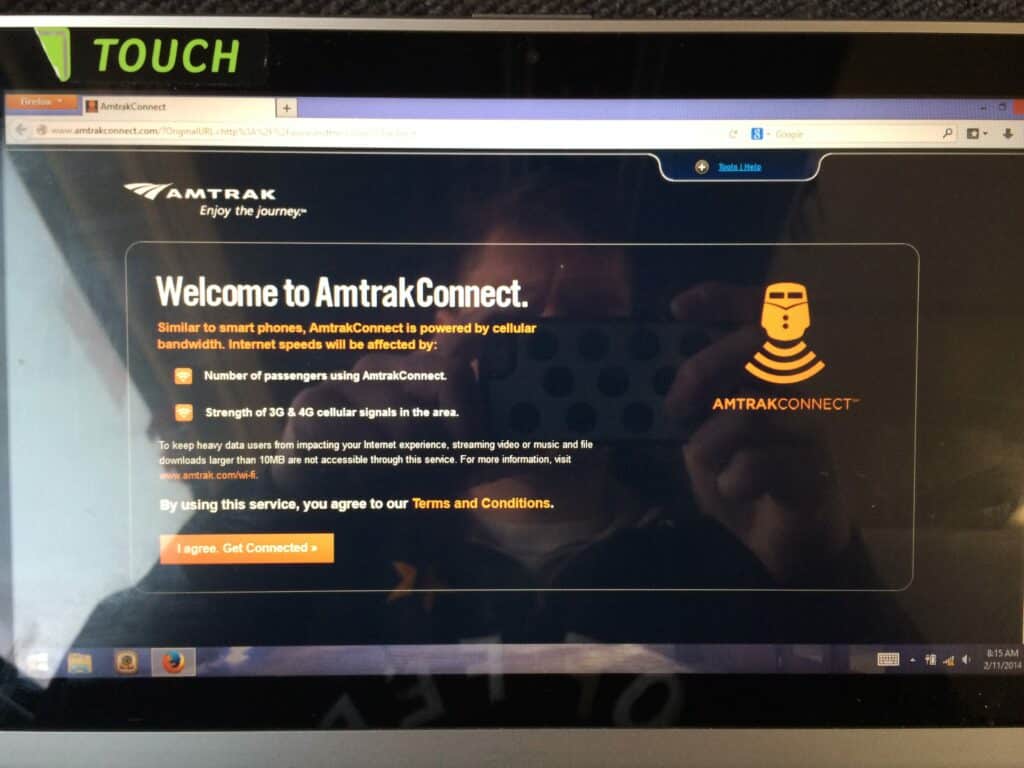 Amtrak introduced Wi-Fi in 2014 on a few regional trains and since then has expanded to cover most regional and some long-distance trains.
This article will help you set your expectations regarding Wi-Fi on Amtrak trains.
Amtrak Wi-Fi can help get that last email out or update your social media, but probably not help you binge your favorite show.
Later in the article, I'll share my tips for traveling with "smart devices" and share what I do when I need to say connected while traveling Amtrak.
My first experience with Amtrak Wi-Fi was aboard the Hiawatha during the first week it became available.
Amtrak trains with Wi-Fi
Not all Amtrak trains have Wi-Fi, but below is the list of trains with Wi-Fi.
Trains with Amtrak Wi-Fi
Acela
Adirondack (not available in Canada)
Amtrak Cascades (not available in Canada)
Amtrak Hartford Line
Auto Train
Blue Water
Capitol Corridor
Carolinian
Downeaster
Empire Service
Ethan Allen Express
Illini/Saluki
Illinois Zephyr/Carl Sandburg
Keystone
Lake Shore Limited
Lincoln Service
Maple Leaf (not available in Canada)
Missouri River Runner
Northeast Regional
Pacific Surfliner
Palmetto
Pennsylvanian
Pere Marquette
San Joaquins
Silver Meteor
Silver Star
Valley Flyer
Vermonter
Wolverine Service
Amtrak Stations with Wi-Fi
Below are the stations with Wi-Fi; that said, it may not be available in all station sections.
Some stations have Wi-Fi available, like Milwaukee, but it is not Amtrak Wi-Fi, so it is not listed.
Baltimore, MD – Penn Station
Boston, MA – South Station (inside the lounge only)
Chicago, IL – Union Station (not available in all areas of the station)
Lorton, VA
New York, NY – Moynihan Station
New York, NY – Penn Station (in gate areas and inside the lounge)
Philadelphia, PA – William H Gray III 30th Street Station (in gate areas and inside the lounge)
Providence, RI
Sanford, FL
Washington, DC – Union Station (in gate areas and inside the lounge)
Westwood, MA – Route 128
Wilmington, DE – Wilmington Station
Station Wi-Fi is better than train Wi-Fi, but it can be slow due to the number of people on the network.
How to hook up to Amtrak Wi-Fi
Step one is connecting to Amtrak Wi-Fi, going to the device's settings, and looking for Wi-Fi; the photos are from my iPhone.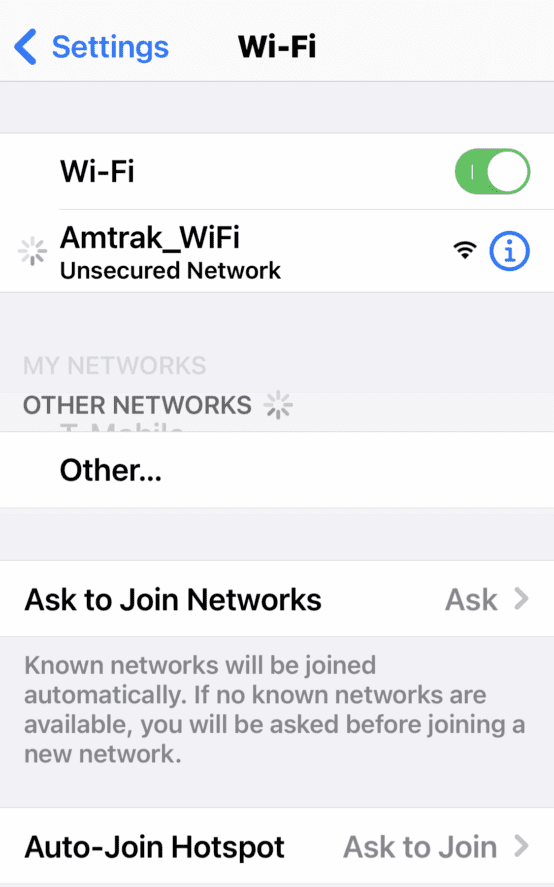 Step two: wait a few seconds, and your web browsers should pop up with the terms and agreement page. If not, try opening up your browser.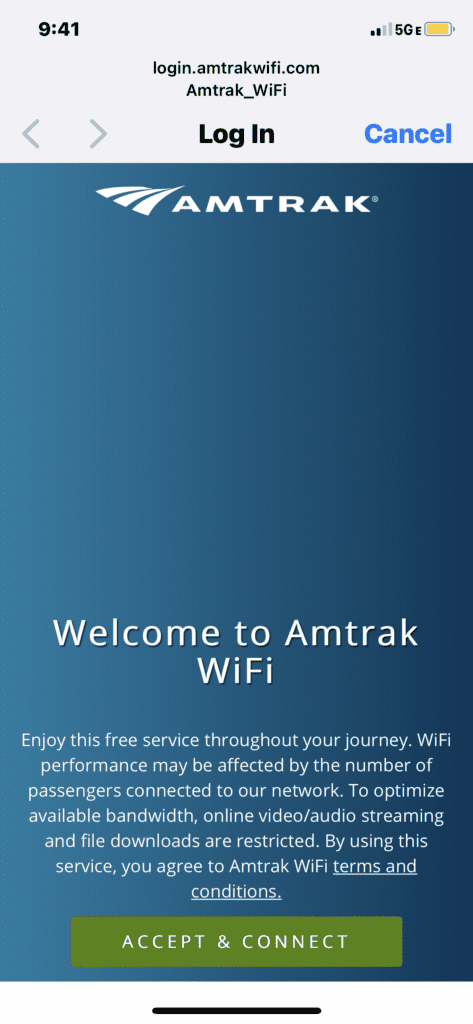 Step Three: wait for a few seconds, and this screen should appear. From here, click "done," check out the latest Travels with Kev article and enjoy the rest of the interwebs.
To make things easier, set this network to auto-login. If you no longer want to use Amtrak Wi-Fi, you can turn off your Wi-Fi for your device or hit the forget network.
Can you use your VPN with Amtrak Wi-Fi?
Yes, Amtrak Wi-Fi allows for VPN traffic.
What kind of service can I expect?
The Golden Rule of Amtrak WiFi is it supports general web browsing.

Amtrak's website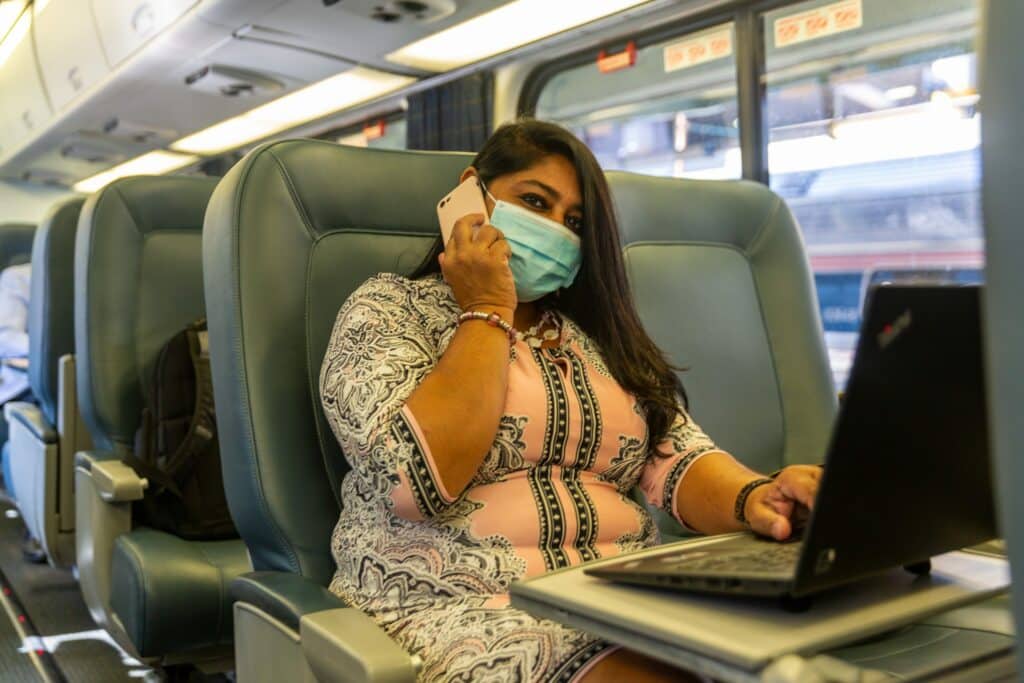 Amtrak Wi-Fi is a cell-based service, so dead spots or weak signals happen.
Also, like at home or elsewhere, the system could slow down if many people are trying to send their TPS reports simultaneously.
Sometimes "things happen," and the train might not have Wi-Fi during your journey.
Amtrak Wi-Fi may block large files and streaming.
The Wi-Fi receivers are often attached to the cafe car's roof or the cab-baggage cars. The train distributes the signal to the rest of the train from that hub. You probably will not have service if the train goes through a tunnel.
What can you and cannot do with Amtrak Wi-Fi?
What you can do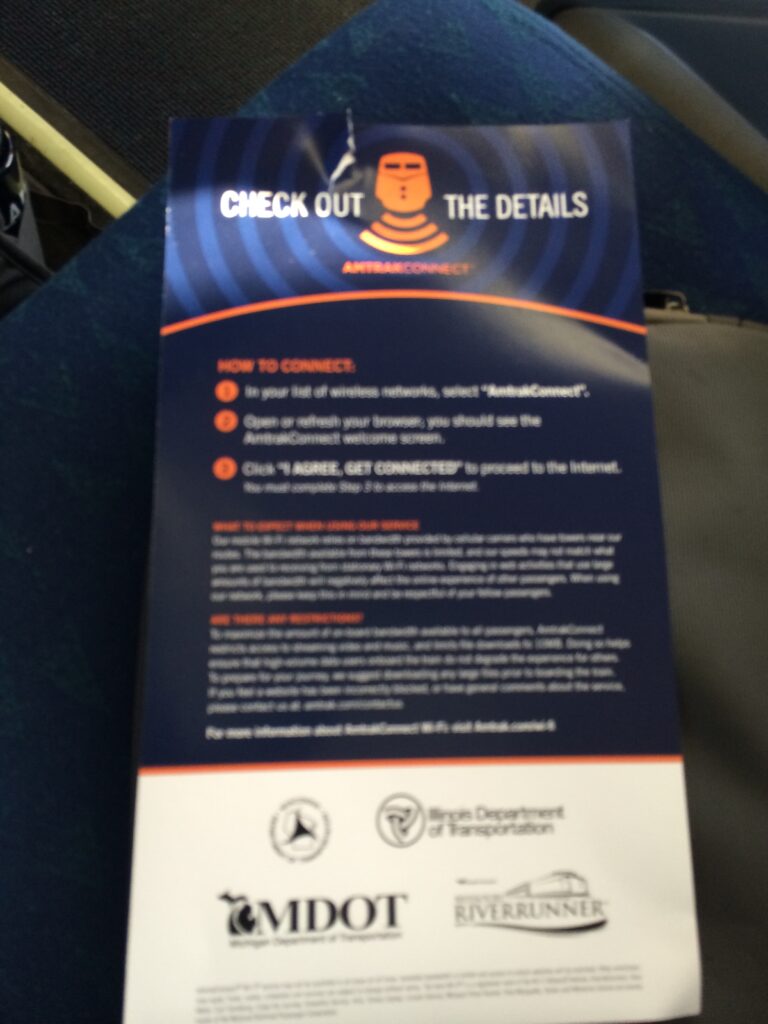 Amtrak Wi-Fi is set up for you to do simple searches like checking the train's status, web surfing, and plane emails.
What you cannot do
The system is not set up to handle a cross-country game of Call Of Duty, video streaming, or up or downloading large files.
Amtrak Wi-Fi will limit access to streaming media and large file sizes to maximize the amount of onboard bandwidth available to all passengers.
In addition, Amtrak restricts access to websites with "objectionable content."
So if you want to check the train status, verify reservations, or need to send out a plain text email, check out this site, or your social media, then Amtrak Wi-Fi could work just fine for you.
Why use Amtrak Wi-Fi
One reason to use Amtrak Wi-Fi is it is free. With that said, remember that Amtrak Wi-Fi is free, so set your expectations accordingly.
The other reason is the train may have service when your phone does not, so if you have Wi-Fi calling, you might still be able to make a call or send web-based texts.
Alternatives
Some of these suggestions come from my experience, and others are from Amtrak.
Download before you go
The best thing you can do is download large files and entertainment before leaving. Excel and Powerpoint files are often more significant than you realize.
Services like Amazon Prime, Netflix, DisenyPlus, and others allow you to download shows and movies to your device.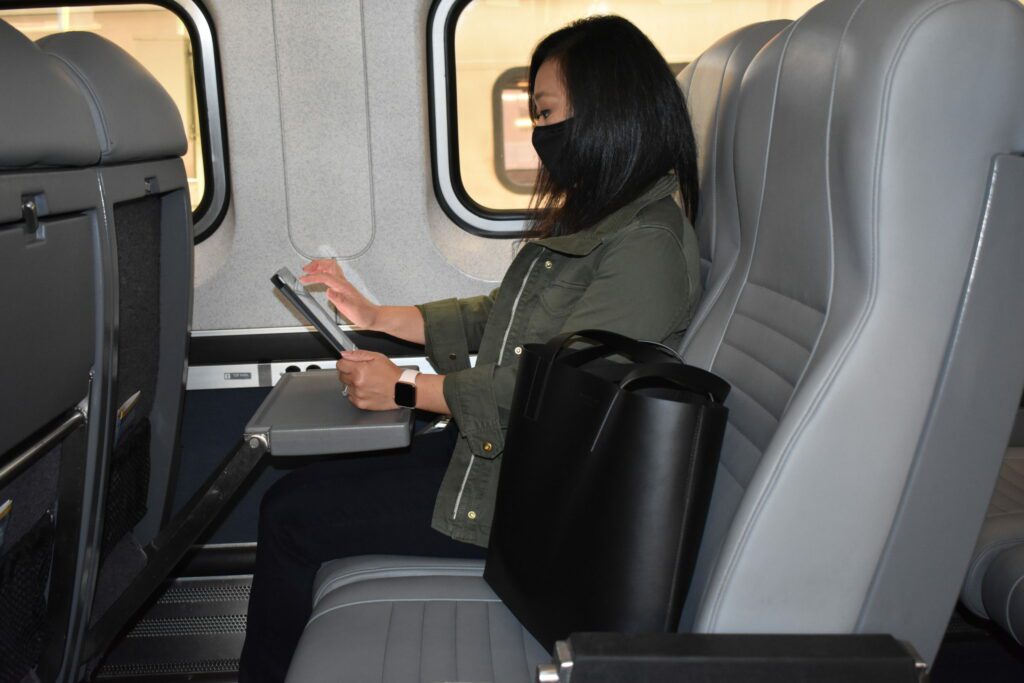 Sometimes videos may "expire" after watching them, so you may need to jump to a Wi-Fi source to renew your shows if you want to watch them again.
Often, services give you 48 hours after watching a program to enjoy it again before it expires, so this may not be a problem depending on your trip. If your journey includes a layover, you may be able to replace movies with some "new" ones.
Netflix and others may offer the option to delete watched shows and upload new ones automatically. This option could work well if you get on Wi-Fi during a layover; you could have new shows uploaded on your next train or connecting service.
This option might work with Amtrak Wi-Fi, but it might not. Please note that if you have this option set and try to hook your tablet to your phone, it may try to upload in the background, which may use up a lot of data.
Bring your Wi-Fi.
If you need Wi-Fi or higher speeds, consider getting a personal hotspot or tethering your phone to your device.
Many cell plans offer these options. Some cell phone plans have better deals and data allowances than others, so it could be worth shopping around for a new phone, especially if you travel often.
If you use this option and do not have an unlimited plan, keep an eye on how much data you use, for it is easier to use than you think.
If you go with a hotspot and don't plan on using it often, a pay-as-you-go plan might work out great.
Like with Amtrak's Wi-Fi, there are areas where you may not have any service, or it could be weak.
My experience
I never plan to have Wi-Fi on a train, but I am happy when it does. Even if the train is supposed to have it, I set my expectations to it doesn't.
Since I am not paying for Wi-Fi, I take it for what it is.
How can a cell-based system be expected to have excellent service everywhere if my phone doesn't have a cell signal?
Since I know the service is slow, I am patient when I use it. There are times when I have been able to download Netflix files. Before I went to bed, I set up a few downloads, and if on finished, I was happy.
As better technology comes out, I hope Amtrak can deliver a better product.
I try to download everything I want before leaving for the station when I travel. But if I want to load one more episode of The Office or Parks and Recreation before going, I try to find a restaurant or coffee shop.
In my experience on the Hiawatha (2/9/22), I could post a photo on Instagram, update an app on my computer, and publish this article.
Remember, if I can travel, you can too; memories come from doing, and regrets come from waiting.
Safe Travels!
Kev
Do you like travel tips?
Are you interested in getting travel tips in your inbox, or want to know when new articles come out? If so, join my email list! Here is an example of an email.