Amtrak's Acela is a relaxing and elegant way to travel along the Northeast Corridor, and it is a high-speed train that reaches top speeds of 150 mph!
While the Acela is not the only Amtrak train on this corridor, nor is Amtrak the only railroad that uses it. But Acela is the most comfortable and fastest of the Amtrak and regional trains in the area.
Depending on where you are going on the corridor, Acela can add a nice touch of class and comfort to your trip.
This article will help guide you through the basics of Amtrak's Acela and gain insight into whether it is the right train for you and your next trip!
The Travels with Kev Amtrak Acela Podcast
Amtrak's Acela End Points
The Acela travels between Washington, DC, and Boston, MA; intermediate stops include New Haven, New York, Philadelphia, Wilmington, and more. A complete list is provided later in this article.
What Makes Amtrak's Acela Different From The Other NEC Trains
Acela trains only run on Amtrak's Northeast Corridor (NEC) and share the track with other trains such as Amtrak regional and long-distance trains, other regional passenger trains, and some freight trains.
All non-Acela trains run slower and make stops along the route than the Acela.
Regional trains are the cheapest but offer the least amount of comfort. Amtrak NEC trains provide more comfort and include cafe cars and business class; some even offer sleepers.
Regional and long-distance trains combine several cars to make up a train set. If one of these cars needs work, Amtrak can remove it and substitute it with another.
On the other hand, Acela is a semi-permanent train, so if one car is "bad," the whole is out. These semi-permanent trainsets allow for a smoother ride and for the train to tilt so they can take curves faster and safer.
The Acela route numbers are 2100-2290.
What Accommodations Does Amtrak Acela Offer?
Amtrak's Acela offers two accommodation options: Business Class and First Class. Seats are facing both ways so that you can ride backward.
Acela does not offer a checked-bag service.
Business Class
Business class seats are in a two-and-two configuration.
This class offers:
Reserved seating with free changes
Fewer stops than most NEC trains, so a faster trip
At-seat electrical outlets plus trays or conference tables
Adjustable lighting and large tray tables
Overhead bins and a luggage rack
Quiet Car
Quiet Car
The Amtrak Quiet Car is a magical place if others play well.
These cars are where you do not hear cell phones or conversations; any conversations are in a library-type atmosphere and short.
Anything that rings or pings should be silent or vibrate; headphones are mandatory for anything that makes noise.
From my experience with Midwest quiet cars, they are self-policing, and other passengers may remind others to be quiet. I may have reminded people of the rules in the past.
While Acela's Quiet Car is not an option when you book your trip, it is easy to change your reservations for free to this car.
First Class
Acela first class offers everything the business class does (but there is no first-class Quiet Car) and more! First-class seating choices include 2 x 2 or 1 x 2, and both have the option of tables so you can sit across from someone.
Amtrak's Acela Has Assigned seats!
As you learned from the last section, Amtrak's Acela has assigned seats.
Amtrak randomly assigns a seat when you make your reservation, but you can change it anytime before boarding, providing available seating.
There is no fee for seat changes, but remember to make the change in the system and don't take a random one when you get on the train.
As a reminder, if you want a seat in the Quiet Car, you need to make that change; the sooner, the better because they are first come, first serve.
Where Can You Make Seat Changes?
You can easily make changes by logging into Amtrak's website or app.
When you select to change seats, Amtrak displays what's available (similar to that of an airline), then pick the spot that makes you happy and hit save. You will get an updated ticket emailed to you, and the app will update when it refreshes.
Food Service On Amtrak's Acela
Food service on this train can depend on your class.
Business Class Food Options
Anyone on the train can use the Acela Cafe car; food and drinks in this car are not complimentary. The cafe car has places to enjoy your purchase, or you can return them to your seat.
You can also bring food and drinks onto the train; you should purchase alcoholic beverages on the train. Due to FDA regulations, do not bring outside food or drink into the cafe car like all Amtrak trains.
First Class Food Options
You have an at-seat service if you are in Acela's First Class. An attendant can bring you a complimentary meal and drinks.
First Class passengers can use the Acela cafe car if they want something else to eat.
Acela meals come on a tray containing "real" dishes and silverware with a cloth napkin.
Meal choices include breakfast in the morning, with lunch and dinner sharing the same offerings. Drinks include adult, soft, caffeinated, plus water. Besides the rotating menus, Amtrak can change the choices at any time.
The meal choices rotate around every three weeks.
Is There Wi-Fi on Amtrak's Acela?
Yes! Amtrak offers complimentary Wi-Fi geared for this train set. Some tunnels and spots could cause the Wi-Fi to blip or have short dead zones.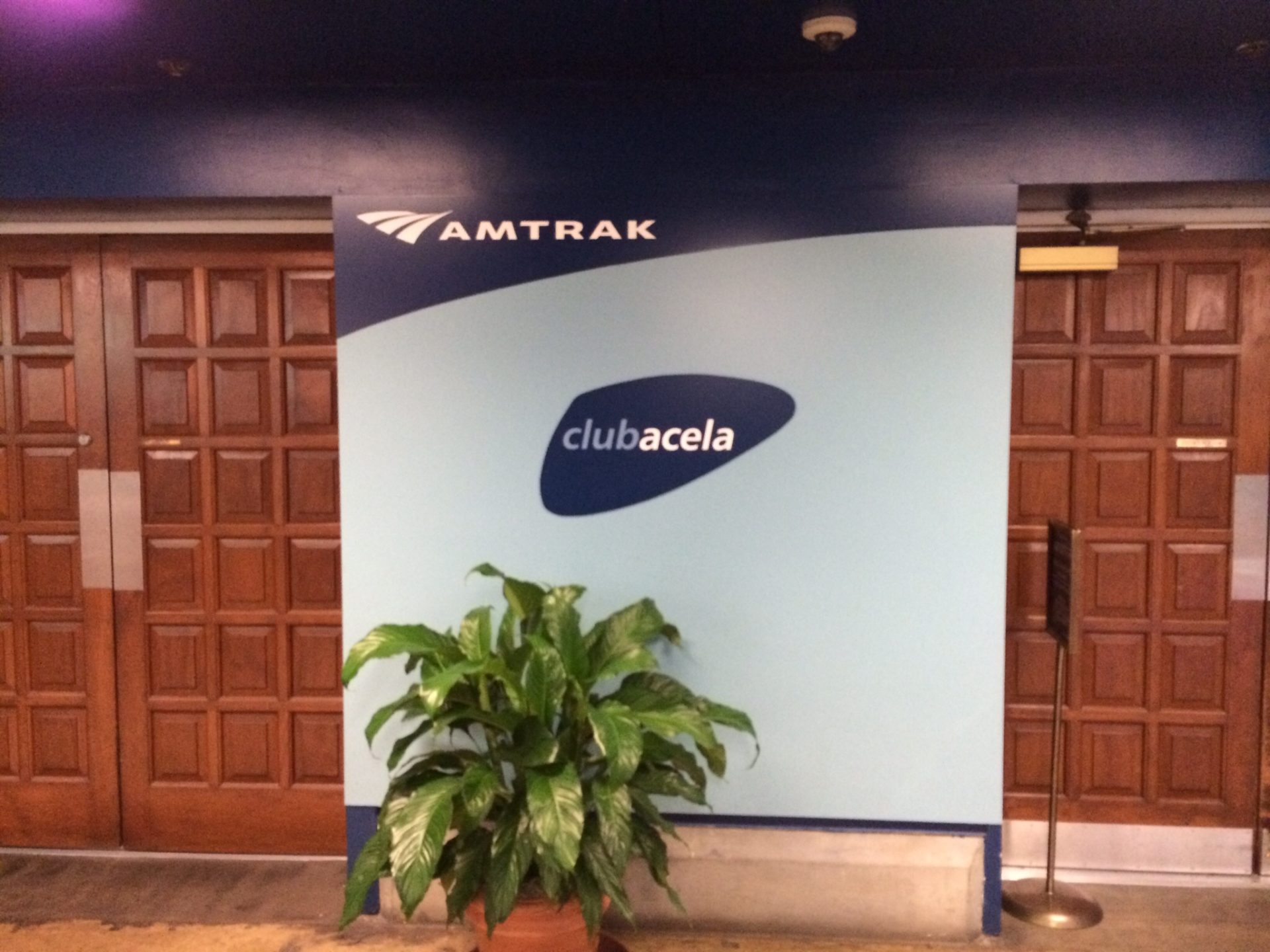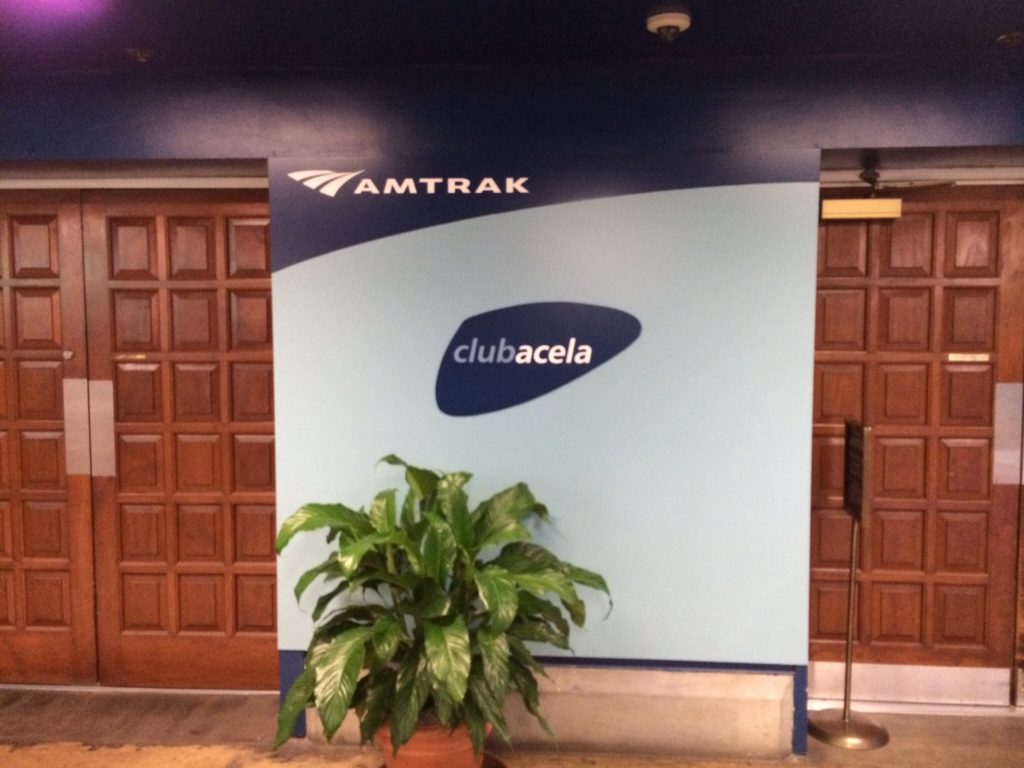 Perks Of Acela's First Class
As stated before, Acela First Class includes a meal and drinks, but it has more, depending on where you start.
You can use the lounge if your adventure starts at one of the following stations.
Washington DC
Boston South
New York Penn
Philadelphia
These lounges give you priority boarding or early track access, light snacks and beverages, and more.
The Stops of Amtrak's Acela
Acela serves fifteen stations along the NEC.
Pet's On Amtrak's Acela
Small dogs or cats can go on Amtrak's Acela along with you as you ride the train. Before you go, check what types of pets are allowed, pet reservations and fares, approved pet carriers, and additional details.
If you are interested in taking your pet aboard, check here.
Amtrak's Acela Wrap-up
While boarding an Amtrak train is similar, a few things are different. Some stations have marks on the platform where you should wait so you are lined up for your car and reduce loading time.
Why pick Acela?
Often, Acela is the faster option, so if time is a factor in your adventure, this could be a great reason to take this train. In sections, the train goes 150 mph. The other thing that can make Acela trains faster than other trains is they make fewer stops than other NEC trains.
These trainsets offer more legroom, better luggage space, and more comfort with a smoother ride as you roll down the tracks than traditional Amtrak equipment.
It can be faster than flying! Many train stations are in the city's heart, whereas airports are not. Also, you do not have to go through security, So if you include the time it takes to go to the airport, get through security, and then to the heart of your destination, flying could take longer.
Why Shouldn't You Pick Acela?
If you are on a budget and the compromise of a smoother ride does not fit, another train may fit your budget better. Also, Acela may not go where you need to go.
If you are on the NEC, you may find that a local, regional train may be more economical, but Amtrak's NEC trains offer more comfort and amenities, even if not Acela.
Future of Acela Trainsets
New Acela train sets are already being tested and visible in Washington, DC. The new train sets will enter revenue service soon.
Thanks for visiting, and safe travels!
Kev