Amtrak Flex/Contemporary Dining
Due to the pandemic, all long-distance trains switched to flex dining, but for the Auto Train. According to Amtrak, this will continue till May 21, 2020, but this is subject to change. (3/6/2020). Click here for more information.
In June 2018, Amtrak rolled out its new Contemporary or "flex" Dining due to a Congressional bill to reduce Amtrak cross country trains' food cost. Contemporary dining is also known as flex dining. The meals are prepared meals for passengers to enjoy as they roll closer to their destinations. This article will cover what trains have these meals, menu samples, and everything you need to know before your next trip.
Food Service On Long-Distance Trains
*The dining car is not available for a section of this route
Regional trains, routes under 750 miles, use cafe cars, and do not have a dining car. A few short-run trains do not have any food service, like the Hiawatha and others.
The Palmetto is a long-distance train, but it does not have any additional food service other than the cafe car. This train runs more like a long regional and is not an overnight train.
Traditional dining is found on long-distance trains west of the Mississippi. These trains offer sitdown meals, basically a restaurant on the rails. Conventional dining cars are open to coach and sleeper car passengers, but priority reservations are for the sleeper car passengers.
Flex dining overview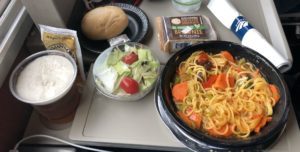 Flex dining is only available for sleeper car passengers on long-distance trains East of the Mississippi. Heat and serve meals prepared in the Sleeper Lounges.
Flex dining meals can be eating in the sleeping lounge or your sleeping accommodation. Your car attendant can bring your meals to you if needed or desired. Amtrak talked about expanding this service to coach and business class passengers, but they have not indicated that they are moving forward with that at this point.
A History of Amtrak Flex Dining
Flex dining or Contemporary dining started as a pilot program in June 2018 on two routes, the Lakeshore Limited and Capitol Limited. The traditional dining cars turned into sleeper lounges, and the meals became prepared meals.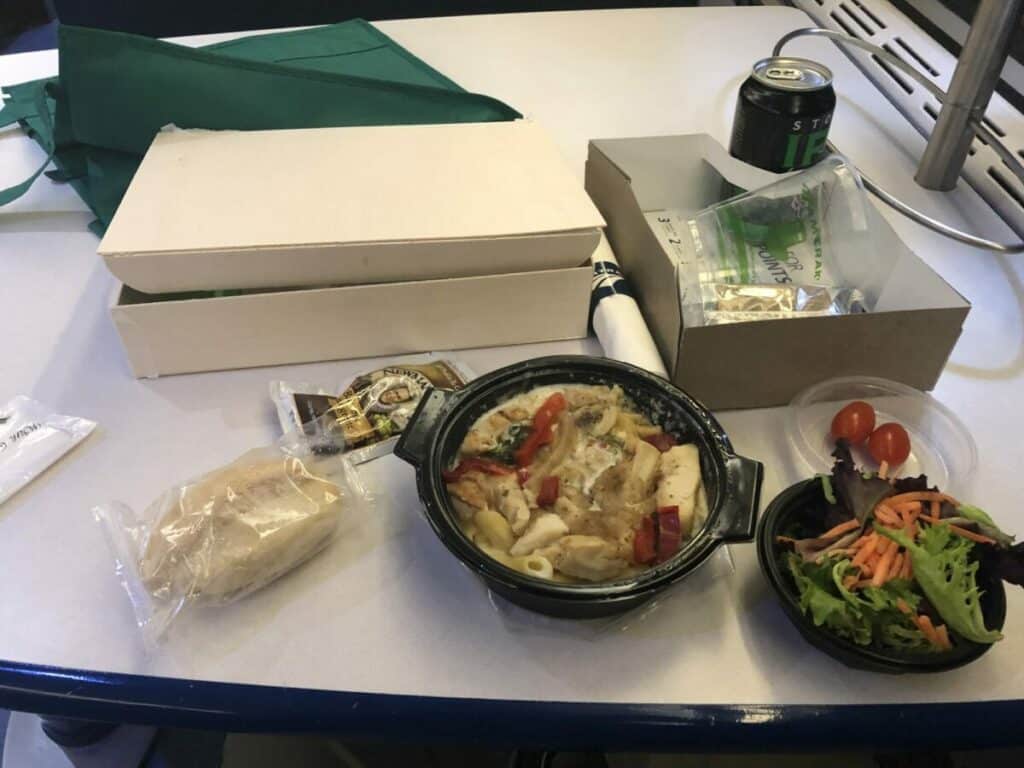 These first "contemporary" meals came in a wooden box, similar to a bento box. Initially, Amtrak did not offer warm food selections. These wooden boxes were bulky and took up a lot of space on the table.
At that time, the sleeper lounge attendest placed the wooden meal boxes in a reusable bag, and you could consume the meals in the Sleeper Lounge or back in your room.
In October 2019, Amtrak Contemporary "2.0" rolled out. Not only did they change the food selection and ditched the boxes, but Amtrak expanded the meal service to all long-distance trains running East of the Mississippi.
Since the beginning of this program, the first adult beverage was "on Amtrak." Amtrak offered other complimentary drinks to sleeper passengers while the sleeper car lounge attendant is on duty. You can purchase additional adult beverages from the Sleeper Lounge or the cafe car.
Amtrak Flex Dining Menus
Amtrak flex dining selections can change at any time. Lunch and dinner are the same offerings, including meat and vegetarian meals. Breakfast offers a selection of oatmeal, a warm sandwich, yogurt, omelet, and more. (The meals onboard may not appear exactly as in the photo)
Your first adult beverage is "on Amtrak," and other drinks are complimentary throughout the trip. Additional adult drinks can be purchased from this or the cafe car if so desired.
*If your next trip is on a train running west of the Mississippi after late March or June, check out traditional dining instead.
Mealtimes for Contemporary Dining
The advantage of this meal style is, you can eat whenever the attendant is on duty (in most cases). Meals are not available late at night, and the car attendants do have a few breaks during the day.
If you are looking for a snack, check out the cafe car,  but food and drinks in the cafe are at your expense.
Two Types of Amtrak Sleeper Lounges
Amtrak rebranded dining cars on these routes as Sleeper Lounge Car. These cars are only available to sleeping car passengers and open 24/7, although not staffed that whole time.
There are two styles of these cars, bi-level or Superliner, and the Viewliner single-level. Amtrak uses Viewliner equipment on routes that start or end at New York Penn Station. Superliners run on all other long-distance routes.
Foodservice is available for most of the trip, but it is closed late at night and during break times. Ask the onboard staff for hours of operation or any other questions.
Superliner Lounges
Bi-level cars
There are two styles of this car, either full diner or Cross Country Cafe.
The dining area is on the upper level.
Used on

Auto Train
Capitol Limited
City of New Orleans
Viewliner Lounges
Between 2014-2019 the new Viewliners were built and put into service.
Single level cars
Used on

Cresent
Cardinal
Lakeshore Limited
Silver Meteor
Silver Star
How To Use the Sleeping Car Lounge 
Are you hungry? Want to stretch your legs? Head down to the Sleeper Lounge.
This car is where you receive your complimentary meals and drinks (for sleeping car passengers).
As I said before, meals are available anytime you want, providing the attendant is on duty. Meals are not unlimited; only one lunch and one dinner per mealtime.
Ask either your sleeping car or the sleeper lounge attendants for the current hours and protocol for meals.
Safe Travels!
Kev