Many of us take the train for several reasons, we love the scenery, don't like to fly, or it is something we want to try. As we travel to where we want or need to go, we need to have our needs met, such as food and drink. If your train adventure is under 32 hours, you receive Amtrak's Flex Dining as a sleeping car passenger.
This meal is also called Amtrak's Contemporary Dining.
Depending on what train you take, your food options may vary.
Most all Amtrak trains have a Cafe car, but for a few more short-run routes. But, if you are traveling on an overnight or a long-distance train and in a sleeper, you will either have "traditional" or "flex dining." This article is an overview of flex dining and will direct you to the right article if this is not the right article for you.
Is this the right article for you?
This article is for you if your next trip if you are a sleeper passenger aboard one of these trains; if it is, skip to the next section. If you are not a sleeping passenger or your train is not on this list, go to the following selection to take you to the right article.
Silver Star
Silver Meteor
Texas Eagle (Between San Antonio and Chicago)
If you are in coach on one of these trains, you need this article.
What if your train is not on that list?
If your train is not on that list, don't worry, I have an article for you.
If your train is not listed above and does not offer sleeping accommodations, it is a regional train, and you need my article on Cafe Cars. Note: there are a few trains with no food service, such as the Hiawatha and other short-run trains.
If you are on a long-distance train not listed above and in coach class or sleeper, check out my cafe article and sleeping passenger; also, check out my traditional dining article.
What is Amtrak's Flex Dining?
Amtrak's Flex dining are meals they serve to their sleeping car passengers. Coach passengers do not have access to these meals.
The meal program offers hot, ready-to-serve breakfast, lunch, and dinner choices. There is also a continental breakfast option.
A selection of wine, beer, and spirits (the first one is on Amtrak during dinner)
Amtrak offers unlimited soft drinks, coffee, and tea throughout the journey (while the car attendant is on duty).
The onboard lounge is a place to dine and socialize, or you can have room service provided by your attendant.
Meals come at flexible times without the need for reservations.
You get one meal per person, per meal time.
A Brief History Of Amtrak's Flex Dining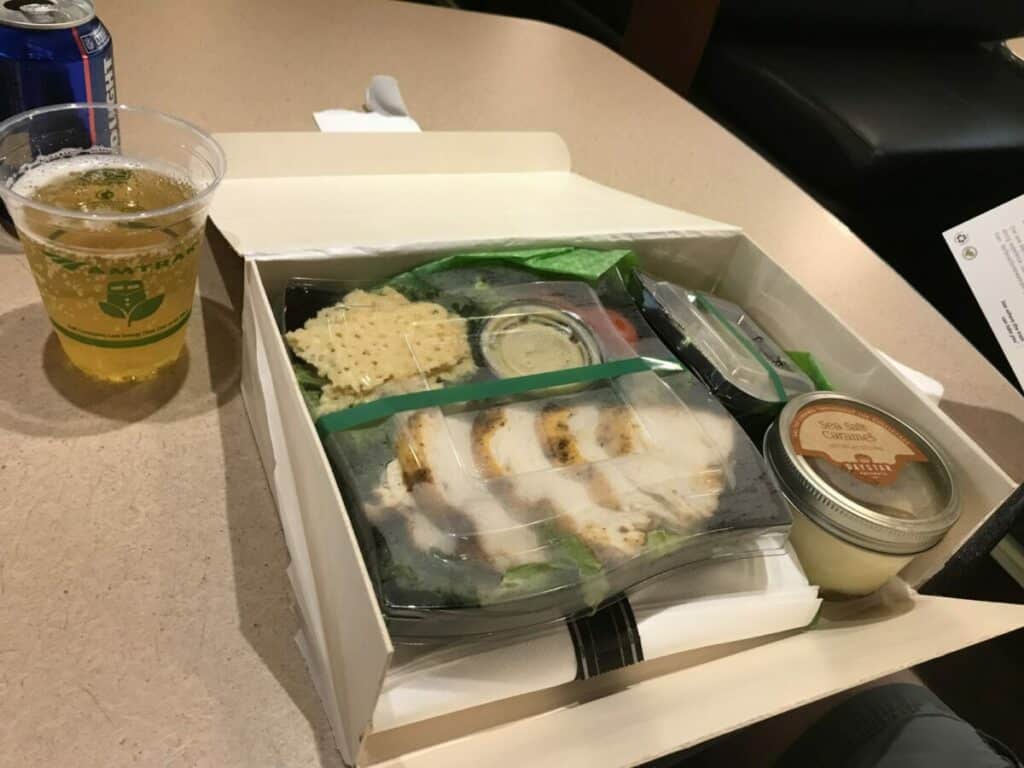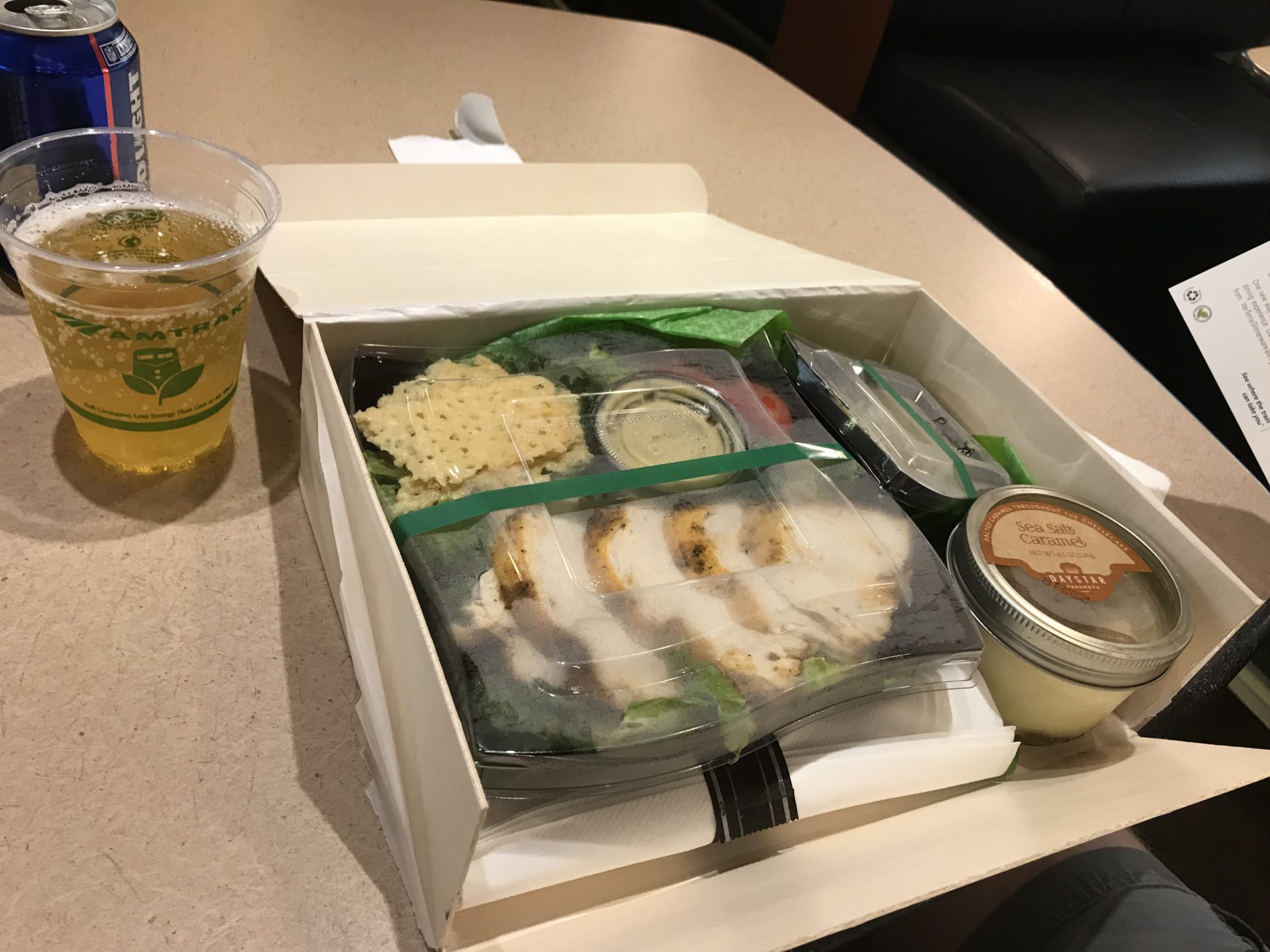 Flex dining or Contemporary dining started as a pilot program in June 2018 on two routes, Lakeshore Limited and Capitol Limited. This move was in response to an act of Congress to reduce food costs and waste on Amtrak trains.
These first "contemporary" meals came in a wooden box, similar to a bento box, and initially did not offer hot food selections, as seen in the photos.
These wooden boxes were bulky and took up a lot of space on the table.
At that time, the sleeper lounge attendest placed the wooden meal boxes in a reusable bag, so you could consume the meals in the Sleeper Lounge or take them back to your room.
In October 2019, Amtrak Contemporary "2.0" rolled out and is the bases for the current iteration of this program.
Today, Amtrak has ditched the boxes, offered hot selections, and expanded the meal service to all long-distance trains that run for one night.
Since the beginning of this program, your first adult beverage has been "on Amtrak" and offers complimentary drinks to sleeper passengers while the sleeper car lounge attendant is on duty.
Amtrak Flex Dining Menus
Amtrak rotates the choices offered throughout the year but usually offers beef, chicken, seafood, and vegetarian option. Lunch and dinner are the same offerings. Breakfast offerings include continental breakfast, warm selections, and more.
And as a reminder, your first adult beverage is "on Amtrak," and other complimentary drinks throughout the trip. You can purchase additional adult drinks from this or the cafe car.
There is a separate menu for the City of New Orleans.
Amtrak Flex Dining Meal Times and Sleeper Lounge Hours
One significant advantage of this meal style is you can eat whenever as long as the attendant is on duty (within reason). Meals are not available late at night or when the car attendant is on a break.
In most cases, the car is open for the entire trip, even when the attendant is off duty, outside the beginning or end of the journey.
If you are looking for a snack, check out the cafe car, but food and drinks in the cafe are at your expense.
Ask the onboard staff for hours of operation for meals service or any other questions.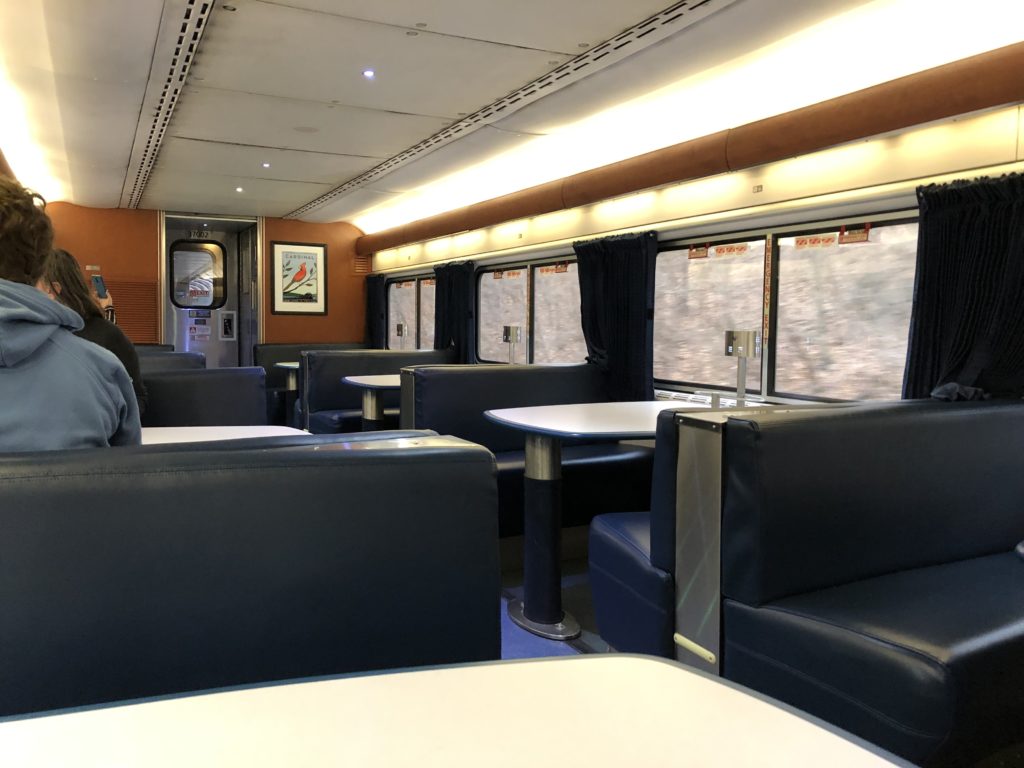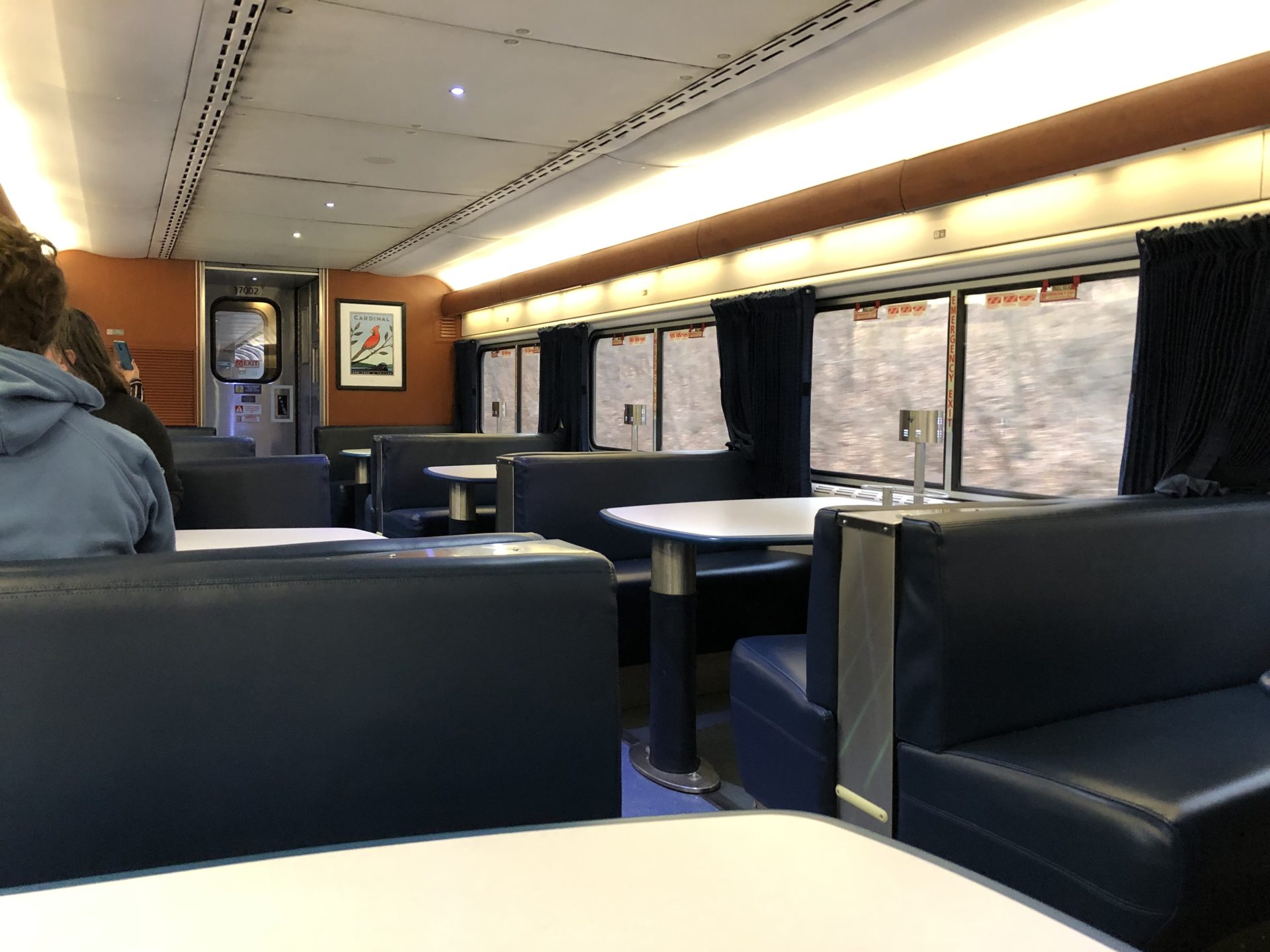 Sleeper Lounge Equipment Types
Amtrak uses Viewliner equipment on routes starting or ending at New York Penn Station, and Superliners run on all other flex dining long-distance routes.
Superliner Lounges
Bi-level cars
Often Cross Country Cafes or full dining cars.

These cars have a food service retail space in the center with seating on both sides.

Used on

Texas Eagle (Between Chicago and San Antonio)
Viewliner Lounges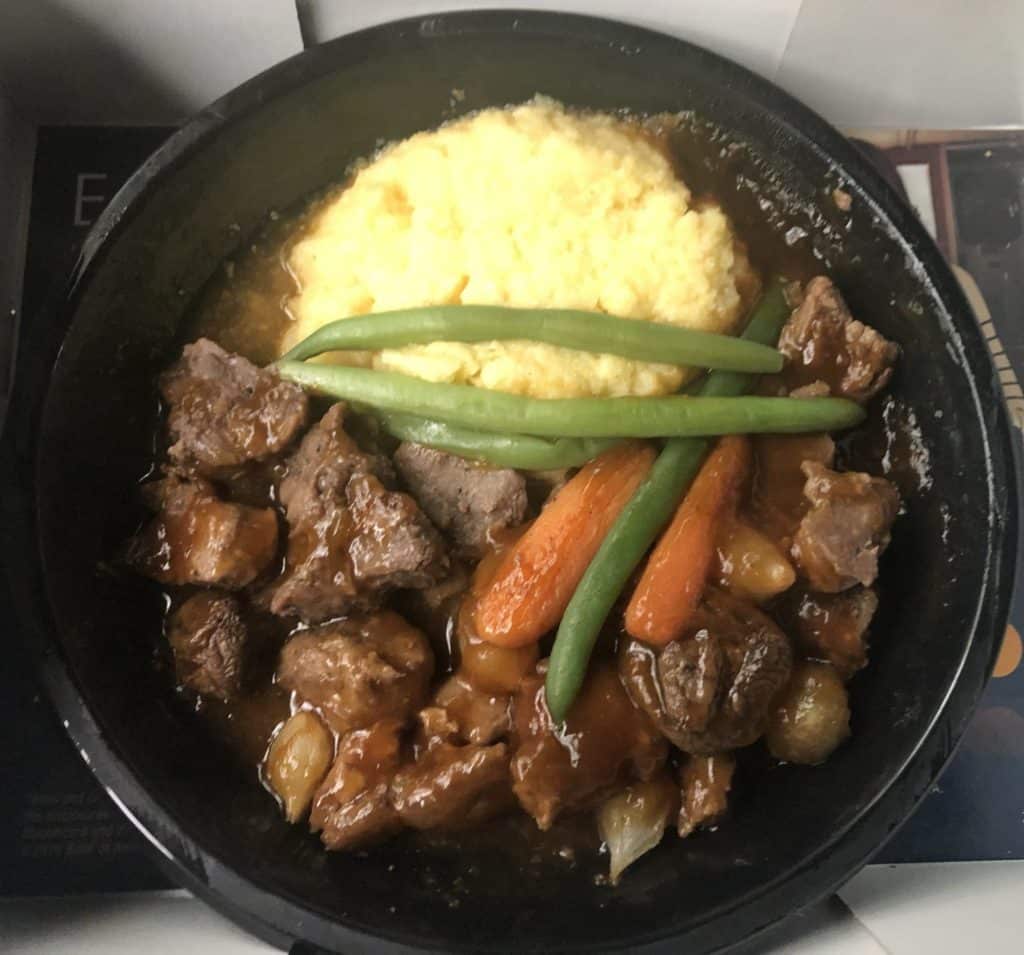 Amtrak's Flex Dining Wrap-Up
While Flex Dining is not everyone's favorite, I found the most recent meals on the train tasty and serve their intended purpose. The complimentary drinks are a nice touch, and the lounge offers a nice change of pace from your room.
As I said before, meals are available anytime you want, providing the attendant is on duty. Meals are not unlimited; only one lunch and one dinner per mealtime, and the food cars are closed for service overnight.
Safe Travels!
Kev
0322