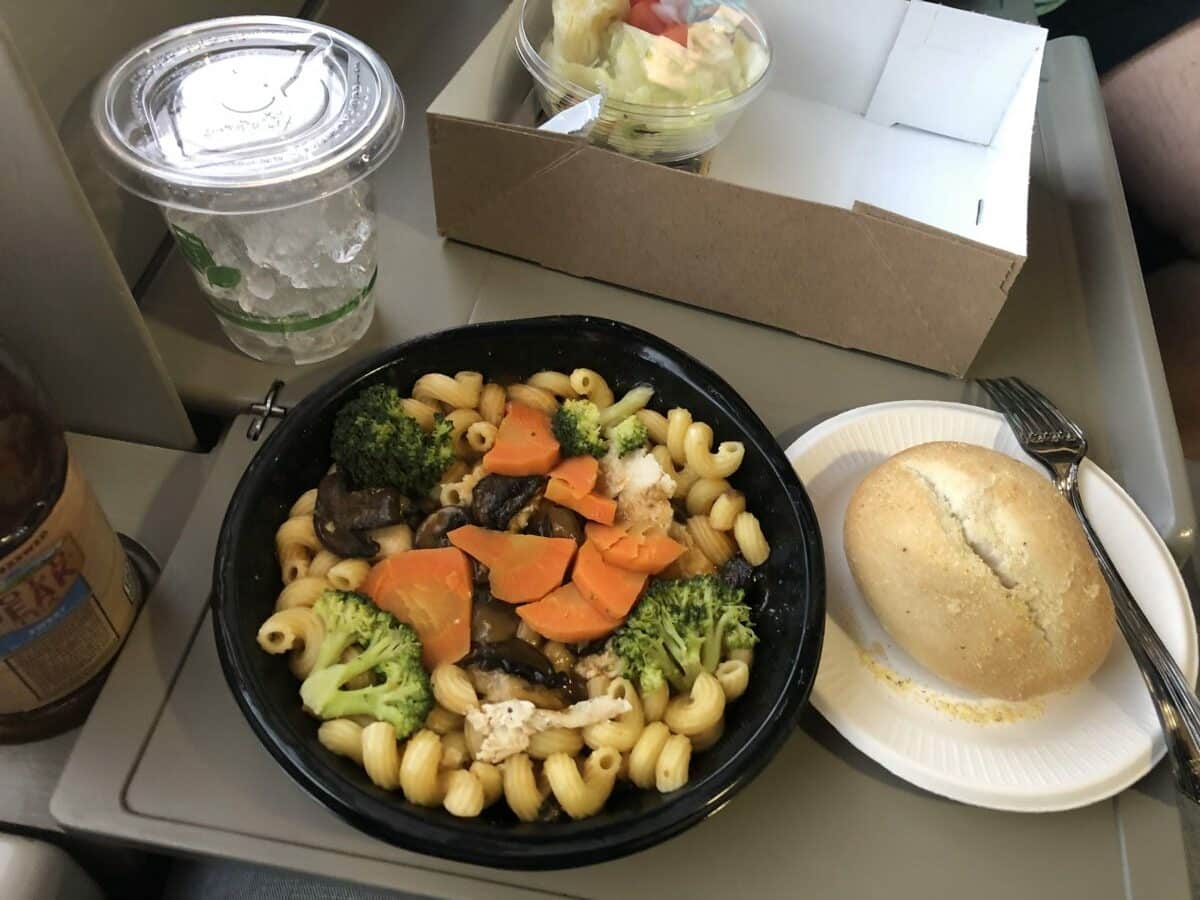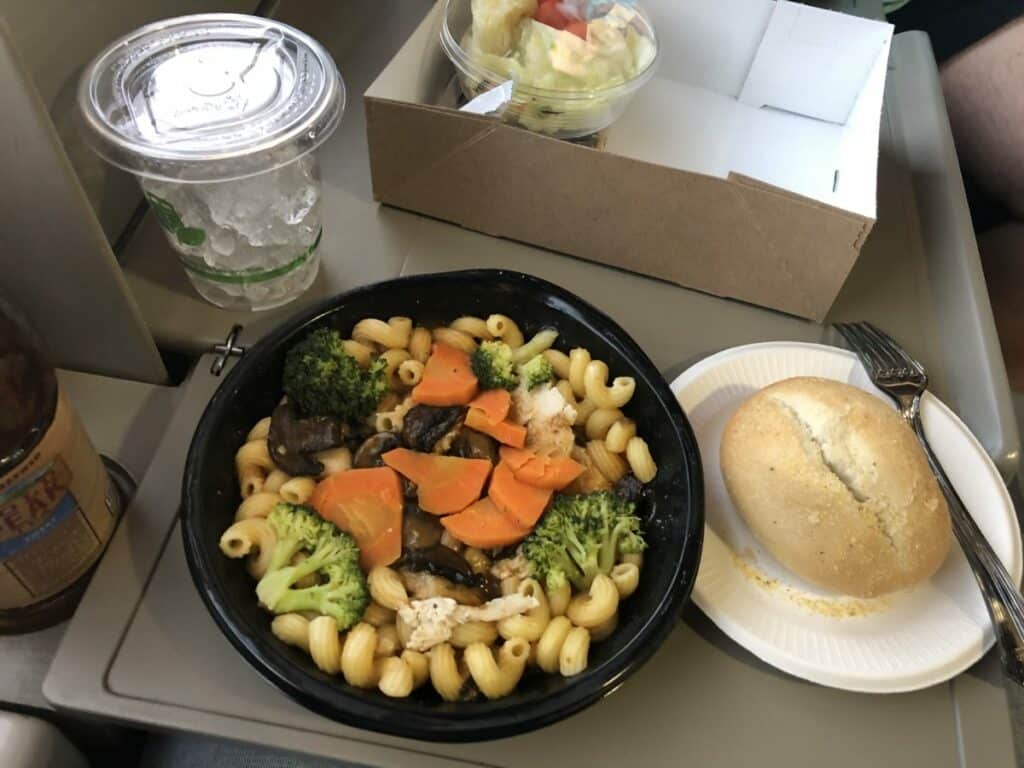 If your train adventure is under 32 hours, you receive Amtrak Flex Dining as a sleeping car passenger. Currently, Amtrak does not offer this meal service to coach passengers.
This meal is also called Amtrak's Contemporary Dining.
Contemporary dining is a better term than flex dining because the meal times are not as "flexible" on many trains as when the program started.
This article is an overview of flex dining and will direct you to the right article if this is not the right article for you.
Is this the right article for you?
This article is for you if your next trip is in a sleeper passenger aboard one of these trains.
If you are in coach class, you need this article.
You need traditional dining if you are not a sleeping passenger and your train is not on this list.
Trains With Amtrak Flex Dining
*Between San Antonio and Chicago
What is Amtrak Flex Dining?
Amtrak's Flex dining are meals served to sleeping car passengers. These meals are not offered to coach passengers, but those passengers can purchase meals in the cafe car, which is open to all passengers.
Quick FAQs
The meal program offers hot, ready-to-serve breakfast, lunch, and dinner choices. There is also a hot and continental breakfast option.
A selection of wine, beer, and spirits (the first one is on Amtrak during dinner).
Amtrak offers complimentary soft drinks, coffee, and tea during meals.
Complimentary room service provided by your attendant

The Lake Shore Limited is the only train with a Sleeper Lounge Car.
Please let me know if you find one on another train.

You get one meal per person per mealtime.
A Brief History Of Amtrak Flex Dining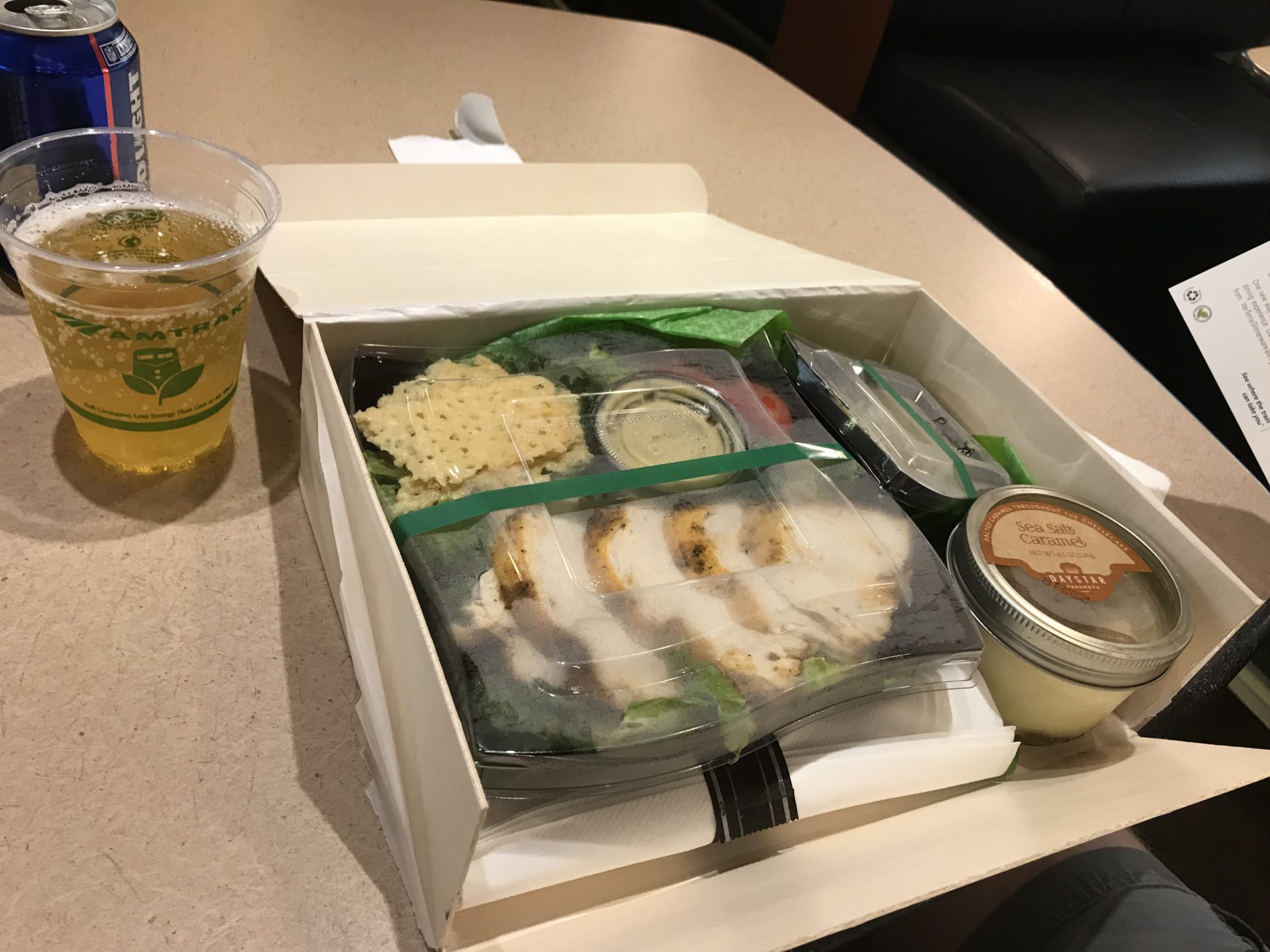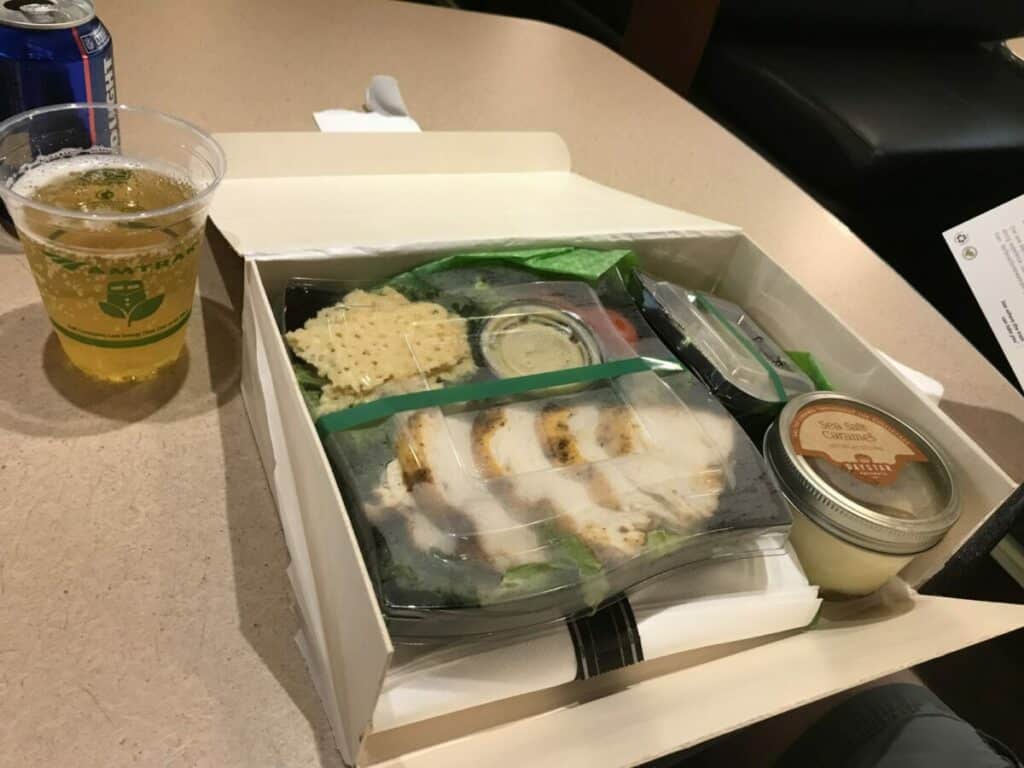 Flex dining or Contemporary dining started as a pilot program in June 2018 on two routes, Lakeshore Limited and Capitol Limited. What is often forgotten is that this move was in response to an act of Congress to reduce food costs and waste on Amtrak trains. With this move, Amtrak could keep traditional dining on long-haul trains. This act is no longer in effect.
These first "contemporary" meals came in a wooden box, similar to a bento box, and initially did not offer hot food selections, as seen in the upper photo.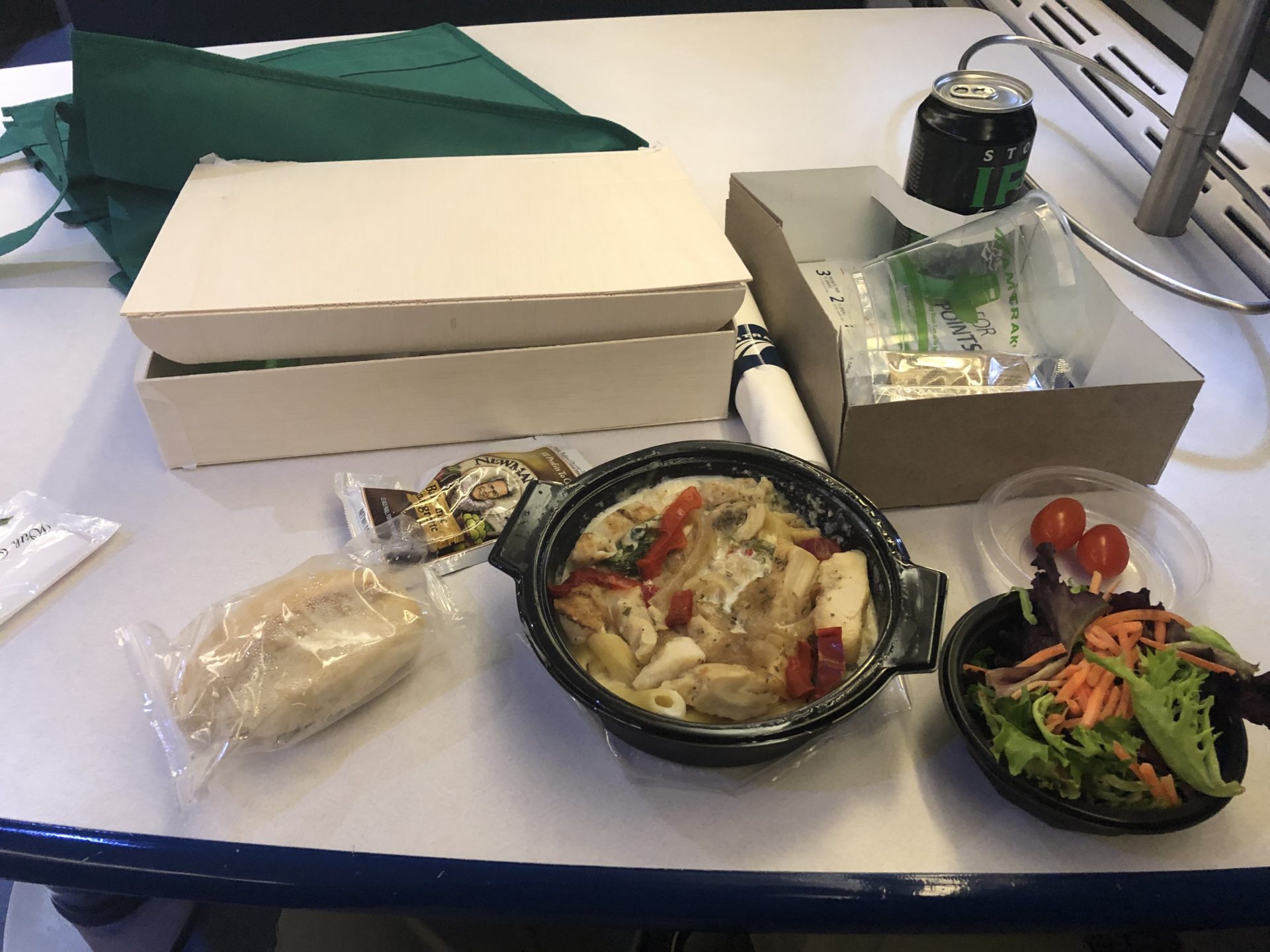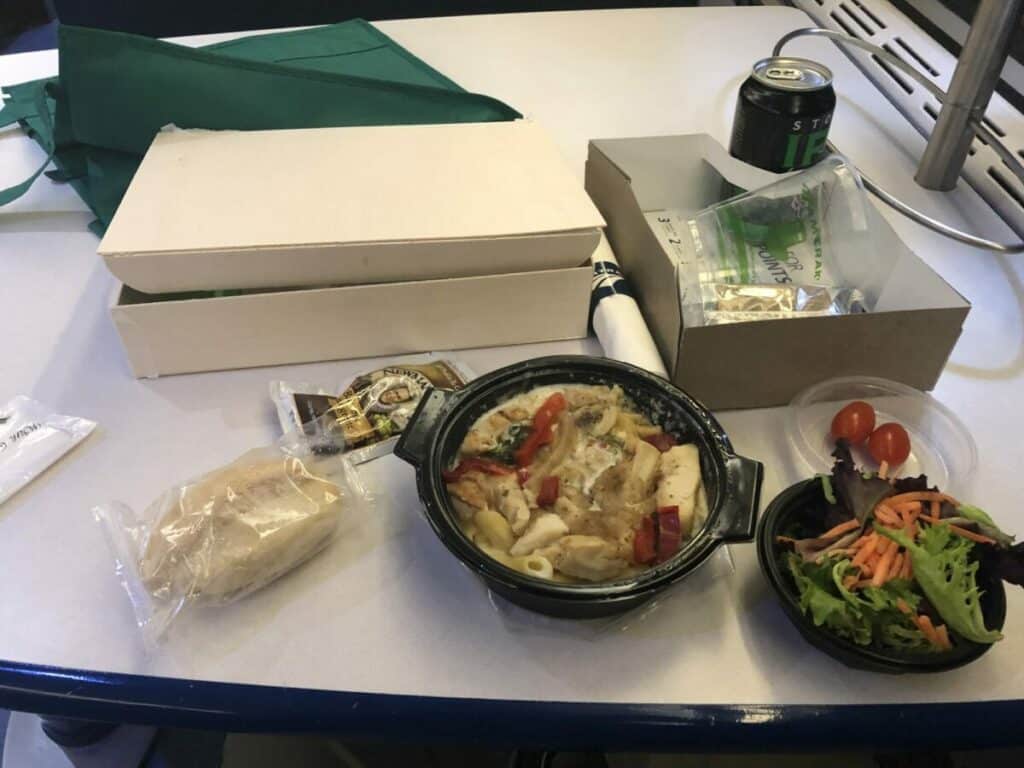 These wooden boxes were bulky and took up a lot of space on the table.
At that time, the sleeper lounge attendant placed the wooden meal boxes in a reusable bag so you could consume the meals in the Sleeper Lounge or take them back to your room.
In October 2019, Amtrak Contemporary "2.0" rolled out and is the basis for the current iteration of this program.
Today, Amtrak has ditched the boxes and offers only hot selections.
During the pandemic, this meal service was on every train. Now, Amtrak has returned to traditional dining on many of the trains.
Since the beginning of this program, your first adult beverage has been "on Amtrak" and offers complimentary drinks to sleeper passengers for meals. That is one positive change that has seemed to stick across the network. Now, dinner on traditional dining trains offers this.
These days, most flex dining meals get served at somewhat set times, but there is more flexibility for those who arrive after meal times, and complimentary beverages are only at meal time.
Amtrak Flex Dining Menus
Amtrak rotates the choices throughout the year but usually offers beef, chicken, seafood, and vegetarian options, with lunch and dinner being the same offerings.
Breakfast offerings include continental breakfast, warm selections, and more.
As a reminder, your first adult beverage is "on Amtrak" and other complimentary drinks throughout the trip.
You can purchase additional adult drinks from this or the cafe car, but they are on your dime.
Amtrak Flex Dining Menu
City Of New Orleans Flex Menu
Amtrak Flex Dining Meal Times
Since Amtrak rolled out Flex Dining, things have changed some.
Some trains have more rigid meal times because the cafe car attendant is doing double duty. On these trains, they serve coach passengers and prepare sleeping car passengers' meals.
This situation is more prevalent on Capitol Limited, Texas Eagle, Cardinal, and Crescent.
For these trains, attendants take reservations and bring your meals to your room. Let your attendant know if you want to eat in the cafe car. Breakfast may or may not be by reservation, depending on the train.
If you get on after reservations, you can still get your meal, but chat with your car attendant.
If there is a Sleeping Car Lounge, there is more flexibility.
Standard Amtrak Meal Times:
Breakfast: Available 6:30 – 10 am; board the train by 9:30 am
Lunch: Available 11:30 am – 3 pm; board the train by 2:30 pm
Dinner: Available: 5:00 – 9:30 pm; board the train by 8:30 pm
If you are looking for a snack, check out the cafe car, but food and drinks in the cafe are at your expense.
Ask the onboard staff for hours of operation for meal service or any other questions.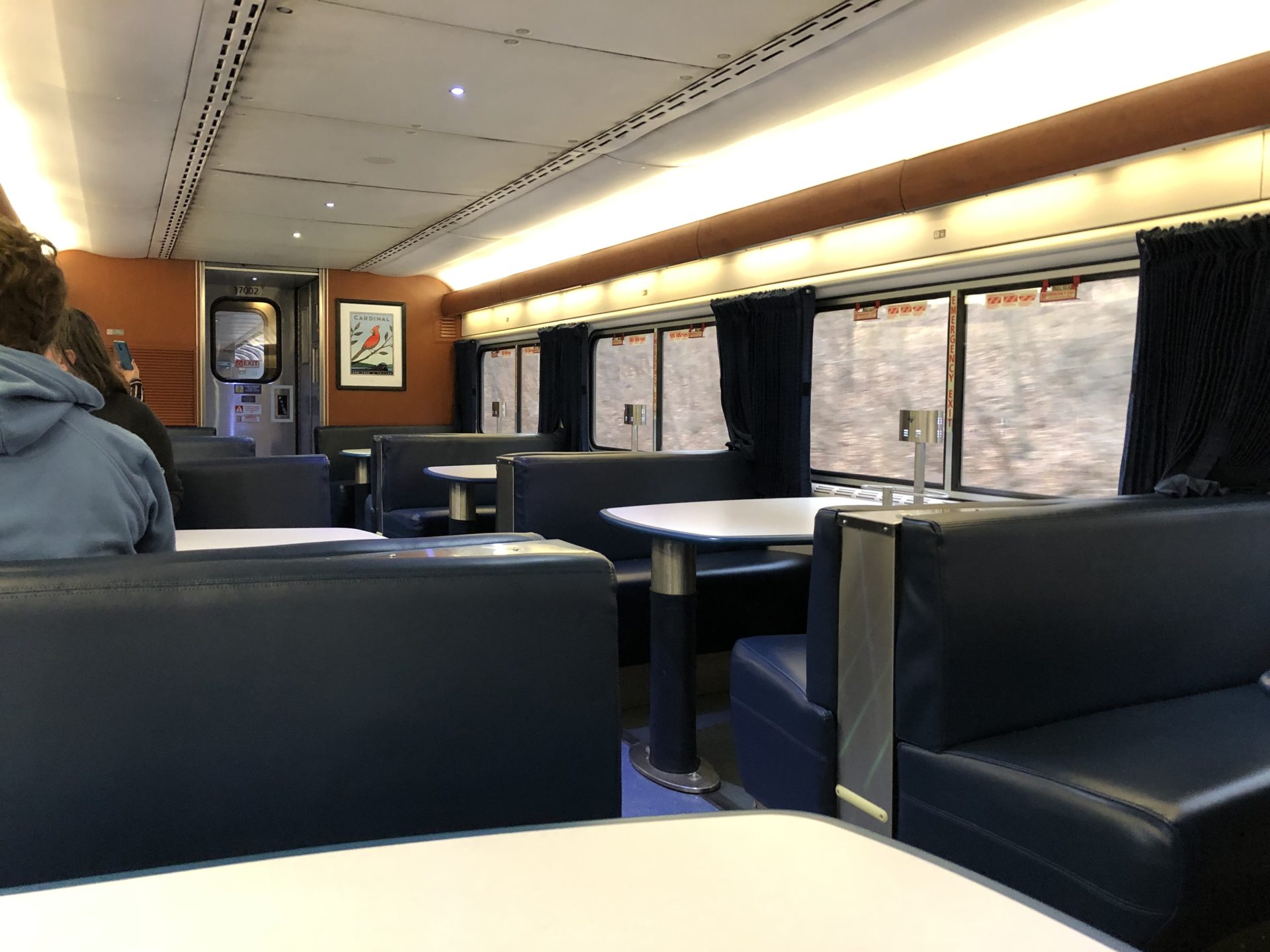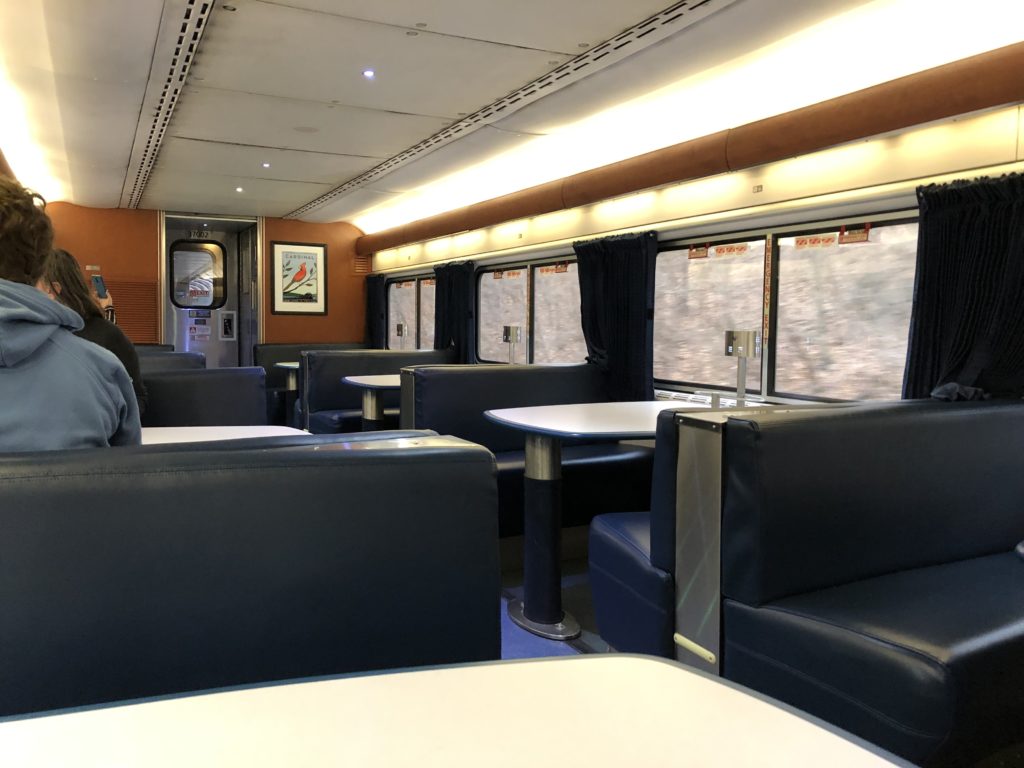 Where To Get Amtrak Flex Dining
If you do not get your meals delivered to your room, there are cars you can walk to get them.
Amtrak uses Viewliner equipment on routes starting or ending at New York Penn Station, and Superliners run on all other flex dining long-distance routes.
Superliner Trains
Cross Country Cafes with food service retail space in the center with seating on both sides; these cars and attended do double duty.
Used on
Viewliner Trains
Depending on the train, the Cafe car does double duty or uses a dining car as a lounge.
Used on
Amtrak Flex Dining Wrap-Up
While Flex Dining is not everyone's favorite, I found the most recent meals on the train tasty and serve their intended purpose. It is nice that Amtrak has expanded its offerings and switched from only cold options to mainly warm ones.
While the program has changed over the years, including its flexibility, it is more flexible for passengers getting on a late train or off the peak hours of meals.
Amtrak is slowly returning traditional dining to all the trains that previously had it. The trains in that category, the Capitol Limited, Crescent, and Lake Shore Limited, have returned.
Looking at history, the City of New Orleans and the Cardinal would maintain some flex dining options. These two trains have not had traditional dining since I started riding long-distance trains on Amtrak in 2013. The current flex meals are better than the previous food offered aboard the City of New Orleans.
Safe Travels!
Kev
Would you like train travel info in your inbox?
Consider joining the Travel with Kev email list for info, tips, and tricks for Amtrak travel.
0322