What you need to know about
Amtrak's Traditional Dining Cars
Until May 21, 2021*, all long-distance trains (except the Auto Train) will only have flex dining (More info)
Over my years of traveling with Amtrak, many great memories and "interesting" conversations happened during a meal in an Amtrak Dining Car. Even a long-term friendship started over lunch in the Sunset Limited/ Texas Eagle dining car. (Hi Sean and David).
A dining car is where Amtrak serves meals in a restaurant-style; a cafe car sells grab and go food, beverages, and snacks.
The dining car is the train's heart and soul, where people gather for a common goal, food!

Kev
 Topics Covered On Amtrak Dining Car
What Amtrak trains have or do not have Amtrak dining cars
Links to dining car menus
The type of dining cars used on Amtrak trains
Mealtimes
How to make meal reservations
Car etiquette

Food Service On Amtrak Long-Distance Trains
Regional trains (routes under 750 miles) do not have dining cars but have cafe cars. A few short-run trains do not have any food service like the Hiawatha and others, may not have any food service. The Palmetto is a long-distance train but not an overnight train, so it does not have any additional food service other than the cafe car.
Traditional dining is found on long-distance trains west of the Mississippi and the Auto Train. These dining cars offer sitdown meals, basically a restaurant on the rails. These cars are available for both coach and sleeper car passengers with priority reservations for the sleeper car passengers.
These cars found on:
Flex dining is dining for sleeper car passengers on long-distance trains East of the Mississippi. Heat and serve meals are offered in the Sleeper Lounges. Amtrak has talked about expanding this service to coach and business class passengers.
For more information on these trains with Amtrak's Flex Dining, check out this page.
Amtrak Menus For Traditional Dining Cars
The menus seem to change quarterly, and some trains have off-menu specials, but not all. Occasionally some meal choices run out along the way, but other options are usually are available if your first choice isn't. Sidenote: trains are stocked with food at the endpoint and not restocked er route.
Remember, due to the pandemic, only the Auto Train has traditional dining for now. If you are on another train, check out the flex dining article.
If you have special food requirements or questions on special meals, click here.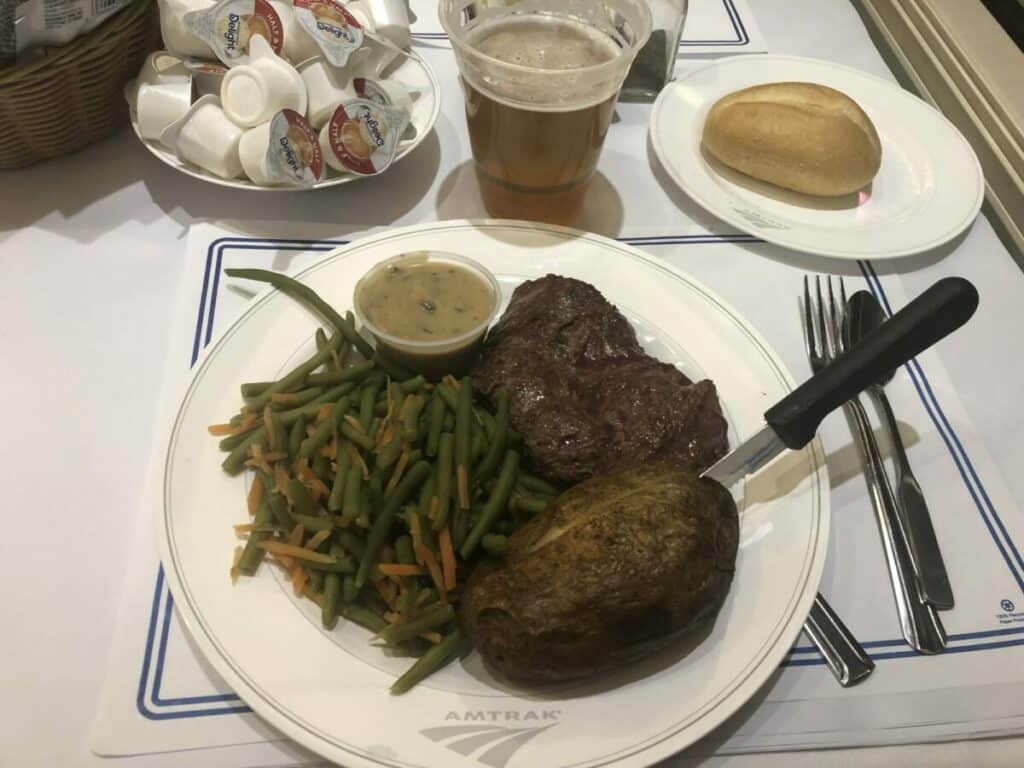 Mealtimes for Traditional Amtrak Dining Cars
Dining cars operate on local time. If you are on an East or West train, set your watch before you go to bed, because you typically wake up in a new time zone. Abridged or omitted meal services may occur if the train reaches its final destination during the regular meal service. Ask onboard staff if you have questions. The cafe car is available to purchase food from early in the morning to late at night but does close for the attendance breaks.
Breakfast
Breakfast services time is from 6:30 am – 10:00 am
The last boarding time to receive breakfast service is 9:30 am
Reservations are usually not needed
There are no announcements for the start of this service; you may go for breakfast anytime after  6:30  am
Lunch
Lunch Service is from 11:30 am – 3:00 pm.
The last boarding time to receive lunch service is 2:30 pm.
Reservations could be required.
Dinner
Dinner service is from 5:00 pm – 9:30 pm.
The final boarding time to receive dinner service is 8:30 pm.
Reservations are required
Be advised, all this can change at any time and can vary from train to train.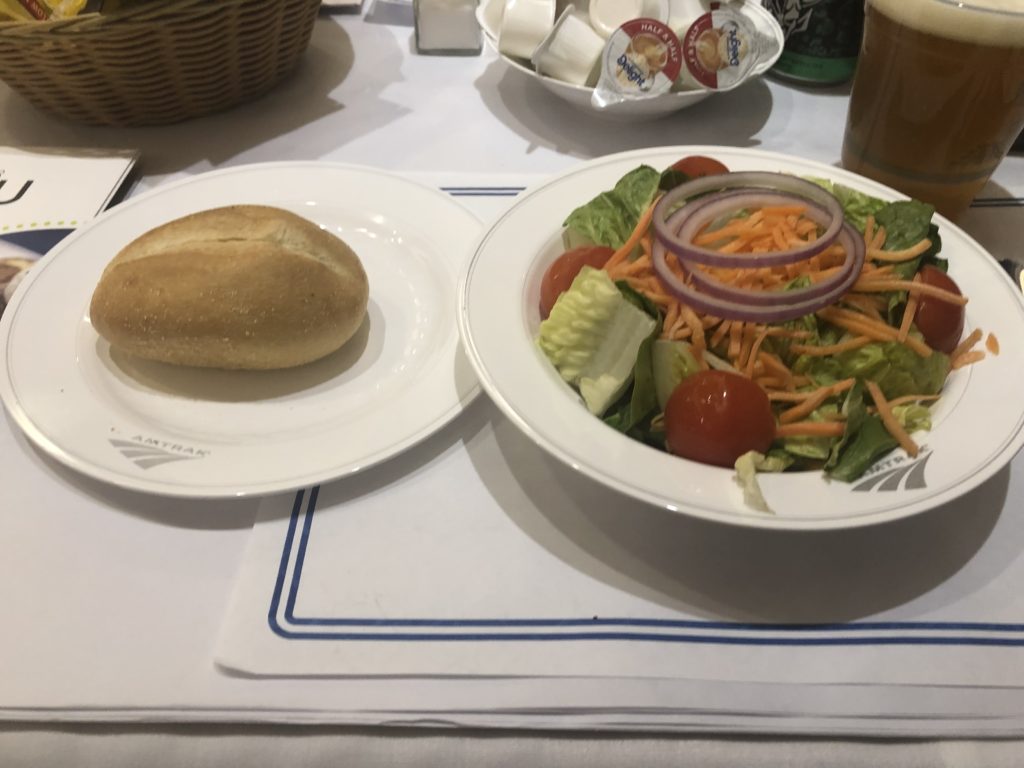 Meal Reservation For Amtrak Dining Cars
You need a reservation for supper, possibly for lunch (depending on the train), but never for breakfast.
Sleeping car passengers
There are times when your car attendant will make the reservations for you; an example is if you are not on board during the time reservations are being made.
For sleeper car passengers, making reservations is easy. The dining car makes an announcement stating that they are coming around to take reservations, and during that time, have at least one person in the room to make the reservation. Often when you make your reservations, they give you a reservation reminder slip.
Coach passengers
For passengers in coach class, after sleeper's reservations, the dining car steward walks through the coach cars, wait at your seat till after they come through to get the best times. There is a chance that you could catch them in the observation car, but your reservation choice could be limited. You can ask the dining car steward for openings if you board after they take reservations. Sleeper passengers often get bookings assigned if they board later.
General information
Ask your car attendant if meal services the announce reservations or if you should walk to the dining car at your reservation time.
Be aware at times the dining car is busy, and 6:30 reservation could get called at 6:45, but they still call it a "6:30." This congestion can be due to passengers lingering too long after their meal or not coming at their scheduled time.
When You Enter Traditional Amtrak Dining Cars
The common practice for eating in an Amtrak Dining Car
When arriving in the dining car, wait to be seated. The steward will direct you where to sit.
Amtrak practices community seating

If there are fewer than four people in your party, others may join you.

Sleeping car passengers, before you order your meal, the staff will hand you a piece of paper for you to fill in your sleeper car number, room number/letter (this info is on your ticket), and then sign the staff will fill everything else out for you.

All scheduled meals come with your room ticket (so pick what you want); a meal includes one entree, plus meal appropriate extras such as breakfast meat, cheese, desserts with lunch and dinner.
Meals include beverages but not alcohol.

Coach passengers, you will not have to sign a slip.

You are responsible for paying for your meal.
The experience is similar to that of a restaurant.
The Portland Section of the Empire Builder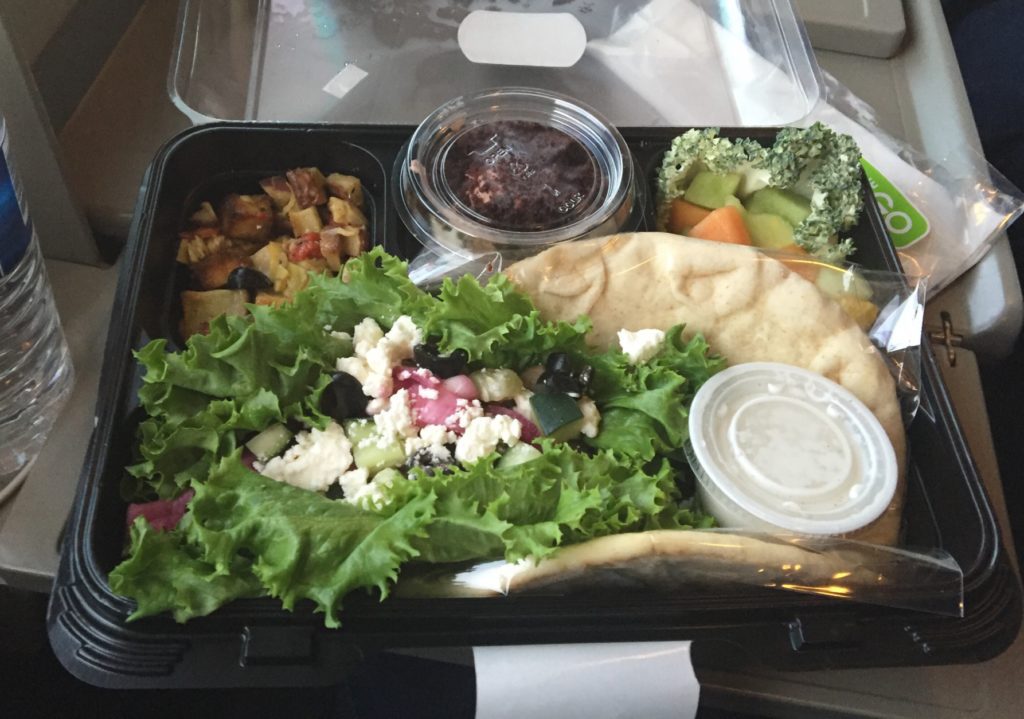 The Empire Builder split or join another train with the same name en route. During part of your trip, there may not be a dining or cafe car. Often your section of the train will have one or the other.
Portland section (28) of the Empire Builder joins the Seattle section (8) in Spokane, WA. The Seattle section has the diner, and the Portland section has a cafe car. If you are a Portland sleeper passenger, car attendants handed soon after you leave, and after the two trains combine, you will enjoy the rest of your meals in the dining car.
Tipping In Amtrak Traditional Dining Cars
Tipping is appreciated, and many passengers base the tip amount off the menu prices.
Safe Travels!
Kev
*This information is according to the Amtrak website (03/02/2021) and is subject to change.