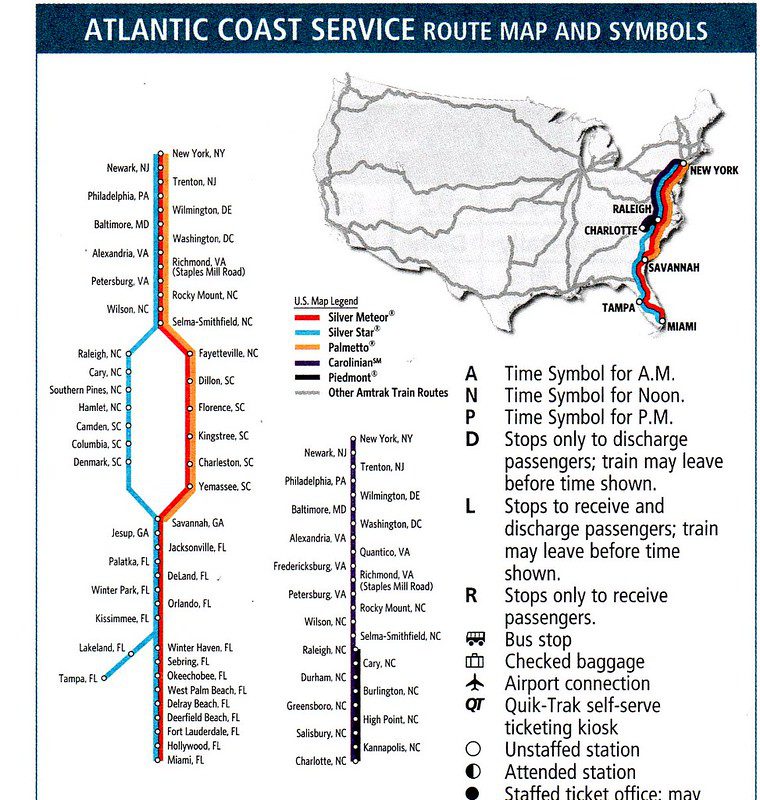 Here is the 2022 schedule (timetable) for Amtrak's Palmetto.
This page gives you a quick look at Amtrak's Palmetto Schedule. If you are looking for a printable timetable, there is one at the bottom. You can click on each station to see what amenities they offer.
This page displays best on mobile devices if you hold your phone horizontally. These are also guides, and Amtrak can change times at any time.
Service Alerts and Notices
Accommodations Offerings for the Palmetto
Seating
Coach seating – features comfortable reclining seats with ample legroom and a fold-down tray, individual reading lights, and 120v electric outlets.
Business Class– this train offers a business class with updated seats and 25% more points. Business class is in a dedicated car behind the cafe car.
Bikes, pets, and luggage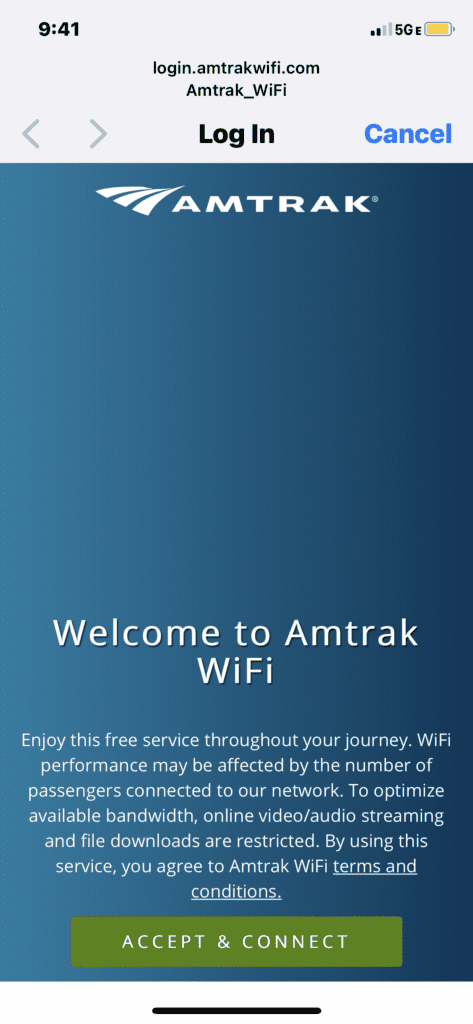 Bicycle – Space is available for standard, full-size bicycles (up to 50 lbs, 70 inches x 41 inches x 8.5 inches). Amtrak stores bikes in designated bike racks/areas inside Coach passenger cars or the baggage car (if available).
Pet – Amtrak allows dogs and cats up to 20 pounds (combined weight of pet and carrier) for trips up to seven hours.
Checked Baggage – Two bags up to 50 lbs. and 75 linear inches are allowed per person for free. Charges apply for additional and oversized luggage. Not all locations can handle checked baggage. You can click the station links below to see if they offer checked baggage service.
Wi-fi -Amtrak offers Wi-fi free of charge that supports general web browsing activities. Due to limited bandwidth onboard the trains, our wi-fi does not support high-bandwidth actions such as streaming music, streaming video, or downloading large files.
Food offerings on the Palmetto
Cafe – offers a variety of meals, snacks, and beverages for sale, and it is available for all passengers throughout most of your journey.
The cafe may close for attendant's breaks, during the locomotive swap in DC, and at the start and end of the route.
Amtrak's Palmetto Schedule 2022
Train 89
Southbound
Read Down
Communities Served

Miles
Train 90
Northbound
Read up
6:02a
New York, NY
Moynihan Train Hall (NYP)
0
11:23p
6:16a | 6:19a
Newark, NJ – Penn Station (NWK)
10
11:03p | 11:03p
6:31a | 6:33a
Metropark, NJ (MET)
10:48p | 10:48p
6:40a | 6:42a
New Brunswick, NJ (NBK)
–
6:54a | 6:56a
Princeton Junction, NJ (PJC)
–
7:04a | 7:06a
Trenton, NJ (TRE)
58
10:23p | 10:26p
7:36a | 7:40a
Philadelphia, PA
William H. Gray III 30th St. Station (PHL)
91
9:51p | 9:55p
7:59a | 8:01a
Wilmington, DE (WIL)
116
9:26p | 9:29p
8:45a | 8:48a
Baltimore, MD – Penn Station (BAL)
185
8:38p | 8:42p
8:59a | 9:01a
Baltimore, MD –
BWI Thurgood Marshall Airport (BWI)
8:22p | 8:24p
–
New Carrollton, MD (NCR)
8:07p | 8:08p
9:29a | 9:59a
Washington, DC – Union Station (WAS)
225
7:10p | 7:57p
10:14a | 10:18a
Alexandria, VA (ALX)
233
6:31p | 6:34p
12:11p | 12:19p
Richmond, VA
Staples Mill Road Station (RVR)
334
4:31p | 4:41p
12:51p | 12:54p
Petersburg, VA (PTB)
362
3:41p | 3:44p
2:27p | 2:32p
Rocky Mount, NC (RMT)
460
2:08p | 2:13p
2:49p | 2:52p
Wilson, NC (WLN)
476
1:38p | 1:43p
3:20p | 3:22p
Selma-Smithfield, NC (SSM)
502
1:09p | 1:11p
4:12p | 4:16p
Fayetteville, NC (FAY)
550
12:15p | 12:22p
5:07p | 5:09p
Dillon, SC (DIL)
603
11:27a | 11:29a
5:52p | 5:57p
Florence, SC (FLO)
633
10:49a | 10:54a
6:30p | 6:33p
Kingstree, SC (KTR)
672
10:06a | 10:10a
7:30p | 7:37p
Charleston, SC (CHS)
728
9:08a | 9:15a
8:23p | 8:26p
Yemassee, SC (YEM)
782
8:20a | 8:23a
9:25p
Savannah, GA (SAV)
829
7:35a
This schedule is a guide; check with Amtrak for current times. '
Printable Schedules
Below are two different forms of the Palmetto's timetables; you can print them out per direction or in a more classical format as one timetable.
Abbreviations
– No Stop
R = Receive passengers only; this means you can board the train, but you cannot buy a ticket on this train to this station.
D = Depart only; you can buy a ticket to this station but not from this station. The train may leave early from this stop.
Do you like travel tips?
Are you interested in getting travel tips in your inbox, or want to know when new articles come out? If so, join my email list! Here is an example of an email.