Amtrak's Lake Shore Limited is a relaxing way to travel between Chicago and the Eastcoast or the other way around. Train travel allows you to sit back and relax as you travel, and in this article, you will learn more about the amenities and services the Lake Shore Limited offers.
Amtrak's Lake Shore Limited has 25 stops to expand its reach with connecting services. This train also has two Eastcoast endpoints; here is more information about trains that split or come together en route.
This article covers the information you need for planning your next trip aboard Amtrak's Lake Shore Limited. I invite you to get a tasty beverage or snack and learn about this beautiful train route.
The information in this article is meant as a guide and may not reflect your experience. Amtrak can change services, equipment, and offerings at any time.
Lake Shore Limited Service Advisory
From time to time, Amtrak needs to make temporary changes; this page keeps you in the loop of changes.
Travels With Kev's Podcast: Amtrak's Lake Shore Limited
Why take Amtrak's Lake Shore Limited?
Taking Amtrak is a convenient and relaxing way to travel with some scenic views.
A large portion of this is overnight. Depending on when you get on, you can plan on seeing the start and finish and sleep through the middle.
Many train stops are in their communities' downtown areas, unlike airports.
Plus, the train serves many small communities without access to airports or other transportation, so Amtrak's Lake Shore Limited and its connecting services are essential to the USA transportation system.
Amtrak's Lake Shore Limited Quick FAQs
What accommodations does this train offer?
Lake Shore Limited uses single-level equipment, Amfeet II coach, and cafe cars. Diner, sleeper, and baggage cars are Viewliners. You have a few accommodation choices for Lake Shore Limited; click the links for more information. This train had business class, but that service has been suspended as of posting.
What is the difference between 48 and 488 or 49 and 449?
If you take the Lake Shore Limited between Chicago, IL, and Albany-Ranserler, NY, you will notice that you may have two options for the same train. Between those cities, trains 48 and 448 run as one train, and likewise, so do 49 and 449. If you are traveling between those cities, since those trains operate as one, it doesn't matter what one book. Go for the cheapest ticket for the accommodation you want.
Where do trains 48 and 49 go?
Trains 48 and 49 run between Chicago, IL, and New York, NY, and have the sleeper lounge car.
Where do trains 448 and 449 go?
Trains 448 and 449 run independently between Albany-Rensselaer, NY, and Boston, MA, but get connected to train 48 or 49, respectively. 488 and 499 is the section of the train with the cafe car.
Where does the Lake Shore Limited split or come together?
If you haven't picked this up on this, the train splits or comes together in Albany-Rensselaer, NY.
Can I Stay on the train, or do I have to get off when the train splits or comes together?
If you are on either section of the train, you can stay on the train, but make sure you are in the car you were assigned. You can stay in your room, coach seat, or get off the train, but stay on the platform.
While the trains are coming together or separating, you will not have power, so the cafe or sleeper lounge will not serve food. Also, toilets and sinks will not work.
Boarding Amtrak's Lake Shore Limited
When it is time to board the train, ensure you have your gear ready to move and your tickets out for conductors or attendants to look at and scan.
Listen carefully to the instructions given by the station or onboard staff to avoid confusion. This train is two in one, so ensuring you are in the right car is essential.
Coach passengers
Coach seats are assigned on your day of travel as you board the train. With the exception, if the train is not too full or is towards the end of the route, you might be able to pick your seat.
Once the conductors scan your ticket, they place a card over your seat to reserve it for you.
Amtrak asks you not to change cars for a "better seat" without first talking to conductors. Amtrak also tries to put groups and families together; this can be more difficult if everyone keeps spreading out.
For Sleeping Car Passengers
You will receive your sleeper car room assignments after completing your reservation. Amtrak sends an email with a printable ticket; if you log into the app, the ticket information is also there.
On this train, the sleepers are not together.
Amtrak places the sleeper on the ends of the train, often the "Boston" sleeper in front and the "New York" on the tail.
Car attendants or conductors should be outside the car to check you in and help direct you to your room.
Usually, the car attendant will visit your room after the train takes off to help you get familiar with your room, the train, and meals.
Do not switch to another room without talking to someone first because those rooms often are reserved for someone later.
If the train is busy or during meal time and the attendant has meals to grab, it could take them a while to get to you.
What paperwork do you need to ride Amtrak?
You need two things to ride an Amtrak train: your ticket and a government-issued ID.
Using paper or electronic tickets to board the train, including the PDFS Amtrak emails.
Amtrak ticket readers will randomly ask the conductors to check ID. This hasn't happened to me yet, but it has happened to my companions. So, it is best to have things ready.
Amtrak's Lake Shore Limited Schedule
Amtrak's Lake Shore Limited takes 20.2 hours to travel 959 miles from Chicago to New York and 22 hours to travel 1018 miles between Chicago and Boston.
Below is a brief look at scheduled departures from larger cities.
Overview: Look at the schedule
The Route Broken Down by Day
Train 48 and 448 are the same train from Chicago to Albany-Rensselaer, NY; that is where it splits into the two trains. Train 49 runs as two until Albany-Rensselaer, NY, where it becomes one train to Chicago.
For more, check out my article about trains with multiple route numbers.
What is Amtrak's Lake Shore Limited on-time reliability?
Amtrak's Lake Shore Limited's percentage of on-time customers in May 2021 is 56%.
Delays happen with most transportation forms, often not Amtrak's fault.
Most delays were freight interference, "acts of God," and poor weather conditions. But at times, it is Amtrak's fault, such as mechanical issues.
To learn more about the delays, watch the video or click here.
Delayed trains can make up some of the lost time, and do not let this deter you from booking a trip. When planning your adventure, add extra travel time to your itinerary.
Who owns the tracks that Amtrak's Lake Shore Limited uses?
Amtrak does not own most of the tracks they run on but uses rails owned by others.
The owners of those rails are called the host railroads. The Lake Shore Limited runs on tracks owned by Amtrak, Norfolk Southern Railway, CSX Transportation, Metro-North Railroad, and Massachusetts Bay Transportation Authority.
Checking the train status
You can use the Amtrak app, website, or third-party site to see if the train is running on time, late, or early. If the train is running early, it will wait at that stop until its departure time unless it is a drop-off-only stop.
Additionally, you can sign up for text or emails when booking to stay alert.
If you forget to sign up, you can do it later; also, you can sign up those who are picking you up.
Baggage on Amtrak
Checked baggage is unavailable for all stops, but you can carry your gear.
You are responsible for your belongings while on the train.
Carry-on
Amtrak's generous carry-on policy allows for two twenty-eight-inch suitcases and two personal items; all bags must weigh fifty pounds or—links below for more info.
Coach passengers can use the storage shelf above their seat or the luggage rack at the end of the car.
Sleeper cars have spaces above the doors to store your things. Bedrooms offer more space than roomettes and have a place for excess baggage.
FYI, rooms only lock when you are inside them.
Checked bag service
Again, check bag service is not available for all stops.
Checking the availability of checked baggage ahead of time prevents a day of travel surprise and allows you to pack accordingly.
Below, you can click the link for the station you are going to or leaving to check if checked baggage is available. Also, the website and app often let you know if the checked service is available during booking.
If any stations on your trip are unstaffed, you cannot check pieces of baggage.
But if an intermediate station and destination allow for check bags, you can check them en route. See the red box below for details.
Except for some bus transfers, your checked bags will transfer when you connect with another train. When in doubt, ask the onboard or station staff.
If you check your bags, you will not have access to them, so don't pack anything you need during the trip, such as medication or medical devices.
According to Amtrak rules, you must check your bags at least forty-five minutes before the departure of the train. Some stations may bend these rules, but it is better to plan that they won't.
Food Service On Amtrak's Lake Shore Limited
You have a few options for eating on the Lake Shore Limited. Some food choices depend on your accommodations, while others rely on you and what you want to do.
You can bring food aboard Amtrak's Lake Shore Limited.
Avoid bringing food with pungent odors on the train to be a good travel companion.
For example, not everyone enjoys the smell of egg salad sandwiches.
Also, avoid overly crunchy food for late-night snacks.
Due to FDA regulations, you cannot bring food or drinks into Amtrak food service cars you didn't purchase onboard. Food for babies and toddlers is the exception.
Also, Amtrak cannot store or heat the food you brought aboard. If you need to keep medications cool, bring a cooler to store them in; if required, Amtrak may get you ice.
Bringing alcohol on board Amtrak's Lake Shore Limited
Sleeping car passengers can bring adult beverages aboard and consume them only in their room or travel buddy's rooms.
Coach passengers can transport adult beverages but cannot partake from their stash as they travel.
If you break the rule, you may get kicked off the train and fined. Also, you can get kicked off the train if you get out of hand from drinking too much.
Adult beverages are available in the cafe or Sleeper Lounge for passengers with accommodations.
Amtrak café car (for all passengers)
The cafe car is open for all passengers and offers meals, snacks, and beverages, including adult ones.
The cafe's hours can vary, so listen to the onboard announcements, but typically, it is open during the day except for the attendant's break times.
There is seating on both sides of the retail space to enjoy your purchases. You can hang out in the car, but be respectful of others.
You can find the cafe car in the Boston Section of the train.
There is no cafe service on trains 48/49 between New York Penn and Albany for coach passengers. You might be able to get beverages from the sleeper lounge until then; check with conductors for more information.
Sleeper Lounge/Flex Dining (for sleeping passengers only)
The Lake Shore Limited serves Amtrak's flex dining.
Amtrak offers hot and ready-to-serve choices for breakfast, lunch, and dinner, plus cold and light breakfast options.
While eating, you can enjoy wine, beer, and spirits (the first one is on Amtrak during dinner).
You can get unlimited soft drinks throughout the journey; the selection is below.
Exclusive onboard lounge to dine and socialize or complimentary room service provided by your attendant
Complimentary beverages include Coffee – Regular and decaf, Hot Tea, Milk, Orange Juice, Iced Tea, Bottled Spring Water, Sparkling Water, Coke, Diet Coke, Sprite, and Ginger Ale.
Scheduled Meals
There is no Sleeper Car Lounge on 448/449 between Boston South and Albany; sleeper passenger meals may be available from the cafe. After Albany 448/449, sleeping passengers may use the sleeper lounge.
The 25 stops of Amtrak's Lake Shore Limited
Station types
The Lake Shore Limited serves various stops, including staffed stations, unstaffed stations, flag stops, and platform stations or stops.
You can click on the stations to see the current amenities.
Lake Shore Limited 48, 49, 448, and 449 serves these communities:
Amtrak's Lake Shore Limited line-up
Car numbers
When walking up to the train, look for a four-digit number found by the door.
Occasionally, these numbers are not updated, so pay attention to the last two digits.
Still, the second part of the number should match your ticket. The attendants or conductors are looking for you, and all the sleepers on this train are together.
Once again, your ticket contains this information for sleeping passengers, and coach passengers get assigned cars and seats while on the platform.
The order of cars for Amtrak's Lake Shore Limited
Connecting with other trains or transportation
This train connects with other transportation and connections in Chicago to Midwest and West Coast Amtrak trains.
Sleeper and coach car layout
Below are layouts of passenger cars on the Lake Shore Limited, including coach and sleeper. Amtrak has new sleeper cars coming into service, so your sleepers may vary from these.
Nevertheless, the diagrams will help you find your room in your sleeping car. The placement of passenger rooms has not changed.
Sleeping car numbers (this is of the Amfleet I sleepers (blue interiors))

New sleeper cars (burgundy interiors) have a bathroom across from the shower and the attendant's room 11 or 12. There are no longer toilets in the roomette.
Coach Cars

Amtrak Café Car/Sightseer Lounge
These cars can vary, but there is at least one restroom, and the retail area is always in the middle.

Notable views and fun info about Amtrak's Lake Shore Limited
In New York State, you'll pass through the Finger Lakes area on your way to Albany, the capital of the Empire State. From there, travel through the Berkshires and stop in Pittsfield house, where Herman Melville wrote Moby Dick.
In Boston, connect to Providence and Mystic Seaport on our Regional service.
You can get off that train in Albany to watch it become two trains or one. If you want to stay on board, you are more than welcome.
While Amtrak is splitting the train or combing it, you will not have power. Obviously, during that time, you cannot charge your phone, and you will also be unable to get water or flush. The cafe will close during this time, so get your food and snack before arriving or wait till afterward.
Do not enter the station or stray too far from the train unless the conductor permits. If you stray too far from the train, it can and will leave without you but with your things.
Much of this route is overnight, so it may be hard to see some lake shores.
Fresh Air (Smoking) Stops.
As the name implies, fresh air breaks allow you to get off the train, stretch your legs, and get fresh air.
Getting off the train can add to your travel experience, and your body may welcome the ability to stretch out and walk on stable ground. These breaks often happen during crew changes, fuel stops stops with baggage service, or if the train arrives early.
Not every stop is a fresh air stop!
If you decide to get off the train at a fresh air stop, follow the conductor's directions, and don't wander too far from the train. Your responsibility is to return to the train on time because it can and will leave without you. Often, you will hear a few blasts from the train's horn, indicating it is time to reboard the train, and conductors will give you the "all aboard!"
Walking around the train
First-time train riders should know a few tidbits about walking around a train. It is not hard, but often not what people are used to when traveling.
Trains are linear, meaning one car is in front of another. You may need to walk through a few cars to get to the one you desire.
The walk can be a great way to stretch your legs if sitting for a while.
Remember, trains are moving, so they sway as they go down the track.
Use seatbacks or luggage racks for support. Avoid stepping where the plates come together when passing between cars, and use candy cane-striped handles for support.
The isles of trains are narrow and do not allow two people to walk in opposite directions to pass simultaneously.
If you have two seats to yourself, people may step into "your space" for a second to let another pass; therefore, be courteous of others as you walk through the train.
Smoking and marijuana on the train
You cannot smoke or vape any subsistences on Amtrak's trains.
The conductors can remove those caught smoking on the train and issue a fine.
While marijuana is legal in many states, it is still illegal to transport or consume it on the train because Amtrak is considered federal property.
Bathrooms and showers
Coach Cars
There are two lavatories at one end of each coach car. If those are busy, you can try to walk to another to use those.
There are no shower facilities for coach passengers.
Amtrak's Lake Shore Limited wrap-up.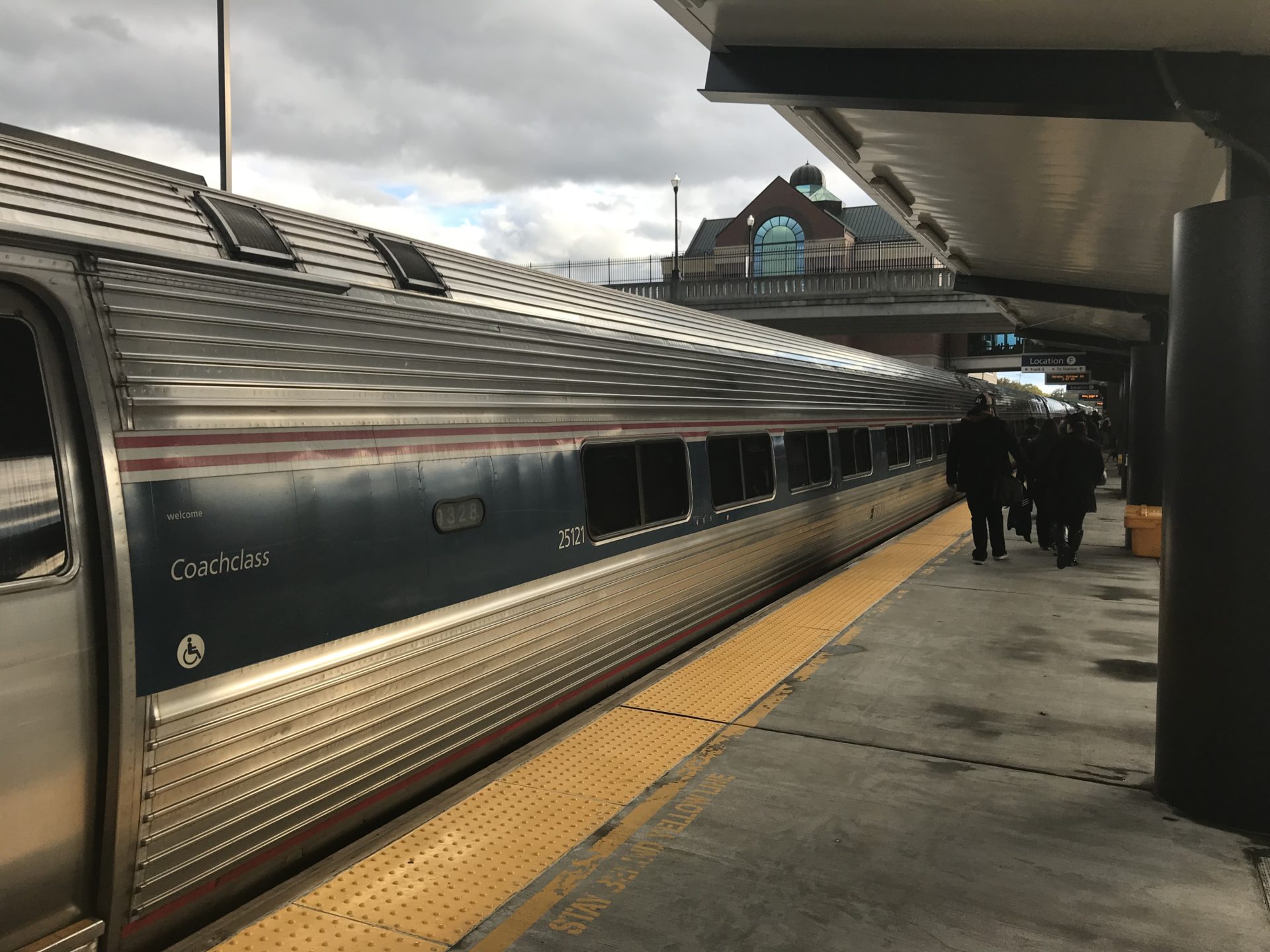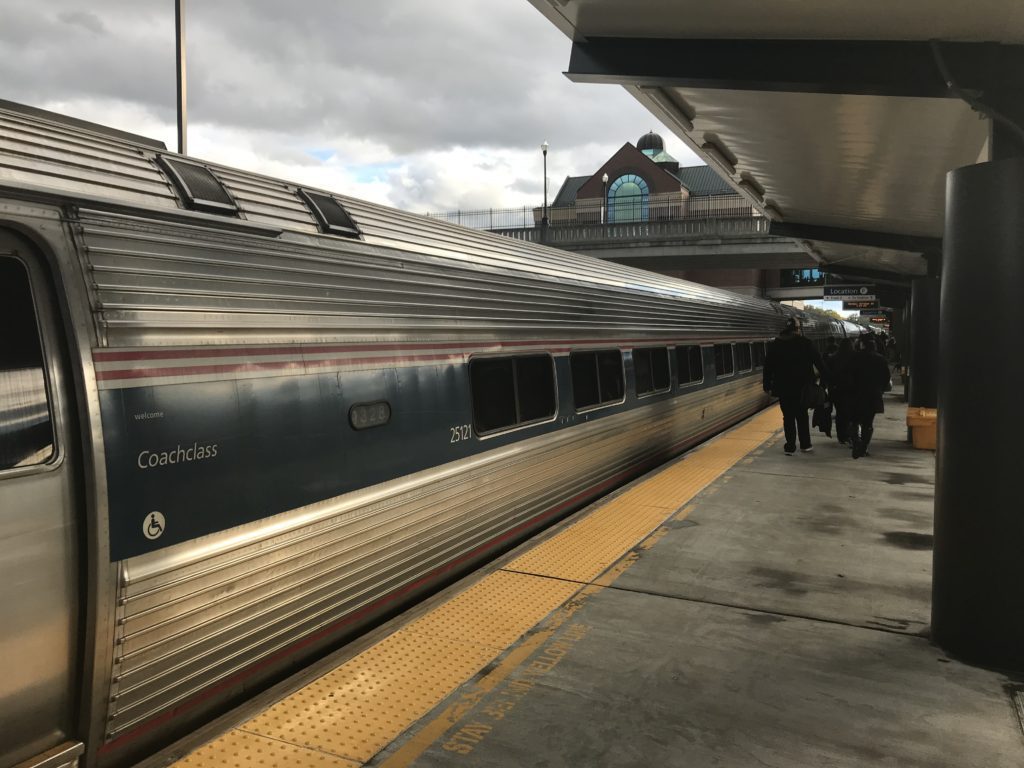 The Limited is a safe, relaxing, and fun way to travel to your next adventure.
Food Overview
You can bring your food aboard or use the food services offered by Amtrak (or do both).
Amtrak cannot store, chill, or heat the food brought aboard the train; as of now, coach passengers cannot access the sleeper lounge car.
If you need to keep medication chilled and bring a cooler with ice, Amtrak may provide additional ice, depending on the current supply.
Station Lounges
Sleeping car passengers leaving or passing through Chicago, Boston South, and New York Penn can use the station lounges.
WIFI and streaming
This train does have WiFi, and if you plan on using WiFi on your journey, read this article on Amtrak WiFi before your trip.
Traveling with electronics
Bring an extension cord, charger, cables, or battery pack to keep everything running. There are outlets for each accommodation and in the cafe car.
Use headphones for any noise-making device (phone, games, etc.), and turn down or silence your phone, especially at night.
Thoughts on bringing entertainment on Amtrak's Lake Shore Limited
Amtrak provides scenery rolling past your windows, but anything beyond that is up to you.
The right entertainment can help pass the time, including book(s), videos, games, a good playlist, or more entertainment ideas.
Something simple like a deck of cards or a puzzle book can go far.
If you plan to use an electronic gadget, have a few apps that do not need WiFi.
Try downloading ebooks and podcasts to give you a variety of entertainment. I love learning from a podcast or an audiobook while looking out the window. There is always the Travels with Kev Podcast you can binge.
Most of all, bring your patience.
I hope this helps you plan and enjoy your next trip aboard Amtrak's Lake Shore Limited. Remember, if I can travel, you can too; experience comes from doing, not waiting.
Safe Travels!
Kev