An Amtrak Viewliner roomette is a comfortable way to view the East Coast of the United States by rail. These private accommodations contain everything you need for a day of watching the country roll by and births for sleeping at night, plus storage for your gear. Viewliner Sleeping Cars have roomettes, bedrooms, and an accessible room for special needs passengers.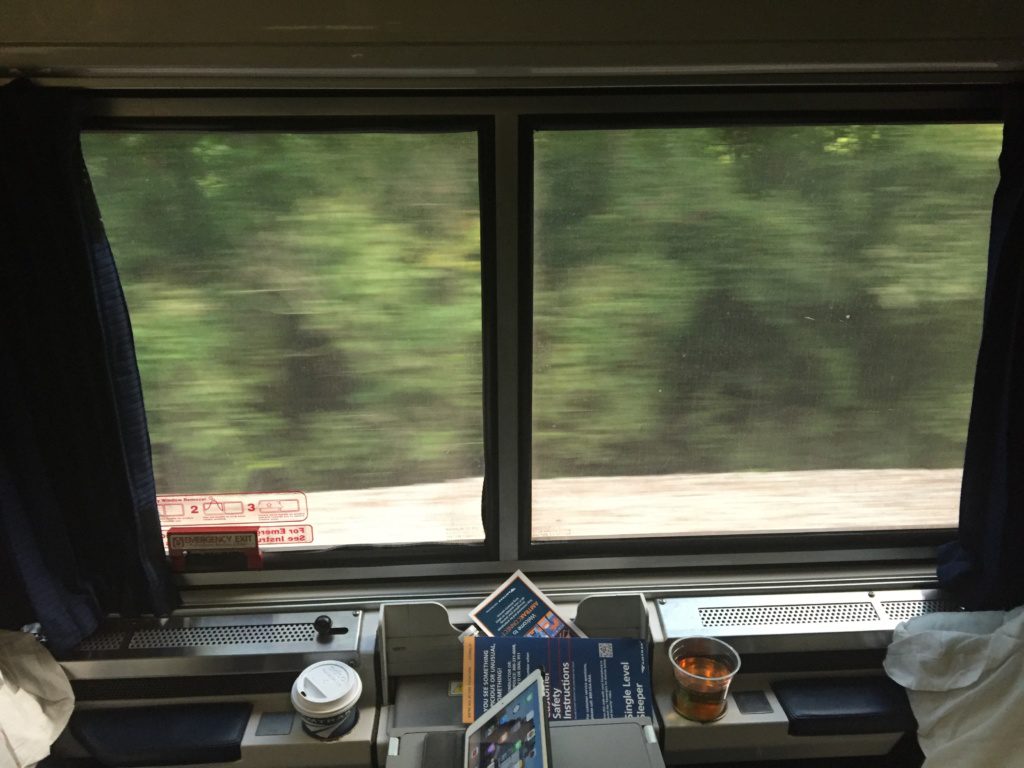 My first Amtrak Viewliner Roomette was aboard Amtrak's Silver Meteor between Washington, DC (WAS), and Charleston, SC (CHS).
I was familiar with Superliner roomettes, but I wanted to research the differences between the two and be prepared.
While the roomette concept is similar, l thought I would write a separate article to cover the differences.
If you are new to Amtrak Travel, a roomette is a small private room or cabin within an Amtrak Sleeping Car. A roomette reservation is only for you and your travel companion (if you have one), and you will not share a room with someone you do not know.
Two Styles Of Amtrak Long-Distance Trains
Amtrak uses two equipment styles due to the tunnels leading into New York Penn Station. Single-level cars clear these tunnels, but the bi-level rail cars do not. The Capitol Limited and the Auto Train are the only two Eastern trains that do not go to New York Penn, using Superliner equipment.
Amtrak Trains With Viewliner Equipment
Viewliner trains consist of coach cars similar to coach cars found on Amtrak regional trains, but these Amfleet II coach cars have more legroom with a few other slight differences.
*This train is not an overnight train, so it does not have a sleeper car service.
Amtrak Trains With Superliner Equipment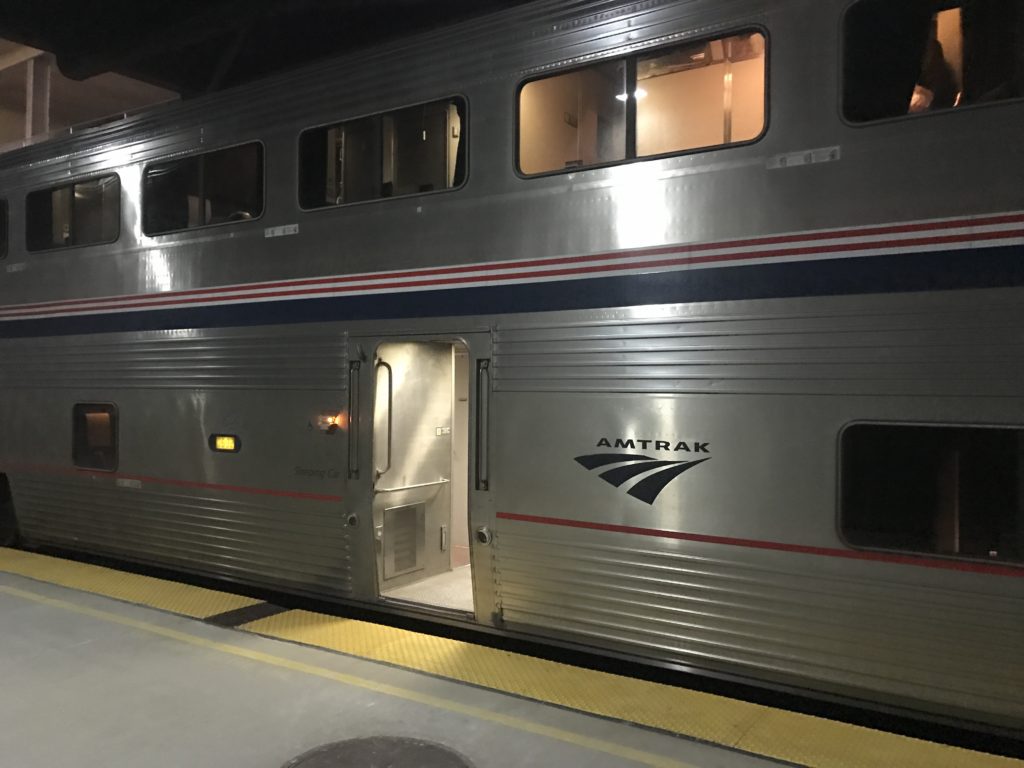 If your adventure is on one of these trains, check out this article instead for more detailed information on those roomettes.
| Superliner Routes | End Cities |
| --- | --- |
| Auto Train | Lorton, VA – Sanford, FL |
| California Zephyr | Chicago, IL – Emeryville, CA (San Fransico) |
| Capitol Limited | Chicago, IL – Washington, D.C. |
| City of New Orleans | Chicago, IL – New Orleans, LA |
| Coast Starlight | Los Angeles, CA – Seattel, WA |
| Empire Builder | Chicago, IL – Seattle, WA/Portland, OR |
| Southwest Chief | Chicago, IL – Los Angeles |
| Sunset Limited | New Orleans, LA – Los Angeles, CA |
| Texas Eagle | Chicago, IL – San Antonio, TX/ Los Angeles |
The equipment on these trains is interchangeable.
Amtrak Viewliner Roomette: Size, Beds, & More!
Roomettes are the smallest of Amtrak's accommodations. Roomettes measure 6.5′ by 3.5′ and serve two different purposes for your journey.
During the day, two chairs face each other. The two chairs become the lower berth or bed ( 2.3′ by 6.5′), and the second berth pulls down from above (2′ by 6.2′). The top bunk does have safety straps, so you do not roll out. The top berth also has a pouch for glasses, a water bottle, a phone, or whatever you may want within reach of the bed. Whoever sleeps in the top bed will need to do some easy climbing to get up there.
Sleeper Cars are compact but comfortable, similar to giant RVs, on the rails.
These cars also have a fold-up sink and toilet in the room, and on the other side of the door is a place to hang jackets or whatever you may want to hang up. There is more information about the Viewliner amenities later on in this article.
Some cars may not have a toilet in the room; check the yellow box in the next section.
Viewliner Sleeper Car Layout

Viewliner sleepers contain roomettes, bedrooms, and an accessible room. Additionally, they offer coffee/drink stations just outside of the shower/changing room. The car attendant's room is the white area on the bottom right of the diagram across from the shower.
New Viewliner Cars
There are new Viewliner Sleeper cars on the system known as Veiwliner II's. You will know these cars because of the "wood" and burgundy interiors. Many travelers will notice the most significant change because roomettes no longer have toilets, but they still have a sink. Room lighting has improved with new LED lighting technology.
These sleeper cars started in service around 2020. I don't have a new layout or photos of the new Viewliner II cars yet, but I will post them as soon I have some available.
A few things moved in the car.
There are twelve roomettes in the new cars, one of those used by the attendant. The shower is in the same spot, but the car bathroom is now across from it instead of the car attendant's room. The coffee station is now towards the middle of the car, next to room 1.
Viewliner Roomette: Power, Lighting, And Comfort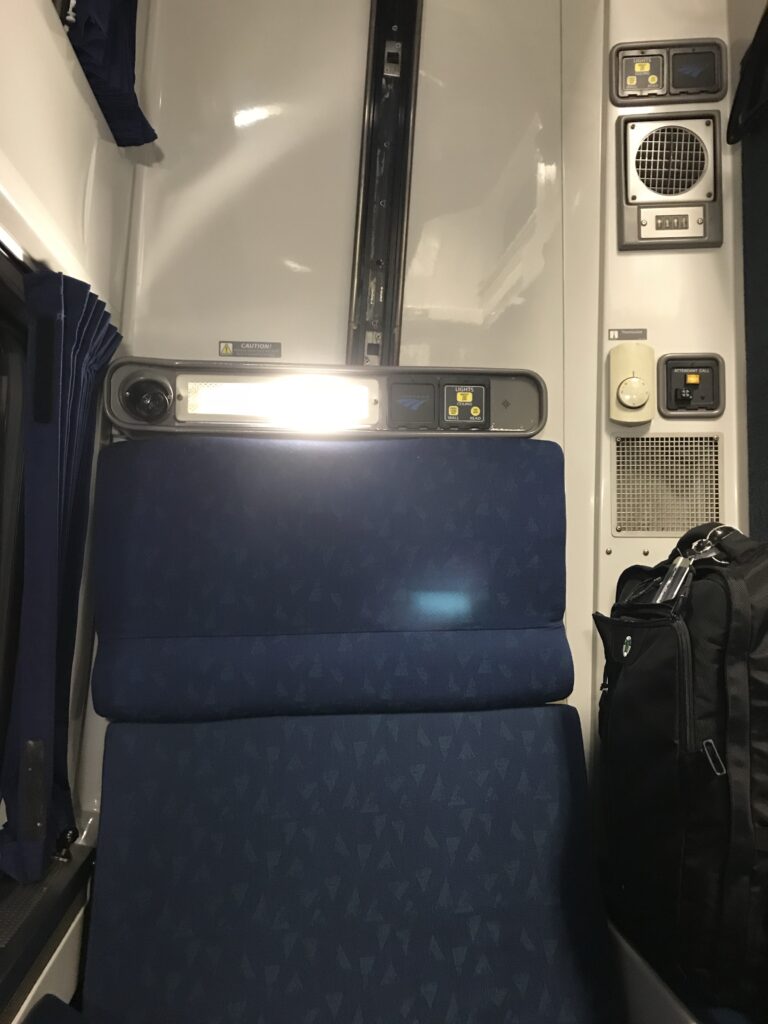 These sleeper cars were designed and built before our mass use of electronics, so be advised there is only one double wall outlet in the room by the sink. A simple extension cord will solve this problem for most people and allow you to charge more than one device at a time. A power pack could help with charging electronics. The newer cars now have an outlet by the sink and the other seat.
Lights in the room include ceiling lights, a nightlight, plus reading and wall lights. Amtrak is in the process of switching many of these lights over to more efficient LED lights.
The photo shows you the right side (looking into the room) of the heating controls and vent system for air movement. To the right of heating and vent controls is an area to hang your garments.
Travel tip: the upper bunk has a reading light that works well for mood lighting in conjunction with the nightlight. I often use this light when I head to dinner, so there is some light in the room when I come back.
Viewliner Roomette Windows & Doors
As mentioned before, Viewliners have large windows allowing you to watch the country roll by as you travel, plus upper-level windows let in more light and give you a view when you are in the upper bunk. Additionally, windows facing the hallway give your room a more open feel. All windows have drapes to keep the light out and for privacy.
The room door is only lockable from the inside and not outside. So, before leaving your room, hide your valuables. I have never had an issue, but I don't leave my valuables out when I am not in the roomette.
Storage For Amtrak Viewliner Sleeper Roomette And Baggage Tips
Viewliners offer more storage than their Superliner counterparts. Roomettes have a place to hang those things that need a hanger, and also above the door is ample storage for most travelers.
Checked baggage service is available between some stations, but not all, so check while booking or before leaving for your trip, so there are no surprises. If your first station does not have checked service, but your layover and destination stations do, you can check bags at your layover station, providing you have enough time. Often, you need 45 minutes before departure to check bags.
For example, if you book a trip from Sturtevant, WI, headed to Philidelphia, PA, you'll have a layover in Chicago before switching to the Cardinal. You cannot check luggage at Sturtevant onto the Hiawatha. Still, you can check them in Chicago to get loaded onto the Cardinal, providing you can do so 30 minutes before departure. Or, in this case, you could start your journey in Milwaukee and check your bags then.
Amtrak Viewliner Roomette Amenities
Besides the sleeping areas and storage, there are more to these small rooms. Each room has a fold-out table between the two chairs, and behind that is the safety card and often the Amtrak magazine, The National.
Rooms come with bottled water, fresh towels, blankets, sheets, and pillows. In the morning, coffee and juice service is available at the coffee station towards the end of the car by the shower.
A toilet and sink are in every room; these cars do not have a "public" bathroom like the Superliners. If you are traveling alone, often this is not a big deal, but it could be awkward for two. When using the sink, the water will accumulate in the basin, and then when you fold it up into the wall, it will drain to the back. The toilet lid and the shelf in front of the folded sink are steps you use with safety handles to climb into the upper berth.
Meals Onboard
Your reservation includes all scheduled meals. So if you get on at midnight, your first meal will be breakfast at or after 6:30 am. You can eat your meals in the sleeper lounge, have them delivered to your room by your attendant, or you can grab your meals and bring them back to your room. All trains with Veiwliners use Amtrak's flex meals. You are eligible for a complimentary adult beverage (providing you are 21 or older) and select beverages complimentary, including soft drinks, juices, coffee, tea, and more. More about this later.
During the pandemic, many people eat in their rooms. Amtrak could restrict the use of the sleeper lounge.
Car Attendant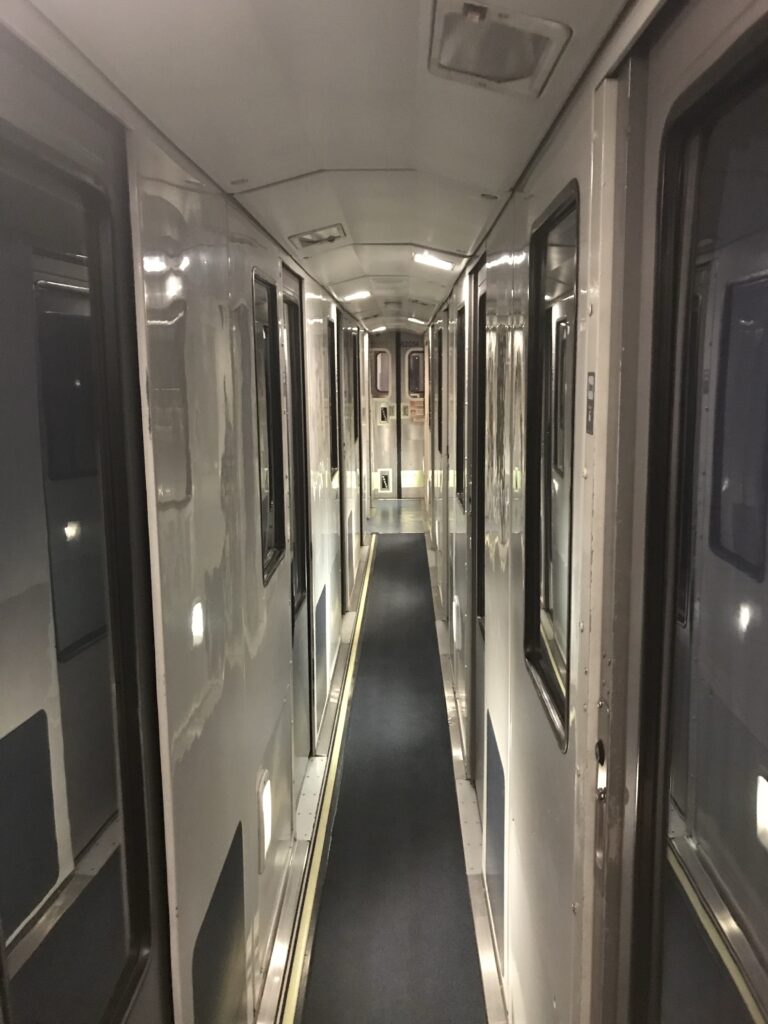 A car attendant (porter) is in every car to help you along the way. The term porter is no longer used to refer to car attendants. The attendants will prep your room for day or night, help with luggage (when able), and maintain the sleeper car. They can help bring meals to your room; let them know ahead of time.
If you need help along your journey, use the call button to alert the attendant you need help. Remember, the attendant is there to help the whole car and not a personal servant. Because of others in the sleeper car, it may take some time before they can get to you. During the middle of the night is the attendee's downtime, so plan accordingly.
The attendant will often greet you when you board the train unless you board late at night. They will let you know what all the cars' buttons do and answer any questions. They often will let you know about meal times and fill you in on everything else you may need to know.
Most Viewliner trains do have Wi-Fi. Amtrak Wi-Fi is cellular and not set up for streaming videos or big files, and it can be spotty along the way. The best way to approach Wi-Fi on trains is to plan for it not being available and then be happy when it works out for you. If you want movies or shows along your journey, it works best to download them ahead of time.
Getting Around The Train & Where You Can Go
Getting around the train is easy if you remember which direction you need to go. Trains are linear, so you may need to walk through a few cars to get the car you need to visit. When walking through the train, make sure you are respectful because others may be sleeping.
Sleeper Lounge
The sleeper lounges are dining cars now used as a gathering place for sleeper car passengers. This car has an attendant that can help get you your meals and complimentary soft drinks. Here is a list of drinks available and the cost of alcohol.
Try the lounge if you need to get out of your roomette for a while. Amtrak set this car aside for sleeper car passengers to relax and watch the scenery roll by traveling to their destination. If you need snacks or additional alcohol, check out the next car.
Cafe Car
The cafe car is often the next rail car from the sleeper lounge. The cafe car is where coach passengers can hang out and a place for you to get a few extra snacks or grab something to drink.
Shower & Changing Room
The shower, changing room, and coffee center by the exterior door are at the end of the roomette corridor. As stated before, the coffee station has moved closer to the bedrooms on newer sleeper cars.
The shower is in the changing room and is available anytime there is no one there. Because roomettes are tight, one person from your party can use the changing room while the other changes in the room. Amtrak provides bar or soft soap, washcloths, and towels; you need to bring your shampoo if required.
Can I Request A Room For The "Best View?"
This question comes up a lot on forums. A ticket agent cannot guarantee which way a room faces because sleeper cars run in either direction. Since they run in either direction, Amtrak may put sleeper cars together in whatever order they come into the yard.
The direction your room faces is the luck of the draw; possibly, the onboard staff might be able to move you, but this is not guaranteed. For a different view, try the Sightseer Lounge, or for passengers on the City of New Orleans and Auto Train, try the Sleeper Lounge.
Booking A Viewliner Roomette
There are several ways to book a Viewliner roomette, including staffed stations, Amtrak's app or website, over the phone, or use travel agents like Amtrak Vacations.
Booking on your own is simple if you are tech-savvy; even booking multiple rooms for groups is possible. When securing more than one roomette on your own, be aware the booking system randomly assigns them.
After making your reservations, Amtrak sends an email that includes your receipt and ticket. The ticket contains dates, times, and destinations and shows your room assignment. This information is also available in the app if you booked with your Amtrak Guest Rewards Number.
If you and a travel companion want to share a roomette, make sure you book both travelers together on one ticket.
Reasons to call Amtrak or visit a staffed station:
If you are booking multiple rooms near each other
Do you want a specific roomette, or don't you like the assigned location of the roomette?
You have a tricky reservation or have difficulty putting your trip together.
Amtrak will try to fulfill room requests, but it is not always possible. It is best to book as soon as possible for the most options.
How Much Does A Viewliner Roomette Cost?
One of the most asked questions is cost, but it is not easy to answer because there are too many variables. Variables include the destination and starting points, when you book the trip, how full the train is, traveling solo or with someone, etc.
For tips on saving money, check out my page on the topic. The best way to figure out the cost of a roomette is to enter the start and finish points into Amtrak's website and see what they say.
Where Are Sleeper Cars On The Train
The sleeping cars are often located at the end of the train between the Sleeper Lounge/Dining Car and the baggage car, although they could be behind the locomotive or baggage car. The Lake Shore Limited has sleeper cars on both ends because the train splits or comes together.
Amtrak Viewliner Roomette: Extras To Consider Packing
I like bringing a few things to make my trip more enjoyable.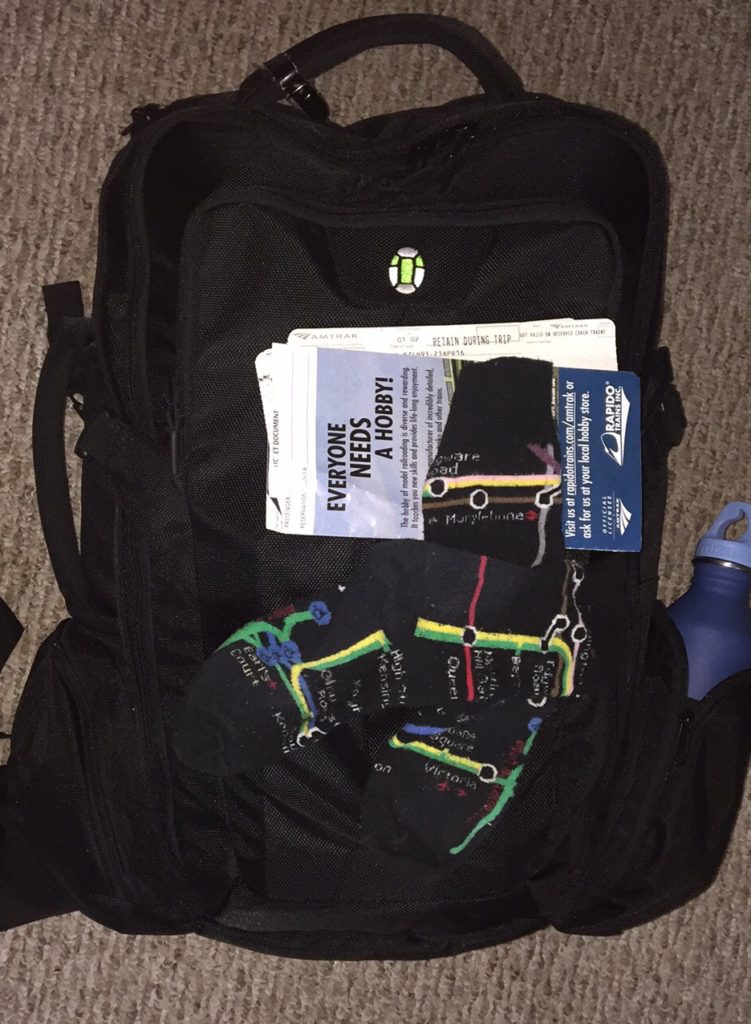 Electronics

Extension cord
Headphones
Chargers and cables
A tablet with downloaded entertainment can help buy time at night or if there is a delay.

Apps such as Netflix, Disney +, Amazon Prime, or other streaming services allow you to download movies ahead of time to watch them without the internet.

Snacks and drinks

I bring a reusable bag of snacks to pack the bag away when the snacks are gone.
To save on weight, I'll buy snacks each way instead for the whole trip and replenish them before heading back.
Many big stations such as Chicago and LA have food courts and shops that sell snacks, but you will pay more than other stores. It could be fun to snack on a local treat on your way home.
A refillable water bottle is a handy way to stay hydrated and lower your travel footprint.
At the time of writing, you can bring your alcohol and consume it in your room. Conductors could remove you at the next stop if you get out of control, regardless of your destination.

Sleeping and misc

Eyeshades if you are super sensitive to light at night

Drapes block a lot of light, but if you are uber-sensitive, these could help.

Earplugs, if you need it uber quiet
Sleep aides
Starting Your Trip At An Amtrak Station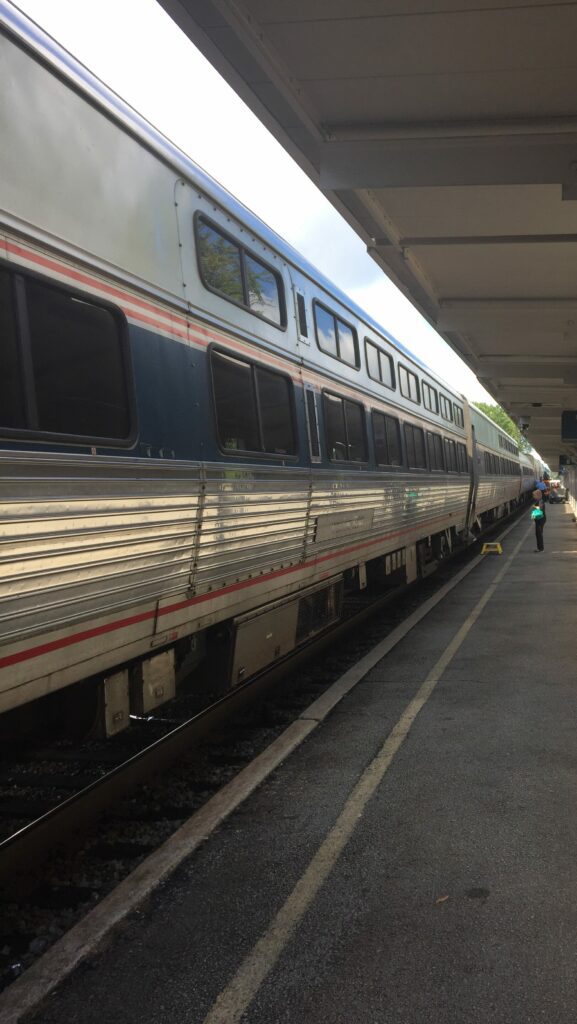 Several stations within the Amtrak systems include large staffed stations with lounges to ones with only the bare basics, only a platform, and an Amtrak sign. A few stops along the way, called flag stops, are where the train only stops if people are getting off. Whatever the case may be, stations are often just a tiny part of the trip. Usually, if you are transferring, those stations are staffed.
Cities such as Boston (South), MA, Chicago, IL, New Orleans, LA, Philidelphia, PA, Washington DC, and New York, NY have staffed stations with lounges that sleeper car passengers to use. If your journey starts at the beginning of the route, often the sleeper passengers load first. Staffed intermediate stop often stages passengers on the platform, so you'll be close to your sleeper car's when the train stops.
If you leave from a platform or an unstaffed station, check the buttons below for more details. But in general, listen to the onboard train staff for help. They will tell you where you should board the train.
If you are new to train travel, there are coach and sleeper cars on these trains, and you want to make sure you get into the right passenger car. Coach cars are more rounded, and sleeper cars are more square, walk toward the square cars.
Arriving At Your Destination
This step is often the easiest because you get off the train. If you have checked bags, listen to announcements about claiming them or ask station staff.
Getting ready for your next adventure
I like to note what stop comes before my destination; after we leave that stop, I go back to my room and get my belongings ready. For example, when I take Amtrak to visit my sister in Papillion, NE, near Omaha, NE, Cresent, IA, it is the stop I need to listen for because it's the one before my sister's. If you do not know your train's schedule, you can find printable ones here.
I have a little over an hour from the Cresent in my example. IA, stop and arrive in Omaha, NE. That is more than enough time to clean up my area, re-pack my things, and text my sister, letting her know I am close. You may have more time than that, like hours, or you may have minutes. If you are not sure, ask your car attendant or a conductor.
The Staff Will Help You
During the day, conductors and car attendants announce the upcoming stops over the PA, but from around 10 pm to 7 am is quiet hours, and instead, the staff comes to your room to alert you. Even during the day, they will stop by and make sure you are ready for your next adventure.
Staff will often offer to take your luggage to the door before arriving at your destination. Staff will direct you to the right door and help you off the train after it comes to a complete stop.
Claiming Checked Bags
If you checked your bags, listen for instructions on claiming them.
There is no cross-system protocol for checking baggage because of the different station sizes and resources. Checked baggage is often like an airport with a baggage carousel at larger stations, but you could claim your bags off the baggage trailer or something in between those.
Viewliner Roomette Etiquette
Basic manners apply when riding in a Viewliner Sleeper, but here are a few points to review.
Inside voices are essential; the walls are thin, so be mindful of your neighbors.
If you don't use headphones, keep your electronics at a low volume, especially at night.
Treat your car attendant with respect; remember, there is only one of them for the whole car.
Clean up after yourself in common areas. It is the right thing to do and makes things better for staff and your fellow passengers.
Viewliner Roomette Wrap-up
Roomettes are my happy place, either Superliner or Viewliner; I have enjoyed thousands of miles in these rooms. Occasionally I didn't get the best car attendant, but it was the exception to the rule for me. When I can, I try and get a roomette because of personal space, food, shower, and I get to sleep horizontally. Plus they are often cheaper than a bedroom.
My favorite part of a roomette is that I can stretch out, watch the scenery go by, and listen to something without headphones (at a low volume). With a sleeper, once onboard, your basic needs are covered. Amtrak offers one free alcoholic beverage per trip and complimentary non-alcoholic drinks for your journey in the Sleeper Car Lounge. This offering is part of the dining program.
Safe Travels!
Kev
For more information, check out these topics!
Are you or want to be an entrepreneur?
If you are interested in starting an online business or struggling with your current one, join me at Fizzle.
Fizzle is a paid community with courses, forums, coaching, and web hosting with Flywheel as part of your membership, but they also offer FREE podcasts! I have found the information valuable, and I use what I am learning to grow this site.
Fizzle often offers a free trial that I think you will find helpful to check out.