Amtrak's City of New Orleans is a relaxing mode of transportation between Chicago, IL, and New Orleans, LA. The train provides both coach and sleeping car accommodations, plus food service.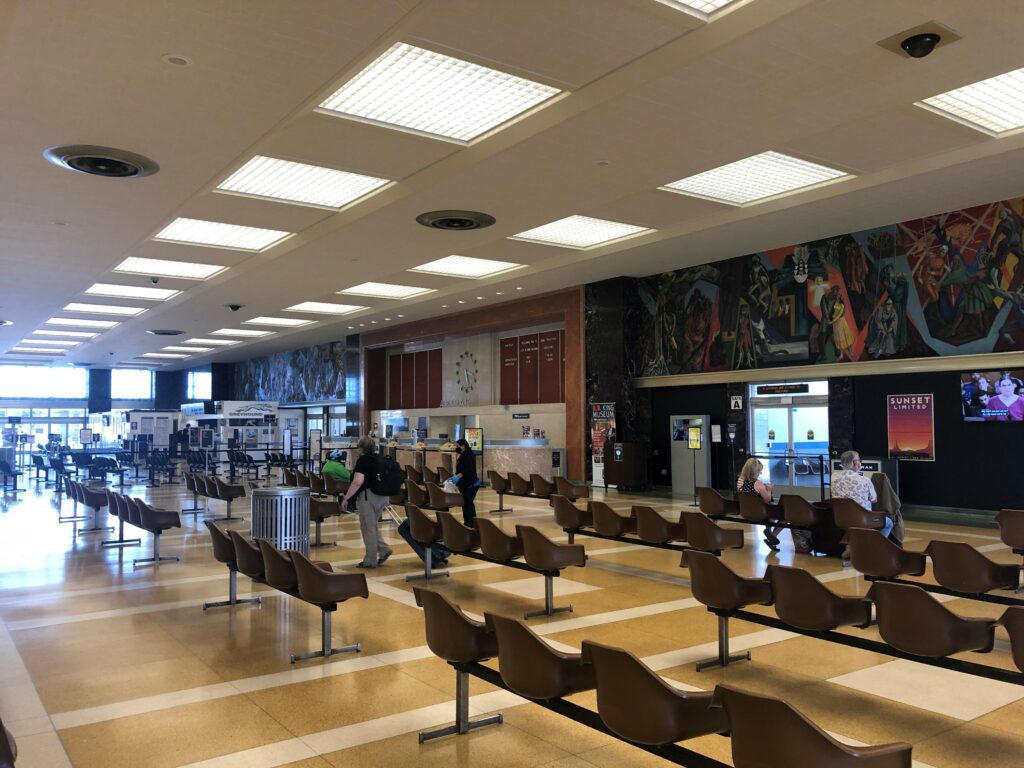 This train, in total, serves twenty-three communities by rail, including Memphis, TN, and Jackson, MS.
Amtrak offers connecting bus services for more destinations to expand this train's reach.
This article will give you the information you need to plan your next trip aboard Amtrak's City of New Orleans.
Taking Amtrak is convenient for passengers in several ways. Many station stops are in the downtown areas of communities, unlike airports.
The City of New Orleans serves many communities without access to airports or other forms of mass transportation. Another advantage of train travel is less jetlag; the train schedule gives you plenty of opportunities to start the fun as soon as you get off.
The City of New Orleans Train 59 Track Work Affects Service
Effective March 7 – April 7, 2023 – From the Amtrak website
Due to track work being performed by Canadian National, the schedule of Train 59 will be impacted as outlined below. The schedules listed on Amtrak.com have been updated to reflect this change.
Tuesday, March 7 – Friday, April 7
March 7, Train 59 will be renumbered as Train 1059. It will operate on an adjusted schedule, departing Chicago at 6:35 pm, 90 minutes earlier than normal, operating this earlier schedule from Chicago to New Orleans.
From March 8 to April 7, Train 59 will operate on an adjusted schedule departing Chicago at 6:35, 90 minutes earlier than normal, operating this earlier schedule from Chicago to New Orleans.
A brief history: From Illinois Central to Amtrak
In 1911 Illinois Central created a Chicago to New Orleans route, The Panama Limited, an overnight train. Besides leaving Chicago and New Orleans., an extension of this train connected St Louis, MO, to New Orleans. In Carbondale, IL, the two trains would come together or split depending on the direction.
Eventually, Illinois Central changed the St Louis route to a bus connection. Here is a sample timetable from 1962 reflecting that change.
Later on, Illinois Central added a day train, The City of New Orleans. The train was later made famous by Steve Goodman's The City of New Orleans song.
Illinois Central operated trains out of Chicago at Central Station), now known as the Millenium Station.
Amtrak took over most passenger rail services in 1971 and eventually moved the City of New Orleans and Panama Limited operations to Chicago Union Station. In 1987, Metra took over Illinois Central commuter rail after buying the IC line.
After a few years of running both trains, Amtrak eliminated the City of New Orleans, keeping the Panama Limited schedule. In the 80s, Amtrak returned the City of New Orlean's name by renaming it Panama Limited. It is a rebranding move because the song is a more recognizable name.
Over the years, Illinois Central and Amtrak changed the route, like schedule tweaks, the cities served, and changing St Louis, MO, to Carbondale, IL section from train to bus.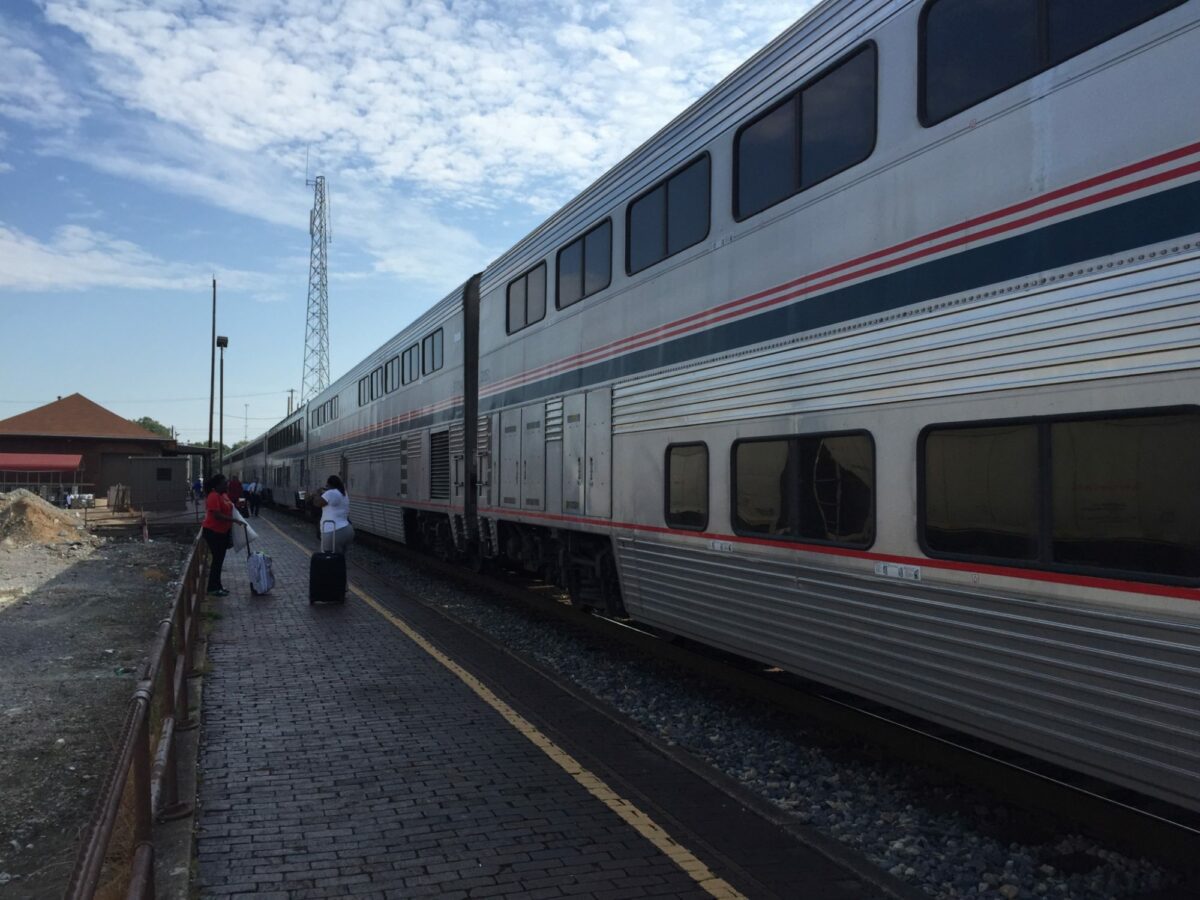 Amtrak's City of New Orleans
Chicago, IL – Memphis, TN – Jackson, MS – New Orleans, LA (and more))
Frequency and equipment use
The City of New Orleans runs daily, with twenty-one intermediate stops between Chicago, IL, and New Orleans.
The train uses one to two GE Genesis series locomotives. The new Seiman locomotives are appearing on this route.
Amtrak operates its signature Superliner Coach and Sleeper Cars.
The Train Route Numbers
All Amtrak trains are named and numbered. The names help passengers quickly reference what train they need.
The route number identifies the direction and schedule for that particular train.
In this case, the Northbound is 58, and the Southbound is 59.
Getting your ticket to ride
You can book your next adventure with the Amtrak app, website, phone (1-800-USA-Rail), or at staffed stations. Amtrak offers access to more communities with Amtrak's connecting buses, and along with your train ticket, you can purchase bus tickets. 3rd party carriers run Amtrak's connecting busses.
You may need to call Amtrak or visit a staffed station for an accessible room, like roomettes across from each other, or other special requests.
To board the train, you need a ticket, and Amtrak accepts physical paper tickets, or conductors can scan your electronic devices.
Amtrak sends an email containing your ticket and receipt when you purchase your tickets over the phone or the internet. You can print off the pdf or show conductors the email from your smart device.
The Amtrak app stores your tickets, or you could use "wallet apps" like Apple's Wallet.
Downloadable schedule and route guide
Amtrak published route guides for passengers to enjoy, but they stopped printing them and disappeared over time.
The route guides are a way to learn about the communities you roll through on your way to your destination. Luckily someone saved them and made them available. You can print them or keep them on a tablet if you wish.
Below the guide is a downloadable plus a City of New Orleans Amtrak schedule.
The City of New Orleans Schedule
Here is a brief look at the major stops for the train:
Northbound 58
(Read from the bottom up)
Cities
Southbound 59
(Read from top Down)
9:15 am the next day
Chicago. IL
8:05 pm departure
10:40 pm
Memphis, TN
6:40 am the next day
5:40 pm
Jackson. MS
11:20 am
1:45 pm departure
New Orleans, LA
3:47 pm
The times are departure times and can change at any time.
Accommodation Amtrak's City of New Orleans
This train uses Amtrak's Superliner (bi-level) equipment and offers coach seating, roomettes, bedrooms, family bedroom, and accessible rooms.
Run times and miles of travel.
The City of New Orleans's entire route is 934 miles with a scheduled run time of 19 hours and 42 minutes. The fastest the train can operate is 79 mph. The average speed for the route is 47.4 mph, but that is due to station stops, crew changes, fueling, etc.
Who owns the tracks that The City of New Orleans uses?
Amtrak does not own most of the tracks their trains run on; they use rails owned by other railroads. The owners of these rails are called the host railroads.
Amtrak owns the rails outside of the New Orleans and Chicago stations, but the primary host railroad for the journey is CN (Canadian National)/Illinois Central (on paper).
What is the City of New Orleans's on-time reliability?
On average, the City of New Orleans arrives at its station stops 88% on time or early, based on a one-year average. CN causes most of the delays with freight train interference and slow orders. (Based on the 2021 Amtrak Host Railroad Report.)
A host railroad prioritizes its freight trains over Amtrak's is called freight train interference. Slow orders are when trains receive orders from the dispatchers to run at speeds less than the maximum authorized speed due to track work, extreme temperatures, or other safety reasons.
Amtrak's 2020 Host Railroad Report Card showed CN receiving a "B+" letter grade with a four-year average of "D+" because of the delays they caused to Amtrak trains with The City of New Orleans and the few regional trains on CN tracks. Check out this article for more information about why Amtrak trains get delayed.
Remember that delays happen, and as you learned, often they are not Amtrak's fault. Try to take the setback in stride, plan a little extra time in your schedule, and avoid planning anything time-sensitive activities for when they get off the train.
Trains can make up some of the lost time, do not let this deter you from booking a trip; often, the delays are minutes and not hours.
How can I check the status of the City of New Orleans?
Resources for checking the status of the train
Amtrak's Site and App
Yes! With a computer or a smart device, you can check the status of The City of New Orleans or any of Amtrak's trains. The Amtrak app and website have buttons to push to enter the needed info to view the train's status.
With Amtrak, there are two ways to gather this info.
Option one is by Train Number; you need the train's number and a station.
For example, if you are getting on the train in Kankakee, IL, heading to New Orleans, and are curious how it is doing as it heads South from Chicago, enter 59 for the train number and KKI or Kankakee.
If you do not know your train's number, look at your ticket, it is on there.
If you want to get info by station, enter the city where the train started and where you are getting on the train. Suppose we use the last example; type in CHI or Chicago for the departure station and KKI for the arrival.
Either way works, but knowing the train's number works best for me. I often will how the train did at the stop before mine, for this will give me an idea if I have time to spare or if I need to hurry. Remember that trains can make up some time if they are running late.
If you use the Amtrak app on your day of travel, look at the area with your ticket. There you'll see a button that says trip tools; after you hit that, a drop-down menu will give you the option to check your train status for your stop and destination.
By Phone
Or you can also call 1-800-USA-Rail to get train status.
Third-party sites
A few third-party sites offer information about how Amtrak trains are doing, and below is the site I often use. With this site, I can pull up a map showing all running Amtrak trains, train status for a specific station, or a timetable with a schedule and actual times.
Other sites are available, but this one works best for me and others because it is easy to read. I go back and forth between the site and Amtrak's app because sometimes one is more convent than the other. I use these tools while waiting for the train and aboard to see how we progress.
Third-party sites obtained their data from Amtrak. The data is not in "real-time" because it is updated every few minutes, but close enough for a guide.
Receive texts or emails.
Amtrak offers the opportunity to receive text messages or emails about the train's status when purchasing tickets. If you miss the prompt, you can sign-up afterward using the link below. When signing up for emails, ensure the account you use is an account you can access from your phone.
If someone is picking you up, they can have signed up for this.
Baggage on Amtrak's City of New Orleans
Amtrak's generous carry-on policy allows for two twenty-eight-inch suitcases and two personal items; all bags must weigh fifty pounds or less.
Coach cars offer storage above your seat. Sleeping accommodations have some but not a lot of storage. Most coach and sleeper cars have a luggage rack on the lower level to store your items, but no one watches luggage stowed there.
Check bag service is not available for all stops. To prevent a day of travel surprises, verify that both stations you are using offer checked bag service before leaving. Further down in this article is a list of all station stops and the services offered. You cannot check bags on this train if one or both stations do not offer checked bag service.
If you connect to or from this train, your checked bags, except for bus transfers, will follow you as you travel. When in doubt, ask onboard or station staff.
If you check your bags, you will not have access to them until you reach your final destination. You must check your bags at least forty-five minutes before the departure of the train; the major exception is Hammond, LA.
For example, my fictitious adventure is from Omaha, NE, to New Orleans, LA. Since both stations offer checked bags service, I can drop them off in Omaha and grab them in New Orleans. While enjoying dinner and a brew during my Chicago layover, Amtrak takes my bags off the California Zephyr and puts them in the City of New Orleans.
Food & Alcohol On Amtrak's City of New Orleans
Bringing food aboard The City of New Orleans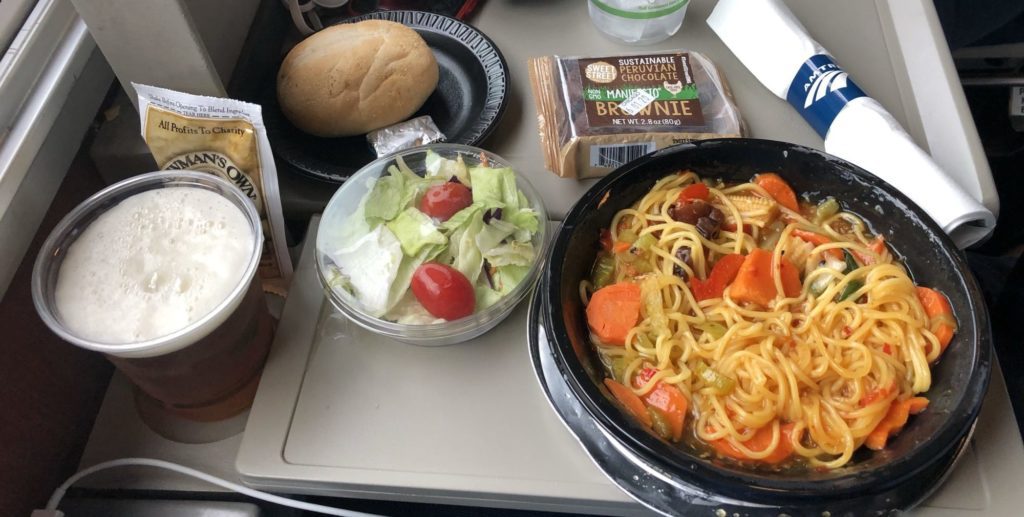 You can bring food onboard or purchase items from the cafe. Sleeping car passengers receive meals are part of the ticket price, but they can buy or bring treats on board.
Remember, with your food choices; others are around. So be considerate when bringing food onboard. Egg salad or other foods with pungent odors are never a good idea.
Due to FDA regulations, you cannot bring food or drink into any Amtrak food cars you did not purchase on the train; food for small children is the exception. Amtrak staff cannot store or warm any food for you.
Bringing alcohol on the train
You may transport adult beverages in coach class but cannot partake from your stash as you travel. If you get out of hand from drinking too much or get caught breaking this rule, you may get kicked off the train and possibly fined.
Sleeping car passengers can bring adult beverages onboard and consume them in their rooms, but they can get thrown off the train for belligerent behavior like coach passengers.
Amtrak café
Coach and sleeper car passengers can use the cafe to purchase meals, snacks, and beverages, including adult beverages, along their journey.
For this train, the cafe is often part of the dining car. If it is not there, check the lower level of the Sightseer Lounge car.
Sleeper "lounge"
Amtrak uses cross-county cafes on this train, and the side closest to the sleeper cars should be reserved for sleeping car passengers.
The City of New Orleans uses Amtrak's flex dining. If you do not want to eat in the lounge, your meals can be brought to your accommodations by your car attendant, or you can grab them. Amtrak offers one complimentary adult beverage per eligible sleeper car passenger and unlimited soft drinks.
Scheduled Meals
Southbound sleeping car passengers receive dinner (only for those leaving from Chicago), breakfast, and lunch. Dinner service often starts before the train leaves Chicago. Northbound travelers receive dinner and breakfast. The article on sleeper car dining shares sample menus and discusses when you may not qualify for meals.
Station types
The City of New Orleans serves various stop types, including staffed stations, unstaffed stations, flag stops, and platform stations or stops.
The 23 stops of Amtrak's City of New Orleans and service levels
Below are all of The City of New Orleans's stops and station codes.
When booking, verify the cities you want; for example, if you're traveling from Chicago, IL, to Jackson, MS, and didn't pay attention, you may find that you hit Jackson, MI (JXN). While a quaint city in southern Michigan, it is not wanted. A few towns along this route have similar names to one of your possible destinations.
The Amtrak site does offer more specific information for each station, such as addresses, parking info, and more.
Amtrak's City of New Orleans tickets and line-up
Car numbers
Most of this section is for sleeping car passengers, but the last paragraph is for coach passengers.
All of Amtrak's passenger cars display two sets of numbers. One is a blue five-digit number located near the end. That is the car's identification number, which you can ignore.
The other number you need is a four-digit number found near the door. This number gives you the route and the car's position in the train's line-up.
When traveling North, the number should start with 58XX or South 59XX. Occasionally, these numbers are not updated; a Northbound sleeping car might say 5900 instead of 5800; if you get confused, car attendants and conductors are happy to help you. If you have a sleeper, the attendants are looking for you.
After you purchase your sleeping car accommodations, you will receive an email with your eticket pretty quickly, and your ticket will give you the car and room numbers. Coach passengers receive their coach car and possibly seat assignments from the conductors before boarding the train.
Connecting to other trains and Connecting services.
The City of New Orleans allows easy connections with all long-distance trains in or out of Chicago, plus many regional trains. Any transfers out of New Orleans require an overnight stay, the Crescent runs up to New York, and the tri-weekly Sunset Limited runs to LA through Texas.
If you take the train North, you can connect to all long-distance trains and most regional trains out of Chicago. The City of New Orleans also has Amtrak Connectin Services.
The City of New Orleans Order Of Cars
Amtrak can change this information anytime, so use this as a guide.
| Northbound Car Numbers | Equipment Type | Southbound Car Numbers |
| --- | --- | --- |
| | GE Locomotive | |
| 5809 | Transdorm | 5909 |
| 5800 | Sleeper | 5900 |
| XXXX | Diner Lounge | XXXX |
| XXXX | Sightseer Lounge | XXXX |
| 5832 | Coach | 5932 |
| 5831 | Coach | 5931 |
| 5830 | Coach Baggage | 5930 |
This information could change at any time.
Rooms 17-22 of the transdorm car are for passengers; the rest is for staff rest.
Passenger car layouts
The below layouts are older guides, and as Amtrak rehabs these cars, they may change from these floor plans. These diagrams can help you find your room in your sleeping car. I currently do not have one for the sleeper car/dining car lounge car.
Transdorm car numbers 5809/5909

Sleeping car numbers 5800/5900

Coach Cars 5830-5832/5930-5932

Sightseer/Café Car
Amtrak could swap out this car for a different cafe/lounge car.

Why is the train backing up?
When the train leaves or comes into New Orleans or Chicago, The City of New Orleans may need to back in or out of these stations. This move is standard for this route.
The train left from a different location in the Illinois Central days, but now its home is Chicago Union Station, meaning the train needs to back up to go over a bridge connecting it to the CN mainline.
Occasionally the train will pull out of the station and back under the bridge it needs to go over, as seen in the video.
The train may pull in or back into the New Orleans Station.
A resource for planning for your time in New Orleans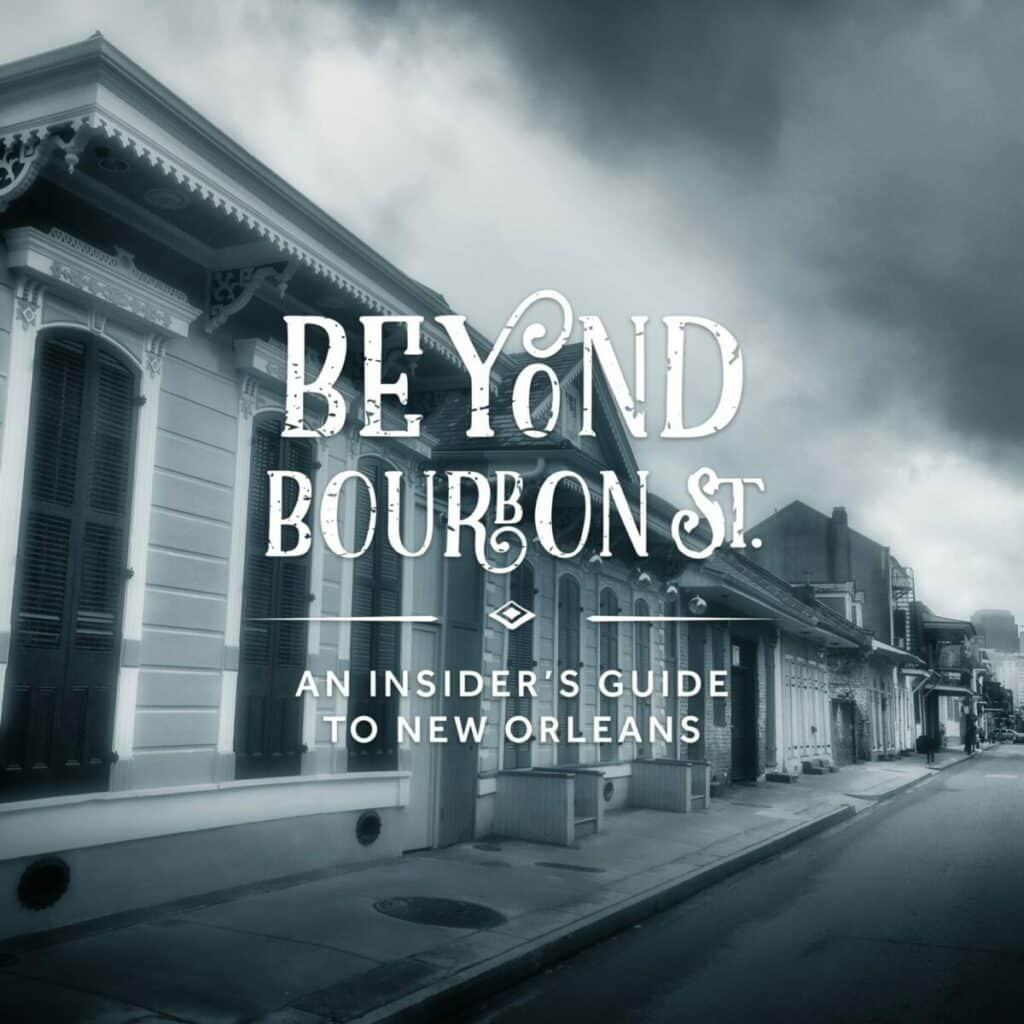 Regarding traveling, resources are essential, and I have an excellent one for you.
The Beyond Bourbon Street Podcast is the best resource for planning your next adventure to "The Crescent City."
Mark, the podcast host, is a New Orleans native passionate about sharing his knowledge and love of this city with his listeners.
The podcast aims to inform travelers that New Orleans is more than Marti Gras and Bourbon St; it has diverse neighborhoods with rich history and offers something for all ages and interests.
The average cost of Riding Amtrak's City of New Orleans
These prices are based on one person traveling from end to end and are a reference.
Amtrak uses step or bucket prices, which means they set aside seats or rooms at one cost, and after selling those, the price goes up to the next bucket or steps.
The cost can decrease if people cancel their trip and accommodation becomes available, which is why prices fluctuate as you research.
Two prices are wrapped up in one for sleeping accommodations; the first is the room rate, and the second is the "rail fair." You pay one room rate and two rail fairs when booking a room with someone. For example, one person in a roomette is $319, but for two, the total is $494.
Discounts like senior, military, or others come off the rail price, not the room price. Click the button below for more information on saving money on Amtrak and how deals work.
Accommodations
Approximate Price Range
Coach Seats
$110 – $265
Roomettes
$319 – $527
Bedrooms
$611 – $688
Family Room
$432- $632
Accessible Room
Call 1-800-USA-Rail
for more info
Prices can change at any point, and based on one passenger, use a guide only.
Notable views for Amtrak's City of New Orleans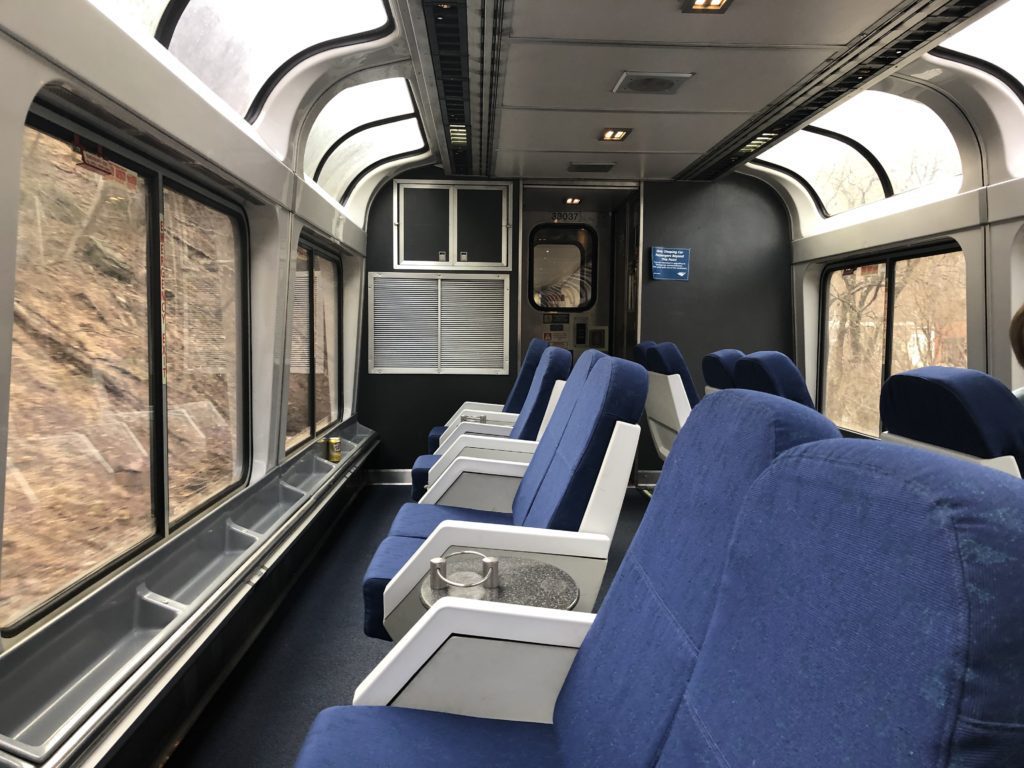 While most of the trip is at night, there are a few notable—fun parts of the route.
The most remarkable and fun route is going over Lake Pontchartrain. If you look straight out from the upper level, it seems like the train is floating in the middle of the lake.
You will see many communities and agricultural areas between Memphis and New Orleans.
You will see a few of Chicago's southern suburbs and Guaranteed Rate Field, where the White Sox play; you have a better chance to see this on the Northbound train, but the outside stadium lights are on at night.
Fresh air stops
Fresh air breaks allow you to stretch your legs and get fresh air; for me, they break up the trip. The fresh air or smoking breaks often happen during crew changes, fuel stops, or if the train is early coming into a station.
If you decide to get off the train at a fresh air stop, follow the conductor's directions, and don't wander too far from the train. Remember that the train can and will leave without you if you do not return on time. Often you will hear a few blasts from the train's horn, indicating it is time to reboard the train.
Walking around the train
First-time train riders should know a few tidbits about walking around the train. It is not hard, but often not what people are used to doing when they travel.
To go from car to car, you need to be on the upper level of the train, but if you want to use the bathroom or exit the train, you need to use the lower level.
Trains are linear, meaning one car in front of another, so you may have to walk through a few cars to get to the one you desire.
While trains move, they sway as you go down the track—use seatbacks or luggage racks for support. Avoid stepping on the crack where the two plates come together between cars, and use the candy cane-striped handles for support.
The isles of trains are narrow and do not allow people walking in opposite directions to pass simultaneously. Sometimes, if you have two seats to yourself, people may step into "your space" for a second to let another pass. Be courteous of others as you walk through the train.
Other Heads Up For The City of New Orleans
Smoking and Marijuana
The City of New Orleans prohibits smoking or vaping along with all Amtrak trains. If caught smoking onboard, you can be removed from the train and fined. While marijuana is legal in many states, it is still illegal to transport or consume it on Amtrak because it is considered federal property. Here is more information on smoking and pot on Amtrak trains.
Bathrooms and showers
You can find bathrooms on the lower level of every car, but for the dining car. There is one upstairs bathroom in the sleeping car and several below. Each bedroom has one, but roomettes and other accommodations do not.
Each sleeping car has a shower on the lower level, and each bedroom has one in the small in-room bathroom. There are no shower facilities for coach passengers. For more info, check out my shower article.
Amtrak's City of New Orleans wrap-up
The City of New Orleans is a safe, relaxing, and fun way to travel to your next adventure. Chicago Union Station and New Orleans Union Passenger Terminal are in the heart of their cities, making it easy to walk to your stop and take public transportation, taxi, or rideshare to or from your lodging.
Food Overview
Coach riders should budget some funds to purchase food from the café car. They can always bring food or snacks, but Amtrak cannot store, chill, or heat the food you brought aboard the train.
Sleeper passengers' meals are part of the sleeping car experience, and the meals are part of the reservation. Amtrak currently offers the sleeping passenger's flex dining; if you want a treat or a libation, the cafe car is there for you.
Other reminders
If you need to keep your medication chilled and bring a cooler, Amtrak may provide ice to cool your medications.
Sleeping car passengers can use the station lounges in Chicago and New Orleans, offering priority boarding, complimentary beverages, and possibly more.
WIFI and streaming
This train does not have WIFI. If you have a tablet or smartphone, check with your streaming services to see if they allow you to download videos ahead of time and watch them later without using data.
Because you may use your phone more than usual, keep an eye on your data. Watching videos on social media or other streaming can use data quicker than you realize.
Bring headphones for your electronic devices.
Headphones are a must, especially in coach class. Some people are trying to sleep, and not everyone likes the same stuff. Besides, they might be trying to listen to something else.
Sleeper passengers can go without headphones, provided you keep the volume down. I often have my iPad just loud enough to cover the noise of the train.
When in doubt, use headphones or check to see if you can hear your device in the hallway with the door closed. Remember, the walls are thin, and sound can bleed through.
The moral of the story for all passengers is to be considerate.
Entertainment
Bring some entertainment with you. Something simple like a book, magazine, or deck of cards can go far. Electronically, apps that do not need Wi-Fi can help you pass the time; ebooks and podcasts also help. Here is an article on some entertainment on Amtrak ideas.
Most of all, bring your patience.
I hope this helps you plan and enjoy your next trip aboard the Amtrak's City of New Orleans!
Safe Travels!
Kev
Do you want train travel tips and news in your inbox?
If you want to learn more about Amtrak travel, consider joining the Travels with Kev email list.
You will get tips and tricks and discover what is happening with Amtrak travel.