As summer bids farewell and the crisp breezes of autumn roll in, nature puts on a dazzling display of colors that call to us. The landscape transforms into breathtaking red, orange, and gold tapestries for us to enjoy. Why not enjoy this splendor with a trip? A train trip — see if one of the Amtrak fall color trains might work for you!
Why not immerse yourself in this spectacular fall foliage? Many Amtrak train routes offer an incredible way to do so. In this blog post, we'll guide you through the best Amtrak long-distance trains to witness the stunning fall colors across the United States. Well, most of these suggestions are in the Northern section.
When Is The Best Time To Take Amtrak Fall Color Trains
When contemplating a fall color trip, there are two things to consider: when you have availability and when the trees are in their prime. Sadly, I can only give you solid advice on one. This interactive Fall Foliage prediction map can help you pick the right time to go. Compare the prime time for the route you want with your schedule and see what you can get to work.
Setting Expectations For Amtrak Fall Color Trains
Cost Of Trips
Last-minute Amtrak trips, like any transportation, can cost more but may be worth it!
When booking, you could deal with sold-out trains for accommodations you want, but you never know unless you run the numbers. The more flexible you are, the better your chance of getting a cheaper ride.
Not Every Part Of The Route Is As Scenic As You May Want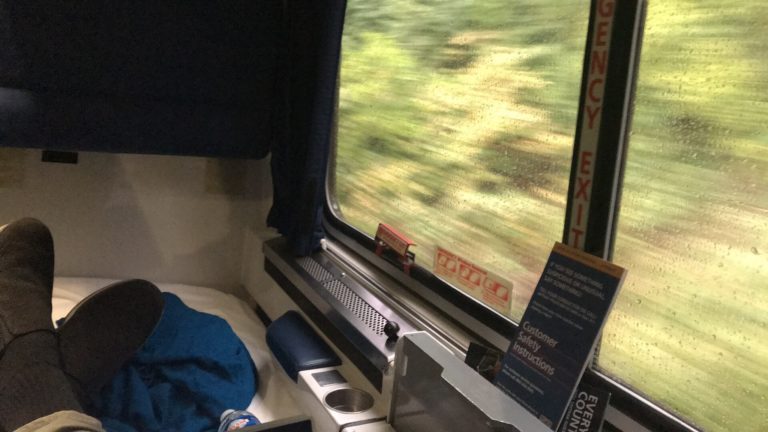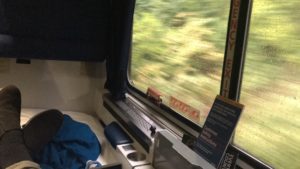 Don't plan the whole trip to be stunning. Trains travel through scenic forests, mountains, valleys, and other breathtaking vistas, but they also travel past cities, junk yards, industrial centers, and other less stunning areas.
So keep your expectations realistic; mainly, the best scenery outweighs the bad.
Also, you might miss some views due to nightfall and sleep, so those with FOMO might struggle.
Night And Day Route Map For Amtrak Fall Color Trains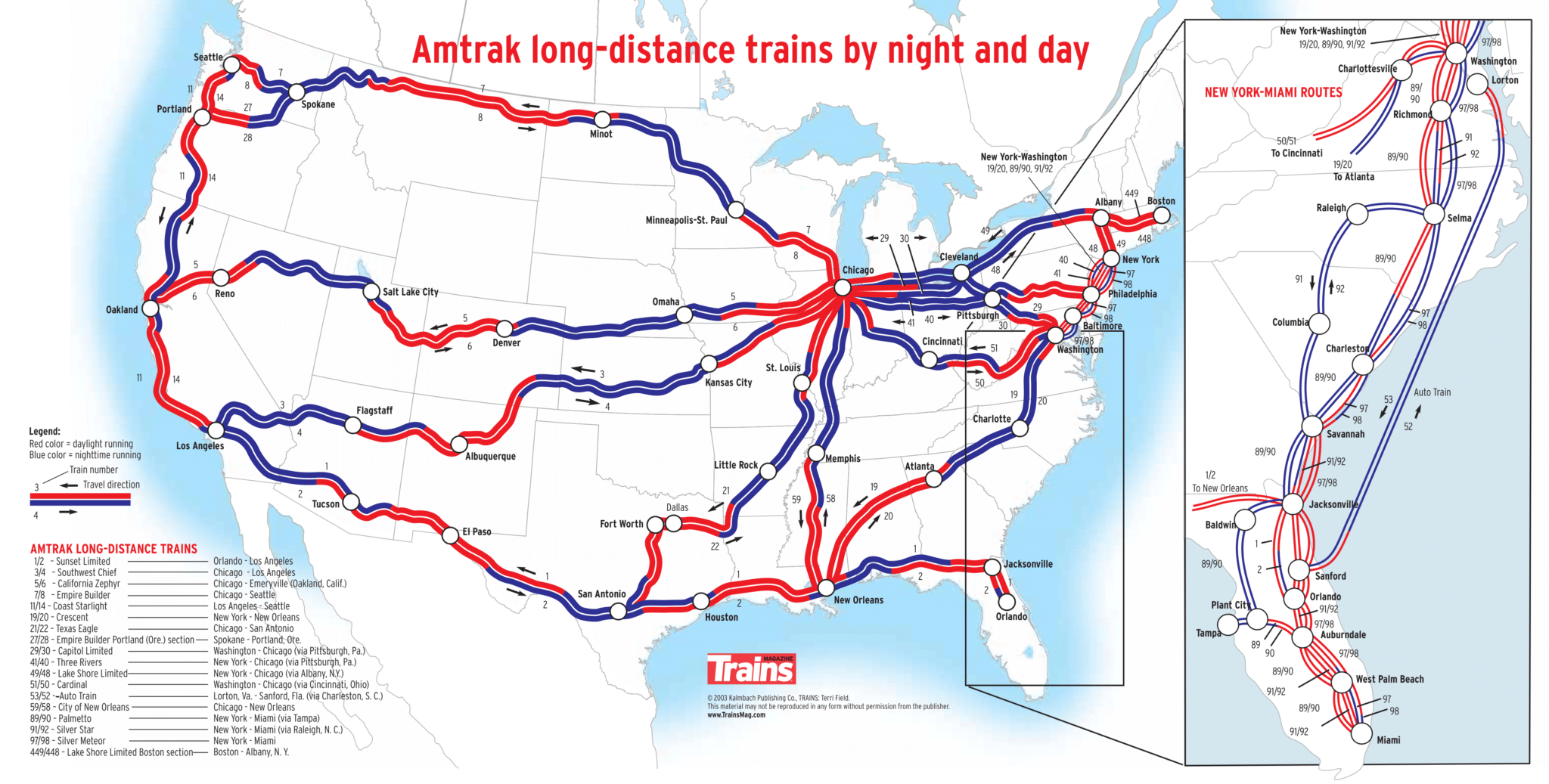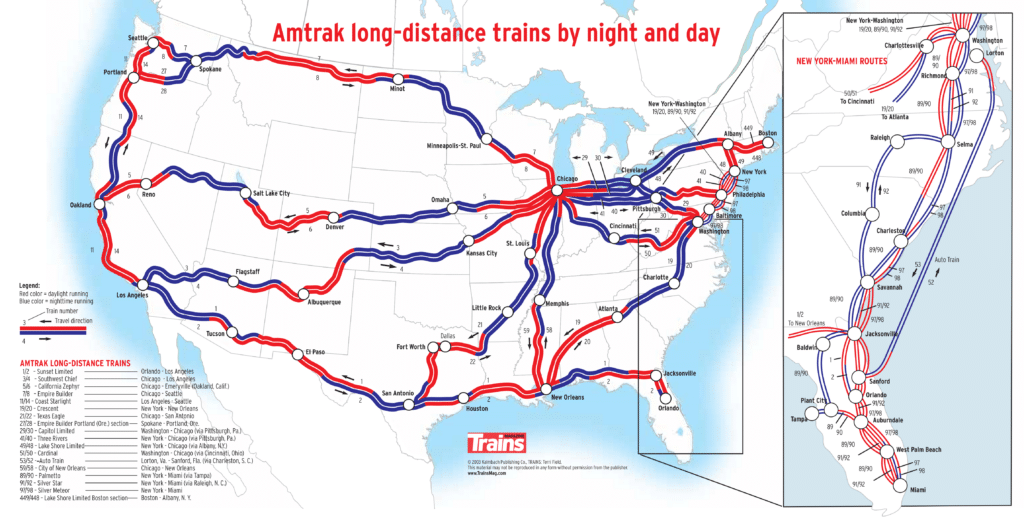 This map was designed by Trains Magazine, showing the sections of Amtrak routes by day or night. Remember, the map is approximate, and if there are delays, that can change what you see.
If you take one of these trains out and back, you may see the same sites, but you can see some new ones or at least get a different perspective. On some routes, overnight in one direction is during the day in the other.
Three-Day Amtrak Fall Color Trains
Riding these trains from start to finish takes three days, and they use Superliner or Bilevel (two-story) equipment. They offer sleeper accommodations along with coach seating.
Empire Builder (Chicago to Seattle/Portland)
The Empire Builder transports passengers from Chicago to the Pacific Northwest with Seattle, WA, and Portland, OR destination options. The train traveling West is train 7 & 27 with 8 & 28 Eastbound.
Depending on the direction, this train splits and becomes two trains or comes together to be one in Spokane, WA; this is how it has two destinations at one end. Between Spokane and Chicago, both trains run as one.
During the fall season, the route offers awe-inspiring views of the changing foliage in Wisconsin, Minnesota, Montana, North Dakota, Oregon, and Washington.
The vistas of rolling hills and forests awash in autumn hues are simply enchanting.
California Zephyr (Chicago to The Bay Area)
The California Zephyr runs between Chicago and the Bay area. Westbound the train is number 5 and Eastbound 6. While the train ends/starts in Emeryville, CA, Amtrak Connecting Services connects the train to Oakland and San Fransico.
It is one of North America's most beautiful train trips, as it climbs through the heart of the Rockies and further west through the snow-capped Sierra Nevadas.
The best fall section will be between Denver and Salt Lake City, but the Sierahs will also offer a great show. If you like the fields, small towns from Chicago and Omaha will be great!
The Zephyr runs between Chicago and San Francisco, coursing through the plains of Nebraska to Denver, across the Rockies to Salt Lake City, and then through Reno and Sacramento into Emeryville/San Francisco.
Two-Day Amtrak Fall Color Trains
These two-day Amtrak Fall Color Trains offer a short but stunning trip. The first two are Superliner trains, and the last two are Viewliner trains, which are single-level.
Capitol Limited (Chicago to Washington DC)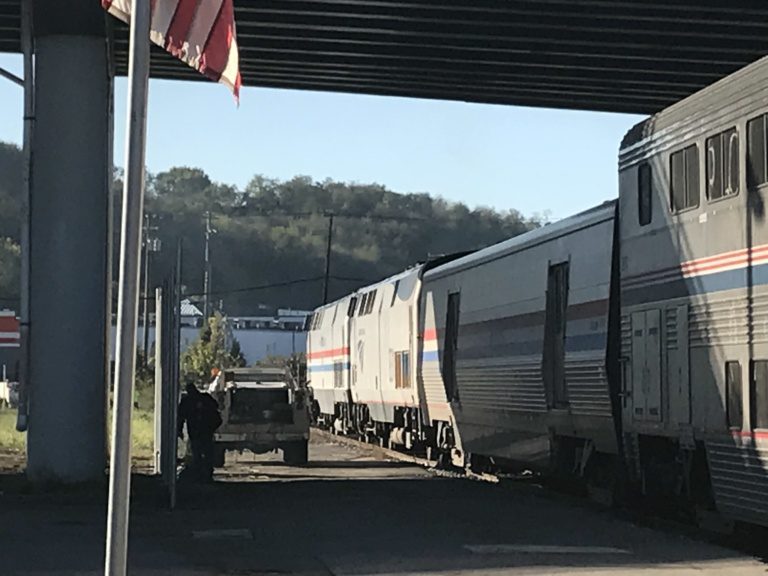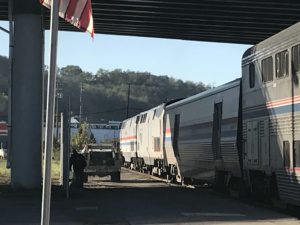 The Capitol Limited runs between Chicago and Washington, DC, with train 29 Westbound and 30 Eastbound.
While riding the Capitol Limited route, you travel over most of the original historic B&O Railroad route. The train takes passengers through picturesque areas, including the Allegheny Mountains and the Potomac River valley, and you get to see the beauty of the Harpers Ferry National Park.
This train will give you fall colors through most of your route outside some communities and provide a relaxing getaway.
Coast Starlight (Seattle to Los Angeles)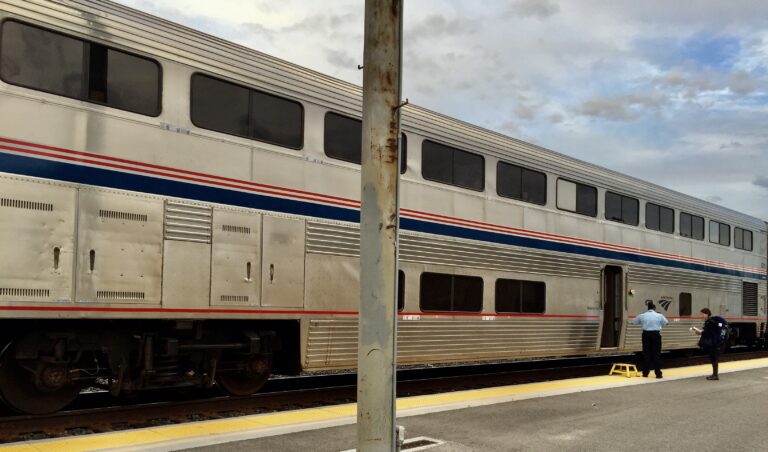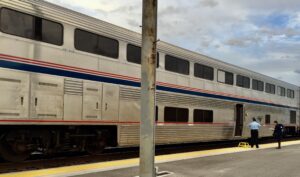 The Coast Starlight runs between Los Angeles and Seattle; going Northbound, the train is 14 and 11 Southbound.
This train offers an incredible journey along the West Coast, from the lush Pacific Northwest to the sunny shores of Southern California.
This train doesn't showcase the traditional fall foliage of deciduous trees on the southern end of the route, but it does allow you to get a fantastic view of oceans and palm trees before heading north.
Lake Shore Limited (New York City/Boston to Chicago)
The Lake Shore Limited runs between Chicago and the East Coast with Boston and New York endpoints. Between Chicago and Albany-Rensselaer, NY, the train runs as one, or the train splits going East and comes together going West.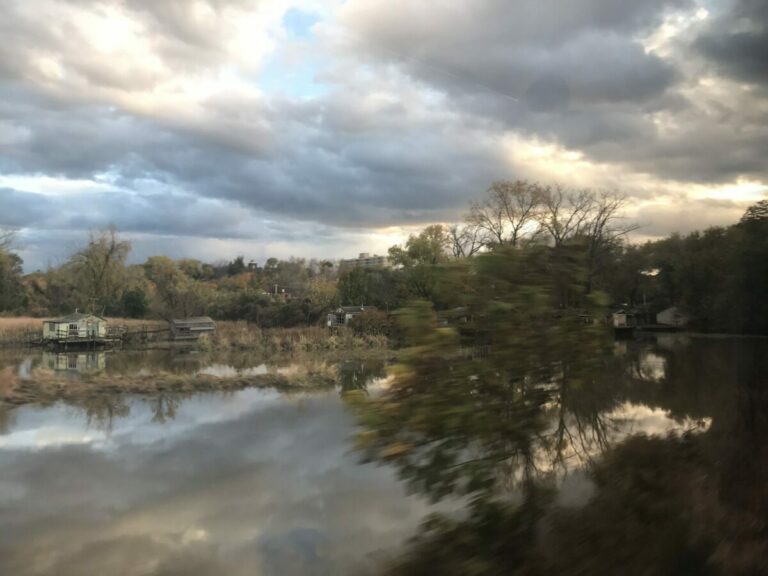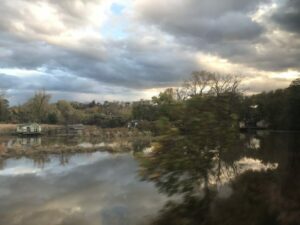 The Boston Sections are the 448 and 449, with New Your 48 and 49. Even numbers are Eastbound, and Westbound are odd numbers.
For those who crave urban adventures and fall foliage, Lake Shore Limited delivers more at the ends of the routes.
This route takes you through the stunning landscapes of the Midwest and the Great Lakes region. You can see some fall colors on your way into Chicago, but the best section is the rolling hills of upstate New York burst into vibrant colors that are a sight to behold.
Cardinal (New York City/Washington, D.C. to Chicago)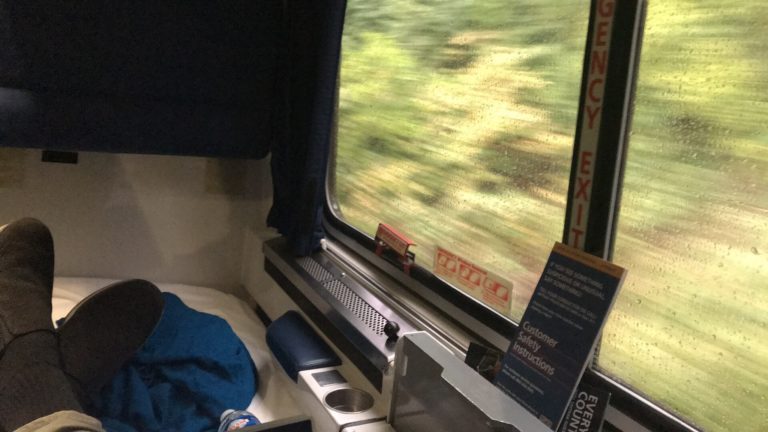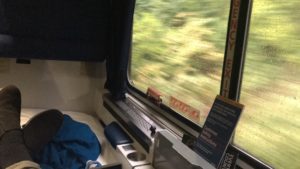 The Cardinal runs three days a week and runs as train 50 Eastbound and 51 Westbound. This train is a hidden gem within the Amtrak system.
It offers a unique cross-country journey, taking you through the Appalachian Mountains and the Allegheny Plateau.
This route showcases the beautiful fall foliage of the Eastern United States, with a particular highlight being the colorful landscapes of West Virginia. The passage through the New River Gorge during the Fall is a must-see.
Regional Amtrak Fall Color Trains
Many regional trains may fill your leaf-peeper urge if you are on a budget, have a time crunch, or have some time to spare. If you have never ridden a regional train, this could be a great time to check one out.
Regional non-Amtrak trains, like Metra or the South Shore Line, may give you an excellent getaway for a few hours or more. Also, check for any excursion trains that might provide a great experience.
Here are a few Amtrak regional trains that are noteworthy for a list of Amtrak Fall Color Trains.
Pennsylvanian (Pittsburg to New York)
The Pennsylvanian runs as 42 East and 43 West.
Scenic highlights of the Pennsylvanian include Pittsburgh's Golden Triangle and the convergence of the Allegheny, Monongahela, and Ohio Rivers. In addition to the Allegheny Mountains, you can ride the train over the famous Horseshoe Curve near Altoona, PA, and Pennsylvania Dutch Country.
Vermonter (Washington, D.C. to St. Albans, Vermont)
The Vermonter begins in D.C. and runs through New York City to Connecticut, Massachusetts, New Hampshire, and Vermont. Experience the Green Mountain State's scenic vistas and New England charm any time of the year.
If you are into skiing, remember this train because it can take you to some beautiful skiing country. So I have heard, in all fairness, that I will admit I do not ski.
Adirondack (New York City to Montreal)
One of Amtrak's scenic routes, the Adirondack, takes you on a picturesque journey from the bustling metropolis of New York City to the charming city of Montreal, Canada.
Along the way, you'll traverse the Hudson River Valley, offering spectacular views of the Catskills and the Adirondack Mountains. In the Fall, the lush forests and rolling hills burst into a brilliant tapestry of colors that will leave you in awe.
A Trip Idea For Amtrak Fall Color Trains
Now, hear me out; I know this is not for everyone, but if you are a diehard train or fall colors person, this could be for you! This could be done all in one swoop or broken up.
Long Cross-Country Trip
While you could start this journey in other locations, I will use Chicago as a starting point. I have done this before but I stayed a few nights in San Fransico in March. So, it was not a fall color trip.
The California Zephyr (Chicago to Emeryville, CA)
Coast Starlight (Emeryville, CA, to Portland, OR)
Empire Builder (Portland, OR, to Chicago)
If I did the math right, this trip would be six days and five nights, with two layovers.
Short/Weekend Trips Out Of Chicago
Another trip you could do is take the Capitol Limited to D.C. and back; this could give you a nice weekend getaway without a hotel if all goes well. This trip would give you three hours of wiggle room. Or you could take the Cardinal or Lake Shore Limited to Chicago and take the Capitol back without getting a hotel.
Many of the regional trains could be turned into a long weekend with a one-night lodging stay.
Amtrak Fall Color Trains Wrap-Up
Don't forget you do not need to take these trains from beginning to end. You could take the train in one direction and fly back if that works best for you.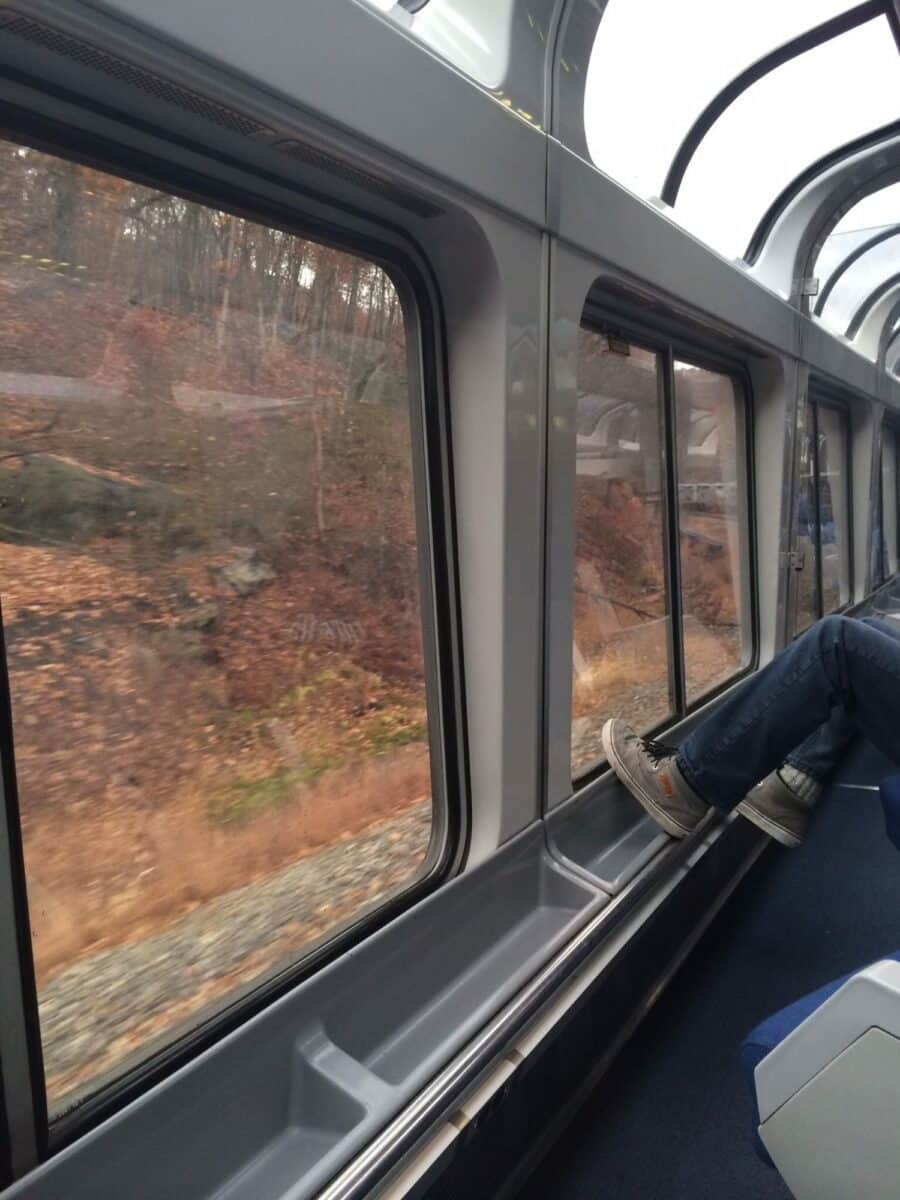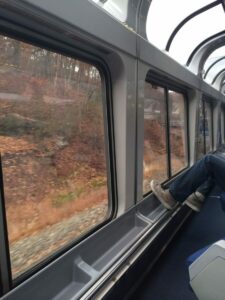 Another option is to get off at one of the train's intermediate stops and head back or enjoy that area for a day or two. If you get off the train en route and want to run in the same direction later, it may cost you more.
There's no better way to view the fall magic than embarking on an Amtrak train journey.
Whether you choose the Empire Builder through the northern states, the Coast Starlight along the West Coast, or even the Cardinal through the Northern part of the South, Amtrak's routes offer a front-row seat to the vibrant autumn colors.
Pack your bags, hop on board, and let Amtrak guide you through a memorable autumn adventure that's bound to leave you in awe of nature's grandeur. Take advantage of the opportunity to witness Fall's beauty from the comfort of a train.
Would you like train travel info in your inbox?
Consider joining the Travel with Kev email list for info, tips, and tricks for Amtrak travel.