Are you wondering about Amtrak rooms and what accommodations are available on your next Amtrak Adventure but unsure if they are right for you? I hope this article about Amtrak rooms will help you out.
This article covers the top question I get asked about Amtrak rooms on long-distance trains. After traveling around the United States via Amtrak, I found any space on the train is my happy place. I enjoy privacy, sleeping horizontally, and showering in the morning.
Terms you should know
Accommodation: For this article, accommodations are any room in a sleeper car
Accessible Room: This room is for those with limited mobility and a helper
Bedroom: A bigger room with a sofa, chair, sink, and bathroom/shower combo
Car Attendant: Amtrak employee whose job is to assist you while you travel in a sleeper car. Car Attendant replaces the term porter.
Family Room: These rooms, only on Superliner Trains, are designed for two adults and two small humans.
Roomette: A small room that is comfortable for one and cozy for two. These rooms have two chairs that fold into a bed and an upper pull-down bed. There are Superliner Roomettes on bi-level trains and Viewliner Roomettes on the Eastcoast train.
Sleeper Car: A car containing roomettes, bedroom, handicap accessible place, and Superliner trains also have a family room
Superliner: Two-level rail cars are on all long-distance routes that do not go to New York Penn Station.
Viewliner: Single-level long-distance trains set, only found on east coast routes.
1) What are the advantages of booking rooms on Amtrak trains?
Privacy: Rooms have a sliding door with a window, but if you want to block out the world, close the drapes.
Sleep Horizontally: At night, the lower seats fold into a bed, and your travel companion can sleep in the pull-down upper bunk. The person in the upper bunk needs to crawl up or use a ladder in the bedrooms.
Shower: There is a shower for everyone to use. Passengers in the bedrooms have a shower/bathroom in the room.
Use of lounges: Your sleeper ticket allows you to use Metropolitan Lounges or Club Acela at these stations to use for free.
2) How do you book rooms on Amtrak?
Over the phone call Amtrak at 1-800-USA- Rail

Agents can book new reservations or help modify existing ones, including updating coach tickets to a sleeper.
Answer questions and can also work to find rooms together if you are booking two or more rooms.

Staffed station

Station ticket agents can do the same things you can do over the phone but in person.

If you are new to train travel, a trip to a staffed station is an excellent opportunity to get to know the station, parking, and what is around before your first trip.

Amtrak App or Website

On-line tickets are an easy way to book your next adventure anywhere and at any time.
After booking the trip, Amtrak sends out an email, including your receipt, with the ticket. This ticket is scannable from your phone, or if you want, a paper ticket is printable from home, Quick-Trak machines, or station agents.
3) Are room prices per person or for the couple?
If you are looking to book for more than one passenger, enter the number of passengers for that trip, hit find trains, and display your travel options. The price on the screen is the total price for the party. Ticket prices include your rail fare (what you pay to ride the train) and the cost to reserve the room. If two people are on your ticket, both pay rail fares, but only one room fee.
It is possible to book separate accommodations for one ticket, but it will cost more. Call Amtrak or visit a staffed station for more information and get rooms together.
4) How do discounts work on Amtrak?
First off, here are Amtrak discounts; see if you qualify for one! If you are eligible, the percentage off only applies to the base fares and not to add-ons such as business class or a room. There is a chance that only one passenger may qualify for a discount, such as a parent with a child where the child qualifies, but the parent doesn't.
For example:
Let's say rooms cost $200 and rail fare is $100, for a solo traveler, the cost is $300, but for two people, the cost is $400. If the solo traveler qualifies for an Amtrak discount, the price is now $290 because the reductions come off the rail fare and not the room price. In this scenario, for a parent and child, the cost comes to $350 because children 2-12 pay half.
5) When do I get my room assignment?
Rooms get assigned after your payment is processed. Amtrak emails a ticket to you, like below, telling the car and room number, plus equipment type. Tickets bought at stations look different, but the information is the same. If you want a particular room, you need to call 1-800-USA-Rail or visit a station.
Most long-distance trains have more than one sleeper. Look for the four-digit number Amtrak gives to that car to identify what car is yours for that trip. The first two digits represent the route number, and the second two are the consist or location number of that car. Amtrak displays the number next to the entry door of the sleeper car. For example, Sleeper 3000 is next to the sleeper lounge of Capital Limited.
Here is an example from one of my last trips to Charleston, S.C. (part of the ticket I redacted for my privacy)
6) What comes with your Amtrak rooms?
Meals
Coffee and juice in the morning
Shower
Turndown service
A place to hang up clothing (either a small closet or wall hook)
Comfortable chairs with a fold-out table, bigger rooms have a sofa.
Large windows to watch the country go by
Use of lounge cars and dining car or sleeper-lounge

Sleeper lounges are on single night trains.

Additional lights such as a night light and reading lamps
A three-prong aka grounded outlet
7) Will I share a room with strangers?
No, the only passengers in your room are the people on your tickets.
8) How big are Amtrak rooms?
The rooms are small and cozy, like an RV. Roomette around 3'6″ by 6′ 6″ (the Viewliner roomette is a little bigger). I am about 6'2″, 190 pounds, and fit comfortably in the room. Bedrooms are around 6'6″ by 7'6," but the bath and shower room take up space.
9) Beds: Are they comfortable, and how are they made?
For me, the beds are comfortable, but your mileage can vary. All the rooms on the train have bunk beds. The lower bed consists of the two lower seats pulled together or the sofa flattened in a bedroom or family room, with a mattress placed on top. The upper bunk pulls down with safety straps to keep you in. When two people are sharing a room, one person needs to be able up to climb the top bed. Roomettes have steps to get up there, while bedrooms have ladders.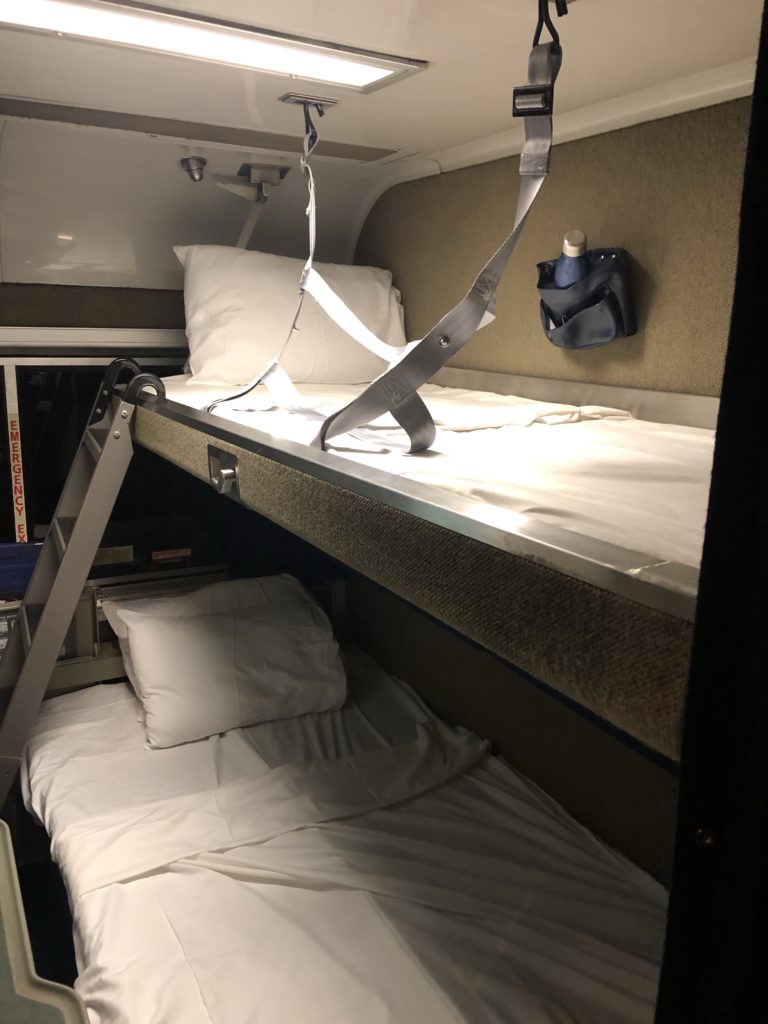 10) Is it hard to sleep on the train?
I tend to sleep well on the train, but sometimes I need a little help, such as melatonin or sleep aid. The train's motion relaxes me as I sleep, but sometimes I wake up when the train stops because I miss the movement. The horn lulls me to sleep. If you need perfect silence, you may struggle, but a set of earplugs may help.
Because I am a side sleeper, I wish Amtrak had a heftier pillow. I pack a blowup pillow and a small blanket to add to my comfort to help with this problem. If you need absolute quiet or a fussy sleeper, you may struggle. Amtrak can only do so much, so you may need to bring earplugs to quiet the train's noise running down the rails.
11) How to get around the train once aboard?
Trains are linear, meaning, to go from one section to another, you may need to walk through another car (or more) to get to the car you want to visit. It can be a hike from where you are to where you want to go on some trains.
There is a sliding door at the end of each car, and these doors have upper and lower (foot) buttons; hitting either will open the door. Be careful when walking between cars while the trains are moving. Grab on to the candy cane striped handles to help you balance when going between cars.
Trains cars can sway in opposite directions, and snow and rain can make their way into vestibules, making them wet or slippery, so be careful and again, use the grab bars. You must wear shoes while walking around the train. There are a few pinch points between cars that could hurt your toes. Heels may not be the best shoes for train travel because they can change your center of balance; if you are riding a regional train or only on for a short time and not walking around the train, heels could be acceptable.
12) Can I hop on and off of the train during my trip?
There are select stops where you can get off the train for a smoke or fresh air. Most station stops are quick for boarding and un-boarding, but if the train arrives early, Amtrak holds the train at that station until the scheduled time and often allows the passengers to wait. Smoke stops are usually crew changes and refueling stops.
If you do get off the train, don't wander too far from it because when it is time for the train to leave, the conductors alert the crew and passengers, and they are off. As a warning, the engineer may blow the horn (two quick toots) when it's time to board. If you do not make it on the train, the train WILL LEAVE WITHOUT YOU!
13) What are my food options on the train?
All long-distance trains have a cafe car open to all passengers. They are not open 24 hours but open for most of the day minus break times.
One-night trains, use flex dining except for the Auto Train.
Trains that run for two or more nights use traditional dining, but the Texas Eagle between Chicago and San Antonio.
14) Can I drink on the train?
You sure can; I often do! If you have a sleeper on an Eastern long-distance train, your first one is on Amtrak!
Amtrak sells adult beverages in the cafe and dining cars, or you can bring your own. IF YOU BRING YOUR OWN, YOU CAN ONLY CONSUME IT IN YOUR ROOM. If you get out of hand, the next station might be your stop, even if it is not your destination, and could include local and federal fines.
15) How many bathrooms are in a sleeper car?
All bedrooms have a restroom en suite.
Superliner trains have one restroom upstairs and two-plus on the lower level.
Viewliners do not have public restrooms in the cars, but every accommodation has a toilet. Roomettes do not have enclosed bathrooms, so If two people are in the roomette, one will have to leave while the other "goes."
16) Are there showers for passengers with Amtrak rooms?
Yes, there are showers. It's fun taking a shower at 79 mph. Bedrooms have a small room that houses the toilet and shower. Roomettes and other accommodations share one shower room with a dressing area.
17) What does Amtrak provide for showers?
Amtrak provides washcloths, towels, and soap for your shower, but not shampoo. The soap is either bar or liquid. The bar soap is the same bar soap style as you get in a hotel.
Dr. Bronner's Soap works well for travelers because of its versatility. The Dr. Bronner soap works well to clean you and your clothing. It does come in a few fragrances, is environmentally friendly, and a little goes a long way.
18) Can I smoke on the train or in Amtrak rooms? Can I transport marijuana?
All Amtrak trains are non-smoking, including e-cigarettes and vapes. If a passenger gets caught smoking on the train, the next stop will be their stop (even if it is not their destination), and conductors will issue tickets, which are federal fines.
There are "smoke breaks," but they are not guaranteed. If you are a smoker, it would be wise to find something to curb your habit.
As of now, you cannot transport marijuana on Amtrak trains even if it is legal in the state you are coming from or going to visit. Amtrak is under federal jurisdiction, so they follow federal laws.
19) Can pets travel with me in Amtrak rooms?
No, Amtrak does not allow pets on trains that travel longer than seven hours. Click here for Amtrak's policy on service animals.
IF YOU HAVE A WORK ANIMAL, CHECK THE POLICY BEFORE BOOKING YOUR TRIP.
20) Do I tip the car attendant?
Tipping is not necessary but is a great way to reward excellent service. I will tip great car attendants and not tip for unsatisfactory service. The average tip is around $10 = $20 per day, but a heartfelt thank-you works well or whatever you can afford if that is not possible. You can also let Amtrak know when you receive excellent service (see tips 21).
21) Can I contact Amtrak for a compliment or complaint?
Constructive criticism is helpful, and the praise of an employee is even better. To contact Amtrak, click here.
22) Facemask And Amtrak Rooms
Currently, facemasks are mandatory on all Amtrak trains, platforms, and stations. Wearing a mask means it is over your nose and mouth; just having one on your face does not count.
If you are actively eating or drinking on the train, you can remove your mask and replace it when you are finished. "Actively eating and drinking" doesn't mean you have food or a drink in front of you that you are casually consuming.
Amtrak takes its face mask policies seriously, and conductors can remove passengers from the train if you choose not to wear one. Removed passengers do not get a refund or accommodations because they violated the terms and conditions. If you do not want to wear a mask, maybe Amtrak is not the right choice right now.
Passengers with a room in a sleeper car do not have to wear their face mask when in your room with the door closed. You need to wear your mask when leaving your room or interacting with Amtrak Staff.
Kev's tips for Amtrak Rooms
Getting ready for the night:
Once the car attendant makes your room for the night, there is not much room left. It helps to get dressed before your room is made up for the night or as your attendant prepares your room. Bathrooms or the shower area work well for changing.
What else you need to know:
Take advantage of the fresh air stops. Stepping off the train breaks up your trip and allows you to stretch your legs.
Do not plan on WI-fi. Even your cell phone will not have service from time to time.
Train manners
Be respectful of others. Talking to fellow passengers is a fun way to meet a new train buddy, but not everyone wants to hear your conversation, so keep your voice down.
When walking in other parts of the train, remember other riders. If the lounge is busy, consider sharing a table instead of hogging it yourself. With that said, if you are a night owl and there is no one around, feel free to take up the entire area. If you need to make a long phone call at night, going to the lounge car is courteous so that others can sleep.
Walkways are tight quarters, and you may get bumped into or let others pass by to get through. It is a great time to practice your manners and say hi to your fellow riders. Make sure that your bags or luggage is not banging into others as you walk through the train.
Gear to improve your stray in an Amtrak Rooms
From my experience, these are helpful things for staying in a sleeper. If you are looking for entertainment on Amtrak trains, check out this article.
Tablet (iPad Air 3 for me),

Subscription apps like Netflix and Amazon Prime allow you to download select shows to watch without wi-fi.

Smartphone (I use an iPhone X)

Map apps are cool for determining a location.
Also, work well for games, listing to music, and podcasts.

Other Electronic accessories

Headphones

Bluetooth or corded, make sure they are comfortable.

Extension cord

One with a few outlets, extension cords work well; there is often just one outlet in the room.

A backup battery

Just in case, I have used one to charge my phone overnight because it was easier.

Chargers and cords

Comfort items

Snacks are a good idea.
Amtrak's Comfort Kit, available at some stations and cafe car

The kit comes in a bag and contains a small blanket, eye mask, neck pillow, and earplugs.
You could make your own

Blowup pillow
A water bottle
Wet wipes
Sleep aids
Pain relief and a small first aid kit
Shampoo or a multi-use soap like Dr. B's (if required)
PJ's or something to sleep in (just in case)
For More information on specific rooms on the train
If I missed something, let me know in the comments below or message me.
Thanks for stopping by and letting me help with your next adventure! I love to help.
Safe Travels!
Kev